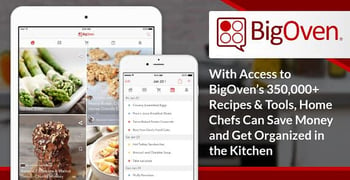 Experts share their tips and advice on BadCredit.org, with the goal of helping subprime consumers. Our articles follow strict
editorial guidelines
.
In a Nutshell: When compared with the costs of dining out, preparing meals at home is a wise decision for your wallet. However, ensuring leftovers don't go to waste and buying produce when in season helps home chefs get even more bang for their buck. BigOven is a mobile and online platform that helps home chefs get organized and inspired in the kitchen by providing access to more than 350,000 recipes, shared grocery lists, bookmarked recipes from your favorite sites, and the ability to share recipes with friends and family. BigOven also recommends dishes that make use of leftovers and items that are already in the pantry, helping prevent food waste.
Steve Murch is a veteran of the software industry who also happens to possess a passion for cooking. One day in 2003, Steve found himself staring at a jumbled list of grocery items written on multiple pieces of paper while at the produce section at a local grocery store. He wished he had a more organized list and access to his favorite recipes so he could plan a meal based on the freshest ingredients available. After all, purchasing produce while it's in season leads to lower prices and more flavor.
In an effort to solve his dilemma in the grocery store that countless others had experienced before him, Steve developed BigOven — a website and mobile application that gives users access to their grocery lists and favorite recipes wherever they are. With access to a searchable database of more than 350,000 recipes, BigOven users never run out of ideas of what to make next.
Meliza Afable, Director of Marketing at BigOven, told us the platform helps inspire home cooks.
"BigOven is about helping home cooks get organized and inspired in the kitchen and on the go," Meliza said. "It's being a part of the cook's life cycle — from inspiration to planning, to grocery shopping and sharing — and helping them out in that process. It's really answering the question, 'What's for dinner tonight?'"
The popular application is available for iOS, Android, and Windows Phone, and has been downloaded more than 13 million times. The app has a loyal following of home cooks, who count on BigOven as a resource for staying organized, shopping efficiently, and using leftovers in a creative way.
BigOven's Free Edition Includes Grocery Lists & Recipes
While BigOven has a paid edition, its free version still has many benefits for home chefs on a budget. When you log onto the site, you'll immediately land on a search function that lets you access more than 350,000 recipes.
"You can find recipes from cooks who have added their own public recipes to BigOven, and you can also find clipped recipes — recipes that have been bookmarked from third-party sites," Meliza said. "It's a great place to find recipe inspiration."
Users of the free edition can create grocery lists, save as many as 50 of their favorite BigOven recipes, and access a Use Up Leftovers feature that ensures pantry and fridge items don't end up in the trash.
BigOven's free feature also lets you create shared grocery lists. Let's say you're shopping and your spouse is also shopping — you can update your shared list in real time so that you aren't doubling up on ingredients.
"Shared grocery list has been a very helpful feature for my family," Meliza said. "My husband and I use it all the time. No more forgotten items at the store."
BigOven also has an Ideas portion of the site that helps cooks who might feel overwhelmed by the sheer number of recipes on the site. Lists on this section of the website organize recipes by seasonal ideas and which course you're cooking.
"Aside from our seasonal collections, we also have featured collections, such as 20-Minute Meals, 5-Ingredient Collections, and One-Pot Meals," Meliza said. "We also have a Use Up Leftovers Collection. We want to make it easier for cooks to find recipes."
Pro Gives Users Unlimited Recipe Storage, Meal Planning, Nutrition Insights, and Organizational Tools
Signing up for BigOven Pro will enhance your overall user experience by giving you access to unlimited recipe storage and organizational tools.
Pro provides an ad-free browsing experience and gives users access to specially curated menu collections. Pro members also have the ability to add custom folders to help them organize their recipes, add notes to recipes, search for recipes using custom dietary filters, and access nutritional information. Another Pro feature is the meal planner, which helps users schedule their weekly menus and syncs up to grocery lists, making for more efficient trips to grocery stores.
Pro is available for a 30-day free trial for users of the free version who want to experience the perks of the higher tier. The paid service costs $1.99 per month, or you can sign up for the whole year for $19.99 which saves an additional 15%.
BigOven Pro is a robust recipe and organizational kitchen platform that teaches users how to shop and use existing ingredients more efficiently, while never getting stale in the kitchen with new recipes to experiment with.
Use Up Leftovers — Choose Up to Three Ingredients and Let BigOven Tell You What to Make
Leftovers often go to waste in many households. A lot of times, they wind up in the trash, contributing to a food waste problem in America that's reaching epidemic levels. In fact, more than 50% of US-grown produce ends up in landfills.
"We have a feature called Use Up Leftovers, where you type in three ingredients [that you already have], and we will give you suggestions of recipes based on those ingredients," Meliza said. "We think it's a helpful feature."
BigOven's Use Up Leftovers feature provides a great way to reduce food waste while saving money on groceries. After all, you're not spending extra money when you're working with what you already have.
For example, by combining chicken, avocado, and thyme, BigOven gives you 85 different recipe options — everything from Grilled Jamaican Jerk Chicken Salad to Chicken Posole.
BigOven Saves You Money While Creating Memorable Meals
The process of planning meals and cooking at home can save a lot of money. However, getting the most savings out of home-cooked meals requires a level of organization that can be daunting, not to mention inconvenient and time-consuming. It becomes particularly challenging for those who are constantly on the go.
BigOven does the heavy lifting when it comes to getting organized in the kitchen. The intelligent platform and app lets you store all of your recipes in one place, plan meals, and share your grocery list to avoid doubling up on purchases when you have two shoppers in your household. The app ensures users always have access to their recipes and lists, helping home cooks avoid situations, like the one Steve experienced, that led to the creation of the platform.
Regardless of how crafty we are in the kitchen or how frugal we are on our grocery runs, there comes a time when we simply run out of meal-planning and money-saving ideas. It's always fun to dream up new kitchen concoctions, but when we're creatively tapped out, BigOven acts as the perfect sidekick.