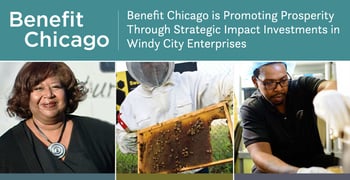 Experts share their tips and advice on BadCredit.org, with the goal of helping subprime consumers. Our articles follow strict
editorial guidelines
.
In a Nutshell: Benefit Chicago helps to finance the growth of impact enterprises in the Chicago area. As we wrote about in 2018, its goal is to mobilize $100 million in impact investments — an amount the organization anticipates to reach by the end of the year. Its impact investments are intended to boost economic opportunities in Chicago communities and support local entrepreneurs. Additionally, Benefit Chicago explores how its investments can go toward creating jobs and providing more training and opportunities for current workers. Benefit Chicago is supported by The Chicago Community Trust, the MacArthur Foundation, and Calvert Impact Capital.
Brenda Palms-Barber said she remembers how she was repeatedly turned down for a loan to support her business — Sweet Beginnings. The company hires men and women who have recently been released from prison, helps them re-enter society, and teaches them valuable job skills such as cultivating honey and producing the beelove® line of natural skincare products.
After years of rejections, Palms-Barber finally found funding through Benefit Chicago.
Benefit Chicago helps impact enterprises in the Chicago area secure funds to support economic development in communities, create job opportunities, and enhance job readiness.

"It's gratifying to be able to invest in local business owners," said William W. Towns, the Executive Director for Benefit Chicago. "These business owners are seeking capital so they can reach their vision and bring things to fruition."
Towns said it is also tremendously gratifying to know that, through Benefit Chicago, business owners not only find funding, but they also find someone who believes in their vision of how their particular organization can help the city.
Benefit Chicago was created in 2016 with the goal of mobilizing $100 million in impact investments — that is, investments that not only provide a financial return but demonstrate a measurable social benefit as well. The organization is the product of a collaboration between the The Chicago Community Trust, the John D. and Catherine T. MacArthur Foundation, and Calvert Impact Capital.
We originally wrote about Benefit Chicago back in early 2018, and we recently had a chance to catch up with Towns once more for an update on the progress being made toward the $100 million goal and how the organization is impacting Chicago.
Building Wealth in Communities and Supporting Community-Based Entrepreneurs
Impact enterprises often face challenges when it comes to accessing traditional financing, whether it's due to lack of collateral, the need for customized terms, or perceived risk, according to Benefit Chicago.
"At the same time, there are also a growing number of individuals, organizations, and institutions seeking an efficient way to make investments that have the potential to deliver social, economic, and environmental impact while aligning with their investment strategies," according to the organization website.
Benefit Chicago helps to bring these two groups together with an accessible, fixed-income investment product. Investors are able to support local businesses and organizations they believe in, while the companies can get the funds they need to carry out their missions.
"There's this notion that I've been trying to bust, which is that it's easier to make it outside of Chicago than it is in Chicago," Towns said. "We're trying to celebrate the notion that you can put a flag down in and stay on the south or west side and do good work."
Towns said Benefit Chicago wants to highlight and applaud the entrepreneurs who stay in Chicago and help make it a better place to live.
"We want to hold these people up as examples and encourage others, and show them what can be done when you focus on your goal and care about your community," he said.
When Benefit Chicago launched in 2016, its goal was to mobilize $100 million in impact investments in the Chicago area to help spur economic development and support local businesses and the community.
Towns said the organization is well on its way to meeting its goal.
"We've seen a tremendous amount of support," he said. "We've raised $97 million in investment capital and are expected to hit the $100 million mark and close the fundraising side of the fund by the end of the year."
Creating Jobs and Enhancing Job Preparedness
Towns said that, unfortunately, certain communities in Chicago have unemployment rates as high as 20%. And for many who are employed, their prospects of advancing within their companies are not always great.
"We want to give those who are outside the door of employment the skills and support necessary so, not only can they open the door and enter the job market, but they can have a seat at the table," he said.
Benefit Chicago also wants to ensure that those who are employed have the skills and capabilities to move up the ladder within their organizations, Towns said.
"So, we work at those multiple levels, whether it's looking at ways to provide capital or certificate programs and training," he said. "We're always asking how we can provide the appropriate amount of skills training and other things the individual worker needs."
But Benefit Chicago's efforts are dependent upon its partners.
"We really rely on our expert organizations that are doing that work every day, and provide them with the capital that allows them to provide the training, education, and support that they need to secure employment," Towns said.
In addition to Sweet Beginnings, organizations that Benefit Chicago has helped fund through impact investments include DL3 Realty Advisors, Community Investment Corporation, NowPow, and the Community Reinvestment Fund. These organizations have missions that promote economic growth or the welfare of individuals in Chicago communities.
Towns said DL3 Realty Advisors has created 500 new job opportunities in Chicago, while NowPow — a women-owned and operated technology company — is improving people's health throughout the city.
"These organizations are doing phenomenal work and showing real impact," he said.
Supported by Organizations with a Deep Philanthropic Commitment and a History of Impact Investing
"Reflecting a shared concern for the vitality and quality of life in Chicago-area communities, The Chicago Community Trust, the John D. and Catherine T. MacArthur Foundation, and Calvert Impact Capital created Benefit Chicago to bridge a gap in the region's impact investment marketplace," according to the Benefit Chicago website.
Towns said the leaders of both The Chicago Community Trust and the MacArthur Foundation — Terry Mazany and Julia Stasch, respectively — have stepped down since Benefit Chicago was launched in 2016, but their efforts continue today.
"I'm incredibly grateful for the foundation that they both laid down in creating Benefit Chicago," he said. "A foundation that is strong and we continue to build upon that today."
Towns said Stasch asked how to get different types of capital into Chicago neighborhoods, and how to provide patient, flexible risk-tolerant capital needed to move local impact-oriented businesses along. And Mazany helped explore how to use and leverage donor-advised funds differently.
And their strong support and leadership are carried on by their successors, Towns said.
"Helene Gayle, the current President and CEO of The Chicago Community Trust, has continued to press us on how we can do more. And asking how we can support more local and minority-owned businesses," he said. "How do we encourage our young women to get into entrepreneurship? How do we think about minorities across the city?"
As for Calvert Impact Capital — Towns said that is the organization that pulls it all together
"Calvert Impact Capital is really the secret sauce behind all of these initiatives," he said. "Because they create the community investment note that allows the individuals to make their investments — whether it's $20 or $20 million."
These three organizations come together and provide different perspectives and cultures to Benefit Chicago that allows it to deliver change in the community, he said.
With a focus on mobilizing impact investments — and the organization anticipating reaching its $100 million goal by the end of this year — Benefit Chicago's fresh take on facilitating economic development and individual opportunities is a great example to all metropolitan areas in the U.S.