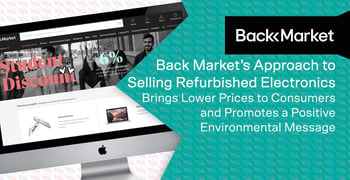 Experts share their tips and advice on BadCredit.org, with the goal of helping subprime consumers. Our articles follow strict
editorial guidelines
.
In a Nutshell: Most people don't give much thought to how much the electronic devices that pervade our daily lives are impacting the environment. But Back Market has studied the data and understands the importance of making each and every electronic device last as long as possible. That's why the company works with electronic device refurbishers to sell high-quality refurb items to consumers. Not only do consumers get a like-new product at a 30% to 70% lower price, but buying refurb is a big step in the right direction toward decreasing carbon footprints while not supporting tech industry byproducts such as human rights abuses or armed conflict in developing countries.
Those little technological miracles we call smartphones may not actually be so when it comes to the environment. A 2018 Fast Company article presented evidence from a recent study supporting the premise that "Smartphones are killing the planet faster than anyone expected."
Smartphones have an average life cycle of about two years with consumers, which makes them essentially disposable.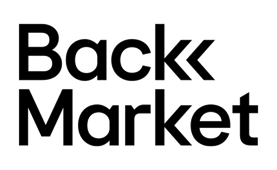 "The problem is that building a new smartphone — and specifically, mining the rare materials inside them — represents 85% to 95% of the device's total CO2 emissions for two years. That means buying one new phone takes as much energy as recharging and operating a smartphone for an entire decade," according to Fast Company.
While the specifics and numbers may vary, similar environmental impacts can be found across many other computers and mobile tech devices people use on a daily basis.
Back Market is a company dedicated to lessening those impacts by facilitating the sale of quality refurbished electronics to consumers.
"We are a marketplace, basically," said Vianney Vaute, Co-founder and Chief Creative Officer at Back Market. "We serve as an intermediary and are a trusted conduit between about 800 merchants and our customers."
He said that, for every refurbished device sold to a consumer, that's one less device coming from the manufacturer.
"Typically, when you refurbish a smartphone, you basically save around 40 kilograms of raw material," Vaute said. "Because when you produce, say, an iPhone, to create a motherboard you use a lot of hardware that includes rare materials that are very costly to extract."
With Back Market's offerings, consumers can gain a quality refurbished device, save some cash, and help save the planet.
Delivering Fully Functioning Refurbished Tech Devices at Lower Costs
Vaute explained that in its role as a marketplace, the customer selects one of Back Market's more than 300,000 products, purchases the product on the company website, then the product is shipped directly to the consumer from the merchant.
And while items such as smartphones, tablets, and laptops are among the most popular devices on the site, customers can find a plethora of other refurbished products at Back Market.
In addition to everyday communications and computing devices, the platform offers refurbished video game consoles, televisions, cameras, and even small appliances.
Back Market deals specifically in refurbished gear, which is different than used gear. So, what's the difference?
"In both cases, the two devices are pre-owned. The similarities end there," according to the company website. "A refurbished iPhone has been tuned up and brought back to perfect working condition in a factory before being sold on Back Market (or somewhere else)."
A refurbished item, such as an iPhone has a double advantage of being less costly than a brand new phone, but a professional refurbisher has guaranteed it to be excellent quality, according to the company.
This guarantee is backed up by Back Market.
"We've made our customer reviews available for you to see for yourself that you're in good hands," according to the company website. "And in case of some unlikely glitch, our warranties allow you to get a full refund, or to exchange your product for a minimum of 1-year."
"Dear Apple, Samsung, LG & Co.,
We adore your products, but we like them more when they're refurbished.
It's more romantic, less wasteful, and quite frankly – it's just so much cheaper.

Kisses,
Quentin, Thibaud and Vianney
Back Market Founders" — Back Market website
Back Market only works with certified refurbishers that are equipped with the most up-to-date technology needed to bring devices back to new condition.
"We regularly visit their factories and systematically verify their quality control procedures," according to the company. "Each refurbisher has a profile on Back Market where their information and ratings are publicly accessible."
Seven Pillars Underlying Quality Products and Service
Back Market prides itself on providing excellent customer service and high-quality refurbished products. And the company's approach is built on a philosophy of seven pillars to help it meets its goals.
"As the go-between for you and our refurbishers, we're still invested in your investment," according to the company. "We make it easy for you to get in touch with our vendors if you have to, and we keep an eye on your interactions. Helpful for giving them feedback, but also especially useful in case you have a dispute."
Back Market's seven pillars approach delivering quality from multiple angles to ensure customers are pleased with their devices and their experience.
The first pillar is Access.
"We connect dozens of factories to customers, through one easy-to-use platform making your refurb' iPhone 6 as easy to buy as in an Apple Store," according to the company.
Quality Monitoring is the second pillar, which means Back Market handpicks the refurbishers it works with and monitors them 24/7 to guarantee the delivery of only the best products to its customers.
Next is Expertise.
"We don't see ourselves as mere distributors for refurb products," according to the company. "We participate in and help expand our refurbishers' expertise through our monitoring tools, predictive data, and consumer feedback."
Lest customers labor under the impression that purchasing refurb items is not cool, the company stands strong by pillar number four — Swag and Panache — by making it simple, fun, and elegant to buy a used device.
"Because 'used' doesn't have to mean ugly or boring," according to the website. "We want the sex appeal of our devices to compete with those of new devices, through great UX and cool branding."
Service is another of Back Market's pillars, which means the company offers top-notch delivery, safe online payments and plenty of warranties because used devices should be treated just as well as new ones.
Pillar number six is transparency, which means the factories' ratings and user reviews are honest and readily available.
The final pillar is Discount.
"Our prices are sexier than a Bali Sunset, especially when compared to brand new devices," according to the company. "And we keep our margins low, so that our products are super competitive for consumers."
Extending the Lives of Consumer Electronic Devices Decreases Their Environmental Impact
"Everybody thinks tech is clean. Well, it's not," according to the Back Market website. "…But producing a few hundred million smartphones, toasters, and tablets has a pretty nasty social and environmental impact."
More than 10 liters of water are required to produce one smartphone, and it creates more than 55 kg of carbon dioxide — or the same amount of emissions powering a house for two days — according to the company.
Additionally, a notable amount of new electronic devices are produced in developing countries under dubious working conditions. And extracting device components, like tin, tungsten, tantalum, and gold ore from conflict zones, perpetuate armed conflict and human rights abuses, according to Back Market.
Then there's the actual waste.
"The amount of e-waste produced annually is 74 million tons. That's up 30% from 2014," according to the website. Most of these products are not being recycled and end up in illegal dumps in developing countries. In 2018, some 6.3 million tons of e-waste was produced in the U.S. alone, according to Back Market.
The company admits there is no simple solution to addressing these major issues surrounding the manufacture of electronic devices. But prolonging the lives of existing electronics is a step in the right direction.
Holding on to your smartphone longer or buying a refurbished electronic device produces less e-waste and spreads out the consumer's carbon footprint. Supporting the refurbishing industry supports thousands of jobs. And the consumer gets a high-quality product at 30% to 70% less than it would cost new.
Back Market is not only doing its part to educate consumers on the impact of the devices they are so eager to purchase new from companies like Apple or Samsung, but they may also just be making the companies themselves pause and take stock of how they are doing things.
"The tech industry is supposed to be full of innovative companies but the truth is that its linear operating mode hasn't changed in the past 70 years," according to the website. "We take a lot of pleasure in challenging the big players' old-school ways. But we do it all light-heartedly, with fun and hugs."