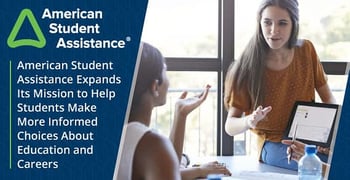 Experts share their tips and advice on BadCredit.org, with the goal of helping subprime consumers. Our articles follow strict
editorial guidelines
.
In a Nutshell: For decades, Americans have stood firm in their conviction that college degrees are necessary for professional and financial success. But with many college-educated young people unemployed or working outside of their chosen fields, the cracks in that accepted wisdom have become glaringly apparent. To remedy this problem, American Student Assistance (ASA) has announced a new approach to helping students plan their careers, whether they involve college degrees or not. Through exploratory experiences, mentoring, apprenticeships, and other activities, middle and high school students will discover how to turn their aptitudes and interests into rewarding professions beneficial not only to themselves but to the health of the economy.
Based on US Department of Labor data, the National Center for Education reports that 20- to 24-year-olds with bachelor's degrees or higher had a 12% unemployment rate in 2016 — more than double the national unemployment rate for that year, which fluctuated between 4.5% and 5%. These numbers starkly contrast the pervasive American myth that college automatically equals success; for the unemployed, debt-laden 12%, that's not the case.
While a large portion of college graduates hunts for jobs, many sectors of the economy struggle to find capable workers. Take, for example, skilled trade jobs. Forbes reports that skilled trade workers are primarily middle-age or older; and while American high schools focus on sending kids to college, and the job market for degree holders has become saturated, the demand for skilled workers continues to grow.
As a result, high-paying positions in skilled fields remain unfilled. According to an Emsi study, the average hourly wage for a skilled trade requiring only a high school diploma is $20.35; the average rate for jobs requiring a certificate is $22.27. Using 2016 estimates from the US Bureau of Labor Statistics, Trade-Schools.net reports construction managers average $47.84 per hour, with their hourly pay topping out at $76.12; commercial drivers average $25.96 per hour with top-end pay at $40.26 per hour.
"There are a lot of high-paying jobs in the country right now that aren't being filled," said Jean Eddy, President and CEO of American Student Assistance (ASA). "Kids are either graduating from high school, or even graduating from college, and they don't have the basic skills that are needed."
Many of these skilled jobs are open to students fresh out of high school; others require relatively short, skills-based training at vocational or technical schools. Certification for these jobs doesn't require the time and financial commitment that college degrees do. And they offer satisfaction for tradespersons, allowing them to engage in active, hands-on work that yields tangible accomplishments.
Altogether, jobs that don't require a college degree offer major opportunities for young people. However, there are hurdles to bringing workers into these fields. First, students must discover their aptitude in a given area; second, they must know that jobs that require those skill sets are available; and finally, kids have to receive the opportunity and encouragement to develop those skills into saleable proficiencies.
ASA's recent efforts aim to clear these obstacles. A press release from the nonprofit organization announced that it is expanding its mission to help kids consider and pursue various career options as early as middle school. ASA seeks to accomplish this through special programs, partnerships, research, and advocacy.
"Middle school is really the best time to start interacting with kids because you can help them figure out what interests them," she said. "Knowing what interests them and discovering what they're good at is really the key. Then, they can start exploring careers that intersect with those two things. We are very interested in working with kids at this time because they are so open-minded, so curious. We have an opportunity to really help them start on this road."
An Innovative Focus on Early Intervention
ASA's mission began with helping students address issues regarding education, careers, and debt.
"We were trying to help them make good choices as far as their student loan repayment options so they could do the things they wanted to do," Eddy said. "Our expanded mission is simply an enhancement of what we were doing before; we're just starting earlier."
Even when working with students still in college, ASA could only address problems after they were entrenched. Students had already made major choices about their educations and careers. This meant ASA had less opportunity for meaningful intervention.
"We were coming into kids' lives after they had already made some pretty solid decisions," Eddy said. "What we're trying to do now is get ahead of the problem, helping students all along their path, in every facet of their path. We feel as though if we start earlier in the process, then we can start to impact this journey as they go along."
Grants, Partnerships, and Virtual Experiences Offer Important Exposure
To achieve its expanded goal, ASA will take a three-pronged approach that incorporates funding exploratory experiences, engaging students in virtual environments, and leveraging high-profile partnerships. "We're hoping that by doing all those things at the same time, we will be able to have some impact quickly," Eddy said.
To kick things off, ASA has awarded a middle school exploratory grant to a district in Massachusetts. "It supports a nine-week exploration course in STEAM (Science, Technology, Engineering, Arts, and Math) so kids in middle school can start to go and experiment with robotics, with engineering, with math, with a whole host of things," Eddy said. This pilot program will commence in September 2018.
The exploratory course will help middle-school students discover fields that interest them and that already fit their skill sets. By engaging directly with technical disciplines, they will build their knowledge base and earn valuable practical experience.
At the end of August 2018, ASA will also debut a redesigned website. In sharp contrast to the current staid, institutional design, the new site will offer dynamic experiences for students. "We are really effectively using YouTube and digital resources to get the word out as far as middle school kids are concerned," Eddy said.
ASA has also established partnerships with the Boston Red Sox, Boys & Girls Clubs of America, and many other organizations. Through these, children will experience apprenticeships, mentoring, skills workshops, and workforce development that will introduce them to new and exciting opportunities.
"Many of the partnerships we are working with right now will end up being broadened into other parts of the country," Eddy said. "We will be able to start to really have some impact on a large scale."
Supporting Students from Middle School to the Job Market
The first step toward these goals is helping students discover things that they enjoy and feel motivated to pursue. "There are a lot of kids who think they might be interested in being an engineer. They have some of the skills they think they need to do that," Eddy said. "But what kind of engineer could they be?"
That decision can only be made based on experience. ASA will help students by expanding their access to such experiences through virtual field trips, simulations, mentoring, and apprenticeships.
These opportunities will allow younger students to explore their options and interests. Once they're in high school, ASA will help them build the necessary skills so they can then implement their career plans after graduation — regardless of whether those plans involve a college degree.
"Being able to offer middle and high school kids mentoring opportunities, apprenticeships, and introductions to careers in parts of the country that have never been exposed to these kinds of opportunities is really where we're heading in this," Eddy said.
Charting the Path to Educational and Financial Success
"A lot of people go to college and use that as a time of discovery," Eddy said. "What if we could provide some of that discovery before they walk through the doors of a college?"
Moreover, how can one measure the effectiveness of early experiences? ASA plans to do so through pre- and post-testing, allowing it to continuously gauge the impact of its programs. By tracking student decision-making, ASA can ascertain whether it is taking the appropriate actions in response to broad exposure and targeted exploration.
"If what we are contending is true — and I fervently believe it is — if you allow kids to explore, get them to know themselves, then look at all their options, they will make those kinds of really informed choices that will have an impact for the rest of their lives," Eddy said.
ASA's new initiative goes a long way toward positioning children for personal, professional, and financial success. Just as importantly, it will help fill labor gaps by cultivating skilled workers for fields that desperately need them. Early exposure and career planning will certainly provide opportunities and benefits for individuals — but it should also help bolster the national economy as a whole.