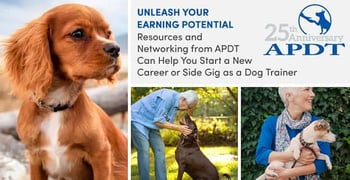 Experts share their tips and advice on BadCredit.org, with the goal of helping subprime consumers. Our articles follow strict
editorial guidelines
.
In a Nutshell: Each year, pet owners spend tens of billions of dollars on their beloved companions. With this much money involved, opportunities exist for earning extra money on the side as a dog trainer, or even making it into a new career. While many of the jobs in this field require extensive education, becoming a dog trainer does not. The Association of Professional Dog Trainers (APDT) is the world's largest professional dog training community and offers its members the advice, networking, and ongoing training needed to help them succeed in this rewarding profession. With a minimal time commitment and the help of APDT's extensive resources, anyone who enjoys working with dogs can start a new career or side-gig as a professional dog trainer.
Americans love their pets. In fact, we love them so much that 68% of US households own at least one pet. And the pet that's most popular according to recent data? None other than "man's best friend." More than 60 million American households have at least one dog, followed by just over 47 million that have at least one cat.
According to the American Pet Products Association (APPA), the amount we spend annually on pets has increased every year since 1994. In 2017, Americans spent an estimated $70 billion on their pets. So, what does this all mean? It means the pet care industry is a good place to look if you want to earn extra cash.
While many jobs in this field, such as veterinarians or vet assistants, require advanced degrees, being a dog trainer has no such formal education requirements. That's not to say there isn't training involved; it just means the time and cost needed to become a trainer are much lower. Another advantage of becoming a dog trainer is that it's something you can study for and do part-time while working at your day job.
Training dogs isn't for everyone. However, if you love dogs and want a fun and rewarding challenge, this may be an ideal side gig for you. So, where do you start?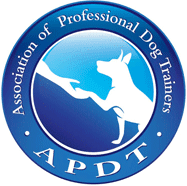 The Association of Professional Dog Trainers (APDT) is the world's largest professional dog training community with more than 5,000 active members. Its site also hosts a wealth of information and knowledge for anyone considering dog training as a part-time or full-time job.
We recently had the opportunity to chat with Megan Stanley, APDT Board of Directors Chair, about the organization's mission and what it offers to those who become members.
"Here at APDT, we're dedicated to creating better trainers through education," Stanley said. "We have around 5,000 members worldwide, and part of our goal is to bring trainers together to learn from each other. We even have free resources on our website for anyone considering becoming a dog trainer."
What Makes a Successful Dog Trainer?
Success as a dog trainer, as with most things in life, requires effort and aptitude. You need to love working with dogs, but you also need to love working with people. Dog training is a service profession, and those four-legged furry friends come with owners attached. If you're able to successfully navigate the human component of dog training, you're off to a strong start.
Another aspect of successful dog training is education. Stanley spoke with us about the importance of education.
"Education is my number-one priority as a dog trainer and is a big part of what has contributed to my success as a trainer," she said. "It's a relatively new industry, and things are evolving. There's new research coming out all the time."
As the largest organization of its kind, APDT is able to draw upon the experiences and research of its member community. The information that's gathered is made available to anyone who joins APDT and is intended to help members stay up to date on the latest trends and methods in dog training.
APDT has also put together a recommended reading list for anyone considering becoming a professional dog trainer. This list is broken down into sections on learning, canine behavior, business, legal aspects, as well as health and nutrition. This is a great collection of resources for anyone trying to decide whether they would be successful as a dog trainer.
If you're still on the fence as to whether becoming a professional dog trainer is right for you, APDT has made available a video webinar entitled, How to Become a Professional Dog Trainer. This 25-minute lecture covers topics, like typical career paths for dog trainers and the various certifications and programs. The organization also maintains a learning management system (LMS), where members have access to a variety of recorded seminars and workshops.
Benefits of APDT Membership
Access to the extensive member community within the APDT organization is a huge benefit to anyone just getting started in the field. Members are able to draw upon the knowledge of some of the most respected trainers and behaviorists in the world. This peer-to-peer networking lets members reach out to the community when they need advice or support.
"I'm a huge advocate for networking because you expand your support system, which is very important in this industry," Stanley said. "We've got an online community within the association that's very active, so if a trainer has a challenge with something, they can reach out for help or advice."
One challenge anyone faces when entering into a new career or field of practice is getting their name out in front of potential clients. Another benefit of joining APDT is that members are included in the organization's Locate a Trainer database. This lets potential clients in a particular area or ZIP code search for APDT members locally and can be a huge benefit to newly established trainers. In addition, members have exclusive access to APDT's job bank in this highly specialized field.
All of these benefits make it that much easier for someone wanting to quickly establish themselves as a professional dog trainer and begin making extra money right away.
"The great thing about this industry is that you can do it to supplement your income, say as a part-time job," Stanley said. "A lot of people are able to go to school and gain the knowledge about it while they're working and to do it part-time while they build their business and reputation."
Membership in APDT starts as low as $25 a year, or $110 a year for access to the exclusive professional membership, with all of the benefits mentioned above.
Understanding the Business Side of Dog Training
Any entrepreneurial venture, such as professional dog training, is going to include the so-called "back-office work" that comes with running a business. APDT recognizes this need, as well, and is there to support its members in building and running their businesses.
Among the resources available to help members establish and operate their training business is access to free and member-exclusive publications and webinars. There are also resources to answer any questions you might have about legal and liability issues.
In addition, the member community is filled with professionals willing to help newly established members jump-start their businesses.
Starting a business as a professional dog trainer can be a rewarding and lucrative side gig that might just turn into a new career. Just ask Erica Marshall from Wicked Good Dog Training, who leveraged her membership to advance her career working with her furry friends.
"Becoming a member of the APDT was the first decision I made after deciding to start down the path of becoming a certified trainer," she said. "The information available and resources within the training world were instrumental in helping me reach my goal of becoming a certified trainer and building my business in the best and easiest way possible."