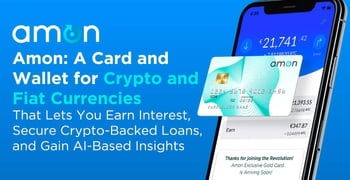 Experts share their tips and advice on BadCredit.org, with the goal of helping subprime consumers. Our articles follow strict
editorial guidelines
.
In a Nutshell: The number of cryptocurrencies available has grown quickly over the past few years. Because of the volatile nature of the evolving ecosystem, knowing which coin is best to use for a transaction at any given time can be challenging. Amon helps cryptocurrency holders get the most out of their assets with its AI-based platform which lets users know which crypto to spend in a transaction. The company also offers a crypto debit card and wallet so customers can easily use both crypto and fiat currencies. Amon is also one of the only platforms that allows users to earn interest on their crypto holdings. The company prioritizes security to safeguard against cyber threats and keep customer assets safe at all times.
Cryptocurrencies have gained some prominence with the average consumer in recent years. But anybody who has dipped a toe into the world of crypto would have likely noticed that the sheer number of coins available can be head-spinning.
And, while cryptocurrency prices have enjoyed a relatively stable year, their values are still prone to fluctuate widely at any given time.
That's where Amon comes in.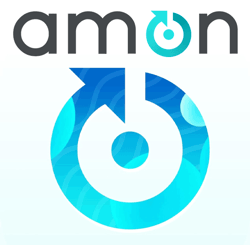 "We realized people were starting to wonder how they can spend their funds," said Amon Founder and CEO Daniele Izzo. "And we started to have this idea of having an intelligent platform that could suggest which is the best performing crypto, based on different parameters."
The result of Izzo and the Amon team's brainstorming is a digital wallet that works with crypto and fiat currencies, and AI-based software that lets the user know which cryptocurrency is the most appropriate to use for payments or purchases at any given time.
Amon also provides users with a crypto debit card connected to the wallet.
The card, wallet, and AI system all coalesce into a platform that helps users spend virtual and traditional assets efficiently, and allows users to get the most value out of their digital currencies.
Spend Crypto Intelligently with Amon's AI System That Helps Users Choose the Best-Performing Digital Currency
Amon Card is a debit card that allows real-time conversion from crypto to fiat currencies, according to the Amon white paper. The cardholder does not need to do anything to convert the currency as it is automatically converted at the time of payment.
Amon currently supports Bitcoin, Ethereum, Litecoin, Dash, BitcoinCash, DAI, and Euro with plans to introduce more currencies in the future.
"Amon Card is also the first intelligent card on the planet. The cryptocurrency market is so volatile that it is hard to know which cryptocurrency will maximize value to the user while making real-time payment," according to Amon. "For this reason, we created an AI system that helps the card user to choose what is the best performing cryptocurrency in his wallet at the moment of the payment."
And Amon's wallet allows users to choose how they want to use their cryptocurrency for purchases.
The first option allows the Amon cardholder to always pay with the same cryptocurrency each time they make a purchase. Option No. 2 allows users to select which form of cryptocurrency they would like to use at the time of payment. And, the final option lets the user rely on Amon's AI system to pay directly with the best-performing cryptocurrency as determined by the platform.
"The Amon Artificial Intelligence system chooses the best cryptocurrency based on maximum value to the cardholder at the moment of purchase," according to the white paper.
Izzo said the company also has its own exchange where users can buy and sell cryptocurrency, and track prices.
"Whenever you deposit Euros, users can simply change it within our app to Bitcoin or Ether or Dash," he said. "And, of course, you can also exchange crypto to crypto."
In the Amon app, users simply select which coins they want to swap and the conversion happens instantaneously, Izzo said, "while in normal exchanges, you have to wait for someone to sell or buy at the price that you selected."
Earn Interest and Take Out Loans While Holding Onto Cryptocurrency Assets
Another feature within Amon that helps it stand out from other crypto platforms is the ability for users to earn interest on their cryptocurrency assets.
Izzo said Amon is backed by MKB Fintechlab, which is the investment arm of MKB Bank, one of the largest banks in Hungary. And earlier this year, the bank selected Amon to participate in its startup accelerator program.
"When we joined the accelerator, we began to interact more with our users, and we realized that most of our community of users, for now, don't want to spend crypto as they are more focused on accumulating assets and earning interest," he said.
Based on this observation, Amon developed its Amon Earn product, Izzo said.
"There are just a few companies in the world where you deposit crypto and earn interest, and we are one of them thanks to our partnership with Celsius," he said. "You simply deposit funds and move it into what is basically a savings wallet, and every Monday you earn a percentage of interest."
Izzo said the interest rate fluctuates due to liquidity and a number of other variables, but it is usually between 3% and 10%.
Through its partnership with Celsius, Izzo said Amon also has plans to launch a loan product in the future. Amon users will have the ability to borrow against their cryptocurrency assets so they can utilize the value of the digital currency without having to sell it. The loans will pay out in fiat currency, and in the meantime, crypto holders can still reap the benefits of any price increases that occur with their assets.
According to the Amon website, users will enjoy the best loan rates.
Amon Follows Strict Security Guidelines to Protect Users
With the highest levels of security in mind, Amon has developed and implemented rigorous security standards around its infrastructure, customer assets, and code development.
The company worked closely with the Ixonn Group to develop its Amon Cybersecurity and Governance Architecture. Ixonn Group is a top IT security company focused on the fintech industry, according to Amon.
"Ixonn is a key integral part within Amon team to deliver policies and references for the secure management and operation of Amon business processes," according to the Amon white paper.
Amon drew the inspiration for its security framework from a number of entities that employ industry standards, including the National Institute of Standards and Technology, Cybersecurity Framework, the International Organization for Standardization, and the International Electrotechnical Commission.
"The Amon Cybersecurity and Governance Architecture Framework supports informed decisions within the organization to identify and manage cybersecurity risks," according to the white paper.
The company also ensures that customer assets will always remain secure through its partnership with BitGo, according to Amon. BitGo is an industry leader, providing institutional-grade security through its services, including 100% cold storage custody, developed for institutional investors.
Amon adopts industry best practices for its code development as well.
"The secure code development standard established by Amon defines rules and recommendations to guide the development of secure Amon applications during the build phase of the development life cycle," according to the white paper.
Amon currently uses a centralized system (similar to mainstream exchanges such as Coinbase) but envisions employing a decentralized system in the future.
As a centralized platform, Amon maintains control of users' private keys and in-app transactions — including card payments and exchanges — but users can feel confident their data is protected.
"For advanced security, all of the blockchain accounts are using multi-signature and all the keys are encrypted with AES to guarantee that neither malicious hacker or even Amon team, can be in control of any coin," according to the white paper.
With its AI-based technology, crypto card and wallet, and interest-accruing account, Amon is positioned to help crypto holders get the most out of their funds whether they are making a purchase or holding their assets.