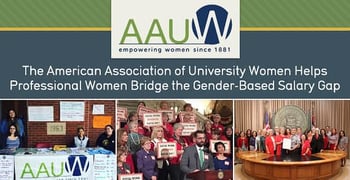 Experts share their tips and advice on BadCredit.org, with the goal of helping subprime consumers. Our articles follow strict
editorial guidelines
.
In a Nutshell: Despite more than 50 years of legislation, women working full-time, year-round are typically paid 80 cents for every dollar paid to men. The most profound illustration of this disparity is demonstrated on national Equal Pay Day. Occurring on April 4 in 2017, Equal Pay Day marks the point at which women finally "catch up" to the earnings of men from the year before. AAUW encourages supporters to spread awareness through community events and legislative lobbying, as well as hosting salary negotiation seminars to help women close the gap in their own lives. From the local level to the national stage, AAUW is focused on closing the gender pay gap for all women.
While women in the United States have been a part of the labor force for just as long as men, it was not until the 20th century that women held a significant portion of the jobs. Indeed, by 1960, approximately 28.6 million women were in the labor force. They represented a full third of the working population — and earned an average of 40% less than their male counterparts.
In an effort to eliminate the wage disparity between genders (and as a result of the persistent hard work of many women) the US enacted the Equal Pay Act in 1963. The law made it illegal for any employer to discriminate based on gender by paying employees of one gender more than the other for the same work.
By 2015, over 50 years after the law went into effect, more than 73.5 million women were in the labor force. They represented nearly half of the working population — and earned an average of 20% less than their male counterparts.
Obviously, though the Equal Pay Act may have made an impact, the effects of that impact have been achingly slow to fruition. And, according to the Spring 2017 edition of The Simple Truth About the Gender Pay Gap, a report released by the American Association of University Women (AAUW), the journey to wage equality still has a long way to go.
"At the rate of change between 1960 and 2015, women are expected to reach pay equity with men in 2059. But even that slow progress has stalled in recent years. If change continues at the slower rate seen since 2001, women will not reach pay equity with men until 2152," according to the report.
The picture becomes even less attractive when the numbers get broken down by demographic. "What is particularly compelling is that the gender pay gap disproportionately affects women of color," said Jesse Rauch, a Senior Program Manager for AAUW.  "We find that Hispanic women only earn 54 cents on the dollar, American Indian and Alaska Native earn 58 cents on the dollar, and African-American women earn 63 cents on the dollar."
Furthermore, the report shows that the gender wage gap is affecting more than just women. While the number of women in the workforce has increased exponentially through the decades, so, too, has the number of families reliant upon the income they bring into the home.
"Between 1967 and 2012, the proportion of mothers bringing home at least a quarter of the family's earnings rose from less than a third (28%) to nearly two-thirds (63%). Today, 40% of mothers with children under the age of 18 are their families' primary or sole breadwinners. As families increasingly rely on women's wages to make ends meet, the gender pay gap directly affects men and children as well."
April 4: Equal Pay Day Raises Awareness for Pay Inequalities
Each year, national Equal Pay Day acts as a profound example of the wage disparity in America by marking the date on which women's earnings finally reach those of men from the previous year. For 2017, that date is April 4 — meaning it will take American women a full 93 days to "catch up" from 2016.
According to the AAUW, "Equal Pay Day is the symbolic day when women's earnings 'catch up' to men's earnings from the previous year. It's also a powerful occasion to raise awareness about, and organize action around, the gender pay gap in your community. AAUW promotes Equal Pay Day to draw attention to the gender pay gap and build support for the Paycheck Fairness Act."
The April 14, 2015, Equal Pay Day observance involved thousands of women around the country calling for pay equity. AAUW members were responsible for over 150 events, including rallies in several major cities, lobbying at the Capitol, and more than 50 college campus events. This year, the organization hopes to see an even greater turnout, with the goal being holding events in every state.
So, how does one participate in making national Equal Pay Day a significant occasion? AAUW offers a list of recommendations for how anyone can make an impact on pay equity this April.
At the top of the list, the organization suggests contacting local elected officials to push for approval of pay equity legislation. "AAUW is working to advance equal pay legislation in statehouses around the country. If your state legislature is considering equal pay legislation, contact your elected officials on Equal Pay Day to ask them to co-sponsor the bills."
Other ideas at the community level include social events designed to raise awareness such as an "unequal" bake sale or (un)happy hour. As described by AAUW, "At these events, men will pay full price for the goods while women get a 20 percent discount (one percent for each cent of the gender pay gap)." The AAUW also provides resources on organizing issue forums and town hall events.
For the activist at heart, AAUW recommends spreading the word through a media campaign or issue forum. Supporters can write to a variety of publications, encourage friends and followers on social media, and reach out to local television and radio networks to gain Equal Pay Day coverage and increase pay equity awareness.
Educational Seminars Teach Women How to Negotiate Better Salaries & Benefits
The last suggestion on AAUW's list is also a great way to empower local women: bring an AAUW salary negotiation workshop to the community. While community-level efforts can help drive legislative change, hosting a salary negotiation workshop can help individual women close their own salary gaps.
"The workshops are part of AAUW's multifaceted approach to closing the gender pay gap," explained Jesse. "Where there is a role for government and businesses to foster pay equity, AAUW Start Smart and AAUW Work Smart work with women themselves to empower them to successfully negotiate their salary and benefits packages."
The AAUW Start Smart program is aimed at college students about to enter the job market, while the AAUW Work Smart program targets working women. In each of the two-hour workshops, women will:
Learn about the wage gap, including its long-term consequences
Benchmark a target salary and benefits using market research
Develop an arsenal of persuasive responses to use when negotiating
Build confidence in their negotiation style through facilitated discussion and role-play
"Women who negotiate increase their potential to earn higher salaries and better benefits packages — and these advantages add up over time," said Jesse. "Negotiation can help women get a fair wage as well as set a benchmark for future salary increases. By negotiating fair and equitable salaries, women are better positioned to pay off indebtedness, such as student loans and mortgages, and to save for retirement – leading to greater economic security."
Earn Equally with the AAUW
While a series of legislative attempts at closing the gender pay gap have been made, the data shows it simply hasn't been effective — at least not with any alacrity. However, through national events like Equal Pay Day, as well as local efforts such as salary negotiation workshops, the AAUW is spreading pay equity awareness across the country. With the coordinated efforts of the AAUW and equal pay supporters at every level, the wage gap can be closed (and, hopefully, it won't take 100 years).