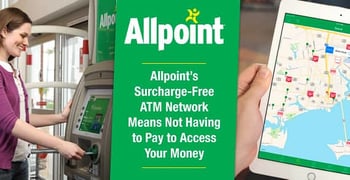 Experts share their tips and advice on BadCredit.org, with the goal of helping subprime consumers. Our articles follow strict
editorial guidelines
.
In a Nutshell: The growing acceptance of mobile payments, digital banking, and electronic money transfers in recent years means Americans have more options than ever before when it comes to making purchases. However, cash is still the preferred payment method for a majority of consumers making retail purchases. And this comes at a time when banks have fewer ATM locations and are charging higher fees for out-of-network transactions. Fortunately for cash-carrying consumers, Allpoint operates the largest surcharge-free ATM network in the world, providing customers of participating financial institutions convenient access to their cash no matter where they are.
The way Americans pay for goods and services has changed dramatically in the past decade. With the increasing acceptance of mobile payment systems, like Apple Pay, Google Wallet, and others, not to mention credit card readers that plug into smartphones, paying for the stuff we want has never been easier. Add in peer-to-peer payment systems, like Venmo, Square, and Snapcash, and you'd be forgiven for thinking that electronic payment methods are taking over the world.
Despite a marked increase in payment options, it may come as a surprise to learn that the most frequently used retail payment method is … wait for it … cash. Nearly a third (32%) of all retail transactions are conducted in cold, hard currency, proof that Americans still love to have the green stuff in their hands. And having easy access to their cash is a high priority for consumers.
Since the 1970s, ATMs have been the go-to source for Americans needing to withdraw money from their checking or savings accounts. However, as almost everyone has experienced at one time or another, finding a nearby bank branch or an ATM in your bank's network can sometimes be a challenge. Use an ATM that's not in your network, and you can expect to pay a hefty fee.
According to Bankrate data, the average cost of an out-of-network ATM withdrawal in 2017 was $4.69. That means if you needed a quick $20, you could be paying nearly 25% more for the privilege of accessing your money. The good news is paying these exorbitant fees is a thing of the past for the many people who have discovered Allpoint.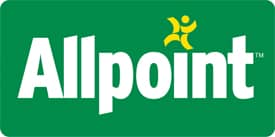 Allpoint is the largest surcharge-free ATM network in the world. With more than 55,000 ATMs in the Allpoint network, chances are there's one just around the corner. Allpoint partners with more than a thousand financial institutions — representing tens of millions of cardholders — and has ATMs located in many of the most trusted retail locations across the country.
We had a chance recently to chat with Nick Pappathopoulos, Director of Public Relations for Cardtronics, Allpoint's parent company.
"The Allpoint Network is here to help financial institutions give their customers what they want: the freedom to access their cash whenever they want it, virtually wherever they are — and it's surcharge-free, of course," Nick said.
Allpoint Helps Financial Institutions Deliver Cash on Demand
Banking has undergone a noticeable transformation in the decade since the Great Recession. Banks and financial institutions have become more focused on improving efficiency and reducing costs, often through an increased reliance on digital banking and a decline in the number of branch locations. This has resulted in fewer banking and ATM options for customers and higher fees for accessing their money.
"Putting it mildly, consumers have a strained relationship with ATM fees," Nick said. "In fact, Mercator Advisory Group reported in its 2017 ATM Market Benchmark Report that conveniently located ATMs and avoidance of ATM fees via access to a surcharge-free ATM network are key when US consumers select their primary financial institution."
Managing and maintaining an ATM network can be a burden for a financial institution, especially a small community bank or credit union. Allpoint offers these institutions the opportunity to provide their customers with access to a wide network of surcharge-free ATMs. By joining the Allpoint network, even small and mid-sized financial institutions can compete on a national scale when it comes to accessibility.
What's Good for Consumers is Good for Businesses
Allpoint has ATMs located in some of the largest and best known retail locations throughout the country. Popular retail stores where consumers can find an Allpoint ATM include Target, Walgreens, CVS Pharmacy, Speedway, Circle K, Kroger, and many other chains. These are places that consumers know and trust, and places where they would already likely be shopping. And now, members of participating financial institutions can withdraw cash without paying exorbitant fees.
Retailers that host Allpoint ATMs can benefit by attracting consumers who may otherwise go elsewhere to shop. With the convenience of a surcharge-free ATM, when eligible cardholders visit a participating store, they can take out cash, access additional routine banking services, and do their shopping all in one location. It's a great time-saver for consumers and a benefit to retailers who want to draw additional foot traffic into their stores.
"It's about having the right physical presence in the right place to meet customer demands," Nick said. "Allpoint ATMs are essential to meeting customers' needs for cash access and other self-service activities. That is a powerful statement on how important retail-located, surcharge-free ATMs have become in fulfilling the self-service demands of consumers, especially at a time when ATMs are increasingly becoming North America's source for cash."
Frustration with chip readers and the unpredictability of mobile payment acceptance has helped cash remain the preferred method of payment for many consumers. According to a recent study commissioned by JP Morgan Chase, only 25% of small businesses accept payment via mobile payment systems or digital wallets. It seems rumors of the death of cash have been greatly exaggerated.
55,000 Full-Service ATMs in Worldwide Locations
As the largest surcharge-free ATM network in the world, Allpoint dwarfs the networks run by the world's largest banking institutions. In fact, the ATM networks of Bank of America, Chase, and Wells Fargo combined don't add up to Allpoint's 55,000 machines. That's a powerful reach, and one that continues to grow.
For customers who want to know if their institution participates in the Allpoint Network, you can simply go to the Allpoint website and click on the 'Do I Have Allpoint Access?' button. Currently, around 1,300 card providers participate in the Allpoint Network, but that number is growing all the time. Banks, credit unions, and even prepaid card providers can all participate in the network.
Banking customers wishing to find the closest Allpoint ATM can simply download the locator app for iPhone and Android devices. During our conversation, Nick told us something interesting regarding the Allpoint locator app.
"Allpoint became the first surcharge-free ATM network in the United States to offer iPhone and Android applications nearly a decade ago," Nick said. "Allpoint-eligible cardholders have enthusiastically embraced the app, which enables them to quickly locate surcharge-free Allpoint ATMs using either their phone's geolocation services, or by searching a specific address or ZIP code."
Many participating Allpoint Network financial institutions also include Allpoint ATM locations in their own online branch or ATM locator tools. Allpoint ATMs are easy to spot, with their green-and-yellow logo clearly displayed on most machines. With ATMs in the US, Canada, Mexico, the UK, Puerto Rico, and Australia, chances are there's one near you right now.
The move to a cashless society, as has been predicted at various points over the past few decades, hasn't quite played out as some expected. Even with the growth of digital wallets and mobile payment systems, there's likely to be a need for access to cash for a good, long time. And not having to pay for withdrawing your own money is what the Allpoint Network is all about.