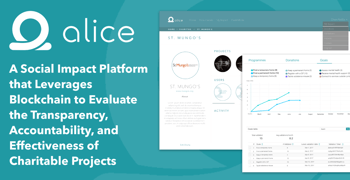 Experts share their tips and advice on BadCredit.org, with the goal of helping subprime consumers. Our articles follow strict
editorial guidelines
.
In a Nutshell: Alice is a social impact platform that seeks to restore public trust in charitable organizations by making the funding and implementation process transparent to government agencies, donors, and the public. It does this by implementing impact validation and Payment-by-Results models of giving on the blockchain. Additionally, Alice seeks to give beneficiaries a voice and a role in the aid process, allowing them to guide and evaluate charitable efforts. The platform is also working to clear regulatory standards and facilitate greater impact investment in philanthropic projects, opening new funding avenues.
The Ice Bucket Challenge — with the stated goal of raising both awareness and funds for amyotrophic lateral sclerosis (ALS), also known as Lou Gehrig's disease — took social media by storm in 2014. Once someone was challenged, they could either donate to ALS research or douse themselves with a bucket of ice water and challenge others.
According to The New York Times, the challenge went viral with 1.2 million videos shared on Facebook and 2.2 million mentions on Twitter. Clearly, the Ice Bucket Challenge succeeded in raising awareness. It also raised millions of dollars for research. But was it as impactful as it looked on paper?
"There was a massive disproportion advocacy campaigns, like the Ice Bucket Challenge, between people who were willing to act but not necessarily donate," said Dani Ismailov, Product and Communications Manager at Alice. "Some of that has to do with distrust becoming rife throughout the public and especially in the charity sector."
Alice is a social funding platform that aims to advance charitable work by restoring public trust. It uses independent validators and blockchain technology to facilitate giving based on demonstrable impact, ensuring donated money goes to effective causes and thereby helping charities learn from both successes and failures.
Additionally, it seeks to make the process more inclusive of the beneficiaries it is meant to help.
"It's a very exciting time for us at the moment. We're quite lucky to be at the intersection of fintech for good and also the blockchain space, all of which have different cultures and values and ways of doing things," Ismailov said. "We've garnered funding from the U.K. government for research and development — which has been vital to add credibility."
And, while Alice is a modern social funding platform, it is still looking to the future of giving, which it believes will include a healthy amount of impact investments.
Restoring Public Trust in Charities Through Transparency
The first project Alice took on was a plan by St. Mungo's, London's largest charity for homelessness, to get 15 people off the city's streets and into temporary accommodations. Each of these people's recovery is broken down into the project's milestones, or goals. These project milestones represent impact outcomes being achieved, and are tied to payments from escrow; each time a goal is met, the payout goes to the charity so it can continue its work.
Milestone achievements are verified by validators — independent third parties who ensure that each goal is met. In the case of St. Mungo's, the validator was the Housing Team of the Greater London Authority (the Mayor of London's office), which verifies each lease sent to it by the charity. Upon validation, a portion of the donated funds moves from escrow into the charity's account.
This transfer of funds is fully automated, meaning charities won't have to wait around on paperwork and bureaucratic red tape; instead, they get funding quickly so they can continue their good work. Likewise, donors and government authorities don't need to wait around for the charity to make its impact report; the impact has already been demonstrated and independently verified.
Donors also receive a notification when milestones are achieved, enabling them to see — in close to real time — how causes use their donations. This allows the public to contribute to a cause with greater confidence. Either their money is effective, or else they will receive their money back, neatly circumventing the possibility of contributions becoming a total loss.
"The high-level vision is very much helping solve the issue of trust in the charity sector," Ismailov said. "In closing the proximity between the people being helped and the people giving the money, you start building a relationship where people start to trust charities again because they can see what their money is achieving."
Information Sharing Helps Organizations Learn from the Success of Others
Alice employs smart contracts based on blockchain technology. The information contained in these contracts is available to the general public as well as to the government and donors, allowing more people to make educated decisions on funding charitable projects.
"We really value the fact that anyone can go and audit a smart contract, which actually controls a certain project, and see how many milestones they've achieved, how long it's taken them to do it, and if this is a successful project or if this is one that has issues with its effectiveness," Ismailov said.
To facilitate such judgments, Alice worked on a collaborative project with Imperial College London. The result is a block explorer, which maps an individual contract's status over time in an easily interpretable visual form.
"It's easy to see when outcomes are achieved in a certain project and where the corresponding financial flows have occurred," Ismailov said.
This capability is beneficial not just for donors but for other charities as well. By examining a project's progress, charities can better understand what tactics are most helpful for gaining funding and making an impact, thereby avoiding demonstrated pitfalls encountered by others.
Ismailov said that an additional benefit of such transparency would be to help overcome the taboo of failure. In general, charities feel that publicizing poor results will result in decreased funding. But there is a lesson to learn in every experience, and failure can teach just as much as success. Through this increased information flow, Alice hopes to remedy a significant inefficiency — the redundancy of failure — in the charity sector.
"We wish to create a culture of publicizing impact so that the sector changes more efficiently. The more we can make charities comfortable with publicizing things that work and things that don't, then you can have fewer charities making the same mistakes," Ismailov said. "Everyone wants good to be as effective as possible, and everyone wants to help as many people as possible. Therefore, we're going to solve that."
Beneficiaries Gain a Voice and Influence in Charitable Work
Beyond donors, charities, and government agencies, transparency gives a voice to another group integral to charitable work: the beneficiaries. And this is not limited to merely receiving aid but also extends to gaining an active role in the process. Charities possess the resources, vision, and drive, necessary to implement change. But the people receiving that aid often have experience and perspective that charities and government agencies may lack.
"The next step is involving beneficiaries as much as possible in the projects themselves, in actually structuring the projects and saying 'Although you might think this is the best way to help us, this is what we need,'" Ismailov said. "It's a conversation, and we value the experience NGOs have, but it's also allowing for a voice that hasn't necessarily been heard in the sector — the people being helped, the ones the charity sector was meant to serve."
Aside from lending their insight into problems and proposed solutions, beneficiaries can also play the valuable role of whistleblowers. The intended recipients of aid are in a prime position to point out services that were promised but not delivered, enabling them to act as watchdogs for key points where the system breaks down or becomes compromised.
"They can say they've been told they're getting a certain service or outcome and it hasn't happened at all. Either someone's falsified this, or something's not right," Ismailov said.
By allowing beneficiaries to take a more active role in the aid process, Alice ensures that people receive the promised benefits in a way that will create the most impact. This, in turn, creates an even greater confidence among donors, enabling charities to raise more funds and pursue their work.
Tokenized Impact Investments will Attract Crucial Funding
Everyone who participated in the Ice Bucket Challenge got the satisfaction of supporting a worthy cause, one way or the other. But the fact remains that advances in ALS research depend on funding, not on likes and retweets.
Consider how many more people may have donated to the cause if, instead of avoiding an ice bath, they instead were guaranteed a piece of the proceeds generated by the treatments and cures their donation helped fund. This notion of earning a return through charitable contribution is the basis of the burgeoning sphere of impact investing.
Impact investors monetarily support an organization seeking to create positive change by addressing a pressing issue, and those investments ultimately earn a return. Alice realizes that this promise of a financial return can be a significant motivator for charitable funding, and the platform is currently in the process of clearing regulatory standards necessary for charities to accept impact investments.
"We already have a prospective impact investor lined up who has a long history of facilitating and acting as an intermediary for social impact bonds between government and charities," Ismailov said.
One of the major obstacles to obtaining impact investments in long-term charitable projects is the inherent lack of liquidity. An investment in education, for example, could have a horizon of 20 years. But Alice has a plan to help even long-term projects earn the support of impact investors.
"We're hoping to essentially tokenize impact investments and bring liquidity to a traditionally non-liquid market by allowing investors to make or trade impact investments in charitable projects. This will make the impact investment space more attractive to a wider pool of investors," Ismailov said. "The charity gets funding to complete the work, the donor only pays if the social project is successful, and the impact investor makes returns while also doing good. So everyone is happy."