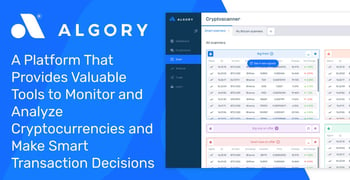 Experts share their tips and advice on BadCredit.org, with the goal of helping subprime consumers. Our articles follow strict
editorial guidelines
.
In a Nutshell: Traders in traditional exchanges have a bevy of tools at their disposal to make the most informed decisions about buying, selling, and trading, but in the cryptocurrency world, infrastructures are still being built. Algory is a Poland-based company that helps crypto traders make decisions with the speed and accuracy of traditional traders. The company's experienced team members have expertise in traditional and crypto trading, so they know what tools are valuable for those in the decentralized marketplace. Algory's flagship product is its Cryptocurrency Scanner that gives traders an edge over competitors with its fast delivery of data. And its Cryptocurrency News Aggregator allows users to monitor thousands of sources in one place.
Wall Street virtually has the stock market down to a science, as do fund managers and even amateur traders around the world.
Meanwhile, many cryptocurrency enthusiasts have grappled in recent years with buying, selling, and trading crypto with the same acumen as their fiat-fond counterparts.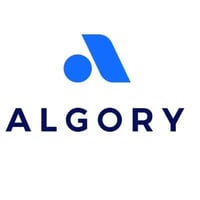 The good news is that new tools and infrastructure that give crypto traders an experience similar to that of dealing with investment assets in traditional financial structures are constantly emerging.
And Algory is one of the companies delivering these valuable pieces of the puzzle to traders is in the decentralized marketplace.
"Algory is a startup based in Katowice in Poland. Algory offers tools for active crypto traders," according to the company website. "The flagship products include an advanced cryptocurrency scanner, called Cryptoscanner, and a crypto news aggregator, which was designed for the most active traders."
We recently spoke with one of Algory's Co-Founders, Tomek Przybycień, about the company's background and the products it brings to the cryptocurrency ecosystem.
An Experienced Team with Expertise in Stock Markets and Digital Currencies
"Our founders have backgrounds as traders on U.S. stock markets," Przybycień said. "I have been trading for 13 years now as a day trader, and I have my own proprietary trading group. In the beginning of 2017, I also started trading on the crypto market."
The co-founder said that, when he began trading in cryptocurrencies, he used similar methods that he had used in the stock market.
"Simple patterns and tape reading worked very well, but all things were done manually," he said of the new trading ecosystem. "So me and my team decided to build tools that will help us in trading on the crypto market. We gave special attention to creating tools that increase profitability and increase the number of signals that are based on our strategies."
The aim for all professional traders is the same, Przybycień said — to be profitable. But to gain an edge over other traders, you have to have access to the quickest tools, he said.
"But being profitable from time to time is not the key — being a stable trader is much more important," he added.
These were all important considerations in the development of Algory's tools.
"Bearing in mind the time we have devoted to finding the best investment and trading opportunities on the cryptocurrency exchanges, we decided to place a product on the market which will streamline the whole process of making investment decisions and, furthermore, will make you a more efficient and more profitable trader," according to the company.
Since Przybycień and his Co-Founder Dominik Gordel launched Algory, the company has brought on an array of experts from the world of finance, including other stock traders as well as developers.
Cryptoscanner Allows Users to Create Filters and Alerts to Stay Up-to-Date on the Market
Przybycień said Algory's most in-demand product is its Cryptocurrency Scanner. He said the scanner works in real time to help traders find the cryptos that matter most to them, with more than 100 different combinations of filters and alerts.
"With our Cryptoscanner you can be quicker than others, especially if you are not able to manually scan different exchanges on which you are trading," he said. "Each user can test it for free."
Algory gives users access to data from 18 different exchanges, and Przybycień said with the platform's easily customizable filters and alerts, there is room for many different trading strategies to fit different styles.
"If a crypto trader has his own strategy, he is able to create alerts, and then he knows earlier about situations that occur or might occur on different cryptocurrencies pairs," he said.
Przybycień explained just how important this can be when dealing with high volumes of data in a short amount of time.
"For example, if your strategy is looking for being long on stocks that are at least 4% up in the last 15 minutes with volumes three times higher than normal — imagine scanning this data manually," he said. "It's not possible. But with our tools, you can do this."
Algory offers three different plans so users can select the one best suited for their needs. The Basic plan is free and offers access to Algory's essential features from one workspace. The company's Standard plan, which it recommends for most users costs $29 per month and unlocks access to all of the platform's features plus four workspaces and up to 20 scanners.
Finally, the Pro plan costs $49 per month and provides access to the full range of features plus up to eight workplaces and up to 40 scanners.
Algory accepts payment in the form of its own crypto token, ALG, which can be purchased on the BitBay exchange.
The Cryptocurrency News Aggregator Provides the Ability to Monitor Thousands of Sources in One Place
Algory's other primary feature is its news aggregator service.
"Meet the quickest and most advanced news streamer in the cryptocurrency industry," according to the company. "Created for traders who need to be fast. With Cryptocurrency News Aggregator you will monitor thousands of sources in one place. Amazing workspace for delivering powerful market insights."
The aggregator comes with real-time news alerts and a sentiment and credibility indicator, according to the Algory website.
Przybycień said the company continues to add new sources to the news aggregator.

"Most of the news, we have within milliseconds or seconds," he said. "This is the most important thing for traders that need news."
He said Algory is always interested in hearing feedback from users on what's working well and ways to improve, and what new alerts and new filters are needed.
"We have a lot of clients that are really satisfied with our tools," Przybycień said.
Algory and its smartphone app include features with the end user in mind, like different modes depending on the time of day.
"Algory adapts to your working hours," according to the website. "With bright and dark versions, you can still use the Algory app, even when your eyes get tired."
The platform is intuitive and simple to use, even for first-time users.
Traders can simply click on the News tab in the Algory app and see a feed of relevant data. They can select from a range of options regarding sentiment, including mostly negative, mostly positive, or no sentiment.
They can also toggle the credibility slider from 0% to 100% credible.
Przybycień said that, in the end, Algory is always looking for ways to make its platform even better and more valuable for its users, including working on adding candlestick pattern alerts to its Cryptocurrency Scanner in the coming months.