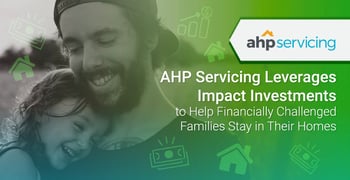 Experts share their tips and advice on BadCredit.org, with the goal of helping subprime consumers. Our articles follow strict
editorial guidelines
.
In a Nutshell: AHP Servicing (AHPS) is a crowdfunding platform that not only provides investors with an opportunity to grow their funds but helps struggling mortgage holders remain in their homes. AHPS uses investor funds to purchase struggling mortgages at discounted rates and passes on the savings to the homeowners to help them find a manageable solution to avoid foreclosure. In 2018, the company launched AHP Servicing, expanding its offerings to include servicing third-party loans. AHPS is balancing dual missions of producing returns on investments and finding workable solutions for struggling homeowners, and customers on both sides have been pleased with the company's results.
When Gladys Cudjoe's husband fell ill, the couple visited doctor after doctor seeking a diagnosis — to no avail.
After years of debilitating health and accumulating medical bills, Cudjoe's husband was finally diagnosed with ALS. Around the same time, the couple's mortgage became tangled up in a legal battle between investment companies.

Cudjoe quit her job and became her husband's full-time caretaker until he eventually succumbed to the disease.
"I became his total caregiver," she said of the difficult time. "I promised that I would take care of him, and I did. I neglected everything else."
This included the couple's mortgage as well as the substantial medical bills that piled up from her husband's treatment. Cudjoe was facing the reality that her home may go into foreclosure and she would have to leave the house she had shared with her husband for 25 years — the house where they raised their daughter and made family memories together.
But, with the help of AHP Servicing (AHPS), Cudjoe was able to keep her home and stay close to family, friends, and the place where her husband is buried. The company acquired Cudjoe's mortgage and was able to bring her monthly payment down from $550 to $250.
"I'm grateful to AHPS for helping me. The payment is small enough that I'll be okay," she told the company. "It's still going to be hard, but now I know I'll be able to do it."
Using Capital to Purchase Mortgages and Passing Savings on to Homeowners
Fannie Mae and Freddie Mac are two of the most common names that come to mind when the topic of purchasing mortgages comes up. But unlike those government-sponsored organizations, AHPS is a crowd-funding platform that uses money from investors to purchase distressed mortgages at big discounts.
AHPS passes on the discount to homeowners and works with them to find a solution and price range to help them stay in their homes, just as it did for Cudjoe.
"Typically, we work to find a pathway back to performing under their mortgage note, making it affordable, often through erasing negative equity positions, or forgiving delinquent interest," said Marilyn O'Shea, Vice President and Chief Resolution Officer for AHPS.
American Homeowner Preservation launched during the Great Recession with the mission to help homeowners experiencing the fallout of the mortgage crisis to remain in their homes.
O'Shea said AHPS reaches out to homeowners at risk of foreclosure and their loan servicers.
"Mortgage holders need to provide minimal information to us, as compared to the rest of the marketplace where they have to provide a textbook's worth of information," she said. "We just need proof of insurance and their stated income."
AHPS will modify the homeowner's interest rate to bring it in line with current rates, O'Shea said.
"We get them back to a position where they can perform," she said. "In order to do that, we provide a trial modification period where they make three monthly payments at the new rate to demonstrate that they can pay the new rate."
Customers must also commit to allowing AHPS to open an escrow account for taxes and insurance. O'Shea said the reasons behind this strategy supports the company's social mission to help families stay in their homes.
"We're giving them opportunities based on evidence in the marketplace that people with escrow accounts tend to not redefault, and parties who have successfully completed a trial payment period also show the ability to pay," she said. "We're trying our best to set them up for success."
As of March 2019, AHPS had forgiven $1.3 million in delinquent interest, O'Shea said.
AHP Servicing Helps Mortgage Investors Earn Returns Up to 10% Per Year
In 2018, American Homeowner Preservation launched the newest arm of the company, AHP Servicing, which is led by President and CEO DeAnn O'Donovan.
"AHP Servicing is transforming the loan servicing process, continuing the work of American Homeowner Preservation which transformed the approach to managing past due loans," according to the company website. "In addition to servicing loans for third parties, we are investing in and servicing non-performing loans that have the potential to be restructured or settled rather than being written off."
O'Shea said AHPS accepts investments of as little as $100 from individuals and up to millions of dollars from companies and individuals that want to include AHPS as part of their investment portfolios.
"Once that capital is received through the investment portal, we use those funds for operating and to purchase non-performing loans. We target loans which we think may have the ability to reperform or settle cooperatively," she said. "This translates back to profits for the investors."
Investors not only see returns on their investments, but they can feel good knowing they are helping those who are going through difficult financial times.
"You can be part of a dynamic fund that pays up to 10% per year," according to the website. "Most importantly, investors directly impact families in need and see concrete results. That's the power of many, with a focus on the individual, for the good of the community."
O'Shea said she believes this solid return rate is a testament to the strength of the business model.
AHP Servicing saw such a strong response from investors for its most recent $50 million Regulation A Offering it announced in May that it was pausing investments at $15 million to ensure the company is prudently placing its funds.
O'Donovan said in a press release that the company will open up more investments once the current funds are substantially committed to loan purchases.
Balancing a Social Mission to Help Families and a Financial Mission to Deliver Returns
O'Shea said that, because AHPS works so hard to help borrowers regain their financial footing and find a solution that allows them to keep their homes, its customers are happy rather than frustrated. Oftentimes, the customer has already tried to work with banks and was unable to come to a resolution that suited his or her needs.
"One of the things that I love about this process at AHPS — which brought me here and makes me want to stay here every day — is the difference in how it benefits the customers and their reaction to the experience," O'Shea said.
She said she receives phone calls every month from customers praising their experience with AHPS.
"It's the most heartening thing about my job and what makes it fun," she said.
AHPS not only hears from happy mortgage holders, but a number of investors have shared their positive experiences with the company.
"I've invested with AHPS for a year and a half. After researching them, I decided to invest a small amount to minimize my risk. However, over time I've put in more because they've been one of the few investments that pay out on a consistent basis. I love the monthly cash flow, and love that my money isn't locked up for five-plus years." — Chris Miles, Host of the Money Ripples Podcast
O'Shea said AHPS is looking forward to helping even more consumers as it is currently working on approvals to provide loan servicing for the Department of Veterans Affairs and the Federal Housing Administration.
"Both of those segments of loan products tend to have a higher default rate. It's an opportunity to help more individuals, and I'm particularly excited about helping veterans," she said. "And in the meantime, our growth continues to increase because of the exciting investment opportunities we have to offer."