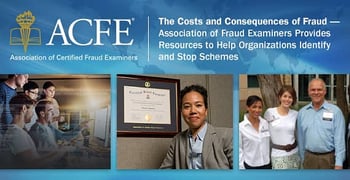 Experts share their tips and advice on BadCredit.org, with the goal of helping subprime consumers. Our articles follow strict
editorial guidelines
.
In a Nutshell: Occupational fraud is a threat to every enterprise, and it can bring about serious financial and legal consequences. To address this problem, the Association of Certified Fraud Examiners (ACFE) provides training to specialists working to detect and stop fraud in businesses, government, and law enforcement. The ACFE also provides a wealth of educational resources so that employees can better serve as whistleblowers, reliably spotting and reporting potential schemes. By creating an educated and ethical environment, organizations can stop fraud before it starts, thereby maintaining their reputation and the trust of their customers and vendors.
In the early 2000s, Nathan Mueller worked for an accounting firm that was acquired by ING Group, a Dutch banking and financial services corporation.
Mueller was made part of the changeover team, and in that role, he learned all of the intricacies of enterprise resource planning. By accident, he discovered that he had mistakenly been given authority to approve checks up to $250,000.
Using his professional knowledge and exploiting security workarounds, Mueller embezzled nearly $8.5 million from ING over the course of more than four years. A conversation between a co-worker and Mueller's ex-wife revealed the scam, and Mueller went on to spend more than five years in prison; upon his release, he paid back about $860,000 of the sum he'd stolen.
Mueller's story is a well-known case of occupational fraud — a situation in which someone finds themselves with the opportunity, knowledge, and motivation to use organizational resources to their own personal benefit, and to the detriment of the company, its employees, and its business partners. This action invariably incurs monetary and operational consequences for the organization and, in some cases, disciplinary and even legal action against the perpetrators and, potentially, the organization itself.

We recently spoke with Mason Wilder, a Research Specialist and Certified Fraud Examiner (CFE) with the Association of Certified Fraud Examiners, the world's largest anti-fraud organization and premier anti-fraud training and education provider.
"Occupational fraud can be carried out by somebody at any level, from the lowest level of cashier or even a cleaning person," Wilder said. "Someone like that can be put in a position to take advantage of the trust placed on them and damage an organization in a whole variety of ways."
The Faces and Ramifications of Occupational Fraud
Fraud isn't limited to large firms like ING; Wilder told us it can occur in organizations of any size, and it can take a number of forms.
"It can cost up to 5% of annual revenue," Wilder said. "If one of your employees carries out some kind of a fraud scheme, first and foremost it's going to hurt your bottom line, and then that can have any number of ramifications."
ACFE classifies cases of fraud according to its Fraud Tree diagram, which breaks fraud down into three broad categories. The first is corruption, which encompasses conflicts of interest, bribery, illegal gratuities, and economic extortion. The second category is asset misappropriation, which includes cash, inventory, or other assets. The final category is financial statement fraud, which involves the overstatement or understatement of net worth or net income.
Looking specifically at the financial services industry, Wilder said financial statement fraud is one of the more common types of fraud, with the sector also seeing instances of investment advisory fraud, securities fraud, and the misappropriation and embezzlement of client funds.
Regardless of the type, the repercussions of fraud can be severe. Losses incurred may force an organization to lay off employees who otherwise would be retained. Fraud can also damage a company's reputation, leading to a decline in business with potential customers instead turning to unaffected competition. Finally, fraud can also violate governmental regulations.
"Depending on which industry you're in, you could lose your license to conduct whatever form of business it is, and you could be held liable in civil or criminal lawsuits," Wilder said.
Appearing in various guises and carrying severe consequences, fraud is a serious threat to any organization's operations and well-being. Companies and their employees must act to prevent fraud and, when it occurs, identify and stop it quickly. Fortunately, the ACFE is standing by with the information and resources to help them do so.
Certified Fraud Examiners Specialize in Scheme Detection
Turning to a CFE represents one of the best ways an organization can address concerns around fraud.
"A CFE is somebody that possesses the knowledge, tools, and experience to fight fraud in any number of different environments," Wilder said, adding that these specialists can be found in business, government, and law enforcement roles. "It's kind of a variety of professions, but the main thing they all share in common is that they have some interest in fighting fraud as part of their profession."
Of course, not just anyone can be a CFE. "In order to get your CFE credential, you must have a combination of experience and education," Wilder said. Regarding anti-fraud experience, he said, "there's a pretty big umbrella in terms of what can be considered fraud-related."
In his own case, Wilder comes from a physical security background, but other CFEs have experience in investigating claims, accounting, risk management, and a host of other skills.
Regardless of background, CFEs must be versed in the legal aspects of fraud, investigative procedures, accounting principles, and risk assessment and prevention. This broad scope allows examiners to address and investigate a wide range of fraud types in various areas.
One of the ACFE's main tasks is training and certifying CFEs. But the other half of its mission is to provide reports and informational resources about fraud. By making good use of these materials, organizations can be better prepared to identify and prevent fraudulent behavior.
Vigilance and Honesty — Everyone Can Help Stop Fraud
Fraud isn't the easiest thing to spot as fraudsters don't talk openly about their actions and are highly motivated to cover up their misdeeds.
Although CFEs are trained to seek out and detect fraud, an organization's most valuable resource is the ground-level view provided by its current employees. Thus, it's important for every member of a company to be able to recognize signs of fraud.
Wilder told us that about 40% of fraud investigations begin with a tip.
"More than half of those tips come from employees of the organization, but about 30% come from people outside the organization," he said.
No matter your role inside an organization, you can help protect its (and your own) interests by remaining vigilant for signs of fraud.
The most common warning sign is a perpetrator living beyond his or her means. Mueller, for example, began driving expensive cars and taking lavish trips to Las Vegas, something not feasible on an $80,000 per year accountant's salary. This sudden change in lifestyle can be preceded by financial difficulties; before putting his plan into action, Mueller struggled with credit card and student loan debt.
Another frequent sign is an unusually close relationship with a business connection.
"That could be the sign that that person has an inappropriate relationship with that vendor or customer, and they're getting kickbacks or illegal gratuities, or they're being given some kind of incentive to funnel business," Wilder said.
To highlight such red flags, ACFE provides a list of fraud warning signs. Of course, none of these are guaranteed indicators, but it's still important to keep a watchful eye for these behaviors. Knowing what to look for is only half the battle; once a case of fraud has been identified, companies must provide protection for employees to alert management to potentially fraudulent behavior.
"One of the things we recommend in terms of encouraging tips and helping to fight fraud in an organization is making sure that whistleblowers have the option of anonymity," Wilder said. "An anonymous hotline is going to make a big difference in the number of tips you receive and the chances that you catch fraud early."
By educating employees and providing a safe avenue for them to report suspicious activity, organizations stand a better chance of mitigating the negative consequences of fraud.
A Fraud-Free Environment Starts at the Top
Part of ACFE's fraud-fighting mission is providing resources that will help employees remain vigilant. But, ultimately, an organization's leadership is responsible for creating an environment unfriendly to fraud.
"One of the biggest things that organizations in any industry can do to help prevent fraud is employee education and employee awareness," Wilder said.
An important part of this education is creating a culture of ethics, and it is important that organizational leaders establish that tone at the top of the hierarchy.
"Make sure that upper management is involved and committed to a tone of integrity and showing the employees of the organization that fraud is something that they're concerned with, that they're actively looking out for. That can have a big impact on everyone at the company," Wilder said. "We find that's a major component of fraud prevention in an organization."
By following ACFE guidelines and remaining vigilant against fraud, organizations can maintain their professional image, avoid financial losses, and maintain their customers' and vendors' trust. By proactively protecting themselves against fraud, they can minimize their vulnerability and continue serving their clients and partners with transparency and integrity.