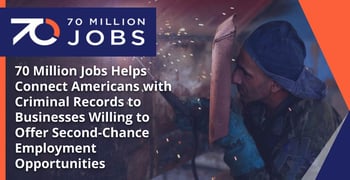 Experts share their tips and advice on BadCredit.org, with the goal of helping subprime consumers. Our articles follow strict
editorial guidelines
.
In a Nutshell: For Americans who have criminal records, finding gainful employment can be a very difficult prospect. 70 Million Jobs helps to connect job seekers with misdemeanors or felonies in their past with employers who are willing to give them a second chance in society. The company maintains an online, searchable job board, and it assists in creating résumés, notifies job seekers of open positions, and helps them apply. The service is not only good for individuals applying to jobs, but studies have shown that employees with criminal records are motivated to perform well at work and contribute to higher retention rates.
When Richard Bronson was released from prison, he began to panic.
Bronson was a former partner at Stratton Oakmont, the financial firm made famous in Martin Scorsese's film "Wolf of Wall Street" for its portrayal the criminal practices and indulgent lifestyles of its executives. After leaving the firm, he established his own company that followed a similar ethos and it grew to have 500 employees and earn $100 million in annual revenue.
Bronson's unethical practices eventually caught up with him and he was sentenced to a 22-month prison term for securities fraud — a relatively lenient sentence due to the fact that Bronson and his partner had already repaid many of the clients they had defrauded.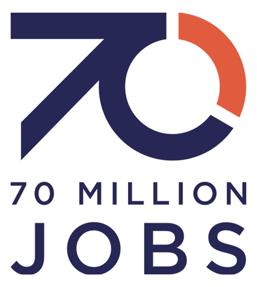 "But a lot of what I was doing was crooked. I knew what I was doing was wrong, but I was greedy," he wrote of his past. Bronson said he was actually relieved to go to prison — at least he didn't have to worry about being harassed by bill collectors or where his next meal would come from.
Bronson panicked 20 months later because despite his college education and being a formerly wealthy, powerful Wall Street executive he was essentially destitute — and unable to find work.
In this difficult time, Bronson also realized that if someone with his education, connections, and experience had trouble finding work, his former fellow prisoners — many of whom lacked any of the aforementioned attributes — didn't stand a chance.
So in 2017, Bronson launched 70 Million Jobs — the first national, for-profit employment platform committed to finding gainful employment for the 1-in-3 Americans (about 70 million) who have criminal records.
We recently spoke with Adrienne Hatter, 70 Million Jobs' Community Outreach Manager, to learn more about how the company works and the benefits it offers both job seekers and employers.
The Challenges of Seeking a Job as an Ex-Offender and Tips to Become More Employable
70 Million Jobs is an employment platform specifically for individuals with criminal records, Hatter said. The company is building a free online infrastructure, similar to that of Indeed.com or Monster.com, that facilitates access to job opportunities with employers who are open to hiring people who have been convicted of misdemeanors or felonies.
"We discovered that there were employers out there that are willing to hire folks with records, but unfortunately they either don't have a means of doing so at-scale, or they have hundreds of unfilled jobs and outdated ideas about people with criminal records," she said. "We're here to change that."
Hatter noted that there is a shift taking place in the national conversation about incarceration, re-entering society, and criminal justice reform that is helping to create a more open-minded mindset among employers.
"We feel blessed to be at the crux of that conversation," she said.
And those with criminal records preparing to re-enter the workforce can take several steps that will help them become more employable.
"One — take advantage of any opportunities that exist while you are inside; any opportunity to work or take classes," she said.
Next, Hatter said to seek out on-the-job training or job readiness programs that exist locally. These types of programs can help close the experience gap, and introduce you to a support network to help those getting back on their feet.
In general, those preparing for a post-incarceration job search should seek any opportunity to get a foothold in an industry they are interested in working in, she said, or look for ways to expand on any previous knowledge or experience they have.
"When in doubt, reach out to your local community organizations to see what kind of resources exist for your next steps — if you don't know where to start, reach out to us," Hatter said. "70 Million Jobs has a network of 500-plus community partners we can help you get connected to."
Assistance Creating a Résumé, Searching the Job Board, and Applying to Positions
The company strives to make the job search process as quick and easy as possible for those with criminal records, regardless of experience level.
Hatter said 70 Million Jobs offers a higher touch approach than a typical job board, including one-on-one support as needed.
Once job seekers create a free account and answer a few quick and easy questions, 70 Million Jobs will generate a résumé for them to use to apply for job listings on the site or download to use anywhere.
Once a job seeker is in the system, 70 Million Jobs will reach out to potential applicants to let them know when a job that matches their search pops up.
"We'll call them directly or send them a text to let them know about the position so they can be among the first to hear about it," Hatter said. "From there, they can apply on their own or they can give us a call if they have questions or need any further assistance, and we'll be glad to help."
She said a lot of the job opportunities that consistently appear on 70 Million Jobs are with well-known, national brands, such as MOD Pizza, Skechers, Perdue, and Denny's.
70 Million Jobs has also launched a staffing agency model in its home state of California to provide even higher quality services to job seekers and companies with positions they are looking to fill.
How Businesses Can Benefit from 70 Million Jobs
Many companies still hold on to the perception that employing those with criminal records is risky or bad practice, but 70 Million Jobs knows that hiring the formerly incarcerated is actually good for business.
"Studies show that employees with a criminal background can actually perform better for you than those without a record," according to the company. "Retention rates can be higher and employees with criminal records are often more loyal."
Employees with criminal records are more motivated to perform well at work and strive to maintain employment because they are aware of the more limited employment options available to them, according to 70 Million Jobs.
Additionally, positions in the hospitality industry, labor, and agriculture are well-suited for people with records because they are used to highly structured environments where expectations are clear and measurable.
Hatter said companies who hire individuals coming out of the criminal justice system are eligible to partake in the Federal Work Opportunity Tax Credit program. The program "allows employers to reduce their federal income tax by as much as $9,600 per employee in the first two years of work."
And for companies concerned that an employee with a criminal record presents a higher risk for on-the-job incidents, the U.S. Department of Labor offers the Federal Bonding Program to help mitigate any risk.
"It should be noted that less than 1% of every bond issued has ever been claimed," Hatter said. "So that speaks to the misconceptions about this workforce."
Additionally, about 80% of those released from incarceration will be back in the system within five years if they are unemployed. Those with jobs almost never recidivate, according to 70 Million Jobs.
Another benefit to hiring people with criminal records is that 70 Million Jobs can amplify the positive social message employers are sending by giving people a second chance after their incarceration.
Hatter said a bipartisan desire to see some kind of criminal justice reform is helping to spark more conversation around how to help those with criminal records successfully re-enter society.
"So, we're seeing employers start to have these conversations," she said. "And with the epidemic growth of the incarceration system over the last 20 or 30 years, they can no longer afford to ignore this large group of talent."