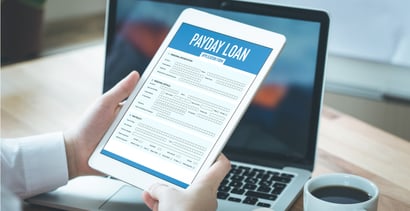 If you are one of the 12 million Americans who use payday loans each year, you may ask, "What are the best online payday loans?" It's no idle question. US consumers spend about $9 billion each year on payday loan fees, and the average loan amount is $375. 
Sadly, 58% of payday loan borrowers have trouble paying their monthly bills, and just 14% can afford to repay their loans.
Whether fair or not, expensive payday loans are a big business that provides funds to folks who may have no other way to borrow money. It is critical for borrowers to know their options, which include personal loans and payday loans online. While no less expensive than brick-and-mortar payday lenders, these online lending services do provide extra convenience and safety. 
The Best Online Payday Loans & Payday Loan Alternatives
These seven lender-matching services can quickly prequalify you for a payday or personal bad credit loan and connect you with a suitable direct lender. They charge nothing for their services, and using them will not harm your credit score. Many belong to the Online Lenders Alliance to help ensure ethical lending practices.
MoneyMutual has remained our top-ranked online lending service for several years. Its network includes providers of both payday and personal loans. You'll need only minutes to fill out the short loan request form and hook up with a direct lender that may be able to fund your bad credit loan in as little as one business day.
CashAdvance.com specializes in arranging relatively small payday loans of up to $1,000. It is the only lending network in this review that deals exclusively with payday loans. To prequalify for a speedy cash advance loan, you must earn at least $1,000/month in after-tax income and have at least 90 days on the job. CashAdvance.com is a member of the Online Lenders Alliance.
The CashUSA.com network deals with many types of payday loan online alternatives, including personal loans. To prequalify, you must be 18 or older and earn a regular income from full-time employment, self-employment, or Social Security benefits. CashUSA is a solid option if MoneyMutual's personal loan limit is too small for your needs.
BillsHappen® can help you get a fast payday or personal loan. Prequalification doesn't depend on your credit score, but you must have a steady source of income from work or benefits. This network matches you to multiple lenders so you can choose the loan offer that best meets your needs. 
CreditLoan.com caters to borrowers with poor credit who need $250 to $5,000 right away. Its cash advance network provides loans for any purpose as soon as the next business day. The company has helped more than 750,000 customers since it began in 1998.
BadCreditLoans.com can prequalify you for a loan from $500 to $10,000, whatever your credit history. The company, founded in 1998, uses advanced encryption methods to ensure the safety of your information. The members of its online network can approve your loan in minutes and fund it by the next business day. 
PersonalLoans.com can arrange small or large loans to suit the needs of borrowers with bad credit. You must receive at least $500 a month in income or benefits to prequalify. As with all the reviewed lending networks, PersonalLoans.com does not perform a hard credit check when you request a loan offer.
What Is an Online Payday Loan?
Many folks are familiar with payday lending storefronts that service members of the local community. Online payday lenders perform the same function, but you don't have to travel anywhere or expose yourself to safety threats. 
Payday loans are cash advances on your next paycheck (or benefits check). They are short-term loans that you repay as a lump sum on the due date, typically in one or two weeks. Lenders design payday loans to occasionally help get you through to your next paycheck, not as a regular source of extra funds. 
You shouldn't rely too heavily on payday loans because of their tremendous cost. You can expect to pay an APR of several hundred percent for a payday loan, albeit for only a short period. 

Unlike other high-cost loans such as a pawnshop or title loan, property does not secure payday loans. Instead, lenders rely on your regular income when approving these loans. 
Online payday lenders deposit your loan proceeds into your bank account, usually as soon as the next business day after approval. They then draw your repayment from the bank on the due date. If the account lacks sufficient funds, the lender will roll the loan forward to the following pay date and charge you extra fees.
Unfortunately, many payday loan borrowers can't repay their loans on time. The Consumer Financial Protection Board estimates that 80% of payday loans get rolled over (or renewed within 14 days), and 20% end in default. 
For this reason, we advise extreme caution when accepting a payday loan, as you run the risk of being sucked into a debt spiral with bankruptcy your only escape.
The best online payday loan networks are not lenders. Instead, they match you to one or more direct lenders that are interested in providing loans to folks with bad credit. 
You can use the loan-matching services for free and without harm to your credit score since they don't do a hard pull of your credit history when you submit your loan request form. The services match prequalified consumers to direct lenders that accept loan applications and decide whether to offer loans. 
The matching services have no control over the loans that lenders make, and indeed, they exit the scene as soon as they transfer you to a direct lender. Therefore, don't expect help from the matching services if you have complaints about a direct lender. 
How Do I Apply For an Online Payday Loan?
There are a few reasons to obtain your payday loan from an online matching service instead of a storefront:
The services work with dozens of lenders so you don't have to, thereby multiplying your chances of finding a willing lender.
They charge nothing for the services they provide.
You can apply whenever and wherever you like — no travel needed.
You don't need to worry about your physical safety. That's not necessarily true when you walk out of a payday loan storefront with cash in your wallet. 
They work fast, and you may be able to collect your money as soon as the next business day.
A drawback of even the best online payday loan is the one-day wait. If you go to a storefront, you can collect your money in a few minutes. 
Procedures
The reviewed networks of personal and payday loans work in pretty much the same way. As mentioned, the matching services do not lend money. Instead, they connect you to a direct lender that will take your loan application. 
The direct lender networks consist of banks, private lenders, and other funding sources that welcome borrowers with bad credit scores.
You begin the loan prequalification process by submitting an online request form. The matching services check your request but do not pull your credit, sparing further damage to your already tender credit score. If you meet the service's requirements, it will transfer you to a direct lender willing to work with you. 
In some cases, the service will give you a choice of multiple lenders, letting you decide which to apply for.
Once you arrive at the direct lender's website, you'll complete a loan application form that requires more details than the loan request form did. By submitting the application, you authorize the lender to pull your credit. 
The lender may then offer you a loan for a specified amount, disclosing the exact costs and repayment terms. Read the offer carefully before e-signing the loan agreement. The lender will wire the loan proceeds to your bank account within one to two business days.
Sometimes, a lending service can't match you to a direct lender. Should that happen, the service may send you links to other credit services, such as debt consolidation or credit counseling. 
The lending services make their money through finder's fees or part of the origination fee the lenders collect when loans close.
Qualifications
The online lending services can prequalify you for a loan, but only the direct lender decides to extend you a loan. Typically, prequalification requires you to:
Be a citizen or permanent resident of the United States
Be no younger than 18 years of age
Have a verifiable job with sufficient income to repay the loan. The income can also originate from government benefits or other reliable sources. 
Have an active checking account in your name so you can collect the loan money and repay it electronically
Have a valid email address and telephone number
Have a Social Security number or similar governmental identifier
In addition, the lending service may ask about your monthly mortgage or rental payments and your current debts. 
Once you prequalify for a loan, the lending service will direct you to a direct lender, where you'll fill out a loan application form. The lender may collect additional information about your job or finances and ask for various types of documentary proof.
Which Online Payday Loan Is the Easiest to Get?
In general, payday loans are more accessible than personal loans, but only if you have a job or receive governmental benefits. The reason is that the way payday lenders work does not involve credit checks. 
We think that all the reviewed payday lenders are equally accessible. The best payday loan service, MoneyMutual, offers both payday and personal loans, making it a convenient choice when you aren't sure which type to get.
CashAdvance.com is the best payday loan lending network that deals exclusively with payday loans. It's a good choice if you need to borrow only $100 to $200, but be aware that $999 is the most it will lend.
How Do Online Personal Loans Compare to Online Payday Loans
Payday loans are a type of short-term loan that you repay on your next payday, typically one to four weeks after taking the loan. In contrast, you repay personal loans in monthly installments over a set period. 
These two loan types are unsecured, meaning they don't require collateral. A payday loan relies on your income, but a personal loan requires only your signature (which is why we also call it a signature loan).
This chart compares the two types of loans:

Advantages
Payday loans have the following advantages over personal loans:
Easier to obtain: You can get a payday loan with a steady income, either from a job or governmental benefits. You don't need good credit (or, for that matter, any credit) to get a payday loan.
No impact on credit score: You can apply for a payday loan without harming your credit score because payday lenders do not pull credit reports from any major credit bureau. This practice allows you to avoid the one-to-eight-point credit score drop from a hard pull when applying for a personal loan.
Smaller minimum amounts: You can get an online payday loan as small as $100. The smallest online personal loan is $250. 
Personal loans have these advantages:
Lower interest rates: Personal loan APRs range from 10% to 36%, depending on your credit score. Even if you have bad credit, personal loan interest rates are much lower than those for payday loans. 
Easier to budget: You repay these installment loans at a fixed monthly amount instead of a lump sum. You can adjust the number of monthly payments so each is affordable. Longer terms reduce the size of each monthly payment, although your total interest costs will rise as you extend the repayment period. Typically, online personal loans allow terms of three to 72 months.
Higher maximum amount: Generally, personal loans allow you to borrow more than you'd get from a payday loan. PersonalLoans.com lends up to $35,000, but you will need good credit to obtain such a large amount. Subprime consumers shouldn't expect to borrow more than $5,000 through a personal loan, about twice the maximum loan amount available from a payday loan.
Rebuild credit: Personal loans providers usually report your payment activity to one or more major credit bureaus. This reporting allows you to rebuild your bad credit by paying your bills on time. Payday loans do not report your payments. 
Suitable for debt consolidation: Installment loans have a structure appropriate for consolidating your other debt. You can use the proceeds of a personal loan to pay off your credit cards and other loans, leaving you with a single affordable monthly payment. Moreover, you'll save money if the personal loan's interest is below your other debt's weighted average APR.
Disadvantages
Before taking a payday loan, consider these drawbacks:
Ultra short-term loan: Usually, you have a week or two before you must repay the loan. Your lender will take the money you owe, including fees, from your bank account on the payment date. If the account has insufficient funds, you'll face extra charges from the lender and your bank. 
A chronic shortage of cash: If your lifestyle has you spending beyond your means each month, regular use of payday loans may make matters worse by piling up your debt.
High costs: The high interest rates that payday lenders charge may prove to be unaffordable. It may be impossible for your paycheck to cover loan repayment and your other expenses. Consider a personal loan instead, as it will charge no more than a 36% APR and allow you to repay in affordable monthly installments.
Don't Build Credit History: Payday loans are among borrowing vehicles that do not report your payments to a credit bureau. Therefore, they don't help you rebuild your credit. Personal loans do report payments and can help you achieve a higher credit score if you pay on time.
Personal loans have few disadvantages. The biggest is that your total interest costs rise as you extend the loan term. In other words, you trade off long-term expenses for immediate affordability. 
Another minor disadvantage is the small hit your credit score will take when a personal loan provider performs a hard inquiry on your credit reports. Finally, although personal loans are cheaper than payday loans, they are still expensive ways to borrow, and you may have better options elsewhere, such as your credit union or your family and friends.
Risks
When taking on debt, the risk you face is the financial damage you'll suffer if you fail to repay it. The damage includes:
Lower credit score: Lenders inform credit bureaus when you fall more than 30 days behind on your personal loan payments. Late payments and defaults hurt your credit score and remain on your credit reports for seven years. Payday lenders do not report late payments to the credit bureaus, but the collection agencies they use do. Collections significantly lower your credit score and pollute your credit report for seven years.
Penalties: When you miss the due date for repayment, the payday loan lender will roll the loan over, add the uncollected interest to the principal amount, and charge you a new round of interest. In other words, your debt grows every time you miss a payment, making the loan increasingly challenging to repay. Personal loans providers charge a late fee when you miss a payment and may call in the loan (i.e., demand full and immediate repayment). 
Collections: Both types of lenders may put your loan into collection when you fail to repay. Some lenders keep the loan on their books and engage collection agencies (or in-house collection departments) to recoup delinquent loans. Conversely, other lenders sell their bad loans to collection agencies at a discount and write off the remaining balances. Collection agencies aggressively pursue borrowers to the limit of the law (i.e., The Fair Debt Collection Practices Act). As mentioned, collectors report delinquent borrowers to the credit bureaus, whether or not the lenders do so. Collection agencies can add interest and fees to your debt if specified in the original contract or allowed by state law. In addition, collections are inherently unpleasant and potentially embarrassing.
Legal action: Lenders can take you to court for non-payment of debts. You'll face legal and court costs if you plan to contest the lawsuit. Some lenders file for bankruptcy protection, which also carries additional charges. Bankruptcy decimates your credit score and can remain on your credit reports for seven to 10 years.
In sum, failure to repay your debts is risky business that can have long-lived negative consequences. If your income doesn't cover your debts, consider the following actions:
Directly address the problem: Calculate your financial position (hint: a spreadsheet can help) and cut spending where possible. Also, consider ways to increase your income.
Prioritize your payments: Your budget should separately list bills you cannot avoid (i.e., non-discretionary expenses) such as the rent or mortgage, utilities, food, and gas if you own a car. Then, prioritize how you'll pay off your debts, including credit cards and loans.
Contact your creditors: Some creditors may be willing to accommodate your financial situation by extending your loan term, lowering your payments, or forgiving some of your debt. It's always better to communicate with your creditors rather than simply stopping payment, and doing so may help avoid more damage to your credit. Consider enlisting the help of a non-profit credit counseling agency or a debt relief firm to deal directly with your creditors.
In the long run, the only way to avoid the risks associated with too much debt is to decrease your spending and increase your income. Frugality and hard work are your pathways to financial recovery.
Costs
It's hard to find a cheap loan when you have bad credit. Subprime personal loans are no bargain, but they cost much less than payday loans. 
Expect to pay close to 36% for a bad credit personal loan. For example, if you take out a $10,000, five-year personal loan at a 36% APR, you'll pay $361 a month, and you'll shell out a total of $11,680 in interest. 
In other words, you'll repay $21,680 on a $10,000 loan, which is ghastly indeed. You can use a personal loan calculator to estimate different loan scenarios.
Even though payday loans charge eye-watering interest rates, an occasional loan should not hurt your finances because the actual cost is relatively low due to the very short loan term.
Payday loan APRs are so high because they are a type of no credit check loan. Consider the following example:

While the APR of 521% sounds punishing, the cost of the loan is only $100. The fly in the ointment is that many borrowers do not repay their payday loans on time. 
As explained earlier, when you roll the loan over, the payday loan lender will add the uncollected interest to the principal loan amount and charge you a new round of interest. Repeated rollovers can send you into a debt spiral ending in bankruptcy. 
Unfortunately, even if you repay your payday loan on time, you may be among the 80% of payday loan borrowers who renew a loan within two weeks of paying off the previous one. Stringing together multiple payday loans increases your costs significantly and can lead you into a debt trap.
Are Online Payday Loans Legit?
The editorial policy at BadCredit.org is to review legitimate companies that you can trust unless we specifically call out a company for bad behavior. In this review, we believe the seven online lender-matching companies genuinely deliver the services they offer. 
However, we do not know the actual direct lenders in the reviewed companies' networks. We assume that the vast majority are legitimate, if for no other reason that the lender-matching companies can't afford to risk their reputations dealing with shady operators. 
In truth, the internet has its share of scammers and fraudsters, including persons masquerading as payday lenders offering unbelievably good deals. Often, these miscreants seek out victims via email. Some telltale signs that a payday lender is fishy include:
Requiring you to deposit money in advance
Offering you "insurance" that you pay upfront to secure a lower interest rate
Not disclosing company and employee information
Sending emails from non-business addresses
Company names almost matching those of genuine financial institutions
Requesting your sign-on credentials for your online bank account
Asking to deposit a check and having you return the money as a way to "check your identity"
Exhibiting pushy behavior or issuing threats
Making verbal promises that differ from the written loan agreement
Adding fees or changing terms after you sign the loan agreement
Asking for private identity or banking information over the phone
If you feel an illegitimate payday lender has victimized you, you can contact several agencies for assistance, including: 
The Consumer Financial Protection Bureau
The Federal Trade Commission
Your state attorney general's office
Credit counselors
Pro bono attorneys 
In sum, check out a lender's reviews before doing business with it. A little prudence can save you a lot of grief later.
Where Can I Borrow $1,000 Quickly With Bad Credit?
This article deals with payday and personal loans that can source a small loan. Other alternatives include:
Credit card cash advances
Loans from family and friends
Pawnshop loans
Payday Alternative Loans from a credit union
Cash-out automobile loans
Home equity loans
Crowdsourcing
P2P loan marketplaces
Your unique circumstances will significantly influence which alternatives are available to you. Payday loans should be a last resort due to their riskiness and cost.
How Can I Get an Online Loan Without a Credit Check?
Online payday loans are a type of no credit check loan, a feature that attracts millions of borrowers each year. If you have a job or other regular income of sufficient size, you can get a payday loan despite having poor, limited, or no credit. 
There are few other online sources of no credit check loans. You may be able to get a Payday Alternative Loan from your credit union. PALs require credit union membership and limit the amount you can borrow to up to $2,000.

PALs may not be available from every credit union, but you can use this credit union locator tool to find one near you. You can call and ask whether they offer them and how to become a member. 
Find an Online Payday Lender You Can Trust
If you want to know the best online payday loans (or personal loans), the seven reviewed lending services are an excellent place to start. These trustworthy sites can prequalify you for a loan without cost or damage to your credit score and then connect you to one or more direct lenders.
If you want more information about the best payday loans, click on the START HERE links in the summary boxes, and we'll transfer you to the lender's website. You can then read about the process in detail and apply for a loan if you wish.
Advertiser Disclosure
BadCredit.org is a free online resource that offers valuable content and comparison services to users. To keep this resource 100% free for users, we receive advertising compensation from the financial products listed on this page. Along with key review factors, this compensation may impact how and where products appear on the page (including, for example, the order in which they appear). BadCredit.org does not include listings for all financial products.
Our Editorial Review Policy
Our site is committed to publishing independent, accurate content guided by strict editorial guidelines. Before articles and reviews are published on our site, they undergo a thorough review process performed by a team of independent editors and subject-matter experts to ensure the content's accuracy, timeliness, and impartiality. Our editorial team is separate and independent of our site's advertisers, and the opinions they express on our site are their own. To read more about our team members and their editorial backgrounds, please visit our site's About page.