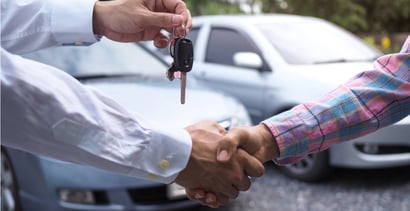 Vehicle loans for bad credit can make shopping for a car a lot easier than you may think. These types of auto loans are aimed at people with poor credit or no credit history at all and can be funded quickly, usually the same day you apply.
The interest rates for these loans are higher than they are for someone with good credit, but shopping around for the best loan can still reveal affordable options. You can stretch your loan term to help make the monthly payment affordable.
Best Overall Vehicle Loan For Bad Credit
Auto Credit Express is consistently among our top picks for a bad credit car loan for many reasons, starting with the prequalification form that takes only about 30 seconds to complete online. Provide your estimated credit score, monthly income (you must earn at least $1,500/mo. to qualify), and monthly recurring debt, and you'll immediately get an estimated loan approval amount. 
Auto Credit Express is a lending network that works with dealer partners to help you find a car and financing for a subprime auto loan.
More Vehicle Loans For Bad Credit to Consider
The companies we review below specialize in helping a buyer get a bad credit auto loan no matter what type of credit history they have. Perfect credit isn't required, and these lending networks and direct lenders expect applicants to have credit problems. 
Lending networks will help you prequalify for a loan for free and send you to lenders ready to work with you, while direct lenders, such as those from auto finance companies, will make loans directly to you.
LendingTree helps car buyers find auto financing, including options for a bad credit auto loan. Expect these loans to come with a higher interest rate than what someone with good credit would pay. 
LendingTree helps consumers fill out online applications and compare finance options from multiple lenders so they can get the best loan rates for their credit rating.
RefiJet can help you refinance your existing auto loan or secure funding to purchase your leased vehicle. You can save money on your current loan, cash out equity, or secure a lower interest rate with the help of a cosigner.
RefiJet is not a direct lender, but it can match you to one that fits your credit history and financial profile, so you don't waste time applying to multiple lenders that may not approve you.
Car.Loan.com Auto Loan is another lending network that we rank highly. After filling out its secure form online, the site matches car buyers with a lender or auto dealer. 
You choose the car you want and can drive away as soon as the same day you apply if your loan is approved. Car.Loan.com's partners have closed more than $1 billion in bad credit car loans, including auto loans for people with a prior bankruptcy.
PenFed Credit Union is a credit union that facilitates refinance loans as well as new loans to purchase a vehicle. You can prequalify for a loan offer even if you have bad credit.
PenFed is a direct lender, not a network. Credit unions notoriously offer low interest rates, so if you qualify, this might be your best deal.
myAutoloan.com also works with a national network of lenders. A monthly income of at least $2,000 is required, as is U.S. citizenship and being 18 or older. The website is easy to use and contains information to help a bad credit auto loan borrower check estimated interest rates and how much their loan payment may be. 
Borrowers may receive up to four offers from which to choose, and lenders can provide an online certificate or check for the loan amount within 24 hours.
7. Credit Acceptance


Credit Acceptance focuses on helping people with bad credit and first-time car buyers. Customers who are approved for credit are connected with three local car dealerships within its partner network. Customers can then choose one to visit to get a loan approved and buy a car. 
The dealership sets the loan terms. Loan payments are reported to all three credit bureaus, so on-time payments should improve your credit score over time.
8. Consumers Credit Union


Consumers Credit Union only requires a one-time payment of $5 to join. Credit unions often require certain affiliation with the credit union to become a member, but Consumers Credit Union has no such requirements. 
Members of Consumers Credit Union receive a 0.50% discount with automatic payments from their accounts. The credit union also gives a 0.25% discount for autopay from another financial institution.
9. RoadLoans


RoadLoans is the lending arm of Santander Bank, a subprime lender that specializes in helping people with bad credit finance a car. RoadLoans works with Chrysler Capital to provide no-hassle auto financing through a streamlined borrowing process. The results of its online applications are typically available in 60 seconds, according to the company. 
If approved, you can view the offer and go to your local dealership to shop for a car.
What Is a Vehicle Loan For Bad Credit?
A bad credit loan is a car loan meant for people with weak credit or little to no credit history at all. We'll go over the types of credit scores needed in the next question, but car buyers should know that lenders expect applicants to have credit problems.
Bad credit financing starts as any other loan would, by filling out a loan application. A bad credit auto loan can sometimes be funded more quickly than it would take to fund other loans. Sometimes funding is available as fast as within 24 hours of applying.
The lending networks we recommended help consumers for free through online prequalification applications that can take 30 seconds to a few minutes to complete, sometimes without a credit check. 
If lenders decide to work with you, the lending network will give you its information to continue the loan process. The direct lender will likely perform a credit check.
Having poor credit doesn't mean your loan application will be denied. It will likely mean paying a higher interest rate on the loan.

By making the monthly payments on time, your credit score may improve, and eventually, you may be able to refinance the loan at a lower interest rate.
Even with a low credit score, you may be able to boost your chances of approval and get a better interest rate by adding a cosigner to the loan or increasing your down payment on the vehicle.
Some bad credit lenders require borrowers to work with specific car dealerships within their lending networks. Others are direct lenders that will give you a loan and then let you decide where you want to buy a car.
Can I Get a Car With a 500 Credit Score?
The FICO credit score, one of the most widely used credit scores, ranges from 300 to 850. A score of 579 or lower is considered bad credit. 
A subprime lender will likely consider an applicant with a 500 credit score. A lending network may be the best choice for people with bad credit because it helps applicants prequalify and then searches for lenders willing to offer loans to such borrowers. And even someone with a 500 credit score may receive offers from multiple lenders.
Lending networks don't check your credit score, so lenders may not learn of your low credit score until the next phase of the loan process, when the lender will likely do a credit check. Until then, you can apply to many lenders through the lending networks without affecting your credit score.
Many lenders and lending networks for people with bad credit are more concerned with your income. Auto Credit Express, for example, requires borrowers to have $1,500 in monthly income to qualify. Others, such as Credit Acceptance, consider people with open bankruptcy on their credit reports and offers them car loans based on unemployment income.
A low credit score may also be less of a problem for a car loan because an auto loan is a secured loan. The car you buy is collateral for the loan and can be repossessed by the lender if you don't make loan payments or default on the loan entirely. 
Lenders prefer to have your money over your car, but this option gives them a way to get some of their money back if you don't make loan payments.
Can I Get a Car Loan From a Car Dealership?
Yes, a dealership can offer you a car loan, even if you have bad credit. A lender or lending network from our list above may work with certain dealerships in the area where you live. 
A loan through a car dealer should have the same payment terms as you'd find elsewhere, with car loans that can last years and finance terms that are comparable to what you'd find at other auto loan providers that cater to borrowers with a low credit score.

Working directly with a dealership may be easier than pursuing other lender options because the dealer may have access to many types of lenders to run your loan request by. More competition for your business can lead to better loan terms and a lower payment on the car you want to buy.
Online lending networks can do the same thing, offering a similar search of many lenders with one loan request.
What Should I Do To Improve My Credit Score Before Applying?
Improving your credit score is one of the best things you can do to get a better loan term and an affordable payment amount. A higher credit score will often lead to lower financing costs, including a lower interest rate for the loan, and is seen by lenders as a significant factor in your ability to repay the loan.
It can take months to raise a bad credit score. Some things that can help raise your credit score so you don't have to rely on bad credit auto financing to buy a car include:
Pay your bills on time.
Use less of your available credit, ideally no more than 30%.
Keep credit accounts in good standing and keep them open for years.
Limit how often you apply for new credit accounts.
Having various types of credit, including a home loan, an auto loan, and credit cards.
The first thing to do is check your credit reports and fix any problems with them. These can include simple errors such as a misspelled name to more complicated issues, such as a bill listed as unpaid that you paid on time and in full. 
You can get free copies of your credit report at AnnualCreditReport.com, which is the only source of free credit reports authorized by federal law.
How Does a Lending Network Differ From a Direct Lender?
Lenders come in many shapes and sizes. Two common types of loan sources are lending networks and direct lenders.
Lending Networks
Lending networks such as Auto Credit Express and Car.Loan.com Auto Loan match your loan request to members of their lending networks that offer direct loans. Their free services start when you fill out an online application that helps you prequalify for a loan.
You can usually fill out the application in a few minutes or less. It will ask for your monthly income, monthly debt, and your credit score.
 It may also ask for your contact information, including your phone number and email address, and about your employment and finances. More information will likely be required later if you're connected with a lender.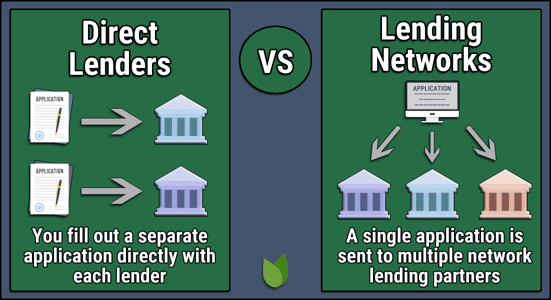 You're under no obligation to apply for or accept a loan from any of the multiple lenders you may receive finance offers from.
The lending networks may do a soft credit pull as part of the prequalification process. This gives them a basic view of your credit history, including payment history and loan balances. This type of credit check doesn't hurt your credit score.
If you pass the network's prequalifying criteria, it will give your information to the lenders it works with to see if any want to offer you a loan. You may get matched with up to four lenders that want your business. The lenders will then present you with their best offers so you can contact the one you're most interested in working with.
When you formally apply for a loan, the lender will usually run a full credit check that gives it access to your entire credit file. This is called a hard inquiry and can only be done with your permission. It can slightly lower your credit score for up to one year, though it usually takes a few more credit report inquiries to damage a credit score. 
Even if you prequalify for a loan, you may not be approved during the final approval process. A negative item that wasn't on the soft credit pull may show up on your full credit report and endanger your loan offer.
Direct Lenders
Direct lenders fund your car loan internally. Consumers Credit Union and RoadLoans are examples of direct lenders.
This loan process may take a little longer than it would through lending networks. It may also necessitate an immediate hard credit pull and may require higher credit scores than those demanded by other lenders.
Direct lenders may give you money to fund your loan, which allows you to choose any car dealer you want. Some lenders only work with a specific bad credit car dealership. Or, they may work with particular car dealerships where you can choose the car you want to buy, and they will give you a credit certificate to use to purchase your car.
For example, RoadLoans only works with six auto brands: Alfa Romeo, Chrysler, Dodge, Fiat, Jeep, and Ram.
Can I Get a Car Loan From a Credit Union?
You may be more likely to consider a credit union the best place to get a personal loan or credit card. Credit unions are known for having competitive, low interest rates and serving their members with the best banking services and loans without having to show a huge profit every year. We reviewed PenFed Credit Union above, a solid choice for a credit union car loan.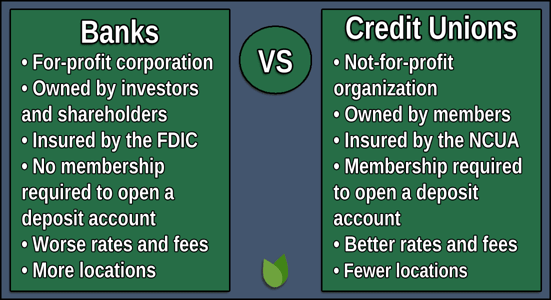 A car loan is available from most credit unions, including Consumers Credit Union, which only requires paying $5 to join. 
Most credit unions are nonprofit organizations, meaning they can charge less interest on an auto loan and offer lower interest rates on a credit card. Profits that a credit union earns through its services are returned to its members. 
Best Choices For Vehicle Loans For Bad Credit
As with any type of loan, be sure to comparison shop when looking at vehicle loans for bad credit. This may require a little bit of legwork on your part to compare direct lenders. But you can let lending networks do the comparisons for you and connect you with lenders that want to do business with you after seeing your prequalification information.
Be sure to compare the loan terms, including the interest rate, loan term, and monthly payment to find the best deal for you. You should be able to get a car loan quickly, sometimes within 24 hours, but don't let that persuade you to make a quick decision on a loan that could be part of your monthly bills for years to come.
Advertiser Disclosure
BadCredit.org is a free online resource that offers valuable content and comparison services to users. To keep this resource 100% free for users, we receive advertising compensation from the financial products listed on this page. Along with key review factors, this compensation may impact how and where products appear on the page (including, for example, the order in which they appear). BadCredit.org does not include listings for all financial products.
Our Editorial Review Policy
Our site is committed to publishing independent, accurate content guided by strict editorial guidelines. Before articles and reviews are published on our site, they undergo a thorough review process performed by a team of independent editors and subject-matter experts to ensure the content's accuracy, timeliness, and impartiality. Our editorial team is separate and independent of our site's advertisers, and the opinions they express on our site are their own. To read more about our team members and their editorial backgrounds, please visit our site's About page.