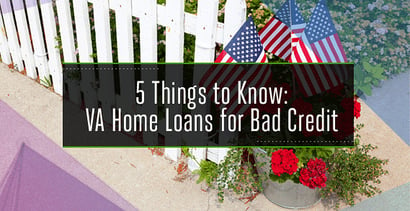 Being an active or retired member of the military can come with a lot of special joys — but also a number of obstacles. For Eric, a young Army veteran from California, those obstacles surfaced in the form of Post Traumatic Stress Disorder (PTSD). As Eric battled his condition, other things fell by the wayside, including his finances.
Although Eric made progress against his PTSD, he was forced to file bankruptcy to recover from his financial problems. And when the time came to find a home, his bankruptcy-tarnished credit report presented an obstacle for traditional financing. Fortunately, Eric had another solution: a VA-backed home loan. Fortunately, Eric was able to explore VA home loans for bad credit.
Supported by the Department of Veterans Affairs (VA), VA home loans are available to active and retired military personnel (and their families, in some cases). Since they're backed by the VA, these loans are easier to obtain than conventional mortgages and are ideal for many veterans who may not qualify for other loans. In the article below, we'll cover several important things to know about VA home loans for bad credit. And we'll present a few other loan options you may be eligible for.
1. VA Home Loans Aren't Issued by Veterans Affairs
Perhaps the most important thing to understand about VA home loans is that they aren't issued by the VA itself. Instead, the VA guarantees a large portion of the loan, essentially giving the lender security that the loan will be repaid even if the borrower can't repay the loan themselves.
As such, you'll still need to talk to an actual mortgage lender, preferably one who specializes in helping veterans successfully obtain VA loans. One of the first things the lender will likely request is your Certificate of Eligibility (COE), which, as you might imagine, verifies to the lender that you are eligible for a VA-backed loan. You can get started by heading to the VA home loan website with the link below.
For military veterans, service members, their spouses, and other eligible beneficiaries only
No down payment and no monthly mortgage insurance
The basic entitlement available to each eligible veteran is $36,000
Lenders generally loan up to 4 times a veteran's available entitlement without a down payment
| Interest Rate | In Business Since | Application Length | Reputation Score |
| --- | --- | --- | --- |
| Varies by Applicant | 1944 | 9 Minutes | 7.5/10 |
If you have an eBenefits account, you can apply for a COE through your account. If you'd rather not use the internet to apply, you can apply by mail by completing Form 26-1880 and sending it to the Atlanta Regional Loan Center. You may also be able to apply for a COE through your lender, provided it has access to the WebLGY system (although many lenders do not have access).
The evidence you'll need to submit to obtain your COE will vary based on the nature of your eligibility. For example, retired veterans are required to have a copy of DD Form 214, showing the character of service and the narrative reason for separation. On the other hand, active duty servicemembers will need to submit a signed current statement of service.
2. VA-Guaranteed Loans Have No Minimum Credit Score
Using a VA home loan has two major benefits over conventional — and even FHA — loans, specifically due to the fact that the loans are backed by the VA, so they're lower risk for lenders. The first is that VA-backed loans don't require a down payment for homes priced at up to $417,000 in most areas. This can make it much easier to get into a home without the need to save up thousands for a down payment.
The second great benefit to using a VA loan to purchase a home is that the VA doesn't have a minimum credit score requirement for borrowers to qualify for a loan. Considering the typical conventional home mortgage lender will likely roll their eyes at an applicant with a score below 680 (and really prefer those with scores above 720), VA-backed loans may be the only option for some credit scores.
One vital thing to keep in mind is that, while the VA itself doesn't have credit requirements, individual lenders might. Lenders are allowed to set their own lending requirements, even for government-backed loans, so the specific credit score you need to qualify for a loan will vary based on the individual lender. In general, most lenders prefer a credit score of at least 620 to qualify for any type of mortgage, including a VA loan.
"VA Loans are more lenient than conventional when it comes to your credit history. In fact, VA has no credit limit, though it is true that VA lenders generally look for a 620 FICO score, which, in layman's terms means 'Fair' credit (followed by 'Good' and then 'Excellent'). Conventional loans often require a 680 minimum credit score, although you may need more like a 740 to have a shot at the best rates and terms." — VA.Gov
Depending on how you got into credit trouble in the first place, VA loans may also have another perk. In particular, VA-backed loans allow for a quicker turnaround from negative events, such as a foreclosure — or Eric's bankruptcy. While Eric would have needed to wait three to seven years after bankruptcy to get a traditional loan, he qualified for a VA after just two years. Of course, two years can seem like a long time when you're looking into purchasing a home but a couple of years in the grand scheme of things is a drop in the bucket. In the meantime, you could make other preparations for when you move into your new home.
It's worth noting that a VA home loan does have one string attached, in the form of the VA's Funding Fee, which is typically between 2% and 3.5% of the loan. This fee is generally bundled into the loan itself, rather than being due upfront at closing. The VA's Funding Fee goes back into the VA home loan program to help keep it running.
3. Loans Backed by the VA Can Be Used for Refinancing
A lesser-known use for VA-backed home loans is to refinance an existing loan into a new VA home loan. The VA supports two main types of refinancing options, with the particular option you need dependent on your goal for refinancing.
Homeowners with a current VA home loan who wish to lower their interest rates — and, thus, lower their monthly payment or reduce the length of their loan — can apply for an Interest Rate Reduction Refinance Loan (IRRRL), also called a VA Streamline Refinance loan. Refinancing with an IRRRL is simple and straightforward, requiring no appraisal or credit underwriting package. Additionally, IRRRL's can often be completed with no out-of-pocket expenses.
The other type of VA refinance loan is called a Cash-Out Refinance Loan, which can be used to obtain cash for home improvements, paying off debt, or other financial needs. Qualified homeowners can refinance up to 100% of their home's value as mortgage debt, with the equity available as cash.
In contrast to home-equity loans, Cash-Out refinance loans replace your current mortgage loan rather than augment it. VA-backed Cash-Out refinance loans can also be used to turn a conventional mortgage loan, USDA loan, or FHA loan into a VA home loan (assuming the borrower is eligible for a VA loan, of course).


If you don't want to refinance your current loan for cash but need to make alterations to your home to accommodate certain service-connected disabilities, you may have another option. The VA offers Special Housing Adaptation (SHA) grants to Veterans to make improvements, such as installing ramps, widening doors, or other modifications that enable them to live more independently. You may even qualify for a Specially Adapted Housing (SAH) grant to build a new home if you cannot modify your existing residence.
4. Your Eligibility May Vary Based on How & When You Served
VA home loans can be extremely useful for those who would otherwise not qualify due to poor credit or the lack of a down payment. As awesome as VA loans are, however, they're not available to everyone, but are a special benefit solely for eligible servicemembers, veterans, and their families.
Furthermore, specific eligibility requirements exist for these consumers, particularly regarding their terms of service. The exact eligibility requirements will vary based on when and how you served, with different requirements for those who served during wartime versus peacetime, as well as separate requirements for Selected Reserve or National Guard members.
In general, those who served during wartime need to have served at least 90 days of active duty without a dishonorable discharge, or less than 90 days with a discharge for a service-connected disability. The eligibility requirement for peacetime is at least 181 days of continuous active duty (with other than a dishonorable discharge), unless discharged for a service-connected disability.
5. You May Also Qualify for Other Home Loans for Bad Credit
While VA-backed loans are definitely a great choice for those who qualify, they may not be your only option for finding a home loan, even with bad credit — especially if you have a decent-sized down payment. In fact, if your credit score is above 580, you may qualify for an FHA loan, and credit scores above 620 may net you a conventional mortgage.
Online lending networks can be a great way to gauge your rate options, as they connect borrowers with hundreds of lenders from across the country. You can check out our top-rated providers below to start your search.
America's largest mortgage lender
The entire process is completed online
Options for new mortgages and refinancing existing mortgages
Award-winning customer service and cutting-edge digital platforms
More than 90% of clients would recommend us
| Interest Rate | In Business Since | Application Length | Reputation Score |
| --- | --- | --- | --- |
| Varies | 1985 | 5 minutes | 9.5/10 |
Best for cash-out refinance
Utilize your home equity with America's #1 lender
eClosing allows customers to close electronically, greatly speeding the process
A+ rating with the BBB
Receive cash for home improvements, college tuition, or paying off debt
24/7 access to your loan through the Rocket Mortgage app
| Interest Rate | In Business Since | Application Length | Reputation Score |
| --- | --- | --- | --- |
| Varies | 1985 | 5 minutes | 9.5/10 |
Get today's mortgage rates from the top mortgage lenders and banks
Easily compare and choose mortgage lenders with no obligations or fees
Review current mortgage rates side by side
Pick mortgage lenders that meet your specific needs
Compare rates from pre-qualified and approved mortgage lenders — 100% online, 100% free
| Interest Rate | In Business Since | Application Length | Reputation Score |
| --- | --- | --- | --- |
| Varies | 1979 | 4 minutes | 8.5/10 |
+See More Home Loans for Bad Credit
Whether you're applying for a VA-backed loan or another type of mortgage loan entirely, one thing to remember is that every time you apply for a loan, the lender is going to use a hard credit inquiry to check your credit report and score. Hard credit inquiries can ding your credit score by several points, and a series of hard inquiries can cause even more damage.
So, how do you shop for the best rate without killing your credit? You do it all at the same time. FICO and VantageScore both have built-in rate-shopping windows, typically at least two weeks, during which time all hard inquiries from mortgage applications will be treated as a single hard inquiry when calculating your credit score. (As an FYI, this works for auto loans and student loans, too.)
Achieve the American Dream with Help From the VA
For many servicemembers and veterans, part of the reason for choosing to serve their country is to protect the American Dream for every American — and generations of Americans to come. Given their sacrifices, it's only fair that these brave men and women get a little help making their own American Dreams come true.
In Eric's case, that American Dream included a two-bedroom condominium purchased with the help of a VA-backed loan, just two short years after hitting financial bottom with his bankruptcy. With the VA's help, Eric and his family are living in a home they own, with reasonable payments and a lower interest rate than he could have gotten elsewhere.
And this won't be the only time Eric can use a VA home loan to make buying a home easier. Once you've earned eligibility, you have it for life, and can use it as many times as you purchase a home.
Advertiser Disclosure
BadCredit.org is a free online resource that offers valuable content and comparison services to users. To keep this resource 100% free for users, we receive advertising compensation from the financial products listed on this page. Along with key review factors, this compensation may impact how and where products appear on the page (including, for example, the order in which they appear). BadCredit.org does not include listings for all financial products.
Our Editorial Review Policy
Our site is committed to publishing independent, accurate content guided by strict editorial guidelines. Before articles and reviews are published on our site, they undergo a thorough review process performed by a team of independent editors and subject-matter experts to ensure the content's accuracy, timeliness, and impartiality. Our editorial team is separate and independent of our site's advertisers, and the opinions they express on our site are their own. To read more about our team members and their editorial backgrounds, please visit our site's About page.