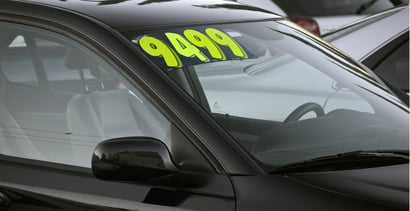 A vehicle is one of the most important purchases you'll make — and used car loans for bad credit can make that purchase easier and more affordable.
Whether you need to get to work, take the kids to school, go grocery shopping, or all of the above, a reliable vehicle gets things done. And instead of worrying about missing a bus or a train, you can leave whenever you want and take control of your life and schedule.
We've ranked our top auto loan providers below. And since you're accepting a secured loan, your bad credit score won't hinder your approval odds.
Best Used Car Loans For Bad Credit
A traditional auto loan is the best way to purchase a new or used vehicle. These secured loans use the vehicle as collateral in case you stop making payments. With less risk involved, many lenders are willing to look past a bad credit score if the borrower can provide sufficient proof of income.
You can also improve your approval odds by adding a down payment or trade-in vehicle that lowers your purchase price and adds some personal investment in the deal.
Network of dealer partners has closed $1 billion in bad credit auto loans
Specializes in bad credit, no credit, bankruptcy and repossession
In business since 1999
Easy, 30-second pre-qualification form
Bad credit applicants must have $1500/month income to qualify
| Interest Rate | In Business Since | Application Length | Reputation Score |
| --- | --- | --- | --- |
| 3.99% - 29.99% | 1999 | 3 minutes | 9.5/10 |
Auto Credit Express has many partnerships with car dealers that provide bad credit financing throughout the U.S. Through this network, you could find a dealer in your area that is ready and willing to accept your bad credit loan application.
You can get the ball rolling by filling out a short loan request form on the Auto Credit Express website. If you qualify, a local dealer will contact you to set up an appointment to go over your bad credit auto financing options, as well as the vehicles available in your price range. Quite often, borrowers can start this process and leave with their car on the same day.
Free, no-obligation application
Specializes in auto loans for bankruptcy, bad credit, first-time buyer, and subprime
Affordable payments and no application fees
Connects thousands of car buyers with auto financing daily
| Interest Rate | In Business Since | Application Length | Reputation Score |
| --- | --- | --- | --- |
| Varies | 1994 | 3 minutes | 9.0/10 |
Car.Loan.com states that its preapproval form takes less than three minutes to complete. The network will then send your form to the largest online network of auto dealers and lenders that specialize in finding affordable bad credit auto loans.
The network claims you'll hear back from a local dealer within 24 hours, but it states that many applicants get a call or email from a dealer within a matter of minutes after submitting their request for a bad credit car loan.
Loans for new, used, and refinancing
Queries a national network of lenders
Bad credit OK
Get up to 4 offers in minutes
Receive online loan certificate or check within 24 hours
| Interest Rate | In Business Since | Application Length | Reputation Score |
| --- | --- | --- | --- |
| Varies | 2003 | 2 minutes | 7.5/10 |
The MyAutoLoan.com network partners with auto dealers and private lenders that consider applications for new and used auto loans, as well as refinancing and lease buyouts.
The loan request form only takes minutes to complete and submit and can yield as many as four loan offers for you to choose from. Each offer will come from a different lender and have a unique interest rate, loan term, and monthly payment amount.
4. Carvana


Carvana is a next-generation auto dealership that can sell you a car no matter where you reside in the U.S. Instead of relying on local dealerships, Carvana hosts its entire new and used vehicle inventory online. If you find a car you like, the dealer can finance the purchase and ship the car to your driveway.
Carvana accepts finance applications from consumers who have any type of credit history. According to the dealer, it can often complete the entire financing process in an unheard-of 10 minutes.
5. Capital One Auto Finance


You likely know Capital One for its credit cards and catchy commercials, but many don't realize that the Virginia-based bank is also one of the country's largest auto lenders.
The bank is also a forerunner in the preapproval process. After a short loan request that will not harm your low credit score, the bank can qualify you for a bad credit auto loan that's easy to close and affordable on your monthly budget.
6. Credit Acceptance Corp.

Credit Acceptance Corp. offers auto loan options for applicants who have bad credit or are first-time car buyers. The approval process requires a short loan request form that can connect you with up to three local dealers that you can visit to go over your bad credit financing options and choose your next vehicle.
Your bad credit won't hinder you through this network of dealer lenders. The company's "Everyone is approved" motto states that it enables dealers to approve nearly every applicant — regardless of their credit profile.
7. DriveTime

DriveTime maintains 136 dealerships throughout the U.S. that specialize in bad credit auto financing and can get you into a new or used vehicle the same day you apply.
This car dealership has a unique way of curating bad credit auto loan packages that tailor your monthly payment and repayment term to your credit rating, monthly income, and budget requirements. With your number in hand, you can shop online or in person with confidence.
8. LightStream

LightStream is the auto-lending division of SunTrust Bank (now Truist) and offers a wide array of loan options with interest rate and loan term packages for just about any FICO score. These loans won't tie you to a specific car dealership and can get you shopping for your new ride in a matter of hours.
LightStream is so confident that it offers the lowest auto rates that it will beat any competitor's offer by 0.10 percentage points if you find a better deal within 24 hours of funding your loan.
9. CarMax

With more than 190 dealerships throughout the U.S., CarMax is likely nearby and can find a car loan option for you through in-house financing or with any of its network of private lenders.
Aside from a dealer-financed car loan, CarMax also works closely with Ally Auto, Capital One, Exeter, Westlake, and Wells Fargo Auto to find a lender that is willing to accept your loan application.
10. Vroom

Vroom can deliver any of the thousands of vehicles in its inventory to your doorstep for an added fee. That way, you don't have to worry about finding a local car dealer with the car you want.
The company's financing options are just as convenient, with bad credit loans available via in-house financing or through a network of private lenders. Once you receive the shipment of your vehicle, you'll have seven days or 250 miles to decide if it's the right car for you.
11. CarZing

The CarZing preapproval process takes only minutes to complete and won't impact your low credit score. If approved, you can start shopping for your new car right away and experience quick and easy closing when you find the right ride for you.
The CarZing search engine also allows you to browse available vehicles in your area through many local dealerships. This is an easy way to shop for your preferred vehicle without hopping from one dealer website to another.
12. RoadLoans.com

RoadLoans.com states that it can find a financing package for consumers who have any type of credit — including past bankruptcies, foreclosures, and missed payments.
Aside from new and used vehicle financing, RoadLoans also provides vehicle refinancing packages that can lower your interest rate and your monthly payment.
13. Ally Clearlane

Ally Clearlane is the auto finance arm of Ally Bank, based in Detroit. You can prequalify for an auto loan in minutes on its website and see what type of loan terms you're eligible for without harming your credit score.
Financing for optional protection products, including GAP and extended vehicle coverage, is also available for eligible customers.
What is a Used Car Loan?
A used car loan is a secured loan that helps you purchase a used vehicle. Since these loans have very specific purposes — in this case, to purchase a car — you cannot use your loan proceeds in any other way.
And since this is a secured loan, you'll use your purchased vehicle as collateral. That means that if you stop making payments on the loan, the lender can repossess the vehicle and sell it to recoup some of the money lost in the bad loan.
This loan type takes much of the risk out of the lender's hands. As a result, you may have an easier time finding bad credit car financing.
Qualifying for a used car loan will require you to complete a credit application with an online lending network, bank, or credit union. Be aware that a bank or credit union will have strict credit requirements and your loan from one of these institutions may have a higher interest rate than if you qualify through an online lending network.
With a network, you can submit a single auto loan request form that takes only a few minutes to complete and won't impact your FICO score. The network you choose to work with then forwards your request to its lending partners. In a matter of minutes, the network could connect you with a car dealership in your area or a private lender that is willing to work with you.
In many cases, you'll hear from a local dealership shortly after you submit your request. These dealers are trained in special loan types and can often find bad credit car financing for you through the in-house financing team or with a private lender. Depending on the financing option you choose, you could close your loan and purchase your vehicle the same day you apply.
You will then submit your monthly payment directly to the lender you're working with. The lending network will not collect any money from you and won't charge you for its services. Instead, it will receive a referral fee from any lender that closes a loan through the service.
Can I Get a Car Loan With Bad Credit?
As a secured loan, you have a better chance of auto loan approval with bad credit than you would with an unsecured loan.
A secured loan requires collateral for approval. This means that the lender can keep your collateral if you fail to repay your debt. Other common types of secured loans include pawnshop loans, payday loans, and car title loans.
An unsecured loan is a traditional loan type that does not require collateral for approval. These are often referred to as signature loans because they simply rely on your signature and a binding contract to seal the loan deal.
Lenders prefer secured loans because they come with less risk. That means that car shoppers who have bad credit can still qualify for a loan relatively quickly and with competitive rates.
But that doesn't mean that you're guaranteed a car loan when you apply. As with any loan, your approval or denial is completely up to the lender. You'll have to meet certain income requirements and have monthly debt obligations that can fit a new payment into your budget.
You can also increase your odds of approval by doing any of the following:
Add a down payment:  Lenders don't want to be the only ones taking risks. If you add some of your own money to the purchase, you'll also have some skin in the game and can improve your chances of bad credit loan approval.
Include a trade-in vehicle: Much like a down payment, you become more invested when you use a current vehicle as a trade-in. Plus, a trade-in will lower your purchase price and reduce your monthly payment.
Add a cosigner: If you can't qualify for a loan on your own, you can ask a loved one to cosign on the loan with you. A cosigner is someone who has better credit than you do and who is willing to guarantee repayment of the loan. Just remember that if you miss a payment or default on the loan, you and the cosigner will take the poor credit score hit.
The auto loan application process doesn't take long to complete. In most cases, you can go from application to driving off the car lot in a matter of hours. If you don't want to spend all day in the dealer's cubicle, make sure you have all of your necessary paperwork on hand and ready to show.
What Credit Score Do I Need to Get an Auto Loan?
Lenders don't typically publicize their minimum requirements for loan approval. As a result, there's no specific minimum credit score that's needed to qualify for an auto loan.
This is in part because your credit score is only one facet of what determines your loan eligibility.
Some consumers who have excellent credit still may have their loan applications rejected if they don't meet certain criteria. This could happen if the person has great credit, but a lot of current debt. If your income can't handle another monthly bill, you'll fail to qualify for a loan.
On the other hand, you may have a very poor credit score, but good income and little debt. In this case, you may find yourself with a better-than-expected loan offer.
Don't write off your ability to get a loan solely based on your credit score. Consider these other factors if you're considering throwing in the towel before you even get started:
Your income: This doesn't have to come only from regular employment. Lenders will also consider income from non-traditional streams, such as government benefits, retirement funds, Social Security payments, alimony, child support, or other regularly occurring payments.
Your current monthly bills: Your lender won't look at certain common bills — such as utilities, cable, cellphone, or streaming services. Instead, you'll only have to submit the larger ongoing debts, such as your mortgage or rent payment and credit card or loan debts. If your debts are substantially lower than your income, you could qualify easily.
Your employment and living history: Lenders like stability. The longer you've been at your job and current residence, the better you'll look. On the flip side, if you regularly change jobs and addresses, you may raise a red flag.
Your credit score plays a large role in getting you qualified for an auto loan, but it isn't the only thing that lenders consider. Keep in mind that you can also attempt to prequalify for a loan without harming your credit score.
Before you officially apply, check with the lender's website or customer service to see if they offer prequalification. Many major lenders, including Auto Credit Express, make it easy to prequalify and begin the shopping process.
Do Car Dealerships Approve Bad Credit?
Most car dealerships can find auto loan options for applicants who have bad credit. This is because auto dealers have many lending options at their disposal.
For starters, many used car dealerships have in-house financing teams that can lend you money for the car you're purchasing. This includes buy here, pay here dealerships and traditional auto dealers.
If the dealership does not provide financing options, your dealer likely has many lenders that partner with the dealership to offer financing deals. The dealer can view your credit history and get a good feel for which lender may be the best fit for you.

This is a big advantage when you're shopping for a loan with bad credit. Instead of applying for a loan through a single lender, take advantage of the strength in numbers provided by online lending networks.
When you send a loan request to different lenders, each will require a credit pull that will place a hard inquiry on your credit profile. This can damage your credit if you apply to too many lenders.
With an online lending network, you can essentially place several applications to lenders without acquiring a single inquiry.
Does CarMax Approve Bad Credit?
CarMax provides in-house used vehicle financing that often accepts applications from consumers who have bad credit. If CarMax can't provide the financing or interest rate you need, the dealer also partners with the following lenders you can apply to through CarMax:
Ally Auto
American Credit Acceptance
Capital One Auto Finance
Chase
Exeter Finance
Santander Consumer U.S.A.
Wells Fargo Auto
Westlake Financial Services
These financing options mean you can likely be approved as long as your income, debt load, and employment status meet the lender's qualifications. Some of the lenders listed above allow you to prequalify for a loan before officially applying and incurring a hard inquiry.
If you prequalify, you can view your total approved loan amount as well as your interest rate. Your prequalification will be good for 30 days, after which your prequalification offer will expire and you'll have to submit another loan request to prequalify again.
Can I Get a Car Loan With a 500 Credit Score?
Your FICO score can range between 300 and 850. Lenders consider any score at or below 579 as bad credit.

A 500 credit score is firmly in bad credit territory and will not qualify for many financial products. But you may still be able to find a car loan with a 500 credit score.
Many traditional auto lenders may not accept an application from someone with a 500 credit score, but local dealers — namely buy here, pay here auto dealerships — can approve applicants with any type of credit.
These dealerships finance the car without assistance from a bank or a private lender. In other words, the dealer lends you the money to purchase the car. You'll make your monthly payment to the dealer for the life of the loan.
Since the dealer handles the sale and financing of the vehicle, you can sometimes qualify for these loans with little money down. Some dealers may not even require a credit check. The downfall to these dealers is that they often charge a very high interest rate and have a small selection of older-model vehicles that have no warranty and may have preexisting mechanical issues.
Without a warranty, you'll be responsible for all vehicle repairs — even while you're paying for the car. This can get quite expensive if you have a mechanic bill added to your monthly car payment.
These dealers also typically have very little tolerance when it comes to late payments. Since the dealer is also your financier, it can repossess your vehicle if you miss payments. If this happens, you lose the car and any payments you've made along the way.
Instead of jumping into a risky deal, consider submitting a loan request to one of the online lending networks listed above. The lenders that partner with these networks specialize in bad credit financing and you may be surprised at what you'd qualify for — even with a 500 credit score.
And since these lenders report your payment and balance history to each credit bureau, you can rebuild your credit while getting the automobile you need.
Can I Use a Personal Loan to Pay for a Used Car?
You could technically use an unsecured personal loan to finance a used car purchase. This would allow you to repay your debt through an affordable monthly payment, just as a traditional car loan would. You also don't risk having your car repossessed if you don't repay the loan.
However, car loans generally have much lower APRs than personal loans do, which makes car loans more affordable in the long run. And, it is usually easier to be approved for an auto loan than it is a personal loan because dealers and financial institutions understand that most people need reliable transportation. As a result, auto loans don't require good credit for approval.

A personal loan may be a good idea to finance car repairs, but not to finance a car purchase.
Do Car Dealerships Require a Credit Check?
Like any traditional lender, a car dealership will require a credit check before approving you for an auto loan. An exception to this rule is found in some local buy here, pay here car dealers that may approve you without a credit check if you provide a sufficient down payment.
Lenders consider three major factors when deciding your eligibility for a loan: your credit report, your verified income, and your monthly expenses. These three things make up most of your creditworthiness. If you take away access to any one of them, a lender may decide to back away from the deal.
But if your dealer is willing to go forward with financing without a credit check, you should expect to receive a more expensive loan. This is how the lender offsets the risk associated with the deal. This may mean a much higher interest rate, an origination fee, or other charges that make the loan quite expensive.
Some consumers shy away from shopping for a used vehicle because they think they can't qualify for a loan. Since an auto loan is a form of secured loan, you may qualify even with a bad credit score.
Your best bet is to talk with your dealer and be honest about your credit situation. Explain that you have a bad credit score and go through the steps you're taking to improve your financial status.
This type of responsible behavior may be all it takes to get you approved for a loan and drive off the lot in your new ride.
How Do Car Dealerships Verify Employment?
You can verify your employment with a car dealer or lender by providing at least two recent paycheck stubs that show your year-to-date earnings and the date the check was issued. This shows the lender how often you get paid and how much you earn.
Be sure to provide your most recent paycheck stubs. A lender may not accept older stubs because that could be a sign you're no longer employed.
This is usually sufficient enough to prove employment and income. It's very rare that a lender will contact your employer to verify income. This typically only happens if you cannot provide your paycheck stubs.
Depending on your credit score and loan amount, some lenders may not even need proof of employment. Don't assume this is the case, though.
You're best served if you bring your most recent pay stubs with you to the dealer before you apply for a loan. If you don't have your paycheck stubs, your employer can likely print out your payment records for you.
Can I Get a Car Loan With No Employment?
Lenders care less about employment than they do income. This means you can still get a car loan if you're unemployed, but you'll need to show proof of enough income to cover the cost of your monthly car payment.
Your income doesn't have to come from a traditional job. Lenders consider many types of income when determining loan eligibility, including:
government benefits
disability benefits
retirement income
investment profits
rental property income
structured settlement checks,
an annuity
alimony
child support
student aid
any other form of regular income
Even if you are employed, you can add these other sources of income to your credit application to improve your debt-to-income ratio and improve your odds of loan approval.
How Much Down Payment Do I Need to Get a Car Loan?
An old — and somewhat outdated — rule is that lenders want you to have a down payment of 20% of the vehicle's purchase price. As the cost of new and used vehicles goes up, more and more borrowers have come to the table with smaller down payments.
Today, you can find loans that will approve you with no down payment at all. However, you should still try to put together at least some amount of down payment.
This doesn't have to be cash. You can also include a trade-in vehicle that lowers the overall purchase price of your car.

A lender may not have a specific down payment requirement. With bad credit auto loans, the lender just wants to see that you're also invested in the loan. After all, if you have no money in the deal, you can easily walk away and not worry about the car being repossessed.
But if you include some of your own money when you purchase the vehicle, you're just as invested as the lender. That's a great way to increase your approval odds.
Can an Auto Loan Help You Build Credit?
An auto loan — or any loan for that matter — can help you build your credit. Every month, banks or private lenders report your balance and payment history to at least one of the three major credit bureaus — Experian, TransUnion, and Equifax.
The bureaus add this information to your credit profile and use it to calculate your credit score. As you'd expect, positive data will increase your score and negative data will decrease it.
If you have bad credit due to previous financial mistakes, you can improve your credit score by adding positive information to your credit report that slowly pushes the previous negative data further down your profile.
As data gets older, it loses its impact on your credit score. When lenders report new data, that becomes the most important information on your credit report.
With responsible behavior — meaning timely payments and maintaining a low balance — you can continue to add positive data to your credit report each month. That will increase your credit score over time and help you qualify for better and more affordable loans in the future.
What Credit Score does an Auto Lender Use?
You may not realize it, but you actually have many credit scores attached to your name. Aside from the individual scores calculated by each of the three major credit bureaus, you also have more than a dozen different credit scores issued by FICO, including scores dedicated for auto lenders.
Despite the specialty scores, there's no way to tell which score a lender will use. Lenders must pay to have access to each individual credit score. When a credit score brand such as FICO releases a new scoring model, the lender can choose to pay for access to the new algorithm or stay with the credit score suite they already purchased.

Most lenders stick with a scoring model for several years to avoid continually paying for new scoring models. That means a lender may use a new scoring model or an older one. There's no way to tell.
Fortunately, there's little difference between each version of your FICO score. But if you want to be safe, you can pull your free annual credit report to get an idea of your credit situation. While your credit report won't show your actual credit score, it will show all of the factors that make up your credit score.
Compare the Best Used Car Loans For Bad Credit Online
Your vehicle is your passport to the world. Instead of relying on rides from friends or public transportation, your own automobile can get you wherever you want to be — whenever you want to be there.
That means you can get to work safely and on time without waiting for a bus or train. You can get your kids to school and go shopping for the things you need without needing permission from anyone.
And the best used car loans for bad credit won't punish you for your past credit problems. Instead, they'll get you on the road to credit score recovery.
Advertiser Disclosure
BadCredit.org is a free online resource that offers valuable content and comparison services to users. To keep this resource 100% free for users, we receive advertising compensation from the financial products listed on this page. Along with key review factors, this compensation may impact how and where products appear on the page (including, for example, the order in which they appear). BadCredit.org does not include listings for all financial products.
Our Editorial Review Policy
Our site is committed to publishing independent, accurate content guided by strict editorial guidelines. Before articles and reviews are published on our site, they undergo a thorough review process performed by a team of independent editors and subject-matter experts to ensure the content's accuracy, timeliness, and impartiality. Our editorial team is separate and independent of our site's advertisers, and the opinions they express on our site are their own. To read more about our team members and their editorial backgrounds, please visit our site's About page.