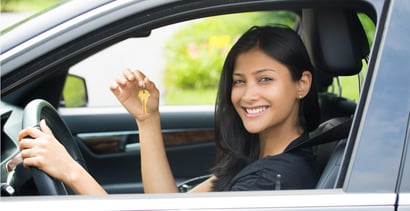 Unsecured auto loans aren't common in the financial world, but they aren't impossible to find. A traditional auto loan uses your purchased vehicle as security. If you stop making payments or default on your loan, the lender can repossess the vehicle and sell it to make some of its money back.
An unsecured loan requires no collateral for approval. This means defaulting on the loan doesn't result in vehicle repossession and leaves the lender holding the bag. Lenders don't like to take on too much risk, which is why you must seek unsecured auto loans carefully.
Lucky for you, we've done the searching, so you don't have to.
The Best Unsecured Auto Loans For Bad Credit
The online auto lending networks below can help connect you with a lender or car dealership in your area that is ready and willing to help you find bad credit auto financing. Most of the auto loan offers you receive will come in the form of a secured loan.
But each network does work with lenders that consider applications for unsecured auto loans. When working directly with a car dealership, you can also attempt to negotiate in-house financing that gives you access to an unsecured loan that meets your budget and needs.
Network of dealer partners has closed $1 billion in bad credit auto loans
Specializes in bad credit, no credit, bankruptcy and repossession
In business since 1999
Easy, 30-second pre-qualification form
Bad credit applicants must have $1500/month income to qualify
| Interest Rate | In Business Since | Application Length | Reputation Score |
| --- | --- | --- | --- |
| 3.99% - 29.99% | 1999 | 3 minutes | 9.5/10 |
Auto Credit Express specializes in finding secured auto loans, but you may also qualify for a personal loan that treats your vehicle purchase as an unsecured auto loan. Loan amounts for these types of deals are typically lower, and you may encounter higher fees to offset the risks involved.
Auto Credit Express says that it will accept loan requests from consumers with any credit history — something you won't find at a bank or credit union. Once you submit your loan request, the network will quickly match you with a dealer in your area that is prepared to help you find the best auto financing options for your situation.
Free, no-obligation application
Specializes in auto loans for bankruptcy, bad credit, first-time buyer, and subprime
Affordable payments and no application fees
Connects thousands of car buyers with auto financing daily
| Interest Rate | In Business Since | Application Length | Reputation Score |
| --- | --- | --- | --- |
| Varies | 1994 | 3 minutes | 9.0/10 |
Car.Loan.com claims that it can approve online applicants in three minutes or less, which lets you start immediately shopping on the web for your next vehicle. The network considers poor credit applicants, and some lenders will approve unsecured personal loan options to purchase a car.
Your loan payment and unsecured car loan term will depend on your credit score. Applicants aren't guaranteed a car loan, but qualified consumers will hear from dealers in their area within 24 hours to go over their vehicle and installment loan options.
Loans for new, used, and refinancing
Queries a national network of lenders
Bad credit OK
Get up to 4 offers in minutes
Receive online loan certificate or check within 24 hours
| Interest Rate | In Business Since | Application Length | Reputation Score |
| --- | --- | --- | --- |
| Varies | 2003 | 2 minutes | 7.5/10 |
Qualified applicants can receive up to four auto loan offers — both secured car loan and unsecured auto loan offers — within minutes of submitting their loan request to MyAutoloan.com. While most lenders default to secured loan offers, you can request an unsecured loan, which narrows the scope of lenders willing to work with you.
Customers with excellent credit will qualify for a lower interest rate than someone who has poor credit. Still, this website can help any car buyer — regardless of their credit history.
What is an Unsecured Auto Loan?
An unsecured auto loan has no collateral attached to the loan. This means the lender cannot repossess your vehicle if you stop making payments. These loans are usually offered to borrowers who have excellent credit.
Secured loans are prevalent among lenders because they minimize the risk of lending money to a borrower with bad credit.
A secured business loan is often attached to a piece of property that belongs to the business. A home equity line of credit uses your home as collateral. A financial institution will often require that a vehicle loan use the automobile as collateral. Even a private student loan may require collateral for approval.
You'll almost always find collateral requirements from a traditional bank or credit union. But, thankfully, many online lenders eschew the strict rules set by your local financial institutions.
Some auto lenders will consider unsecured auto loans in exchange for a higher interest rate, monthly payment, or smaller loan amount. The lender may also look at your credit report to determine your loan rate and car payment amount. That doesn't mean you're out of luck if you have poor credit or excessive debt.
Thankfully, the lenders and dealers that partner with the networks listed above all specialize in finding financing options for every borrower.
What is the Difference Between a Secured and Unsecured Auto Loan?
A secured loan requires collateral for approval, whereas an unsecured loan does not.
The collateral typically connected to a car loan or title loan is the financed vehicle. If you stop making payments, the lender can take possession of the vehicle and sell it. This makes a secured loan easier to qualify for since they're less risky for the lender.
With an unsecured loan, the lender has no recourse if you stop making payments. At best, the lender can sell your debt for pennies on the dollar to a collection agency. Still, there's a chance for major loss with these types of loans.
Think of this as an unsecured credit card. If you don't pay your card's balance, the card issuer will close your account and transfer your debt to a collection agency. But the card issuer has no claim of ownership over the items you purchased using the credit card.
The same goes for unsecured auto loans. If you stop making payments, the lender cannot repossess your vehicle.
That's why you have to ask for these loans specifically. Unsecured auto loans are rarely offered without a request. And even if they are offered, the lender will likely increase the fees associated with the loan to offset the risk it's taking.
What Credit Score Do You Need to Get an Auto Loan?
Your credit score is just one factor that comes into play when determining your loan eligibility. You may have a poor credit score, but a large income may make you more attractive to a lender. Your credit score will also affect the interest rate you pay.
Customers with the lowest credit scores will receive higher interest rates. But the auto lenders and dealers that partner with the lending networks listed above undergo special finance training that makes them experts in finding loans for every applicant, whether they have good credit or bad credit.
The type of loan you qualify for will depend on your credit history and the lender's approval standards. You may not be eligible for an unsecured auto loan, but the lender may find secured vehicle loan deals that fit your needs.
Why is a Secured Loan Less Expensive Than an Unsecured Loan?
The financial world is all about risk. The more risk a lender assumes, the more expensive the loan becomes.
With a secured auto loan, the lender always has the recourse to repossess your vehicle if you stop making payments. Even if the vehicle isn't in great shape when it's repossessed, there's still some value to the car when it comes time to sell it. This helps the lender get some of its money back.
But an unsecured loan leaves the lender empty-handed if you stop making payments. That puts all of the risk in the hands of the financial institution. If the lender agrees to those terms, added fees and other charges may be tacked onto the loan to make the deal worth the lender's time.
What Are the Advantages of an Unsecured Loan?
An unsecured loan doesn't require you to risk your valuables for loan approval. Think of a traditional pawnshop loan. When you head into the shop, the pawnbroker will assess the value of your item(s) and make a loan offer that is typically much less than the item's value.
You may receive as little as 25% to 60% of the item's value as a loan. So, a necklace worth $1,000 may net you a loan of only $250. But if you don't pay that loan back on time, the pawnbroker can keep your necklace and sell it for $1,000.
Now pretend for a moment that you can go into that same pawnshop without any items to pawn and still get that loan for $250. If you're late on your repayment, the pawnbroker doesn't keep any of your items but may impose a late fee that's less costly than losing an expensive piece of property.
That's the advantage of an unsecured loan. And the same applies to an unsecured auto loan — you don't risk your vehicle being repossessed.
Apply For Unsecured Auto Loans Online Today
A bad credit score shouldn't eliminate your financing options. By working with an online auto lending network, such as those listed above, you can leverage your buying power and have multiple lenders compete for your business.
That could yield you several unsecured auto loan offers from which to choose. Each will have a unique interest rate, monthly payment, and loan term.
Just remember that an unsecured loan will likely come with a higher interest rate and a monthly repayment obligation. You may also have to sign up for an automatic payment plan when you complete your loan paperwork.
Whichever loan option you choose, make sure it fits your installment loan needs and doesn't overextend your budget. Doing so will make it easier for you to improve your credit score and qualify for an even better loan when you're ready to get your next car.
Advertiser Disclosure
BadCredit.org is a free online resource that offers valuable content and comparison services to users. To keep this resource 100% free for users, we receive advertising compensation from the financial products listed on this page. Along with key review factors, this compensation may impact how and where products appear on the page (including, for example, the order in which they appear). BadCredit.org does not include listings for all financial products.
Our Editorial Review Policy
Our site is committed to publishing independent, accurate content guided by strict editorial guidelines. Before articles and reviews are published on our site, they undergo a thorough review process performed by a team of independent editors and subject-matter experts to ensure the content's accuracy, timeliness, and impartiality. Our editorial team is separate and independent of our site's advertisers, and the opinions they express on our site are their own. To read more about our team members and their editorial backgrounds, please visit our site's About page.