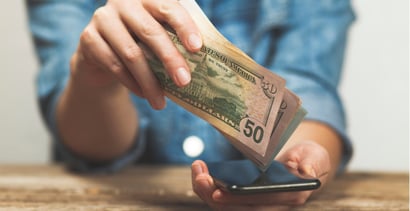 The internet makes it easy to find short-term loans for bad credit online, whether you need a quick payday loan to get you to next week or a larger personal loan that you can pay off with an affordable monthly payment.
The online lender networks listed below specialize in bad credit loans that don't require a minimum credit score and may offer instant loan approval and next-day payouts. Even better, your single loan request could yield more than one bad credit personal loan offer to choose from.
The Best Online Short-Term Loans For Bad Credit
The online lender networks below all provide unsecured personal loans for consumers of all credit types, whether you have excellent credit or bad credit. Your loan application will take less than five minutes to complete and may provide you with an instant approval decision.
MoneyMutual remains our top-rated lending network because of its array of loan options and excellent customer service provided to bad credit borrowers. You can connect within minutes to a direct lender that offers bad credit personal loans. Each loan offer you receive will have a unique interest rate and repayment term, so be sure to read the terms carefully before accepting a loan.
CashUSA.com offers larger loan amounts than do other networks, but not every applicant will qualify for a large loan. Your loan amount, interest rate, and repayment term will depend on the direct lender you work with and the information on your credit report.
Keep in mind that every loan offer you receive will have varying terms and charges. This may include an origination fee, a prepayment penalty, or other charges.
BillsHappen® treats every bad credit borrower with the respect they deserve. That means not judging them based on their bad credit score and working hard to find loan options that meet their needs and budget.
The bad credit personal loans provided by this network's lenders are meant to help consumers pay bills. But since these are unsecured personal loan products, you can use your money in any way you choose.
CreditLoan.com has no minimum credit score for loan approval and will accept applications from any borrower. Just keep in mind that your credit history may determine your loan eligibility, loan amount, annual percentage rate, and repayment term.
But you can submit a loan request without harming your credit score. This gives you peace of mind when it comes time to officially apply for a loan and consent to a credit check with the credit bureaus.
BadCreditLoans.com lives up to its name every day by finding same-day loans for bad credit borrowers. In fact, this network claims that it can often find loan options for someone who can't find a loan elsewhere.
You can get started in a matter of minutes and possibly receive more than one loan offer to choose from shortly after you submit your loan request. The entire process can take less than an hour to complete, with money appearing in your account as soon as the next business day.
PersonalLoans.com maintains two distinct lending networks. One works only with consumers who have good or excellent credit. The other specializes in unsecured and secured personal loans for consumers with a poor credit history.
Bad credit loans often come with smaller loan amounts than those that are offered with good credit loans. But this network still offers a competitive annual percentage rate of interest and affordable repayment plans.
You can get a cash advance loan, also known as a payday loan, from CashAdvance.com. It is a very expensive loan option that requires repayment in full usually within 15 to 30 days. With sky-high interest rates, bad credit payday loans may not be worth your time.
But if you have a very bad credit score, payday lenders don't usually require a credit check and may offer same-day loans. Just make sure you understand the total cost of this emergency loan before accepting an offer.
What Is a Short-Term Loan?
A short-term loan is typically considered any loan that requires repayment within 12 months. Dozens of loan types fall within this definition. Some bad credit loan options may give you 12 monthly payments to repay the debt, and others, such as online payday loans, require full repayment within weeks.
You don't need good credit to qualify for a loan from any of the networks above. Some examples of short-term loans include:
Personal loan: Also referred to as an installment loan, these loans allow you to use your borrowed funds in any way that you choose and pay the lender back through a series of monthly installments. A personal loan can have a repayment window of three months to 36 months or longer.
Cash advance loan: These are ultra-short-term loans that typically require repayment when you receive your next paycheck. Also known as payday loans, these small-dollar loans are designed to act as a bridge to your next payday. Payday lenders require repayment in one lump sum, and if you roll the loan over, you'll be charged additional fees.
Pawnshop loan: You can typically qualify for a pawnshop loan without a credit check. The pawnbroker will use your pawned items as collateral for your loan. That means if you don't repay your loan on time, you'll lose your items. Pawnshop loan amounts are usually a small percentage of the item's worth.
Title loan: With a car title loan, you'll hand over the title to your vehicle to a lender that will use it as collateral to back your loan. These small-dollar loans often come with high fees. If you don't repay your debt on time, the lender will take ownership of your vehicle and sell it to recoup the money it lent.
Payday Alternative Loan (PAL): You can get a PAL from a credit union. These were created to steer people away from expensive payday lender offerings. In some instances, you can get the loan the same day you apply. You can use this official credit union locator tool from the U.S. government to find a credit union near you. You will have to become a member of the credit union to qualify.
Credit card cash advance: You can use your credit card at an ATM to withdraw a cash loan. Credit card cash advance loans usually come with a higher interest rate than your purchase APR and an additional fee.
Other traditional types of loans, such as auto or home loans, do not fall into the short-term loan category because they give you several years to repay your debt. But that doesn't mean you can't repay these loans early if you want to. Just remember that some loan contracts include a prepayment penalty that charges you for paying your loan off early.
Where Can I Get a Quick Loan Online With Bad Credit?
The easiest — and fastest — way to get an online loan is through an online lending network. The networks listed above will submit your single online loan request to their partner lenders. 
Each online lender will use automated underwriting to make a credit decision within seconds. Many borrowers receive an email shortly after submitting their loan request that may contain more than one loan offer to choose from. 
And since the lenders that partner with these networks specialize in bad credit loans, you don't have to worry about being disqualified solely based on your credit report and score.
Your initial loan request takes less than five minutes to complete and won't harm your credit score. This gives you the peace of mind that you'll have a willing lender to work with if you decide to submit an official application.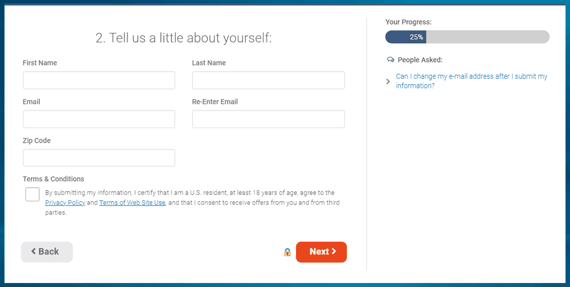 If you receive a loan offer that you like, you can accept the terms. The network will then transfer you to the lender's website where you'll fill out a loan application and consent to a credit check. 
After you sign the loan agreement, the lender will deposit the money into your bank account by the next business day.
The entire process should take less than an hour to complete. You can apply for an online loan at any time of the day or night.
What's the Difference Between a Secured and an Unsecured Loan?
A secured loan requires collateral for approval. An auto loan is a form of secured loan. The lender will use your vehicle as collateral to secure your loan. If you stop making payments, the lender will repossess your car.
Home loans and auto loans are secured loans that require the money to be used for a specific purpose, i.e., buying a house or a car. A pawnshop loan is a secured personal loan — the money you receive can be used for any purpose. Both require collateral that puts the risk in the borrower's hands.
An unsecured loan doesn't require collateral for approval. All this loan calls for is your signature on a legally binding contract in which you promise you'll repay the debt.
Lenders typically shy away from offering unsecured loans to consumers who have very bad credit because they come with a lot of risk to the lender. If the borrower fails to repay the debt, the lender's only recourse is to sell the debt for pennies on the dollar to a collection agency. This means that the lender will potentially lose substantial money on the deal.
But that doesn't mean it's impossible to find unsecured loans for bad credit. The online lending networks listed above all partner with bad credit lenders that specialize in subprime loans and will consider all loan applications with no minimum credit score requirement.
Can I Get a Bad Credit Loan From a Bank? 
Banks tend to reject most applications for bad credit loans. Every major bank is a publicly-traded company with investors and boards of directors banks must answer to. If the bank isn't profitable, the investors can vote to remove the bank's executives from their jobs.
Banks try to avoid any risky loans or investments that can eat away at the institution's profits. That means few bad credit loans are approved.
That's why so many consumers have turned to private and non-banking lenders to find the loans they need. Not only do these loans have faster approvals processes, but they come with competitive interest rates and loan terms and have far more forgiving acceptance standards.
Many of these lenders partner with the online lending networks listed above. This is a convenient way to find a loan because your single loan request travels to many lenders at once. In the past, you'd have to fill out several loan applications — and incur several hard inquiries on your credit report — to get this benefit.

You're guaranteed to get the best personal loan offers possible with so many lenders looking at your loan request. After all, lenders need to lend money to stay in business. And each online lender will make its best offer in response to your loan request to stay competitive.
What Credit Score Do I Need to Get a Loan? 
Online lenders typically do not publicize minimum credit score requirements for loans. That's because each lender has its own standards for approval than just your credit score.
For example, someone who has good credit may still not receive loan approval if they have too much current debt and too little income to cover a new loan. On the other hand, someone who has bad credit may receive multiple loan offers if they have little current debt and a good income.
Aside from your credit score, you need to consider your employment status, current income, and recent payment history.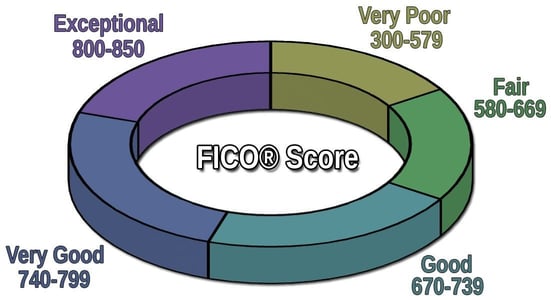 Remember that you can include multiple streams of income on your loan application. In addition to traditional employment income, you can also include government and retirement benefits, investment income, child support, alimony, and annuities.
You can also add rental property proceeds, structured settlement income, and any other regularly occurring payments you receive.
How Quickly Can I Get Money From An Online Loan?
Most online loans pay out within one business day. When you complete your loan paperwork, the lender will release the funds to your linked bank account. The money typically arrives the next business day.
Some lenders offer expedited processing for an additional fee. This service sets up an immediate direct deposit of your money into your bank account.
If you need money quickly, try to time your loan application early on a weekday, not on a holiday or weekend. Doing so will increase your chances of same-day approval and will put money in your account by the time you wake up the next day.
Can I Get a Loan Without a Credit Check?
Some secured loans will provide approval without a credit check if you provide sufficient collateral.
A pawnshop loan, for example, will skip a credit check with a credit bureau and offer a small loan for around 25% of the value of your pawned item. These loans are quite risky, as you can lose your valuable item if you don't repay your loan on time.
A payday loan is also a type of no credit check loan, but you can show sufficient income to repay your debt within a short period.
Loans that skip the credit check are typically very expensive and force the lender to take on all of the risk involved. If you're worried that your credit score will disqualify you for a loan, you can attempt to prequalify for a loan without harming your credit score.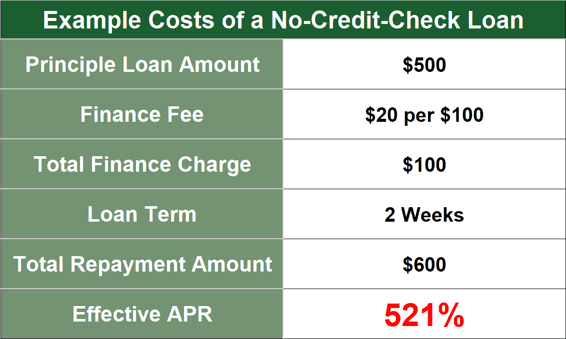 By doing so, you can get a better idea of your approval chances and possibly qualify for an unsecured loan that provides better terms, fewer fees, and far less risk.
Is a Payday Loan a Good Idea?
In most cases, payday loans are not a good financial tool for consumers. These loans come with interest rates that can climb as high as 700% and have strict rules that require quick repayment, usually by your next paycheck. They are best used as an emergency loan when you have no other lending options.
You can expect at least $15 in fees for every $100 you borrow. If you do not repay your loan on time, the lender will roll the loan into a new loan with more fees and a higher interest rate. This will continue until you repay the debt in full.
This process has trapped many consumers into a seemingly never-ending debt cycle. Some borrowers have incurred thousands of dollars in interest fees for a small loan that started at only a few hundred dollars.
These loans have ensnared so many American consumers  that the National Association of Federally-Insured Credit Unions (NAFCU) created Payday Alternative Loans (PALs).
As their name suggests, these small-dollar, short-term loans are designed to help consumers avoid the payday loan trap. PALshave flexible acceptance standards and can help consumers get the money they need without risking their future financial health.


You can compare your lending options through online lending networks. These networks partner with online lenders that provide small and large personal loan options. 
Even if you have bad credit, you can attempt to prequalify for an online loan to see if you can find an option that fits your needs more than a payday loan. Doing so can not only save you thousands of dollars, but it can ensure that you'll sleep better at night without worrying about rapidly increasing debt.
Can I Get a Loan to Pay Off Debt?
Generally, yes. This is called a debt consolidation loan, and it's usually for a large amount with a long repayment term. People like to use these loans to pay off high-interest credit card debt. But these are only a good idea if you can score a lower interest rate than you already have, which may be hard to do with poor credit.
A few companies exist to help bad credit borrowers get approved for large loans to pay off debt, including LendingTree, Upstart, and Rocket Loans. You should also check with your local credit union.
Compare Best Short Term Loans For Bad Credit Online
Finding short term loans for bad credit online isn't much harder than finding a service to deliver your favorite meal. But with so many options available, many of which can be deemed predatory, you may be confused about which to choose.
The lending networks listed above can help you determine the best personal loan options for you. There's never an obligation to accept a loan offer, so you can find the loan term that best meets your monthly budget.
Advertiser Disclosure
BadCredit.org is a free online resource that offers valuable content and comparison services to users. To keep this resource 100% free for users, we receive advertising compensation from the financial products listed on this page. Along with key review factors, this compensation may impact how and where products appear on the page (including, for example, the order in which they appear). BadCredit.org does not include listings for all financial products.
Our Editorial Review Policy
Our site is committed to publishing independent, accurate content guided by strict editorial guidelines. Before articles and reviews are published on our site, they undergo a thorough review process performed by a team of independent editors and subject-matter experts to ensure the content's accuracy, timeliness, and impartiality. Our editorial team is separate and independent of our site's advertisers, and the opinions they express on our site are their own. To read more about our team members and their editorial backgrounds, please visit our site's About page.