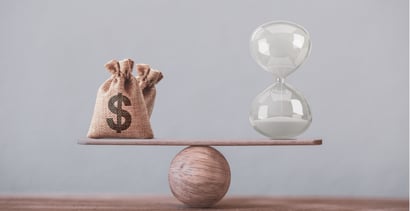 In many cases, a single financial misstep can spawn a variety of woes, not the least of which is that you may need to get your hands on money you simply don't have — and you likely need that money now. While bad credit can make a quick loan harder to find, it may not be impossible to find fast financing from a flexible lender.
In this article, we'll take a look at some of our experts' top selections for quick loans for bad credit, including short-term loans, installment loans, car loans, and home loans.
Short-Term Loans | Installment Loans | Car Loans | Home Loans
Best Quick Short-Term Personal Loans For Bad Credit
The quickest type of loan you're likely to find is a short-term cash advance loan. These loans are typically small — less than $2,500 — and tend to have terms that last fewer than six months. Short-term loans are generally repaid as a single lump sum at the end of the loan, with both the principal amount and all applicable finance charges and fees due at the same time.
The major benefit to a short-term cash advance loan is the turnaround time; for most short-term loans, you can get an application decision in minutes, and receive your funds as soon as the next business day. Using an online lending network, such as our expert-rated options below, can give you multiple quotes at once to help ensure you get the lowest fees you can.
+See More Personal Loans for Bad Credit
Before you take out a short-term loan, be sure you can afford to repay both the principal and the associated fees. While you can generally extend your loan, you will be charged additional fees for the ability — and short-term loan fees can add up quickly.
In the case that you need longer than six months to repay your loan, you should consider a personal installment loan, instead.
Best Quick Personal Installment Loans For Bad Credit
A longer-term alternative to cash advance loans, installment loans are repaid in a series of installments, typically monthly payments. Though not traditionally considered to be a fast loan when obtained from a bank, online installment loans often have quick application responses and can provide funds in as little as one business day in some cases.
Additionally, installment loans can give you up to 72 months to repay your loan, giving you the ability to choose a larger or smaller monthly payment. Installment loans are also available in much larger amounts than short-term loans, with some personal installment loan providers, such as those found on our top-rated lending networks below, offering loans up to $35,000.
+See More Personal Loans for Bad Credit
While installment loans can be obtained with terms that extend up to six years, you may not want to get the longest term possible simply to decrease your monthly payment. That's because each extra month means additional interest fees, which increases the overall cost of your loan. Choose a loan length that provides an affordable monthly payment without over-extending your loan.
Best Quick Car Loans For Bad Credit
Cars are another perfect example of "It never rains but it pours" in action. It seems to be a rare event when only one thing breaks at a time. Often, that strange engine noise or wobbly tire is only the first drops of a major downpour. And, in some cases, that storm of repairs can be enough that the only way back on the road is a new (or newer) car — stat.
For most of us, being without a vehicle doesn't just mean being stuck at home; it also means having no way to commute to work. With an online auto loan, you can often receive an application decision in minutes, and an online loan certificate or check in less than 24 hours. To compare quotes from multiple online lenders at once, use an online lending network like our picks below.
+See More Car Loans for Bad Credit
Although online lenders with flexible credit requirements are relatively easy to find, your credit won't be the only qualification. Many lenders will require you to have an active checking account in good standing and meet the minimum income requirement.
Best Quick Home Loans For Bad Credit
A number of events can occur that make it necessary to obtain a home loan in a hurry. You may need to purchase a new home because your current one sold faster than expected, refinance your current loan due to job loss, or even obtain a home equity loan to repair damage from a storm or natural disaster.
Whatever the reason, you may have the best luck with a quick home loan by applying online. You'll typically receive a response in five minutes or less, and may be able to close on the loan in as few as two weeks (depending on the type of home loan).
The easiest way to obtain multiple online home loan quotes with a single application is to use an online lending network, starting with the networks below.
+See More Home Loans for Bad Credit
Your ability to obtain a quick home loan will depend on your credit score, the type of home loan, and any equity or down payment you can provide. For instance, those with low credit scores tend to have a higher chance of approval for a new home loan if they can make a substantial down payment.
Additionally, your refinance or home equity loan is more likely to be approved if you have a large amount of equity in your current home.
What Is Bad Credit?
Folks with bad credit have a FICO score below 580, reducing their chances for loan approval. FICO, the leading credit reporting system for consumers, uses scores from 300 (worst) to 850 (best) to predict the chances that a person will default on debt within the next two years.

The three major credit bureaus (Equifax, Experian, and TransUnion) calculate consumer credit scores by using information they collect from creditors and public records. If you have a bad credit rating, that means your credit report usually contains a troubled financial history with events such as late payments, defaults, collections, repossessions, and bankruptcies.
Bad credit will not necessarily prevent you from borrowing money, but it certainly adds to your costs. Consumers with poor credit pay high interest rates and fees on loans and may be unable to borrow more than small sums.
Thankfully, bad credit need not be forever. Your financial misdemeanors age off your credit reports, although it may take seven to 10 years. But adopting creditworthy behavior can help you rebuild credit and raise your credit rating.
Although it may take a year to see results, actions such as paying your bills on time and reducing your loan and credit card debt can reverse at least some damage to your credit. Using your credit responsibly over time may qualify you for cheaper loans and better credit cards.
Consider cleaning up your credit reports if you have a few months' warning that you'll need a loan. You can dispute damaging credit report errors, either on your own or through a reputable credit repair company. Credit repair may boost your credit score, although it's not guaranteed.
Many lenders welcome cosigners with good credit. Having a cosigner should help you more quickly secure the best personal loan for a larger amount and at a lower interest rate. You can use an unsecured personal loan for any reason, including debt consolidation.
Credit unions and smaller banks often welcome cosigned personal loans, although loan approval may take weeks. Be careful when recruiting a cosigner  —  you can ruin a personal relationship if you fail to fulfill your obligations.
Where Can I Borrow Money Instantly?
Even the fastest turnaround for personal and car loans requires about a day to put money into your bank account. Home loans take longer unless you've already set up a home equity line of credit (HELOC), which gives you instant access to a revolving line of credit.
HELOCs are among the most convenient secured loans and perhaps the best emergency loans available.

Credit card cash advances require no more time than it takes to visit an ATM, but only if you already own the card. Otherwise, it takes about seven to 10 days to get a new credit card, and if you have bad credit, access to cash advances will be tightly limited. Credit card debt is expensive, but you can cut your costs by repaying your balances as soon as possible.
You can get an instant short-term loan by hocking some property in a pawn shop. While fast, pawnshop secured loans are expensive, and you risk the loss of your property. The loan amount will be only a fraction of your property's value, and you'll have to repay the loan in a lump sum to redeem your pawned item.
A car title loan allows you to borrow money quickly, but you can lose your vehicle if you fail to repay on time. This type of short-term loan carries a very high interest rate.
Bad credit payday loans from brick-and-mortar storefronts may take only a few minutes, especially if you are a return customer. These 14- to 28-day loans have outrageous interest rates and require lump-sum repayment. Failure to repay the cash loan on time will increase your debt and could lead to a debt spiral that ends in bankruptcy.
If you can wait a day to collect your bad credit loan proceeds, an online personal or car loan will cost less and let you repay in monthly installments instead of all at once. You can also get payday loans online in minutes and receive funding in a day.
An online payday loan may be a better loan option, but getting payday loans online can still be risky and expensive.
How Much Can I Borrow From an Online Lender?
The online personal loan networks can arrange direct lender loans of $2,000, $5,000, or more to borrowers with subprime credit. Each bad credit lender has its own cash loan policies, so you won't know the maximum bad credit loan amount until you apply.
Short-term loans up to $5,000
Online marketplace of lenders
Funds available in as few as 24 hours
Simple online form takes less than 5 minutes
Trusted by more than 2 million customers
| Loan Amount | Interest Rate | Loan Term | Loan Example |
| --- | --- | --- | --- |
| Up to $5,000 | Varies | Varies | See representative example |
Naturally, you'll get a better unsecured personal loan from a direct lender if your credit score is closer to 580 than 450 and your previous financial problems aren't recent. Keep in mind that an unsecured personal loan may charge a significant origination fee, increasing the cost of this loan option.
You may occasionally encounter secured personal loans that accept collateral. This type of loan offer is rare, but secured personal loans are much more accessible than their unsecured loan offer alternatives.
You may be able to borrow larger amounts through car and home loans because they use collateral to reduce lender costs from borrower defaults. A secured loan provider can seize your vehicle or home if you fail to repay, making these far from the best bad credit loans.
The amount you can borrow depends on the equity you have in your property, which is its current market value minus the loan balance. Lenders seldom allow you to borrow 100% of your equity, often setting an 80% to 90% cap. This cap increases your loss should the lender repossess your property and cushions the lender against unexpected expenses.
What Is the Easiest Type of Loan to Get With Bad Credit?
Consumers with bad credit can easily access collateralized loans that don't require a credit check. Pawn, car, and home loans are easy to get, assuming a lender will accept your collateral.
You can get a car title loan if you own the vehicle free and clear. You may also qualify for quick payday loans if you have a steady source of income.
A loan that depends on your creditworthiness is harder to get than a secured loan because it requires a credit check. A no credit check loan is an unsecured loan that requires a bad credit lender to assume more risk.

But the online personal loan networks reviewed above specialize in lending to subprime consumers. These loans have relatively reasonable interest rates and deserve serious consideration. The best personal loan networks can preapprove your loan instantly and help fund your loan in just one business day.
Can I Get an Emergency Loan From a Credit Union?
Credit unions offer a unique unsecured loan product, the Payday Alternative Loan (PAL), that can provide a modest amount of funds in an emergency.
Although you must first belong to a participating credit union, one type of PAL (e.g., PAL II) does not impose any waiting period before you can qualify. Quick access places PALs among the best emergency loans.
This chart summarizes PAL characteristics:

As you can see, PALs are among the best bad credit loans. You can take up to three PALs within six months without rollovers or overlaps.
Although many credit unions restrict membership, several large credit unions are open to everybody. You'll generally find a sympathetic attitude at a credit union since the members are also the owners.
PALs are excellent alternatives to bad credit payday loans. They have relatively low interest rates and fees, and you can take up to 12 months to repay. If you are eligible for a credit union, you'll need to deposit only $5 into a savings account to join.
Get the Funding You Need, When You Need It
When the first raindrop falls from a dark cloud, it's often the harbinger of stormy tidings, the very first sign of the downpour to come. Like that raindrop, some events in life seem to simply signal the beginning of a storm of trouble. And it's amazing how often that trouble comes with a big price tag.
Thankfully, even with poor credit, you can often find the financing you need — and with the quick turnaround time you need. Just remember to always borrow responsibly, only taking on debt you can afford to repay, and always, always, always paying your debts on time.
Advertiser Disclosure
BadCredit.org is a free online resource that offers valuable content and comparison services to users. To keep this resource 100% free for users, we receive advertising compensation from the financial products listed on this page. Along with key review factors, this compensation may impact how and where products appear on the page (including, for example, the order in which they appear). BadCredit.org does not include listings for all financial products.
Our Editorial Review Policy
Our site is committed to publishing independent, accurate content guided by strict editorial guidelines. Before articles and reviews are published on our site, they undergo a thorough review process performed by a team of independent editors and subject-matter experts to ensure the content's accuracy, timeliness, and impartiality. Our editorial team is separate and independent of our site's advertisers, and the opinions they express on our site are their own. To read more about our team members and their editorial backgrounds, please visit our site's About page.