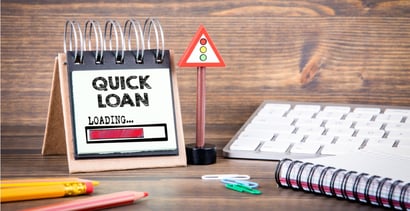 Getting loans for two of the most common big expenses in life — a home and a car — can be a lot simpler for people with bad credit through quick & easy online loans.
Quick cash, of course, can also be needed for many other things. Emergencies such as a hospital visit, car repair, or vet bill can make a personal loan necessary. You may just need a short term loan or cash advance to help you buy groceries until your next paycheck arrives.
Cash Loans | Auto Loans | Home Loans | FAQs
Quick & Easy Online Cash Loans
A quick loan may be needed if you don't have a credit card or a high enough credit limit to pay for whatever challenging situation has hit you.
There are many types of personal loans, but we want to focus here on subprime personal loans that can be obtained relatively quickly for urgent expenses. All are available online since an online loan can usually be approved faster than by visiting lenders in person.
Here are six of the best companies we've found that offer personal loans and make your loan request easy to fulfill:
Short-term loans up to $5,000
Online marketplace of lenders
Funds available in as few as 24 hours
Simple online form takes less than 5 minutes
Trusted by more than 2 million customers
| Loan Amount | Interest Rate | Loan Term | Loan Example |
| --- | --- | --- | --- |
| Up to $5,000 | Varies | Varies | See representative example |
Four in 10 Americans wouldn't be able to come up with $400 in an emergency, according to the Economic Well-Being Of U.S. Households report by the Federal Reserve in 2018. That can make a loan from MoneyMutual a short-term lifeline.
Like many companies that help consumers find an online payday loan, its application process is simple. Fill out its online form to have a potential list of lenders sent to you to review, and you work with a payday lender that can deposit money in your bank account in as little as 24 hours or the next business day.
Loans from $500 to $10,000
Receive a loan decision in minutes
Get funds directly to your bank account
Use the loan for any purpose
| Loan Amount | Interest Rate | Loan Term | Loan Example |
| --- | --- | --- | --- |
| $500 to $10,000 | 5.99% - 35.99% | 3 to 72 Months | See representative example |
A borrower must meet some minimal guidelines to be approved for a personal loan through CashUSA.com, such as being 18, a U.S. citizen or permanent resident, having a checking account in their name, and having a valid email address, and work and home phone numbers.
Those should be easy. One requirement that may not be as easy, but is still a low threshold, is earning a steady income of at least $1,000 after taxes. With that you can get a loan from $500 to $10,000, depending on the lender and state.
Loans from $250 to $5,000
Cash deposited directly into your account
Get money as soon as tomorrow
Bad credit OK
More than 750,000 customers since 1998
| Loan Amount | Interest Rate | Loan Term | Loan Example |
| --- | --- | --- | --- |
| $250 to $5,000 | Varies | Varies | See representative example |
CreditLoan specializes in helping people with bad credit get small personal loans from $250 to $5,000. The emergency loan can be used to buy whatever you want, including paying off bills, consolidating credit card debt, or even to pay child support. Having to pay child support won't affect loan approval, according to the company.
Its service is free to use to find a bad credit loan.
Loans from

$500

to

$10,000

Get connected with a lender
Simple form & quick funding
Get your money as soon as next the business day, if approved
| Loan Amount | Interest Rate | Loan Term | Loan Example |
| --- | --- | --- | --- |
| $500 to $10,000 | 5.99% - 35.99% | 3 to 60 Months | See representative example |
Like other companies that help people find an online installment loan if they have bad credit, BadCreditLoans.com isn't a lender and doesn't provide unsecured loans. It refers consumers to lenders and financial service providers that may provide these loans.
The site also does a good job explaining what an annual percentage rate, or APR, is for a fast cash loan. The APRs from lenders in its network vary depending on a borrower's credit score and other information. Borrowing a loan amount of $2,000 for 12 months at 19.9% APR equates to a monthly repayment of $183.63, with the total repayment at $2,203.56.
Loans from

$1,000

to

$35,000

Large lender network
Fast loan decision
Use the loan for any purpose
Funding as soon as one business day, if approved
| Loan Amount | Interest Rate | Loan Term | Loan Example |
| --- | --- | --- | --- |
| $500 to $35,000 | 5.99% - 35.99% | 3 to 72 Months | See representative example |
PersonalLoans.com also does a great job of explaining what an APR is — the annualized interest rate charged on a personal loan. It can't tell customers the exact APR a lender will charge but does give a few examples of how APRs affect payments.
A 6% APR on a $4,000 loan with a loan term of 24 months equals a monthly payment of $177 and $4,254 total paid. A loan with a 25% APR means the monthly payment increases to $213 with $5,123 total paid on the loan — that's equal to about $900 more in total payments.
Short-term loan of

$100

to

$1,000

Large network of lenders
Loan decision as fast as a few minutes
Funding as soon as the next business day, if approved
| Loan Amount | Interest Rate | Loan Term | Loan Example |
| --- | --- | --- | --- |
| $100 to $1,000 | 200% - 2,290% | Varies | See representative example |
Bad credit is welcomed at CashAdvance, another network of lenders that help people get approved for a short term loan quickly, no matter what their credit history.
CashAdvance shares information regarding the laws of cash advances in each state to help potential borrowers make an informed decision when applying for an unsecured loan. Some states don't allow cash advance (payday) loans, so it's important to know what your state's rules are before applying.
Quick & Easy Online Auto Loans
If you have a job, you likely have a car or need one. Other than during a global pandemic, most people commute to work. In 2018, that included 77% of Americans who commuted to work by car.
And cars aren't cheap. The average price of a new car purchased in the U.S. in May 2019 was $36,718. A used car can be cheaper, but the interest rate on a used car loan can be almost double the interest rate on a new car.
On the plus side, several loan providers offer a fast loan so you can buy a car even if you have a low credit score and low bank account.
Here are three of the best lending services that help consumers find auto loans for bad credit:
Network of dealer partners has closed $1 billion in bad credit auto loans
Specializes in bad credit, no credit, bankruptcy and repossession
In business since 1999
Easy, 30-second pre-qualification form
Bad credit applicants must have $1500/month income to qualify
| Interest Rate | In Business Since | Application Length | Reputation Score |
| --- | --- | --- | --- |
| 3.99% - 29.99% | 1999 | 3 minutes | 9.5/10 |
A history of bad credit, no credit, bankruptcy or repossession won't be held against you when applying for financing from Auto Credit Express.
Just provide your credit score, monthly income, and monthly recurring debt, and within minutes you'll get auto loan information about how much cash can be transferred to your bank account by the next business day so you can buy a car with a quick cash loan.
Free, no-obligation application
Specializes in auto loans for bankruptcy, bad credit, first-time buyer, and subprime
Affordable payments and no application fees
Connects thousands of car buyers with auto financing daily
| Interest Rate | In Business Since | Application Length | Reputation Score |
| --- | --- | --- | --- |
| Varies | 1994 | 3 minutes | 9.0/10 |
A lender or dealer partner of Car.Loan.com can give you a loan to lease, buy, or rent new and used cars. As with other online lenders, a loan application can be approved the same day to give your bank account the cash you need by the next business day.
APRs range from 0% to 25%, based on your location, vehicle type, and credit history.
Loans for new, used, and refinancing
Queries a national network of lenders
Bad credit OK
Get up to 4 offers in minutes
Receive online loan certificate or check within 24 hours
| Interest Rate | In Business Since | Application Length | Reputation Score |
| --- | --- | --- | --- |
| Varies | 2003 | 2 minutes | 7.5/10 |
myAutoloan.com can offer consumers with bad credit online loan offers from up to four lenders in its network in minutes. An online loan certificate or check can be deposited into your bank account by the next business day.
The website has charts and calculators so car buyers can see what the current interest rates are, how much their interest rate may be, and calculate their payment.
Quick & Easy Online Home Loans
Buying a home is likely to be the biggest expense of your life. The average monthly mortgage payment in the U.S. is $1,029, eating up almost 15% of the typical homeowners' monthly income.
For someone with bad credit who has a tight budget, a mortgage payment could take up more of their monthly income.
Many types of home loans can help people with bad credit afford a home, such as banks and services that have a network of lenders to compete for their business. Here are three that we recommend:
Options for home purchase or refinance
Get 4 free refinance quotes in 30 seconds
Network of lenders compete for your loan
Trusted by 2 million+ home loan borrowers to date
Interest rates are near all-time lows
| Interest Rate | In Business Since | Application Length | Reputation Score |
| --- | --- | --- | --- |
| Varies | 2004 | 4 minutes | 8.5/10 |
FHA Rate Guide helps borrowers refinance or purchase a home by getting an online loan through its network of lenders. An online questionnaire takes a few minutes to complete, and quotes from lenders are quickly provided for you to review.
11. LendingTree
This offer is currently not available.
| Interest Rate | In Business Since | Application Length | Reputation Score |
| --- | --- | --- | --- |
| N/A | N/A | N/A | N/A |
LendingTree also offers home purchase and refinance loans available from its network of online lenders.
Just answer some questions about the kind of loan you need, and competing offers will be ready for you to review within seconds. You can then shop for the best offer and can talk with loan officers if you want to.
Easy to OwnSM programs give options for those with lower income, limited credit history, and low down payment needs.
Provides the potential for minimal out-of-pocket expenses with seller contributions.
Offers loans that don't require monthly mortgage insurance.
Requires less cash upfront for your down payment and closing costs.
| Interest Rate | In Business Since | Application Length | Reputation Score |
| --- | --- | --- | --- |
| Varies | 1852 | 6 Minutes | 8.0/10 |
For a home loan from a traditional direct lender, Wells Fargo Home Mortgage has options for people with bad credit. Use its online calculator to figure out how much a loan will cost. Just enter some financial figures and it will show you what your options are.
If you're not comfortable comparing home loans online, you can call Wells Fargo Home Mortgage or find a local consultant from the direct lender to talk to.
How Do I Apply for an Online Loan?
Applying for an online loan is easy, whether it's an online lender or a company that works with a network of loan providers that customers compare for the best online installment loan.
The first step usually requires filling out an online application, which can be done within five minutes. You may need to provide such information as:
Verifiable monthly income, after taxes
Employment details
Loan amount
How soon you need the money
Credit score
Address
Email and phone numbers
Down payment (for home or auto loan)
Fixed or adjustable-rate loan
Whether you've faced bankruptcy or foreclosure recently
Whether you've made any late payments in the past year
Bank account information
Some lenders may require a lot less information at first and will as for more details later if you choose them to give you a personal loan. You may need more time to gather income verification documents, such as tax records and pay stubs as part of a credit check.
Be sure that any lender of quick cash loans you choose to work with has encrypted its website so that your information is safe.
The companies with a network of lenders will give you a list of lenders that meet your needs, and you can compare them side by side. You can then contact the lenders you like for more information and continue the loan application process.
Loan approval can take place online almost immediately after submitting an application thanks to algorithmic underwriting. And the loan proceeds can be directly deposited into your bank account by the next business day.
What is the Easiest Online Loan to Get?
The easiest online loan to get approved for is a secured loan. This means putting up something of value in exchange for cash.
A car or home that you're buying are the most common forms of collateral for a secured loan. If you miss loan payments then your car or home could be repossessed by the lender.
Another factor in making an online loan easy to get is the amount of the loan. Small, short-term loans that are usually repaid within a few weeks carry less risk than large installment loans that can take one to five years to repay, and up to 30 years for a mortgage loan.
Americans earning $40,000 a year or less are more likely to take out a payday loan. They may be a paycheck or so away from financial disaster, and an online payday loan can help them stay afloat.
Easy payday loans or small personal loans will help you get through a short period of financial hardship or pay a bill that's due before your next paycheck arrives in your bank account. Easy payday loans are a type of emergency loan with high interest rates that should be used with caution.
Avoid rolling over these loans to new terms because the fees and interest rates start will to really add up, and a debt spiral can start.
Online loans are easier to get in part because lending networks can specialize in certain types of loans, such as helping subprime borrowers and people with bad credit. Instead of going to many banks in person and filling out multiple applications, borrowers can go to a single online loan marketplace and fill out one form that can be seen by dozens of lenders.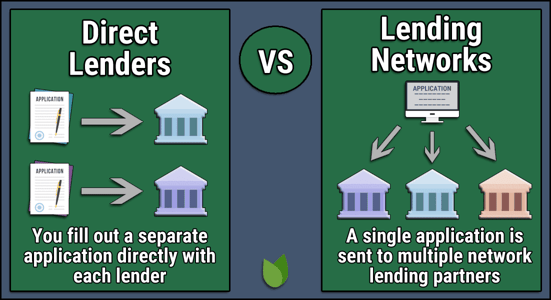 Loan approval decisions can be based on more than income and a credit check from a credit bureau. They can also take into account non-financial indicators that lenders can use to more accurately assign risk.
What Will My Repayment Terms Look Like?
A monthly payment will be required for any loan agreement. Before agreeing to any loan option, check with the provider regarding what your monthly payment will be and the details of your repayment terms.
You'll also want to know what the interest rate is and how much interest you're paying over the life of the loan.
Repayment terms differ by lender, of course, so check with the lenders you're getting quotes from to see exactly what you'll pay. Some of the lenders we recommend have sample payments on their websites to give potential borrowers an idea of what they may pay.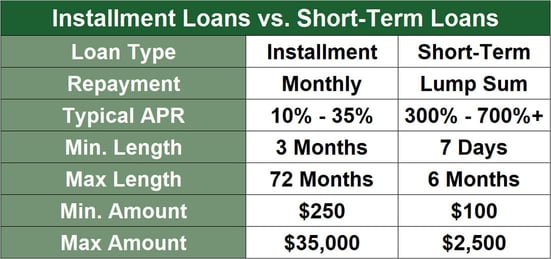 CashUSA.com, one of the personal loan companies we recommend, provides an example using a hypothetical loan amount of $1,500 over two years with an APR of 7.9%. In that scenario, each of the 24 monthly payments will be $67.77, for a total amount paid of $1,626.54. It costs $126.54 to borrow $1,500 over two years.
Whatever the amount you'd owe each month, make sure it's a number you can afford. You don't want to default on a loan and have it drop your credit score from a credit bureau.
Can I Get an Online Loan from a Credit Union?
Yes, credit unions offer personal loans, home loans, and car loans that you can apply for online. But you must be a member to get any of its financial products, including online loans.
Membership is often tied to a union or job, so check with your employer to see if it has one. Some are open to anyone, only requiring new members to open an account with a small deposit. Online credit union locators can help you find a credit union near you.
One of the best things about getting a loan from a credit union is that they often have lower interest rates than other lenders. They're not-for-profit organizations whose main goal is to offer affordable loans and other services to members. Earnings are paid back to members through higher interest rates on savings accounts and lower loan interest rates.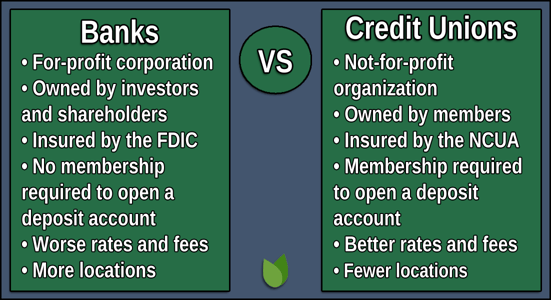 Federal credit unions offer short-term, small-dollar loans that are similar to payday loans, but don't charge the high rates that many payday lenders do. These payday alternative loans are available from $200 to $1,000 with a maximum APR of 28%.
The loan must be repaid within one to six months. No rollovers are allowed, and you have to be a member for at least one month before you qualify for these easy loans.
How Fast Can I Receive the Funds?
Shopping for an online loan is easy. It can be done in a few minutes and an approved loan can be funded within 24 hours.
Since it's often an emergency when you're looking for quick online loans, lenders realize that you probably want the money fast.
Most will directly deposit the funds to your bank account by the next business day so you can get cash quickly. Funds may be delayed on bank holidays.
Just make sure it's a loan you can afford to repay. You don't want to return to a lender for more loans if financial emergencies are always popping up because you can't afford your expenses.
Compare the Best Quick & Easy Online Loans
We've shown you how to apply for personal, easy loans for emergencies, auto loans, and home loans, even if you have bad credit.
That's one of the benefits of the internet — access to online lenders that specialize in helping consumers find loans that they may not otherwise qualify for. Having a steady, monthly income may be more important to these online lenders than whether you have poor credit or have made a few financial mistakes.
That can solve an emergency expense quickly, and add some peace to your financial life.
Advertiser Disclosure
BadCredit.org is a free online resource that offers valuable content and comparison services to users. To keep this resource 100% free for users, we receive advertising compensation from the financial products listed on this page. Along with key review factors, this compensation may impact how and where products appear on the page (including, for example, the order in which they appear). BadCredit.org does not include listings for all financial products.
Our Editorial Review Policy
Our site is committed to publishing independent, accurate content guided by strict editorial guidelines. Before articles and reviews are published on our site, they undergo a thorough review process performed by a team of independent editors and subject-matter experts to ensure the content's accuracy, timeliness, and impartiality. Our editorial team is separate and independent of our site's advertisers, and the opinions they express on our site are their own. To read more about our team members and their editorial backgrounds, please visit our site's About page.