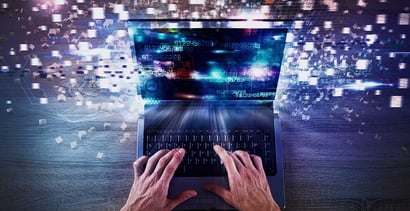 When you search for personal loans online, your search query is turned into a string of signals that can potentially travel through multiple routers, servers, towers, and satellites — circumnavigating most of the globe — before it reaches its destinations.
Then, the information you've requested is turned into more signals that are sent back around the world to populate your browser with hundreds or even thousands of online lenders and loan networks.
Sure beats driving from bank to bank to look for a loan, eh?
Even better, while having bad credit still adds extra challenges to getting a personal loan, the sheer number of online networks and lenders can make it easier than ever to find a compatible loan offer for nearly any credit type. We'll explore the whole process in the article below, including looking at online providers, how to apply, when a cosigner may be appropriate, and tips for being safe online.
Online Providers | How It Works | Using a Cosigner | Being Safe Online
Best Online Personal Loan Providers for Bad Credit
Although the internet is full to brimming with lenders and networks, finding the reputable lenders will take a bit of research. And this goes double when you have poor credit.
For one thing, few subprime lenders are household names, which means it's unlikely you'll have heard of them before you start your research. And it's all too easy to put together a website with an authoritative name, making it hard to tell the legitimate lenders from the fraudsters without an in-depth investigation.
The best thing to do is to start with lenders or lending networks that are commonly mentioned and reviewed by experts, which should limit the number of outright scams you face. After that, do your own research to find a lender with which you're comfortable doing business.
Loans from

$500

to

$10,000

Get connected with a lender
Simple form & quick funding
Get your money as soon as next the business day, if approved
| Loan Amount | Interest Rate | Loan Term | Loan Example |
| --- | --- | --- | --- |
| $500 to $10,000 | 5.99% - 35.99% | 3 to 60 Months | See representative example |
BadCreditLoans.com is an online lending network that boasts a large network of partner lenders specializing in loans for bad-credit borrowers. The network has no minimum credit score requirements, though individual requirements may vary by lender and loan amount.
Loans from $500 to $10,000
Receive a loan decision in minutes
Get funds directly to your bank account
Use the loan for any purpose
| Loan Amount | Interest Rate | Loan Term | Loan Example |
| --- | --- | --- | --- |
| $500 to $10,000 | 5.99% - 35.99% | 3 to 72 Months | See representative example |
CashUSA.com has a network of lending partners that provide loans for a range of credit types. There is no minimum credit score requirement but borrowers will need a regular monthly income of at least $1,000 — after taxes — and an open U.S. bank account to qualify.
Loans from

$1,000

to

$35,000

Large lender network
Fast loan decision
Use the loan for any purpose
Funding as soon as one business day, if approved
| Loan Amount | Interest Rate | Loan Term | Loan Example |
| --- | --- | --- | --- |
| $500 to $35,000 | 5.99% - 35.99% | 3 to 72 Months | See representative example |
PersonalLoans.com is a large online lending network that caters to applicants of all credit types, including borrowers with bad credit. The application can be completed online in minutes and loans are available in all 50 states.
4. Avant
Avant offers personal loans of up to $35,000 to borrowers of various credit types, requiring a minimum score of just 580 to apply. Keep in mind that the loan amount, rates, and fees you are charged will depend on all of your qualifications.


Loan amounts from $2,000 up to $35,000
APRs from 9.95% up to 35.99%
Minimum credit score of 580
Minimum income of $20,000
Applicants will need a minimum verifiable annual income of at least $20,000 to be approved. Loans can come with an administration fee of up to 4.5% of the loan amount, and the fee is taken out of the loan at the time of funding. Avant charges no prepayment penalty fee for paying down your loan early.
5. Upstart
Upstart is an online lending network that uses custom algorithms to match potential borrowers with lenders and loans that meet their needs and qualifications. To qualify for a loan through an Upstart partner, borrowers need a minimum credit score of 620 and a minimum income of $12,000 a year.


Loan amounts from $1,000 up to $50,000
APRs from 7.74% up to 35.99% (variable)
Minimum credit score of 620
Minimum income of $12,000
Upstart's loan partners include peer-to-peer lenders and direct lenders that operate through the network's Powered by Upstart SaaS platform. Loans through Upstart may be charged an origination loan of up to 8% based on the applicant's qualifications.
6. LendingClub
LendingClub is an online peer-to-peer network that offers loans funded through the contributions of individual investors. Loans can be obtained by qualified applicants for up to $40,000, though borrowers need to have a minimum credit score of 600 to apply.


Loan amounts from $1,500 up to $40,000
APRs from 6.95% up to 35.99%
Minimum credit score of 600
Minimum 3 years of credit history
In addition to a minimum credit score requirement, LendingClub requires that borrowers have at least three years of credit history. The fees charged for LendingClub loans will vary based on the in-house risk score given to each borrower, with origination fees as high as 6% possible.
7. LendingPoint
LendingPoint offers personal loans of up to $25,000 for qualified applicants, with a minimum credit score of 600 required for approval. Borrowers are required to have at least one open U.S. bank account, an annual income of $20,000 or more, and a 35% or less debt-to-income ratio.


Loan amounts from $2,000 up to $25,000
APRs from 15.49% up to 35.99%
Minimum credit score of 600
Minimum income of $20,000
Borrowers may be required to pay an origination fee of up to 6% when their funds are issued, but the lender does not charge a penalty fee for paying the loan off early. LendingPoint does not operate in every state, so check to see if your state qualifies before applying.
8. Peerform
Peerform is a peer-to-peer lending network in which loans are funded by individual investors. Peerform requires that borrowers have a minimum credit score of 600 to qualify.


Loan amounts from $4,000 up to $25,000
APRs from 5.99% up to 29.99%
Minimum credit score of 600
Minimum income will vary
You'll also need at least a year of credit history, $10,000 or more in annual gross income, and a debt-to-income (DTI) ratio less than 40% (excluding mortgage debt). Peerform requires that borrowers have at least one open bank account and at least one revolving account in their credit history.
9. Credit Unions
Local credit unions can be great places to find personal loans with reasonable rates and flexible credit requirements. Even better, many credit unions will let you apply for a loan online, particularly if you're already a member. You can search for a local credit union online through the Credit Union Locator tool provided by the National Credit Union Administration.


Loan amounts from $500 up to $50,000
APRs from 3.00% up to 35.99%
Minimum credit score will vary
Minimum income will vary
You'll need to join the credit union from which you wish to get a loan if you are not already a member. Living, working, studying, or worshiping in the geographic area of the credit union is typically enough to be eligible for membership, though you'll likely also have to open a checking or savings account.
How to Apply for a Personal Loan Online
Getting a personal loan online is different from going to the bank in one key way: You don't have to actually go anywhere. You also don't have to take off work to go when the bank is open, wait in a seemingly endless line, or make small talk with the loan officer as your loan waits in limbo.
Other than that, however, the process is pretty similar. You'll look to do some research to find a few good lenders, compare rates and offer terms to find a deal, fill out an application, and undergo a credit check.
And the application will be pretty much the same as the one in the bank. No matter where you get your loan, you will generally need to provide your:
Name
Physical address
Email address
Birthdate
Social Security number
Phone number
Employment status
Monthly income
Driver's license/State ID number
Bank account type
Your Social Security number and personal information will be used to check your consumer credit reports so that your credit risk can be assessed. Your personal information and driver's license or state ID information is generally used to verify your identity according to federal law.
In some cases, you may be asked to supply additional information, potentially including documents to verify your identity or income. If, at any point, the lender or loan network asks for information you are not comfortable giving out or that does not seem to be necessary to your loan request, consider doing more research into the process or lender before submitting the information.
These days, computers do most of the credit risk analysis for even small lenders, which means most loan applications can be processed and decided upon within a few minutes — and this is true whether you go to the bank or use an online lender.
If your loan application is approved, you'll be presented with the final loan agreement and offer. This document should clearly spell out your exact loan terms, including how much you'll need to pay each month, the interest rate you're being charged, and how long you will need to make payments.
Once you (digitally) sign the loan agreement, the lender will process your loan. Many lenders advertise funding in one business day, though, depending on the lender, loan type, and loan amount, it can sometimes take up to a week. The funds should be deposited in the bank account you specify in the loan agreement.
Can You Find Online Loans That Accept Cosigners?
One of the most common ways for borrowers with poor credit to get a better deal on their loan is to apply with a cosigner. A cosigner is someone with good credit who agrees to share responsibility for the loan. If the primary borrower can't (or won't) repay the loan for whatever reason, the cosigner will be financially responsible for the debt.
When you have a cosigner, you're essentially borrowing their good credit history to reduce the risk to the lender. Applying with a cosigner can not only improve your ability to get approved for a loan, but it can also mean lower interest rates and fees.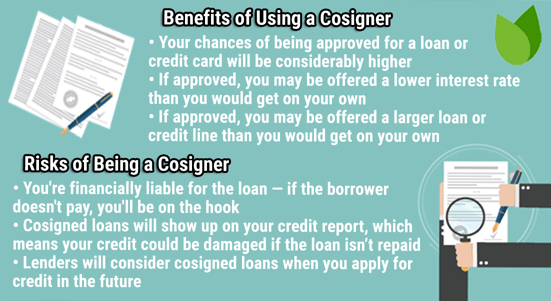 Of course, this is assuming you can find a personal loan lender that will allow cosigners — which can be tricky both online and off. Credit unions and community banks are typically the most likely sources of personal loans that allow cosigners. Some peer-to-peer networks will allow cosigners, and only the occasional subprime personal loan lender will allow more than one name on the application.
Why is it hard to find a personal loan that allows cosigners? On the surface, having a cosigner seems like a win-win for both the lender and the bad-credit borrower (basically, everyone but the cosigner). The borrower gets better rates, and the lender can pass some of its risk on to the cosigner instead. But, it's not that simple.
For one thing, the lender may have a reduced level of risk, but that risk doesn't go away entirely. The risk of the primary borrower defaulting on the loan is still the same as it would be without the cosigner — the cosigner simply gives the lender another hope of collecting on the debt if things go wrong.
Shopping for a Loan Safely Online
In the olden days, shopping for a loan meant you pretty much had to rely on the local banks in town for a loan. Not only did this mean running all over town if you got rejected at the first bank, but it also meant that if the locals wouldn't lend to you, you were pretty much out of luck.
Compared to schlepping around town to look for a loan, shopping and applying for personal loans online is a breeze. You can find lenders, compare rates, research banks, and complete your loan, all from the comfort of your sofa and bunny slippers.
Of course, online loans aren't entirely without downsides to consider. For one thing, many online lenders are online-only banks or financiers without brick-and-mortar stores. This means you'll need to be comfortable doing most of your communication by email or phone and with making your loan payments online.
Shopping for loans — and other financial products — online also means you're opening yourself up to a flood of potential fraud and scams. For every legitimate online lender on the web, dozens of fraudsters likely exist. To help keep you safe while shopping for loans online, keep these tips in mind:
Thoroughly research a lender before you apply. This includes investigating the lender's website to check for any red flags, as well as reading reviews from customers and trusted third parties like the BBB or Consumer Affairs.
Think twice before submitting personal information. Make sure you've vetted the lender read through its privacy and contact policies before handing out your phone number, email, or address. Once you hit send, you've given the lender permission to contact you through any means you provide.
Avoid handing out financial information until you close the loan. Lenders that ask for your bank account information before you've even seen your loan terms may not be on the up and up.
Don't click "submit" until you've read the fine print. Hitting a "next," "submit," or "apply" button may not be something you can undo, so make sure you know what you're agreeing to before you move on to the next page.
Steer clear of up-front fees or requests for wire transfers. Legitimate lenders won't usually charge you up-front fees to apply for a personal loan, and they'll never ask for those fees to be wired through a service like Western Union. If you're asked to give the lender money to see your loan terms, consider that a red flag.
Don't buy into the "guaranteed approval" line. Any lender that guarantees approval for a personal loan is likely going to charge a fortune for that loan (think expensive payday lenders) — or, worse, is only after your personal and financial information.
When you do your research and find a trustworthy lender, getting a loan online can be an easy, convenient process that gets you the funds you need in days. As with shopping for anything online, however, getting a loan online isn't without risks. All consumers should practice due diligence and basic internet safety behavior every time they head online, especially when their financial information may come into play.
Explore the Convenience & Flexibility of Online Loans
The growth of the internet has made a lot of tasks much simpler than they were before we could delegate them to computers and digital data. Some of the most annoying chores — like getting a personal loan — are now much less tedious, and what would have once taken days of bank visits can now be done in hours.
At the same time, the convenience and flexibility of getting a loan online should not cause you to think about loans more casually or make loan decisions on a whim. Never take on a loan if you don't have a solid plan for how you will repay that debt, and always thoroughly investigate any lender before handing out your personal information.
Advertiser Disclosure
BadCredit.org is a free online resource that offers valuable content and comparison services to users. To keep this resource 100% free for users, we receive advertising compensation from the financial products listed on this page. Along with key review factors, this compensation may impact how and where products appear on the page (including, for example, the order in which they appear). BadCredit.org does not include listings for all financial products.
Our Editorial Review Policy
Our site is committed to publishing independent, accurate content guided by strict editorial guidelines. Before articles and reviews are published on our site, they undergo a thorough review process performed by a team of independent editors and subject-matter experts to ensure the content's accuracy, timeliness, and impartiality. Our editorial team is separate and independent of our site's advertisers, and the opinions they express on our site are their own. To read more about our team members and their editorial backgrounds, please visit our site's About page.