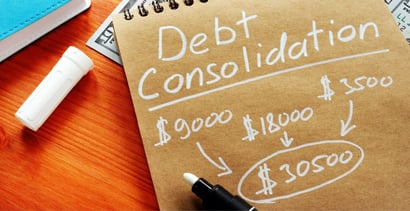 Approximately 12 million Americans take out a payday loan at least once per year. This kind of short-term loan is convenient — it doesn't require a credit check — but the interest rates are excessive and can land you in a payday loan trap. You may want to consider payday loan consolidation if you have mounting debt. 
This article describes five consolidation options available for all credit types, including bad credit. One of them may provide an ideal way to escape from payday loan debt and its triple-digit APRs.
1. Debt Consolidation Loans
Debt consolidation is a process in which borrowers (including payday loan borrowers) take a loan to pay off multiple debts. You repay the new loan in monthly installments at interest rates well below those of payday loans. 
As you can imagine, the interest savings are enormous. Moreover, you must budget only one fixed monthly payment until the debt consolidation loan term (usually up to five years) ends and you've repaid your existing debt.
The following three companies arrange personal loans for consumers with bad credit. They may be able to find you a debt consolidation loan in minutes. These companies charge nothing for this service and do not check your credit.
These companies use networks of direct lenders to respond to consumer loan requests. They can quickly prequalify you for a personal consolidation loan or a short-term loan if you are at least 18 years old and a US citizen or permanent resident. 
You must also have a source of income, a Social Security number, a bank account in your own name, and a valid email address and phone number. 
Once you prequalify, they will send your loan request to the lenders on their networks. You may receive multiple offers within minutes. It takes only a few more minutes to finish the application process. 
If a lender approves your personal loan application, expect the money to be in your bank account as soon as the next business day. You can then use the loan proceeds to consolidate your existing debt.
How Debt Consolidation Can Affect Your Credit
Debt consolidation can help lift your credit score into better territory over time, but you must do your part by making your full payment on time each month. Your payment history accounts for 35% of your FICO score. A clean record of on-time payments should provide positive results within six months to a year.  
Your credit score may initially dip a few points because the direct lenders (not the loan-finding companies) perform a hard credit check when you apply for a loan. That is, lenders ask a major credit bureau (Experian, Equifax, or TransUnion) for your credit report and score.
FICO may slightly lower your credit score because it has found that consumers who frequently request new credit (or loans) are more likely to be financially distressed. For this reason, it's a good idea to wait several months between new credit applications.
Surprisingly, neither personal loans nor payday debt figure into FICO's calculations of indebtedness, which accounts for another 30% of your score. 
Instead, FICO relies on your credit utilization ratio, a measure of credit card debt (i.e., credit spent divided by the total credit available). So, employing personal loans for payday loan debt consolidation won't impact this portion of your FICO score, whereas paying down credit card debt would substantially boost your credit.
2. Debt Relief (a.k.a. Settlement/Management)
The following debt relief companies negotiate with creditors to forgive part of the money you owe (i.e., your enrolled debt). They assign you to a certified specialist, a professional arbitrator who negotiates debt consolidation and forgiveness. 
These companies attempt to consolidate multiple monthly payments into one, substantially lowering the remaining loan amount and getting you out of debt in two to four years.
These companies operate similarly. Working with a specialist, you stop paying your creditors and make payments to an escrow account instead. After several months, the settlement company attempts to negotiate debt forgiveness with your creditors. The debt relief company will use the escrow money to consolidate and partially pay the enrolled debt if the creditors agree to forgive the rest. 
The underlying risk is that creditors may not accept your offer or may want to negotiate a different deal less advantageous to you. If you and your creditors can't agree, they may send the account to a debt collector, or sue you in court. 
For example, suppose you owe $20,000 to a payday lender or two after several months in a payday loan cycle. A professional arbitrator from a debt relief company may ask your payday loan lender to forgive half of your payday loan debt (i.e., $10,000). In return, the arbitrator will use your escrow funds to repay the debt until the arrangement is complete. 
Expect a debt relief company to charge between 20% and 35% of the forgiven loan amount. In this case, the fee could range from $2,000 to $3,500, leaving a savings of $6,500 to $8,000. 
How Debt Relief Can Affect Your Credit
The odds are that payday loan relief, successful or not, may substantially harm your credit score in one or more ways:
Withheld payments: Your loans will become delinquent when you divert payments into an escrow account. 
Debt settlement: Your credit reports will mark settled accounts (i.e., accounts that have forgiven part of your debt), and the information will remain on your reports for seven years.
Bankruptcy: Your creditors may sue you if your settlement attempts fail. This could force you to file for bankruptcy, which lingers on your credit reports for seven to 10 years.
Any of these outcomes can shave hundreds of points off your credit score. But the settlement is the only alternative that reduces your debt, which may be more important to you than the damage to your credit.
3. Credit Union Loans
Credit unions are similar to banks but with better interest rates and friendlier approval. You must become a member before you can open a credit union account or apply for a loan. The small fee to establish an account (typically $5) is well worth it, especially if you have bad credit and are seeking payday loan debt consolidation options.
Credit unions are usually smaller than banks. They offer personalized services and a community-oriented approach. They charge less than banks for loans and services while paying a higher interest rate on savings.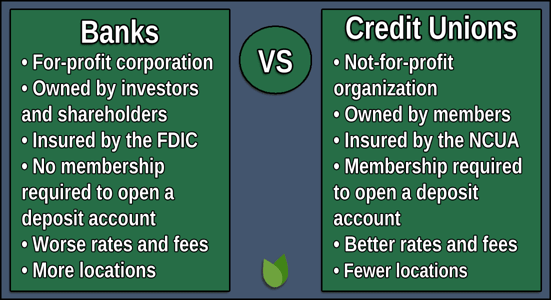 Credit unions offer personal loans and Payday Alternative Loans, although they cap the amount you can borrow with the latter at $2,000, which likely isn't enough for payday loan consolidation. But a personal loan from a credit union may help you break out of the payday loan cycle.
How a Personal Loan From a Credit Union Can Affect Your Credit
As with online lenders and banks, credit unions offer large personal loans you can use to consolidate multiple payday loans. Just about any personal loan is a long-term positive if you use the money to escape from expensive payday loan debt. 
Obtaining a personal loan can help diversify your credit mix and build your payment history, which is the largest credit scoring factor.
But if you don't repay the loan as agreed, a single late payment can harm your credit score by 100 points or more. The better your credit score before the late payment, the worse the damage.
4. Chapter 13 Bankruptcy
Bankruptcy is often the last resort for consumers who cannot repay large and/or multiple debts. It is a legal procedure in which a court (or court-appointed trustees) restructure an individual's debt in one of two ways:
Chapter 7 Liquidation: This kind of bankruptcy allows debtors to discharge (i.e., get rid of) their unsecured debts and start fresh. But you can qualify for Chapter 7 only if you pass a means test (i.e., have a low income). Chapter 7 usually takes three to four months to complete.
Chapter 13 Reorganization: Chapter 13 does not necessarily reduce your debt, but it may. With the help of a court-appointed trustee, it allows you to work out a consolidated repayment plan in which you make monthly payments for three to five years. On the plus side, you get to keep assets, such as cars and homes, on which you have secured loans.
If you qualify for Chapter 13, you can repay a monthly amount depending on how much you owe, your income, and your property. The costs for Chapter 13 include filing fees, trustee commissions, and your attorney's fees. 
You must continue to pay tax debts, child/spousal support, and secured debt. But you may be able to reduce your unsecured debt if your income is low enough.
How Bankruptcy Can Affect Your Credit
You can get rid of your unsecured debt under Chapter 7. Your credit score has probably taken a nosedive due to late payments, defaults, and collections already listed on your credit reports. Upon completing the proceedings, the credit bureaus will remove your unsecured debts and collection accounts, noting that the bankruptcy court discharged them. 
Chapter 13, which has a lifespan of seven years on your credit report after discharge, is less damaging to your credit. In the short term, the cumulative damage may be no more significant than the previous damage to your credit score. After discharge, your credit reports may look better than before bankruptcy.
Nonetheless, bankruptcy inflicts long-term damage to your credit by lingering for seven to 10 years. It will discourage many creditors from offering you a loan or credit card, at least in the early years following discharge.
But despite bankruptcy's damage to your credit score, many creditors will consider extending credit to you once the court proceedings end.
Eventually, the negative items on your credit reports will age away.
Recovering From Bankruptcy
The good news is that you can begin rebuilding credit as soon as your bankruptcy is discharged. You can help the process in a few ways:
Check your credit reports: Make sure the credit bureaus update your reports to reflect the bankruptcy discharge. You can get free copies of your credit reports from AnnualCreditReport.com.
Get a secured credit card: This type of card requires a cash deposit, and several issuers ignore your credit history. Once you have your new card, use it for purchases and promptly repay your balances. Make sure you get a card that reports to all three credit bureaus. 
Consider a credit builder loan: This product, available from credit unions and other sources, allows you to rebuild credit over a year or two. The lender places the loan proceeds into an escrow account and reports your timely payments to the credit bureaus. You receive your money back once you repay the loan.
While bankruptcy is not the end of the world, it should be your last option, reserved for a dire financial situation. At its best, it allows you to reset and rebuild your credit.
5. Credit Counseling
Working with a credit counselor or debt management company when you have trouble paying your bills is often an excellent idea. A counselor can provide objective payday loan debt assistance and help you manage your debts. 
Nonprofit credit counseling agencies provide free debt management advice. They can help you plan repayment to reduce and eliminate your debts. 
Two places to search for credit counseling are the Financial Counseling Association of America and the National Foundation for Credit Counseling. They are accredited and satisfy the required practice standards. 
Credit counselors exist throughout the country, so you should be able to find one nearby. Seek nonprofit credit counselors that do not charge for payday loan debt assistance. 
You Have Options For Consolidating Payday Loan Debt
Payday loans may leave you drowning in debt. Consider the five payday loan consolidation options we've discussed as life preservers that can save you from a most unpleasant financial situation. Whichever alternative you choose, remember that you can rebuild your credit over time through responsible money management and creditworthy behavior. 
Advertiser Disclosure
BadCredit.org is a free online resource that offers valuable content and comparison services to users. To keep this resource 100% free for users, we receive advertising compensation from the financial products listed on this page. Along with key review factors, this compensation may impact how and where products appear on the page (including, for example, the order in which they appear). BadCredit.org does not include listings for all financial products.
Our Editorial Review Policy
Our site is committed to publishing independent, accurate content guided by strict editorial guidelines. Before articles and reviews are published on our site, they undergo a thorough review process performed by a team of independent editors and subject-matter experts to ensure the content's accuracy, timeliness, and impartiality. Our editorial team is separate and independent of our site's advertisers, and the opinions they express on our site are their own. To read more about our team members and their editorial backgrounds, please visit our site's About page.