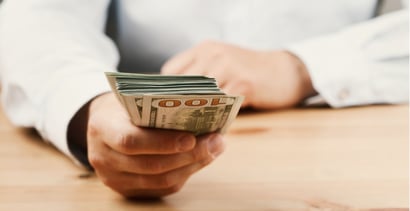 Payday cash advances for bad credit are available from a variety of sources. You can visit a local brick-and-mortar store to get a traditional payday loan or you can apply online for a short-term cash advance. You can even use a cash advance app to get an advance on your next paycheck.
We review seven online lending networks below that all specialize in helping poor credit borrowers access short term cash advances and long-term installment loans. An installment loan will give you more time to repay your loan, and your bad credit score may not disqualify you from same-day approvals and next-day funding.
Online Payday Cash Advances For Bad Credit
Online lending networks partner with lenders throughout the U.S. that specialize in bad credit loan products for consumers in need. Some provide short term loan products and others may offer a longer loan term.
Your interest rate, loan term, and the monthly payment will depend on the lender you work with. In most cases, the network can connect you with an online lender that can complete your loan paperwork in a matter of hours and initiate a direct deposit of your loan proceeds that will reach your bank account by the next business day.
Short-term loans up to $5,000
Online marketplace of lenders
Funds available in as few as 24 hours
Simple online form takes less than 5 minutes
Trusted by more than 2 million customers
| Loan Amount | Interest Rate | Loan Term | Loan Example |
| --- | --- | --- | --- |
| Up to $5,000 | Varies | Varies | See representative example |
MoneyMutual has long been our favorite online lending network because it partners with such a large number of lenders that specialize in bad credit financing. That means more chances for loan approval and the best loan offer possible.
To apply, you must be 18 years or older with an active checking account and be able to provide proof of employment with a minimum income of $800 a month. The lender you choose to work with may have other requirements for loan approval.
CashUSA.com offers a short loan application that can help you receive multiple loan offers within minutes. If you find a loan provider you want to work with, you can begin the credit check and loan paperwork and be done relatively quickly.
After that, your lender can initiate a funds transfer that puts money in your account by the next business day. Some lenders offer expedited loan processing that can put your money into your linked checking or savings account instantly for an additional fee.
The lenders that partner with BillsHappen offer small loan products designed to serve as an affordable emergency loan or online payday loan but without the high cost of a payday advance loan. Loan amounts and fees depend on the direct lender you work with.
These lenders can often curate a loan package that works with your needs and budget. The loan offers you receive will provide different terms and conditions, so be sure to research every offer carefully.
CreditLoan.com won't turn you down solely because of your bad credit history. This reputable lender network will help you find an online lender that will work with your needs and budget — whether it be through a secured loan or an unsecured loan.
Just remember that a secured loan will require collateral for approval. This means that you may have to use your vehicle or another valuable item to back your loan in case of default.
BadCreditLoans.com offers both secured and unsecured loan options and will even consider applications that show a recently finalized bankruptcy. These loans are more affordable than those offered by a payday lender.
And unlike a cash advance or payday loan, the personal loans offered through BadCreditLoans.com give you time to repay your debt through a series of monthly payments. Depending on your loan amount and the lender you work with, you may have up to 60 months (five years) to repay your debt.
PersonalLoans.com offers signature loan options that you can use to cover the cost of an emergency, to pay bills, undergo debt consolidation, or for any other purpose you choose. Every loan provider on this network is trained to help consumers who have bad credit.
You aren't restricted to a specific use for your borrowed funds. That freedom and flexibility is the key that makes personal loans so sought after by consumers.
If you can't qualify for a signature loan, a bad credit payday loan from CashAdvance.com may be your only option. With a cash advance loan, you'll have to repay your entire debt — including a high interest rate — within two weeks to one month. You must repay the loan in full to avoid snowballing the loan and creating even more payday loan debt.
While many consumers successfully leverage payday loans to cover bills or pay for an emergency, you'll need to set a strict and defined plan on how you'll repay the debt on time to avoid expensive fees.
What is a Payday Cash Advance?
A traditional payday loan — or cash advance loan — is a short term loan that's designed to act as a bridge between paydays. They offer small loan amounts and require full repayment when you receive your next paycheck.
Payday loans can be a good way to get a little extra cash that you can repay when you receive your next paycheck — but they often come at a very high cost. The average payday lender charges upward of 400% interest. That usually equates to approximately $15 in finance fees for every $100 you borrow.
And if you can't repay the debt within a 14- to 30-day window, your loan provider will roll the debt over into a new loan with added fees. Payday loan rollovers have left some consumers paying as much as $50,000 in interest charges on a $2,500 loan. That's why several states have limited the number of loan rollovers allowed, and some states have banned payday loans completely.
The map below shows the maximum number of times a payday loan can be rolled over in each state:

The rising debt accumulated by payday loans prompted lawmakers to create several laws limiting the amount of interest a payday lender can charge. It's also helped online lending networks gain popularity.
With an online lending network, you may qualify for a personal loan that has a lower interest rate, a better loan term, and a more affordable monthly payment. And since you're paying your payday loan debt off over time, you don't have to stretch your budget to cover the cost of an emergency.
Every direct lender that partners with the online lending networks listed above will consider a loan application from anyone, regardless of credit history. This means you can get a signature loan that you can use for any purpose without worrying about your bad credit score.
Can I Get a Cash Advance With Bad Credit?
Most cash advance lenders don't require a credit check for approval. Instead, these lenders want to see that you have enough income to repay your loan.
You can prove your income by showing recent paycheck stubs that give insight into your weekly or biweekly earnings. Most payday lenders require borrowers to be employed to qualify for a loan. The lender will base your loan offer on your earnings, but the maximum amount you can borrow varies by state.
A longer-term installment loan will require a credit check for approval, but the lenders that partner with the networks we recommend have very forgiving approval standards. These lenders will often approve a loan application from any borrower who has bad credit as long as they can prove they have sufficient income to repay the loan.
The best way to find out whether you'll qualify for a personal loan from an online lending network is to submit a loan request to the network of your choice. This won't result in a hard inquiry on your credit report that can harm your credit score. If you qualify, you could receive multiple loan offers to choose from.
Can I Get a Loan With a 450 Credit Score?
A FICO credit score of 450 or lower is considered very poor by lenders and may come with too much risk for an unsecured loan. But that score may not disqualify you from receiving a secured loan.

A secured personal loan requires collateral for approval. A pawnshop loan is a common form of secured loan. With this type of loan, you'll use a valuable item as collateral to get a loan. If you don't repay the debt, the pawnbroker will keep your item and sell it to recoup the lost money.
Many lenders that partner with online lending networks offer secured loans to consumers. With these loans, you may have to use your vehicle's title, your home, or other valuables as collateral. That's why it's important to only accept a secured loan if you're certain that you can repay the debt.
Another option is to use a cash advance app that won't check your credit score — all you need to do is download the app and connect your bank account to it so the app can verify your income. It will then deposit your money into your account and withdraw repayment when your next paycheck arrives.
What's the Difference Between a Payday Advance and a Personal Loan?
A payday advance is a short term loan that requires repayment whenever your next paycheck arrives. The laws vary as to when a payday loan must be repaid — some states mandate payday loans be repaid within no less than five days, whereas other states allow up to 60 days for repayment. But the most common terms are between two weeks and one month.
A personal loan can be either a short term loan or a long term installment loan that allows you to repay your debt over time in a series of monthly payments. Other key differences include:
A payday advance loan often has a much higher interest rate than a personal loan.
You can use the proceeds from a payday advance or personal loan for any purpose you choose.
A payday advance is a secured loan. A personal loan can take the form of a secured or an unsecured loan.
A payday advance usually doesn't report to the credit bureaus to help you improve your credit score, whereas most personal loans do report to at least one credit bureau.
A payday advance may allow you to skip a credit check. A personal loan will require a credit check.
There are several differences between a payday advance and a personal loan. Many consumers feel that they won't qualify for a personal loan because of a poor credit score but are pleasantly surprised when they submit a loan request to an online lending network.
What is an Installment Loan?
An installment loan is a financial product that allows you to repay your debt over a series of installments — or monthly payments. Most loans are installment loans, including a car loan, a home mortgage, a student loan, and a business loan.
Perhaps the most common form of installment loan is a personal loan. Unlike an auto or home loan, you can use the proceeds from a personal loan for any purpose you choose. Personal loans are often used to pay for home or car repairs, to cover the cost of an emergency, to pay for a vacation, or any other reason you can think of.

An installment loan provider will charge an interest rate based on your credit history. Interest will compound monthly on your loan and will be added to your monthly payment.
Once you make all of your loan payments, you'll satisfy your debt and have no more obligation to the lender. The lender will also report your balance and payment history to at least one credit bureau, which can help you improve your credit score with timely payments.
What Are the Risks of Payday Loans?
Payday loans come with several inherent risks. This is why several laws mandate how payday lenders run their businesses.
The first, and most obvious, is the excessive cost of repaying a payday loan. With average interest rates that hover around 400%, your payday loan interest rate will likely charge nearly 15X the interest attached to a personal loan. And this rate can climb much higher if you can't repay your debt within the agreed-to terms.
If your due date passes without repayment, your payday lender will roll the debt over into a new loan. This loan will include non-payment penalties and added borrowing fees. This cycle will continue with every missed payment until you've reached the maximum number of loan rollovers allowed.
Previous borrowers report having to pay as much as $5,000 in interest charges for a $200 loan because the loan kept rolling over.
This is a very common story, which prompted the National Credit Union Administration (NCUA) to create the Payday Alternative Loan, which is designed to help consumers avoid accepting costly payday advance loans. Payday Alternative Loans are available from select credit unions and are one of the most affordable ways to borrow.

Another key factor to consider is that a cash advance loan likely won't help you rebuild your credit score. Payday lenders don't report your payment or balance history to a credit bureau to help you create a positive credit history.
Cash advance loans are truly a last-resort financial product. Before you accept — or even consider — one of these loans, make sure you investigate every other possible avenue for borrowing money. You may thank yourself later.
Compare Payday Cash Advances For Bad Credit Online
An emergency doesn't care about your credit score. From time to time, you may need some quick cash to cover an expense, but your credit score may keep you from getting the loan you need.
Instead of turning to a local payday lender that will charge you an arm and a leg in fees, consider an online lending network for payday cash advances for bad credit. These networks specialize in bad credit loan products and can get you the money you need quickly — and at a far lower cost.
Advertiser Disclosure
BadCredit.org is a free online resource that offers valuable content and comparison services to users. To keep this resource 100% free for users, we receive advertising compensation from the financial products listed on this page. Along with key review factors, this compensation may impact how and where products appear on the page (including, for example, the order in which they appear). BadCredit.org does not include listings for all financial products.
Our Editorial Review Policy
Our site is committed to publishing independent, accurate content guided by strict editorial guidelines. Before articles and reviews are published on our site, they undergo a thorough review process performed by a team of independent editors and subject-matter experts to ensure the content's accuracy, timeliness, and impartiality. Our editorial team is separate and independent of our site's advertisers, and the opinions they express on our site are their own. To read more about our team members and their editorial backgrounds, please visit our site's About page.