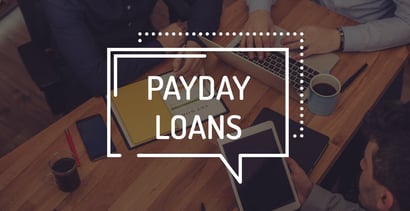 Approximately 78% of American workers report the have trouble stretching their budgets from one paycheck to the next. This can be miserable for employees with bad credit, but it's a gold mine for payday lenders.
These lenders offer loans tied to employee paychecks and charge exorbitant APRs and fees that help keep their customers in debt. We want you to know you have payday advance loan alternatives that can help you avoid falling into the debt traps associated with these loans.
Check out the six lending services we review here — all cater to folks with bad credit and all offer a better deal than you'll ever get from a payday lender. We'll also tackle some of the other most commonly asked questions around this topic by looking at other payday loan alternatives, exploring which loan company is best for bad credit, and the penalties for not paying payday loans.
The Best Online Payday Advance Loan Alternatives
The following lenders provide personal loan matching services that allow customers to borrow money despite bad credit. All are committed to helping arrange loans that are much more affordable than payday advance loans.
Short-term loans up to $5,000
Online marketplace of lenders
Funds available in as few as 24 hours
Simple online form takes less than 5 minutes
Trusted by more than 2 million customers
| Loan Amount | Interest Rate | Loan Term | Loan Example |
| --- | --- | --- | --- |
| Up to $5,000 | Varies | Varies | See representative example |
MoneyMutual has facilitated loans for more than 2 million consumers since it began operations. It works through an online marketplace of lenders who offer personal loans to consumers with all types of credit. As long as you have a job and earn at least $800 a month, you can qualify for a loan despite having bad or no credit. You'll also need a checking account to request a loan, a process that takes only five minutes.
MoneyMutual will direct you to an interested lender's website where you will fill out an online loan application. The lender, not MoneyMutual, sets the terms of the loan. If approved, you may be able to borrow up to $2,500 and receive it by the next business day. Loans aren't available in New York.
Loans from $500 to $10,000
Receive a loan decision in minutes
Get funds directly to your bank account
Use the loan for any purpose
| Loan Amount | Interest Rate | Loan Term | Loan Example |
| --- | --- | --- | --- |
| $500 to $10,000 | 5.99% - 35.99% | 3 to 72 Months | See representative example |
CashUSA.com can put you in touch with a lender for a loan as small as $500. To qualify, you must earn at least $1,000 a month after taxes and have a checking account. Loans are limited to U.S. citizens and permanent residents who are age 18 or older. Filling out a short loan request form starts the ball rolling, after which you will be contacted by lenders willing to accept your loan application.
CashUSA.com states that typical APRs range from 5.99% up to 35.99% and that it works with consumers who have all types of credit. Expect a loan term from three to 72 months. If approved, the lender will deposit the proceeds in your checking account within a day or two.
Loans from $250 to $5,000
Cash deposited directly into your account
Get money as soon as tomorrow
Bad credit OK
More than 750,000 customers since 1998
| Loan Amount | Interest Rate | Loan Term | Loan Example |
| --- | --- | --- | --- |
| $250 to $5,000 | Varies | Varies | See representative example |
CreditLoan matches loan requests with lenders for loans from $250 up to $5,000 and is happy to work with bad credit borrowers who have scores below 630. CreditLoan has operated since 1998 and has arranged loans for more than 750,000 borrowers.
To qualify for a bad credit loan, you'll need a bank account where a lender will deposit the proceeds upon approval. The lender will set the loan terms and interest rate. The CreditLoan website features a handy personal loan calculator where you can enter loan terms to estimate monthly payments.
Loans from

$500

to

$10,000

Get connected with a lender
Simple form & quick funding
Get your money as soon as next the business day, if approved
| Loan Amount | Interest Rate | Loan Term | Loan Example |
| --- | --- | --- | --- |
| $500 to $10,000 | 5.99% - 35.99% | 3 to 60 Months | See representative example |
Bad Credit Loans has been finding loans for borrowers with bad credit since 1998. It only takes a few minutes to fill out the Bad Credit Loans loan request form. Your request will then circulate to a large lending network. To qualify, you must be a U.S. citizen who is at least 18 years old, have a regular income, an email address, and a checking account.
You can apply for loans of between $500 and $5,000. Many loans will have interest rates ranging from 5.99% to 35.99% and terms of three to 60 months, but the actual lender will set the loan terms. Expect quick funding of approved loans as soon as the next business day.
Loans from

$1,000

to

$35,000

Large lender network
Fast loan decision
Use the loan for any purpose
Funding as soon as one business day, if approved
| Loan Amount | Interest Rate | Loan Term | Loan Example |
| --- | --- | --- | --- |
| $500 to $35,000 | 5.99% - 35.99% | 3 to 72 Months | See representative example |
PersonalLoans.com is a matching service for loans of between $500 and $35,000. To request a loan, you must be at least 18 years old and a U.S. citizen or permanent resident with a bank account, monthly income, and a Social Security number. Typical loan terms range from three to 72 months with APRs of 5.99% to 35.99%.
PersonalLoans.com operates in all 50 states and can help you get a loan in as little as one business day. It welcomes all credit types and works with a large network of personal installment loan providers.
Short-term loan of

$100

to

$1,000

Large network of lenders
Loan decision as fast as a few minutes
Funding as soon as the next business day, if approved
| Loan Amount | Interest Rate | Loan Term | Loan Example |
| --- | --- | --- | --- |
| $100 to $1,000 | 200% - 2,290% | Varies | See representative example |
CashAdvance®.com has been connecting loan requests to lenders since 1997. It specializes in short-term loans that you repay on your next payday. You can borrow from $100 up to $1,000 if you are a U.S. citizen age 18 or older with an email address, checking account, Social Security number, and a monthly income of at least $1,000 after taxes.
Lenders will deposit your loan proceeds directly into your checking account and collect repayment automatically on the due date. Approved loans are funded in as little as one day. Loans are not available in all states.
What Are the Alternatives to Payday Loans?
You can use an online loan matching service like the six we review here to arrange small loans that you can pay off quickly. Many specialize in loans to folks with bad credit or no credit history.
Unlike payday loans, online personal loans are generally reported to the three national credit bureaus — Experian, TransUnion, and Equifax. This reporting gives you an opportunity to improve your credit score by making timely payments.
Online loans offer interest rates much lower than those charged by payday lenders. By making loans more affordable, online lenders can help you avoid falling into the debt spiral so common among payday loan borrowers.
Loan matching services are convenient because they shop your loan request to their networks of lenders. Alternatively, you can apply to direct lenders for bad credit installment loans. Although contacting these lenders requires additional legwork, at least you'll have some idea of their loan terms before you apply.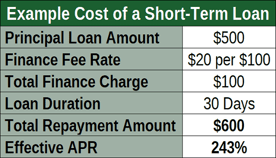 Another alternative for a small loan is to take a cash advance from your credit card. These also have low APRs relative to those from payday lenders. Most credit cards offer cash advances of at least $300, which may be enough to tide you over until your next paycheck.
Credit card advances are convenient because you don't have to fill out a loan application or wait for approval and funding. If necessary, you can pay off the loan over several months.
If you own a home, you can consider a home equity loan or home equity line of credit (HELOC). You will need to have equity in your home, meaning the home's value must exceed the mortgage balance.
A HELOC is especially convenient because it is a revolving loan on which you pay interest only for the money you withdraw. As with credit cards, repayment terms are flexible, and you don't need a loan approval each time you need to withdraw money.
What is the Best Loan Company for Bad Credit?
Our top-rated loan matching service is MoneyMutual. It leads the pack because of its vast experience, having facilitated more than 2 million loans.
Money Mutual requires a monthly income of only $800, somewhat less than the amounts other competitors require. It also offers fast service, arranging loans of up to $2,500 that you can access as soon as the next day. We're confident that all six of these lending companies can cost you less money than would a payday lender.
The matching service that most closely resembles a payday lender is CashAdvance.com, which is the only one that offers very short-term loans tied to borrower pay periods. These loans range from $100 to $1,000 and are to be repaid on or before the borrower's next payday.
This lending service doesn't attempt to forecast the APR that the ultimate lender will charge. However, the CashAdvance.com website has a slider tool that estimates rates and fees. That slider has a range of APRs from 782% to 1,546% for a seven-day loan and 342% to 684% for 14-day loans.
These are the same kind of astronomic interest rates that payday lenders charge. On the other hand, the APR range for 12-month loans is 15% to 30%, which is in line with the rates you'll find at the other lending services.
Note that matched lenders may offer more than one type of loan, including payday loans. Therefore, make sure you identify the type of loan product you are offered so you don't inadvertently take out a payday loan.
Can You Go to Jail for Not Repaying a Payday Loan?
It's hard to reconcile the laws and reality concerning the jailing of debtors. On the one hand, we have certain facts that tell us that debtor prisons are illegal in the United States, and you can't go to jail because you owe money, whatever the source of the loan. These facts include:
The U.S. Code prohibits imprisonment for debt
Debt is a civil matter, not a criminal one
Bankruptcy laws protect debtors and give them an opportunity to manage debts
Debt collectors cannot arrest anyone
On the other hand, the ACLU reports that many states and local courts are jailing people who aren't able to pay fines and fees. Furthermore, USA Today reports that more than 200 prosecutors have partnered with private companies to collect debts using official stationery.
Needless to say, this can terrify folks who simply can't pay back private debts. So, it's impossible to give a blanket assurance that you won't be jailed for debt – apparently, the risk exists in areas throughout the country.
In any event, it's safe to say that some lenders are relentless as they try to collect the money borrowers owe. Lenders may work with collection agencies to pressure borrowers to repay, including through the courts.
You may be shocked to learn that, occasionally, a collection agency becomes overzealous and makes all sorts of threats about arrest and jail. Make no mistake, this tactic is illegal, as are many other heavy-handed practices, including:
Lying about how much you owe
Contacting you outside of the hours of 8 a.m. and 9 p.m.
Abusing or harassing you, including at work
Revealing to third parties that you are in collection or owe money
Claiming to be law officers or threatening you with arrest
For sure, not paying your debts will negatively impact your credit score. Normally, collection agencies report you to the three credit bureaus.
Experian points out that collections remain on your credit report for seven years following the original delinquency date. Your payment history accounts for 35% of your credit score, so you can expect your credit score to significantly drop when you default on a loan.
Avoid the High Fees & Predatory Terms of Payday Loans
Payday loans are extremely risky. They charge high interest rates, and if you miss a payment date, you'll be hit with substantial late fees. Personal loans are much safer, charge lower interest rates, offer fairer terms, and are frequently available to consumers with bad credit.
The six lending services in this review can connect you to a provider of personal loans. This is a convenient service that allows many lenders to offer you a loan, even with bad credit. Other payday advance loan alternatives include credit card cash advances and home equity lines of credit. Whichever lender you choose, always make sure you understand the terms before signing a loan agreement.
Advertiser Disclosure
BadCredit.org is a free online resource that offers valuable content and comparison services to users. To keep this resource 100% free for users, we receive advertising compensation from the financial products listed on this page. Along with key review factors, this compensation may impact how and where products appear on the page (including, for example, the order in which they appear). BadCredit.org does not include listings for all financial products.
Our Editorial Review Policy
Our site is committed to publishing independent, accurate content guided by strict editorial guidelines. Before articles and reviews are published on our site, they undergo a thorough review process performed by a team of independent editors and subject-matter experts to ensure the content's accuracy, timeliness, and impartiality. Our editorial team is separate and independent of our site's advertisers, and the opinions they express on our site are their own. To read more about our team members and their editorial backgrounds, please visit our site's About page.