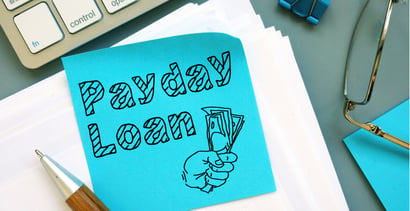 When you suddenly need money despite your poor credit, payday advance loans are without a doubt the worst solution. They are astronomically expensive and can send you into a debt spiral.
That's why we are happy to acquaint you with six loan-matching services that provide a much better alternative to payday loans. All offer short-term and installment loans geared to consumers with any credit profile, from good to very poor.
Don't even think about a payday loan before you check out these superior alternatives:
Best Alternatives | More Options | FAQs
Best Payday Advance Alternatives
These companies are loan-matching services that connect you to their networks of direct loan providers. They operate quickly and efficiently.
Just complete a short loan request form to receive a link to a direct loan provider. From there, you can complete the loan application process and receive your direct deposit as early as the next business day.
Short-term loans up to $5,000
Online marketplace of lenders
Funds available in as few as 24 hours
Simple online form takes less than 5 minutes
Trusted by more than 2 million customers
| Loan Amount | Interest Rate | Loan Term | Loan Example |
| --- | --- | --- | --- |
| Up to $5,000 | Varies | Varies | See representative example |
MoneyMutual can arrange a cash advance of up to $2,500 as soon as the following day. It takes about five minutes to fill out its simple request form. MoneyMutual forwards the information to a wide array of loan providers that review your information to determine whether they can offer you the financial assistance you need.
Based in Las Vegas, Nevada, MoneyMutual has assisted more than 2 million consumers since its founding in 2010. Its mission was and remains reducing the confusion and frustration that can surround the need for emergency loans. The company's online marketplace gives secure access to loan providers at no expense to applicants.
MoneyMutual can facilitate a cash advance with a single repayment date or, if you need more time, you can get a cash advance installment loan. You must be 18 or older with a bank or credit union account and a steady income of at least $800 per month.
Good credit is not a requirement, and you're under no obligation to accept any loan offer.
CashUSA specializes in finding you an installment cash advance starting at $500 and repayable in as little as three months. You need just a few minutes to complete a loan request form that the company uses to contact its network of loan providers using industry-standard security and encryption measures.
CashUSA, located in Las Vegas, is a free service aimed at helping consumers with poor credit. There is no minimum credit score and the loan requirements are lenient. A customer support desk is on standby during office hours to answer your questions.
Applicants must be a U.S. citizen or permanent resident, at least 18 years old, and have an income of at least $1,000 per month after taxes. You'll need a bank account, a valid email address, and work/home phone numbers.
If you receive a link to a direct lender, you may find that it has other requirements as well. Upon approval, you can expect the proceeds to appear in your bank account in about a day.
Poor credit is not an obstacle to using CreditLoan for a small cash advance loan starting at $250. It follows the standard practice of collecting a few items of information and then contacting its direct lender network.
You will then be taken to the website of a loan provider interested in working with you, where you can complete the process and receive your money in your bank account the next day. You can repay your loan in as little as three months, though periods of up to five years are available.
Tampa-based CreditLoan has helped more than 750,000 consumers get an online loan since 1998. That makes it one of the oldest online resources for obtaining consumer loans. Over its lifetime, it has educated more than 33 million visitors on important financial matters. The website has been awarded the TRUSTe® seal for security and privacy.
Loan providers on the CreditLoan network are happy to work with consumers who have bad or scant credit. The company charges you no fees for its service. An online loan calculator can help you determine the repayment requirements for your loan.
Bad Credit Loans seeks out lenders for borrowers with poor credit. It facilitates many kinds of loans, including a personal loan starting at $500 and repayable in as few as three months.
The short loan request form flags the attention of loan providers who may want to offer you a loan. Upon approval, proceeds are electronically transmitted to your bank account in as little as one business day.
The company is headquartered in Tacoma, Washington, and has been operating since 1998. It works with both state-licensed and Tribal loan providers to find you a loan whatever your credit rating. The no-fee finder service can also help you get a line of credit if you prefer.
To qualify, you must be at least 18 with proof of citizenship or residency, a financial institution account, regular income, and a valid email address and phone number. If you want to accept a loan, you'll need to agree to the loan terms via an electronic signature. You're never obligated to accept any loan offers from its financial institution network.
While PersonalLoans can arrange fast cash loans as small as $500 and repayment periods as short as three months, you can also use the service to obtain a long-term personal loan of up to $35,000 maximum loan amount. The loan request form is short and takes only a few minutes to complete. Approved loans are deposited in your bank account as quickly as one day.
PersonalLoans resides in Roosevelt, Utah. You can contact the company via phone or email to speak to a customer representative. Loans for any purpose are available in all 50 states.
Applicants must be 18 or older, have an active bank account, and a provable income of $500 a month or more. Some loan providers may require a credit score above 600 and/or collect three months of your bank statements, but most do not disqualify borrowers simply for having a low credit rating.
CashAdvance is the closest alternative to a payday loan in that it offers you a small loan as low as $100 with a short repayment period. Emergency loans are available regardless of credit type.
To apply, fill out the loan request form and then agree to the loan offer sent to you from the network of lenders. Your small loan will be ready as soon as the next business day.
CashAdvance is another proud resident of Roosevelt, Utah, where it's been facilitating online loans since 1997. It prides itself on superior customer care, trustworthiness, and security. The company does no credit checks, although lenders on its network may.
To qualify, you must be a U.S. citizen, age 18 or older, and have a verifiable job that provides an income of at least $1,000 a month after taxes. You'll also need a checking account, phone number, and email address. Lenders will automatically debit your repayments from your bank account on the date due.
Other Alternatives to a Payday Advance
In addition to the lending services in this review, there are several other superior alternatives to payday loans, including credit cards, home loans, and title loans.
Credit card cash advances are a particularly good alternative. They are designed for short-term use because they charge interest from Day One — there is no grace period. You can repay these at any time, although you must make at least the monthly minimum payment.
Credit card advances are not exactly cheap, often charging an APR of 30% or more. Even though your credit is poor, several credit cards are designed especially for you. Most offer a cash advance loan, although the maximum amount may be modest.
If you happen to own your home, you can apply for a home equity line of credit (HELOC) based upon the equity you've built up. This is a revolving line of credit much like a credit card cash advance, except that it is secured by your home. The problem with a HELOC is that many folks who take out payday loans don't own their homes.
Lastly, consider asking to borrow money from family or friends. You can write a contract that both parties can agree to and sign to avoid any miscommunication about loan repayments. Your pride isn't worth paying 300%+ interest on a payday loan, is it?
What is a Payday Advance?
A payday advance, also known as a payday loan, is a short-term, high-cost loan available to workers drawing steady pay. The collateral for the loan is your paycheck — your next payday is when repayment is due unless you arrange to extend the loan.
Payday advances are very risky and expensive. If you miss a payment, you'll be charged late fees. The APRs on these loans are typically triple-digit. If you habitually use these, you risk falling into a debt spiral that can lead to bankruptcy.
Each state has its own laws governing payday loans that may cap the loan amount, APR, and fees. In fact, some states completely ban payday loans.

Payday loans' sole justification is that they are available no matter how bad your credit is. That's one reason why they are used by people across the country.
How Do I Get a Payday Advance?
Payday advances are available online and at brick-and-mortar stores for workers age 18 or older. If it's your first time using a particular payday loan provider, you'll have to register by filling out a loan application form, plus provide items like a government-issued ID, your Social Security number, proof of income, and your bank account number.
At payday loan stores, you go up to the window, register, and wait a short while to receive a decision. If approved, you write a post-dated personal check for the loan amount plus the lending fee and receive your money on the spot in the form of cash or a direct deposit to your debit card. The store will cash your check on the due date unless you apply for a rollover and pay the associated fee.
If you apply online, you'll have to provide a valid, active email address and an authorization for the loan provider to withdraw repayment from your bank account on the due date. If the lender approves your online payday loan, your money moves through a deferred deposit transaction into your checking account on the same or the next day.
The payday loan lender will debit repayment from your bank account on the due date. You can extend the loan for a fee. Whichever method you use, you must be given all the information required by state law, such as fees, APR, due date, and any other terms, before agreeing to the loan.
Why Should I Avoid Payday Loans?
For many, payday loans are one of the few sources of quick money. Pew Charitable Trusts found that 12 million Americans use payday loans each year.
"On average, a borrower takes out eight loans of $375 each per year and spends $520 on interest," according to Pew Charitable Trusts. That adds up to more than $7 billion per year spent on payday loans.
It turns out that most payday loan borrowers use the money to pay for their ordinary living expenses rather than for emergencies. In fact, the average payday loan borrower stays in debt for about five months each year.
That works out to eight loans a year with an average length of 18 days each. Moreover, payday loans consume up to 36% of a borrower's income, on average.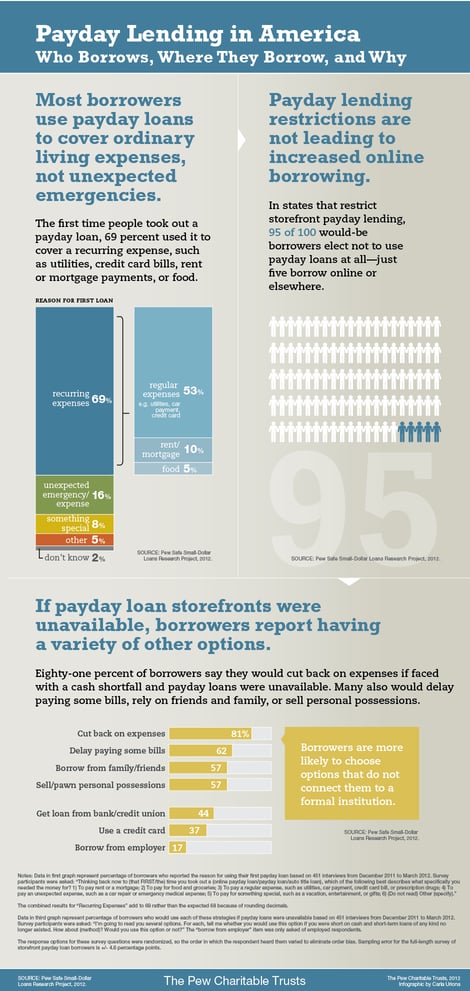 Costly fees that create high APRs (up to 1,000% or more) are the biggest knock against payday loans. The problem becomes a crisis if you must constantly extend the term of your loan because you can't afford to repay it.
That's called a debt spiral, and unless you can find another source of money, you are headed toward default and bankruptcy.
It's expensive when you roll over a payday loan, with tacked-on fees of 10% to 30% each time on top of the high APR. Make no mistake, payday loan lenders love when you rollover your loan. They earn 91% of their revenues from borrowers who roll over their loans five or more times, a practice known as churning.
The federal government hasn't made it any easier on you. The Consumer Financial Protection Agency recently removed a rule that forced loan providers to check that borrowers can repay their loans on time.
This only serves to increase the predatory nature of payday loans. Groups hurt the most by payday loans include those earning less than $40,000 per year, those without a four-year college degree, African Americans, and those who are divorced or separated.
Some states are just as bad — their lack of strong regulation increases payday loan usage. Pew found that the states with the loosest regulations see 6.6% usage, compared to just 2.9% usage in states with the most stringent laws.
New York and several other states outright ban payday lending. However, loan providers often skirt the prohibition by partnering with out-of-state loan providers.
Another problem with chronically using payday loans is that they don't solve your fundamental financial problems. A better approach is to create a budget and adhere to it. You can borrow from a payday alternative loan company to break the payday loan debt spiral and then avoid using credit until you have mastered your budget.
The alternatives in this review are a much better choice because they cater to folks with poor credit yet cost considerably less. In contrast, payday loans are one of the most expensive ways to borrow money.
Do Payday Loans Hurt Your Credit?
In general, payday lenders do not report your loans to the three credit bureaus. Therefore, your payday loans don't directly affect your credit.
That's fine unless you have trouble repaying your loan. If the payday loan company refers your payday loan debt to a collection agency, that information will likely appear on your credit report, sending your credit rating plummeting.
Some payday loan providers use the courts to recoup unpaid loans. If you end up losing the court battle, your credit report could contain this information and your credit rating could suffer. If you ultimately have to declare bankruptcy, your credit report will carry a black mark for seven to 10 years.
Another way that payday loans can hurt your credit is when they interfere with your ability to repay your other debts. Defaulting on your credit card payments or student loans will devastate your credit rating.
How Much Money Can I Borrow?
State law usually dictates how much you can borrow through payday lending, with amounts usually ranging from $50 to $1,000. Some states do not allow you to have multiple outstanding payday loans at the same time, an attempt to limit the damage caused by high APRs.
The National Conference of State Legislatures publishes a handy table summarizing the maximum payday loan amounts allowed by state. The same table describes each state's maximum loan term and finance charge in addition to the maximum loan amount.
Oregon's payday loan cap of $50,000 is, frankly, ridiculous. Virginia raised its maximum to $2,500 as of January 1, 2021. Delaware, Illinois, and Ohio have caps of $1,000 each. Most states that permit payday lending limit the maximum amount to $500.
What Will My Interest Rate and Repayment Terms Be?
Payday loan interest rates are a function of the fees charged. For example, suppose a payday loan provider charges a $15 fee for each $100 borrowed on a two-week loan.
If you borrow $375, you'll pay a finance charge of $56.25, and your total amount will be $431.25. When converted to an annual percentage rate (APR), this turns out to be 391%.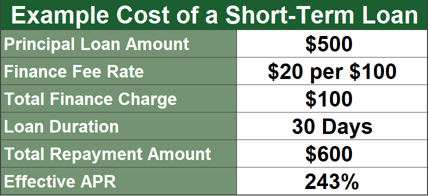 Had the fee been $20 per $100 borrowed, the APR would be 521%. Compare this to the alternatives in this review that generally have a maximum APR of 36%.
The average payday loan term is two weeks. The actual loan term usually ends on your next pay date. The loan provider will cash your postdated check or debit your bank account on the pay date. If your payment bounces, expect to be hit by an overdraft fee by both the loan provider and the bank.
What Happens if I Can't Repay My Loan?
There are several scenarios for when you can't repay your loan, ranging from expensive to catastrophic:
Rollovers
The usual course of action when you can't repay your payday loan is to obtain a rollover. This extends the loan for another pay period at the cost of an additional fee, but it avoids an overdraft fee.
As an example, payday loan providers often charge $15 to $20 to roll over a $100 loan. If you rolled over a $100 loan four times, you'd pay an additional $60 in fees on top of the original fee.
Rollovers are not legal in every state, and other states cap the number of times you can obtain a rollover, as shown in the following map: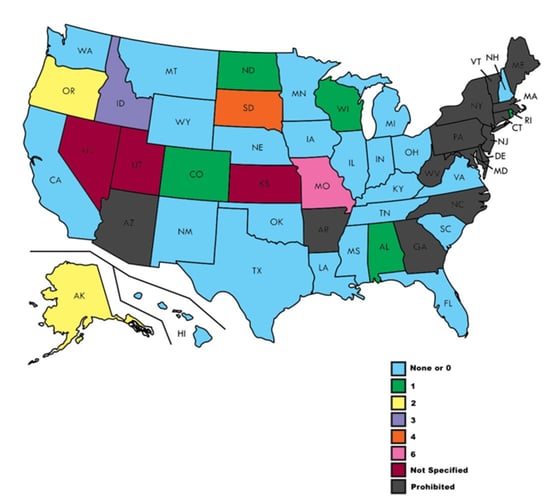 Extending our earlier example, if you had borrowed $375 at a fee of $15 per $100 borrowed (a total of $56.25) and then rolled it over five times, your total repayment would be $375 + (6 x $56.25), or $712.50, almost double the original amount.
Extended Payment Plan
You may be able to arrange an extended payment plan with your payday lender if permitted by state law. The type of plan extends the term of your loan while reducing the payment size of each installment. You do not take out additional payday plans while working through an extended payment plan.
If the loan provider is willing to engage in this kind of plan, it may require you to pay a fee or it may offer it to you for free.
Debt Management Plan
In a debt management plan, a credit counseling service works with your creditors to reduce the interest rates on your debts and to extend their terms. Your monthly payments will decline, thus freeing up some money for other needs.
The credit counseling plan is for debt consolidation so you only make one payment per month. The credit counselor distributes your payment to your creditors. If you can't afford to repay your payday loan, you may want to consider contacting a credit counselor and setting up a debt consolidation plan.
Here is the important point: You cannot consolidate payday loans. A debt management plan only helps if you also have other types of debt that can be included in the plan.
Eligible types of debt include credit card balances, student loans, medical bills, and personal loans. The money you save through a debt management plan can help you pay off your payday loan.
Debt Settlement
In a debt settlement, you negotiate with your unsecured creditors to accept less than the amount owed. If they accept your offer, you periodically send money to an administrator who then divvies it up and distributes it to your creditors.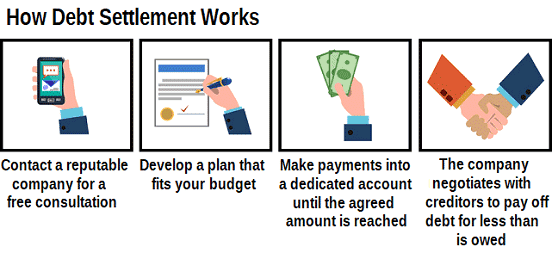 Although debt settlement will hurt your credit rating, it gives you an opportunity to avoid Chapter 7 bankruptcy. A debt settlement plan is part of a Chapter 13 bankruptcy procedure, in which you undertake partial repayment of your debt.
Bankruptcy
In addition to the aforementioned Chapter 13 bankruptcy, your income may be low enough to qualify for Chapter 7 instead. In a Chapter 7 proceeding, some of your assets are liquidated by the court and used to repay your unsecured creditors. Your unsecured debts are then discharged by the court.
A Chapter 7 bankruptcy remains on your credit report for 10 years. That's three years longer than Chapter 13.
Naturally, bankruptcy will pummel your credit rating at first. However, the impact begins to fade after a couple of years. While usually handled by a lawyer, you are allowed to file a DIY Chapter 7 bankruptcy.
Research Your Alternatives to Payday Advances
The six reviewed loan-matching services for bad-credit consumers each offers a viable alternative to a payday advance. Two of them (MoneyMutual and CashAdvance) can arrange non-installment advances of the same length as payday loans. All six facilitate short-term installment loans with a minimum term of 90 days.
If you're already in the death grip of a payday loan, consider taking a personal loan via these loan-matching services and using the proceeds to pay off your payday loan.
All six have interest rates much lower than those offered on payday loans, helping to protect you from the indignities of a debt spiral. In addition, they are all trustworthy companies with long track records. Before you take a payday loan, we urge you to consider these lending services instead — they are much better alternatives.
Advertiser Disclosure
BadCredit.org is a free online resource that offers valuable content and comparison services to users. To keep this resource 100% free for users, we receive advertising compensation from the financial products listed on this page. Along with key review factors, this compensation may impact how and where products appear on the page (including, for example, the order in which they appear). BadCredit.org does not include listings for all financial products.
Our Editorial Review Policy
Our site is committed to publishing independent, accurate content guided by strict editorial guidelines. Before articles and reviews are published on our site, they undergo a thorough review process performed by a team of independent editors and subject-matter experts to ensure the content's accuracy, timeliness, and impartiality. Our editorial team is separate and independent of our site's advertisers, and the opinions they express on our site are their own. To read more about our team members and their editorial backgrounds, please visit our site's About page.