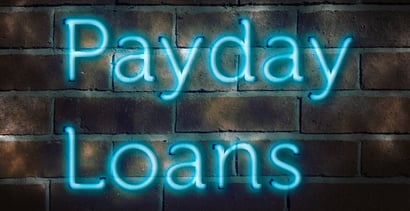 Online payday lenders offer a quick fix for consumers who are in a tight financial spot, but their high interest rates often contribute to those same consumers winding up deeper in debt in the long run.
Consider this well-known statistic: 40% of Americans would have trouble raising $400 in an emergency. Many of us are no strangers to living from one paycheck to the next, and there's no question that you may need to borrow money from time to time — the real question is how to do so at a reasonable cost.
Our experts have identified the seven best alternatives to online payday loans. They provide quick access to cash without the high interest rates associated with online payday lenders and the low cash advance limits on some credit cards.
It's good to know you have options when you need cash, no matter what type of credit you have.
Direct Lenders | No Credit Check | FAQs
Direct Lender Networks for Bad Credit
These are loan service websites that work with direct lenders. They help consumers with bad credit access personal loans on short notice. They all have solid reputations matching loans to consumers with less-than-perfect credit.
Short-term loans up to $5,000
Online marketplace of lenders
Funds available in as few as 24 hours
Simple online form takes less than 5 minutes
Trusted by more than 2 million customers
| Loan Amount | Interest Rate | Loan Term | Loan Example |
| --- | --- | --- | --- |
| Up to $5,000 | Varies | Varies | See representative example |
MoneyMutual facilitates loans by bringing borrowers and lenders together via an online marketplace. Even with bad credit, you may qualify for a loan if you currently have a job, a checking account, and earn at least $800 a month. You start the process by taking five minutes to fill out a short online form. Potential lenders review your information and contact you if they want to work with you.
You'll be redirected to the websites of interested lenders to complete the loan application process. If approved, you can borrow as much as $2,500 in as little as one business day. Terms vary and are set by each lender. MoneyMutual has facilitated loans for more than 2 million customers, according to its website.
Loans from $500 to $10,000
Receive a loan decision in minutes
Get funds directly to your bank account
Use the loan for any purpose
| Loan Amount | Interest Rate | Loan Term | Loan Example |
| --- | --- | --- | --- |
| $500 to $10,000 | 5.99% - 35.99% | 3 to 72 Months | See representative example |
CashUSA.com helps you connect with a lender to arrange a personal loan ranging from $500 to $10,000. You must be a U.S. citizen or permanent resident and at least 18 years old with a checking account and monthly after-tax income of at least $1,000. After filling out a short online form, interested lenders will contact you to finish the application process.
If approved, expect the loan proceeds to be electronically deposited into your checking account in as little as one business day. Loan terms, rates, and fees vary, but some lenders offer APRs between 5.99% and 35.99%. The CashUSA.com lender network includes state-licensed and tribal lenders.
Loans from

$500

to

$10,000

Get connected with a lender
Simple form & quick funding
Get your money as soon as next the business day, if approved
| Loan Amount | Interest Rate | Loan Term | Loan Example |
| --- | --- | --- | --- |
| $500 to $10,000 | 5.99% - 35.99% | 3 to 60 Months | See representative example |
Since 1988, Bad Credit Loans has been facilitating personal loans for consumers with poor credit. If you are a legal citizen, 18 or older with a checking account, have a regular income and a valid email address, you can fill out the quick online form. Lenders will then invite you to apply for a bad credit loan ranging from $500 up to $5,000.
You won't be denied a loan due to a poor credit score if you otherwise meet the lender's requirements. If approved, your loan will be deposited into your checking account in as little as one business day. Typical repayment terms range from 3 to 36 months.
Loans from

$1,000

to

$35,000

Large lender network
Fast loan decision
Use the loan for any purpose
Funding as soon as one business day, if approved
| Loan Amount | Interest Rate | Loan Term | Loan Example |
| --- | --- | --- | --- |
| $500 to $35,000 | 5.99% - 35.99% | 3 to 72 Months | See representative example |
PersonalLoans.com
helps you find loans ranging from $1,000 to $35,000 that you can use for any purpose. After filling out the short loan request form, lenders will decide whether to approve the loan. You must be a U.S. citizen or legal permanent resident, 18 or older, with a Social Security number, qualifying monthly income, a bank account, and a responsible pattern of borrowing.
If approved, you sign the loan agreement and your money will be deposited into your checking account in one to five business days. While the stipulations vary by lender, typical loan terms are 3 to 72 months with APRs between 5.99% and 35.99%. Lending partners of PersonalLoans.com include banks, peer-to-peer lenders and providers of personal installment loans.
Short-term loan of

$100

to

$1,000

Large network of lenders
Loan decision as fast as a few minutes
Funding as soon as the next business day, if approved
| Loan Amount | Interest Rate | Loan Term | Loan Example |
| --- | --- | --- | --- |
| $100 to $1,000 | 200% - 2,290% | Varies | See representative example |
CashAdvance.com has been helping consumers with bad credit arrange short-term loans since 1997. Loans range from $100 to $999 and are meant to be repaid by your next pay date. To apply, you must be a U.S. citizen, at least 18 years old, with an after-tax monthly income of at least $1,000, a checking account and a valid email address.
You can start the process by completing a short online loan request form. CashAdvance.com will then try to match you with a lender on its large network. If approved, your money will be deposited in your checking account in as little as one business day. The lender will automatically debit your bank account on the payment date for the amount due.
Lenders for Bad Credit with No Credit Checks
The two lending sites in this group work with lenders who will not perform a hard credit check on applicants. This means your credit score won't suffer when you apply for a loan from these sites.
6. Bonsai Finance
Bonsai Finance facilitates personal loans from $100 to $15,000 at fixed APRs starting at 5.49%. To apply for a loan, you must be 18 years old, employed at your current job for a minimum of three months, have a bank account that is at least three months old, receive your pay through direct deposit, and not be an active-duty service member.


The lenders on the Bonsai Finance network will entertain loan requests from consumers with any credit score. Loan terms range from 1 to 60 months.
If you are approved, your loan money will be deposited into your bank account in as little as one business day. There is no penalty for early repayment.
7. LendUp
LendUp is a direct lender licensed to make loans in its operating states. It offers payday and installment loans with unique policies, such as no payday rollovers or refinancing. It also offers an incentive program, called the LendUp Ladder, that allows consumers to apply for larger loans at lower APRs.


With the LendUp Ladder, you accumulate points by paying loans on time and reading the site's educational materials. LendUp makes single-repayment payday loans of $100 to $250 with starting APRs as high as 458.86%.
As you accumulate Ladder points, you may qualify for installment loans in which APRs can drop below 36% and maximum loan amounts can climb to $1,000 (in states that permit the LendUp Ladder). Installment loans are reported to the three major credit bureaus, which may help improve your credit scores if you repay on time.
How Can I Get a Fast Loan Online?
The online loan services reviewed here are quick to arrive at a decision and provide loan funding if the loan is approved. Usually, the preliminary step is to enter basic information on the marketplace website to establish your qualifications.
This information includes your address, income source and amount, official identification, email address, and phone number. The information is either publicly posted or sent directly to the lenders within its network.
You will then be put in contact with an interested lender who will have you complete its application process. Normally, you'll get a decision in minutes and, if approved, your money is deposited the next business day into your bank account.
The procedure is even quicker with LendUp, since it is a direct lender. You enter the full application and receive a decision immediately.
Always take the time to carefully read and understand the loan agreement before signing it. The agreement will disclose the cost of the loan, including interest, fees, and the repayment terms. You can speed up the process by having your information in front of you, including your driver's license ID, Social Security number, and bank account number.
You'll need to provide information on how long you've lived at your current residence, how much income you receive each month, how often you get paid, and the date of your next paycheck. The loan service will perform a soft pull on your credit report to verify certain information. This will not hurt your credit score. However, lenders working with the first five loan services will perform a hard pull of your credit report that may have a small negative impact on your credit score.
What Happens if You Don't Repay a Payday Loan?
If you default on your payday loan, you'll face unpleasant consequences that may include fees, collection calls, wage garnishment, and lawsuits. Payday lenders will vigorously pursue repayment, even if the loan amount is relatively small.
The first step will be attempts by the payday lender to initiate withdrawals from your bank account. The loan agreement you signed gives them this right. If the original withdrawal request fails, the lender may try a series of smaller requests to extract whatever it can from your bank account.
You'll be charged late fees by the lender as well as bank fees for overdrafts or non-sufficient funds each time the lender tries to drain your account. To the extent that the lender siphons money from your account, other transactions may bounce, increasing your fees.
Lenders can commence collection activities immediately. These include threatening phone calls, letters from lawyers, and attempts to contact the friends and relatives you used as references. Expect to be sued in court, and the lender will seek to garnish your paycheck and put a lien on your property.
If you receive a court summons, failure to appear will make a bad situation worse. Expect your credit score to drop when you fail to repay your payday loan on time. Your credit history will document the problem and hurt your future access to credit.
How Can I Get Out from Under a Payday Loan?
Your best recourse is to negotiate with the lender to reduce the amount owed and/or extend the repayment term. This can be an effective strategy, especially if you tell the lender that you are considering filing for bankruptcy. Lenders would rather settle with you than sell your loan to a third-party collection agency for pennies on the dollar.
Any agreement you reach should be documented in writing, specifying how much you've agreed to pay to fully settle, or "exhaust," the loan.  If you can't reach an agreement with your lender, you may have to file for bankruptcy.
If accepted by the court, your debts will be extinguished or restructured, according to the type of bankruptcy filing:
Chapter 7 bankruptcy: This is a discharge of debts, in which you surrender any nonexempt property to help pay as much debt as possible. You keep your exempt property and are released from any further debt repayment obligation.
Chapter 13 bankruptcy: Here, you seek to reduce and restructure your payments to make it easier to repay your debt. The resulting agreement can extend for as long as five years. A court trustee will oversee your finances during the work-out period.
Some lenders prefer to pursue binding arbitration with the object of agreeing on a work-out plan for the loan. You may have to agree to attend meetings with a credit counselor as part of any settlement you reach.
The work-out plan will call for a schedule of payments coupled with some amount of loan forgiveness. You may have your paycheck garnished. Since bankruptcy affects all your debts, expect all your creditors to attend your arbitration sessions.
Is there a Statute of Limitations on Payday Loans?
Each state has its own regulations regarding indebtedness, including how long creditors can sue you for repayment of debts, such as payday loans, that are derived from a written contract.
The period after which you can no longer be sued for a debt is called the statute of limitations. Some states differentiate the types of written contracts. For example, Ohio has a 15-year statute of limitations on most written contracts, but only six years on payday loans.
In California, the statute of limitations on payday loans is four years. The statute of limitations doesn't erase the debt or prevent collection agencies from pursuing you. It's simply the cut-off period for lawsuits to recover the debt.
It's important to understand how each state measures its time period for the statute of limitations.
Usually, the period begins when the loan becomes delinquent. However, in some states, including South Carolina, the clock restarts if you make a partial payment. If a creditor fails to initiate a lawsuit before the statute of limitations runs out, the court will not allow the lawsuit to proceed.
If you declare bankruptcy, your credit history will report the unpaid debt for at least seven years, regardless of the length of the state's statute of limitations. The impact on your credit score is immediate and negative. However, as your account ages, your credit score can begin to recover.
You can hasten the recovery of your credit score by paying back the loan, even if the statute of limitations has rendered this unnecessary.
Avoid Exorbitant Interest Fees with an Alternative Lender
Payday loans provide quick money, but usually at a huge cost — triple-digit APRs and high late fees.
Many people who borrow from payday lenders find themselves in a debt trap where mounting interest charges keep them perpetually in debt. One sensible alternative is to take out a personal loan when you need extra money.
The online loans services reviewed here allow you to pay back a personal loan over time at a reasonable interest rate. This lets you avoid or break the debt cycle and take better control of your finances.
Advertiser Disclosure
BadCredit.org is a free online resource that offers valuable content and comparison services to users. To keep this resource 100% free for users, we receive advertising compensation from the financial products listed on this page. Along with key review factors, this compensation may impact how and where products appear on the page (including, for example, the order in which they appear). BadCredit.org does not include listings for all financial products.
Our Editorial Review Policy
Our site is committed to publishing independent, accurate content guided by strict editorial guidelines. Before articles and reviews are published on our site, they undergo a thorough review process performed by a team of independent editors and subject-matter experts to ensure the content's accuracy, timeliness, and impartiality. Our editorial team is separate and independent of our site's advertisers, and the opinions they express on our site are their own. To read more about our team members and their editorial backgrounds, please visit our site's About page.