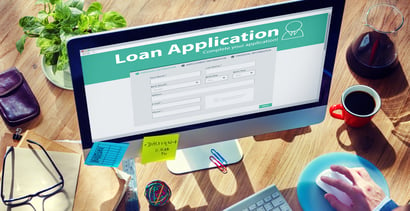 There once was a time when you actually had to drag yourself to a bank branch to apply for a loan. This quaint practice is a fading memory to the millions of consumers who have filled out online loan applications.
The market for online lenders received a big boost during the Great Recession when banks became very reluctant lenders. Now, you can apply for a loan from the comfort of your favorite armchair, as witnessed by the dozen lending companies we review here.
Online Personal Loan Applications
Personal loans require you to fill out an application and then sign a loan agreement. You don't need to post collateral for an online personal loan, and the lending services we review here can hook you up to a lender in a matter of minutes through a short online loan request form.
Online lenders save you time and energy while searching for the best deal available. The price of this convenience is that you must have a checking account.
Short-Term Personal Loans for Bad Credit
These two lending services specialize in short-term personal loans. You can apply to them to find a lender who will provide you a cash advance that you repay on your next payday.
If approved, your loan proceeds will be deposited into your checking account, which the lender will access for repayment on the due date.
Short-term loans up to $5,000
Online marketplace of lenders
Funds available in as few as 24 hours
Simple online form takes less than 5 minutes
Trusted by more than 2 million customers
Not available in NY or CT
| Loan Amount | Interest Rate | Loan Term | Loan Example |
| --- | --- | --- | --- |
| Up to $5,000 | Varies | Varies | See representative example |
MoneyMutual is a loan-matching service with a short online loan request form. You can request a short-term cash advance of up to $2,500, and MoneyMutual will circulate your request to its lender network.
You then finish applying for the loan by completing the lender's online application. The whole process is expedited to give you a decision within a few minutes and your loan proceeds by the next business day.
CashAdvance.com lets you apply for a short-term loan of between $100 to $999 that you repay on your next payday. You can fill out its short loan request form and, to qualify, you must be 18 years old, a U.S. citizen, and have an income of at least $1,000 a month after taxes.
Note that CashAdvance.com may not operate in your state, but it will alert you to that fact before you spend any time applying for an online personal loan.
Installment Personal Loans for Bad Credit
If you need a longer-term personal loan, the four following lending services may find you a lender who can provide you with an installment loan. Simply fill out the short loan request form to get started.
If approved, you receive your loan proceeds in a day and repay the loan in fixed monthly installments.
CashUSA.com provides you a short online form for you to fill out to request a loan of $500 or more. If you are a U.S. citizen, age 18+, with an income of at least $1,000 per month, CashUSA.com can find you an installment loan provider.
The lender can approve the loan quickly after you fill out its application form and will deposit the funds into your checking account. Your loan proceeds could be available as quickly as the next business day. Generally, loans will have a repayment term of three to 72 months
CreditLoan matches you to lenders specializing in bad credit loans of $250 up to $5,000. This company is happy to work with consumers who have low credit scores and has matched loans to more than 750,000 customers since 1998. Expect funding within a business day or two if approved for a loan.
Bad Credit Loans has long experience matching borrowers with installment loan providers, dating back to 1998. The lenders on the Bad Credit Loans network can get you a loan from $500 to $5,000, and all you need to do is fill out a short request form to get started.
Repayment terms vary from three to 60 months. You must be at least 18 years old and have regular income to qualify.
PersonalLoans.com can arrange an installment loan for as little as $500 to as much as $35,000. Unlike some other loan services, PersonalLoans.com operates in all 50 states.
Its short online loan request form can put you in touch with a lender that can provide an installment loan with three- to 72-month terms. To qualify, you must be age 18+, have U.S. citizenship or residency, and receive a regular monthly income. After filling out the lender's online application form, you'll receive a decision quickly and your money as soon as tomorrow.
Online Car Loan Applications
The three following online loan services can take your loan request and put you in touch with a local car dealer within minutes. You can apply for a new loan to purchase a vehicle, or a cash-out refinance loan to put money in your hands. The financed car serves as collateral for your loan.
Network of dealer partners has closed $1 billion in bad credit auto loans
Specializes in bad credit, no credit, bankruptcy and repossession
In business since 1999
Easy, 30-second pre-qualification form
Bad credit applicants must have $1500/month income to qualify
| Interest Rate | In Business Since | Application Length | Reputation Score |
| --- | --- | --- | --- |
| 3.99% - 29.99% | 1999 | 3 minutes | 9.5/10 |
It takes about three minutes to fill out the Auto Credit Express online loan request form. You provide basic information about your residence and income, and this matching service finds you a local dealer willing to work with you.
Auto Credit Express is happy to work with borrowers of any credit type, as evidenced by its record of more than $1 billion in loans arranged since 1999. The dealer provided by this lending service will complete the online application process and quickly decide on your loan.
Free, no-obligation application
Specializes in auto loans for bankruptcy, bad credit, first-time buyer, and subprime
Affordable payments and no application fees
Same-day approval available
Connects 1000's of car buyers a day with auto financing
| Interest Rate | In Business Since | Application Length | Reputation Score |
| --- | --- | --- | --- |
| Varies | 1994 | 3 minutes | 9.0/10 |
Car.Loan.com has one of the largest dealership networks in the United States. It takes only a couple of minutes to fill out the online loan request with information such as your income, address, and Social Security number. Bad credit is OK and has been since 1994 when Car.Loan.com went into business.
The dealer provided by this matching service will explain your options and take your application. Expect a quick decision once you submit the online application.
Loans for new, used, and refinancing
Queries a national network of lenders
Bad credit OK
Get up to 4 offers in minutes
Receive online loan certificate or check within 24 hours
| Interest Rate | In Business Since | Application Length | Reputation Score |
| --- | --- | --- | --- |
| Varies | 2003 | 2 minutes | 7.5/10 |
MyAutoloan.com can connect you with up to four dealers within a few minutes. The quick online loan request form begins the process. To qualify, you must request a loan of at least $8,000 and earn at least $1,800 per month.
You can get a loan, with or without a credit check, by completing the application process with a dealer. To refinance your vehicle, it must be no older than 10 years and have an odometer reading below 125,000 miles.
Online Home Loan Applications
Online home loans include mortgages and refinancing loans. Two of the following companies help you find a lender, while the third is a direct loan provider. The application process is much more convenient than a trip or two to your local bank branch to get a loan.
Options for home purchase or refinance
Lenders compete for your business
Receive up to 5 offers in minutes, and pick the best offer for you
Founded in 1996, LendingTree has facilitated 55 million+ loan requests and $250 billion+ in closed loan transactions
| Interest Rate | In Business Since | Application Length | Reputation Score |
| --- | --- | --- | --- |
| Varies by Applicant | 1996 | 7 Minutes | 9.0/10 |
LendingTree is a pioneer in the peer-to-peer lending industry for mortgages, home equity loans, refinancing loans, and reverse mortgages. The application process for a refinancing loan will ask about the subject property and ask you why you want the loan (i.e., cash out, faster payoff, lower interest rate, etc.). You indicate the amount you want and answer a series of questions to request the loan quickly and conveniently.
Options for home purchase or refinance
Get 4 free refinance quotes in 30 seconds
Network of lenders compete for your loan
Trusted by 2 million+ home loan borrowers to date
Interest rates are near all-time lows
| Interest Rate | In Business Since | Application Length | Reputation Score |
| --- | --- | --- | --- |
| Varies | 2004 | 4 minutes | 8.5/10 |
FHA Rate Guide is not a matching service. Rather, it provides you with the information you need to find a suitable provider of FHA-guaranteed home loans. It takes about 30 seconds to answer a few questions that can get you multiple quotes.
FHA Rate Guide will perform a soft credit check that will not affect your credit score. Armed with the information provided by this service, you can apply to one or more lenders online.
Wells Fargo Home Mortgage offers direct loans to purchase, renovate, or refinance a home. It has a convenient online application feature for the bank's account holders that pre-fills the loan application when you enter your username and password.
This considerably shortens the application process by saving you the time and effort to provide redundant information. The bank works with FHA, VA, and Easy to OwnSM Guaranteed Rural Housing programs.
How Can I Get a Personal Loan Fast?
One of the fastest ways to find a provider of personal loans is through an online matching service. These are companies that work with a network of lenders, many of which specialize in loans to consumers with bad credit. These services offer many advantages, including:
Prequalifies you for a loan. For example, a lending service can verify that you have a U.S. address, Social Security number, and meet the minimum age. Prequalifying requires no obligation or cost. In fact, the loan matching services receive fees from lenders, not borrowers.
Provides one-stop shopping at a website rather than visiting a bank. Some matching services provide a single lead, while others provide multiple leads. You can compare rates and terms easily from the comfort of your home.
Fast applications and decisions. The initial loan request takes three minutes or less, and the whole process can result in a decision within a few minutes more. Banks are notoriously slow and are known for extensive paperwork.
Underwriting beyond credit scores. Many of the online lenders specialize in loans to bad-credit consumers. They can do this by looking beyond your FICO score to factors like income and co-signers. Indeed, some lenders provide no-credit-check loans, and some require only a soft credit check that preserves your credit score.
Convenient money transfers. After approval, the lender will transfer the loan proceeds to your checking account. Then, when the loan payment is due, the lender will remove the money from your bank account — no trips to the bank necessary.
Educational resources. Check out the websites of the lending services. You may be pleasantly surprised by the amount of educational material typically provided by these websites. You can learn about your rights as a borrower and how the loan service works.
These factors make online matching services convenient, fast, and free.
What is the Best Online Loan Company for Bad Credit?
If you need a short-term cash advance, our top-rated loan company is MoneyMutual. It offers loans of up to $2,500 that you repay on your next payday.
The process is amazingly fast and convenient, suitable for folks who need some extra money to tide them over for a week or two. Terms are much better than those available from predatory payday loans.
If you need a longer-term loan, our top installment loan service is CashUSA.com, which can link you to a provider of loans with terms of up to 72 months. With an installment loan, you know exactly how much you will have to repay each month.
You can prepay the loan without penalty, saving you in interest charges. The convenient online process makes it easy to apply for a loan, which can be especially important to consumers who are busy, disabled, or have limited access to transportation.
Asset-backed refinancing loans are another good way to obtain cash when you need it. With these, you refinance your home or car for more than your current loan amount. This is a cash-out refinance loan, and you can use the extra cash as you wish.
It's also possible that you can refinance with a lower APR or a longer term. By doing so, your monthly payments need not go up much, if at all, when you take cash out.
Our top auto loan matching service is Auto Credit Express, which can find you a vehicle purchase loan or refinancing loan. It takes almost no time to prequalify and get hooked up with a local dealer who will work with you, whatever your credit score.
While it's true that you will eventually have to visit the dealership to have your current car inspected or pick up your new car, you can skip the initial visit and all that in-person haggling, all for no fee.
You can also extract cash from the equity in your home through a refinance loan or home equity loan/line of credit. Our top lender is LendingTree, which can get you multiple peer-to-peer lender offers in minutes.
As with the other loan matching services, this one charges no fee and lets you make all arrangements online. The lender may require a fresh assessment of your home, which will carry a fee. However, if you don't increase the loan beyond the original amount, you will probably not need to have your home reassessed.
Is Getting a Loan Online Safe?
The internet introduced a new era of convenience and speed. Unfortunately, it also brings us safety concerns that can affect anyone.
Getting a loan online can be quite safe when you deal with a reputable loan company, such as the ones we review in this article. However, some no-name lenders may be crooked. You may be vulnerable to these particular threats from a bad lender:
A fraudulent lender can extract high fees and then fail to deliver a loan. You must never pay a fee before receiving a loan — use lenders that subtract any upfront fees from the loan proceeds and make sure you have the fee schedule in writing.
A bad lender may charge you way too much in interest and fees for your loan. You can end up paying thousands more than necessary.
Identity theft is a true concern when you work with a no-name lender. Think of all the confidential information (i.e., bank account number, Social Security number, etc.) a lender collects, and how having that information can enable a fraudster to steal your identity.
Be assured that any lending company we recommend is honest and safe. They all use encryption techniques to ensure your data isn't stolen by data thieves, and all provide a clear statement of their data privacy policies online.
Of course, consumers can also take steps to increase the safety of online commerce. Consider getting a virtual private network (VPN) service that protects you from data theft when you use public WiFi.
Online Lenders Provide More Options than Ever Before
You no longer have to rely on your bank or credit union to get a loan. Online lenders have carved out a significant portion of the loan market. They offer online loan applications that are convenient and fast.
As you can see from the dozen lending companies reviewed here, you have plenty of options for a cash advance, installment loan, car loan, or home loan. By insisting on patronizing only reputable lenders, you can avoid many of the risks associated with bad-faith online lenders.
Advertiser Disclosure
BadCredit.org is a free online resource that offers valuable content and comparison services to users. To keep this resource 100% free for users, we receive advertising compensation from the financial products listed on this page. Along with key review factors, this compensation may impact how and where products appear on the page (including, for example, the order in which they appear). BadCredit.org does not include listings for all financial products.
Our Editorial Review Policy
Our site is committed to publishing independent, accurate content guided by strict editorial guidelines. Before articles and reviews are published on our site, they undergo a thorough review process performed by a team of independent editors and subject-matter experts to ensure the content's accuracy, timeliness, and impartiality. Our editorial team is separate and independent of our site's advertisers, and the opinions they express on our site are their own. To read more about our team members and their editorial backgrounds, please visit our site's About page.