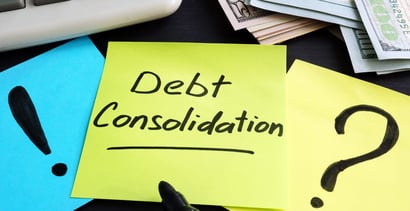 Too much debt is depressing. You can't daydream about a nice vacation or a pricey new purchase without soon experiencing that sinking feeling: "How will I pay for it?" Our prescription is to work with providers of online debt consolidation loans.
By consolidating your loans and credit card balances, you have the opportunity to attack your debt in a concerted way. For one thing, having just a single due date each month reduces the risk that you'll forget a payment. You may even grab an interest rate lower than the average rate you are paying now.
These factors can help you pay off your debt faster, lift depression, and let you start enjoying your daydreams again.
Lenders | Alternatives | FAQs
Online Debt Consolidation Loans for Bad Credit
Debt consolidation loans are available via several channels, including banks, credit unions, and online lenders. Of the three, online lenders are the most likely to make loans to consumers with bad credit.
The four online lending services we review here are all geared to borrowers with bad credit. Each is a matching service that alerts a network of lenders to offer you a personal loan you can use to consolidate your debt.
Loans from $500 to $10,000
Receive a loan decision in minutes
Get funds directly to your bank account
Use the loan for any purpose
| Loan Amount | Interest Rate | Loan Term | Loan Example |
| --- | --- | --- | --- |
| $500 to $10,000 | 5.99% - 35.99% | 3 to 72 Months | See representative example |
CashUSA.com works with a lending network offering online loans of $500 up to $10,000 that you can use for any purpose, including debt consolidation. To qualify, you must be a U.S. citizen or resident, age 18 or older, have a checking account, and earn a pre-tax income of at least $1,000 per month.
If approved, you can access your loan proceeds in as little as one day. With terms of up to 72 months, receiving a loan via CashUSA.com can give you enough time to consolidate and pay down your debt.
CreditLoan matches you to lenders specializing in bad credit loans of $250 up to $5,000. This company is happy to work with consumers who have credit scores below 630 and has matched loans to more than 750,000 customers since 1998. You can use its online calculator to estimate your monthly payments based on the amount of debt you need to consolidate. If approved for a loan, expect funding within a business day or two.
Bad Credit Loans can find you a lender for loans of $500 up to $5,000. You start by filling out a short loan request form, which it circulates to its lending network. A lender, if interested, will have you complete a loan application form and give you a quick response.
If approved, you can see the loan proceeds appear in your bank account on the next business day. Loan terms typically range from three to 60 months. To qualify for a loan, you must be a U.S. citizen, age 18 or older, and have a checking account, email address, and regular income.
PersonalLoans.com operates in all 50 states and can seek out a loan for you of up to $35,000 from its network of online lenders who specialize in subprime loans. You can ask for a loan term of up to 72 months if you are a U.S. citizen or resident, age 18 or older, and have a regular monthly income and a bank account.
As with the other matching services, lenders on the PersonalLoans.com network can approve your loan quickly and deposit your money into your bank account on the next business day.
Debt Relief Alternatives to Consolidation Loans
Consolidating debt is helpful, but it doesn't reduce your debt. If you owe too much to handle even after consolidation, you can consider applying for debt relief, which reduces the amount you owe to your lenders and creditors.
When you work with a debt relief company, you pay a fee for its services. In return, it negotiates some measure of debt forgiveness from your creditors and lenders. Lenders are motivated to make a deal if the alternative is bankruptcy, in which they could end up with nothing.
If you do receive debt relief, speak to a professional regarding the tax implications. The three debt relief companies reviewed here are ethical and well known in the industry.
Requires $10,000 or more in credit card debt
Free, no-obligation debt analysis
Specializes in credit card and medical debt
Also handles debt from personal loans, private student loans, lines of credit, and collections
Does not handle IRS, utility, federal student loans or mortgage debt
Long-term program to relieve debt over 24-48 month period
| Better Business Bureau | In Business Since | Free Consultation? | Reputation Score |
| --- | --- | --- | --- |
| A+ | 2009 | Yes | 9.5/10 |
National Debt Relief can work to reduce debts of $10,000 to $100,000 or more. If the company can settle all your debts, you could see a savings of 30% (after fees) over a two- to four-year period.
Graduates of the program have seen average savings above $6,200. Of course, everyone's savings will vary, and some clients may not complete the process. National Debt Relief works mostly with credit card and medical debt, but also can help you with private student loans, personal loans, collections, and lines of credit. However, the company declines debt owed to the IRS, mortgage lenders, and federal student loans.
CuraDebt offers debt relief services for consumers with unsecured debts of $10,000 or more. It also offers federal and state tax debt relief, as well as debt consolidation services. CuraDebt has helped more than 180,000 customers since its inception in 2000.
When you visit the website, it collects financial information and provides you with a free estimate of how much it can save you. This initial debt consultation is free and without obligation. CuraDebt doesn't help with debts arising from lawsuits, utility bills, auto loans, student loans, government loans, mortgages/home loans, and some other secured debts.
It is happy to help with debts from credit cards, personal loans/lines of credit, medical bills, collections and repossessions, business debts, and back taxes.
Freedom Debt Relief has resolved more than $10 billion in debt since 2002 for more than 600,000 clients and is a member of the American Fair Credit Council. It offers a free, no-risk debt relief consultation for consumers with $7,500 or more in debt.
If you enroll in its program, you can access a Client Dashboard to help you track your progress in reducing your debt. Freedom Debt Relief doesn't work with collateralized debt but instead focuses on debt from credit cards, personal loans, medical bills, and other unsecured debt. While the amount of debt relief is not guaranteed, the company could reduce your credit card debt by up to 50%, before fees.
Should I Get a Loan to Consolidate Debt?
A debt consolidation loan can be very handy if used correctly. By that, we mean that you use the proceeds to rid yourself of your existing debts and do not add new debt until you've paid off the consolidation loan.
The worst-case scenario is that you use the loan to pay down your debts, and then start letting new balances build up on your credit cards. Alas, you'll be repaying the cards and the loan, which could force you into bankruptcy.
Loan consolidation has a few overall benefits:
You have only one debt payment per month, which is much easier to manage than are multiple payment due dates each month.
The monthly loan payment can be less than the total monthly payments on your existing debt. If you apply the savings to a higher loan repayment amount, you can pay off your loan sooner.
You may be able to lower your interest costs by getting a loan with an APR below the weighted average of your current debts.
You can avoid bankruptcy, collections, and other circumstances that can severely hurt your credit.
You should also consider consolidating debt through credit card balance transfers. This works well if you can get a new credit card with an introductory period of $0 APR on balance transfers, although a fee will apply to each transfer (usually around 3%).
Of course, the new card will need to have a high enough credit limit to allow you to transfer all your current debt. This may not be feasible if you have bad credit.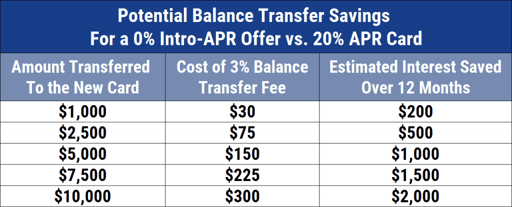 Another alternative is to seek debt relief. This works best when your debt is sizable and unsecured. Debt relief companies prefer working with credit card debt and personal loans but typically shy away from secured and government debt.
Debt relief, if successful, can reduce the amount you owe by up to 50% or more, but high fees can reduce your net savings to 25% or less. Also, debt relief won't help your credit score if you've already defaulted on a loan or gone into collection. Nonetheless, many folks pursue this course, and you should give it serious consideration.
Can I Get a Debt Consolidation Loan with Poor Credit?
Absolutely! The four loan service companies reviewed here all work with consumers who have bad credit. That stands to reason because consumers with poor credit are the most likely to need — and benefit from — consolidation loans.
In some cases, your score may be so low that you won't be able to access a consolidation loan. If that's the case, you may want to consider the three debt relief companies we review here.
But if that's not your cup of tea, you can work to raise your credit score enough to qualify for a debt consolidation loan. Some recommended tactics include:
Fix errors on your credit reports from the three national credit bureaus (Experian, TransUnion, and Equifax). Removing disputes from your credit reports can immediately boost your credit score.
Pay off at least one credit card. It can be the one with the lowest balance or the one with the highest APR. Keep the account open after paying it off, as this will help maintain your credit utilization ratio.
Make all payments on time. If possible, pay early and/or more than the minimum required.
Consider Experian Boost to raise your credit score quickly by getting credit for utility and phone bills.
Our top pick for consolidation loans is CashUSA.com. It matches lenders to consumers with bad credit for loans of up to $10,000 with payback periods of up to 72 months.
You need a monthly pretax income of $1,000, which puts most people in the running. All four loan services offer fast decisions and funding to your bank account within one to two business days after approval.
Do Consolidation Loans Hurt Your Credit Score?
Consolidation loans can cut both ways with respect to your credit score. The actual impact depends on your subsequent actions.
Let's assume you use the proceeds from a consolidation loan to repay all your unsecured debt. In this case, a consolidation loan can help improve your credit score if you do the following:
Make your consolidation loan repayment in full and on time every month.
Pay down your debts that weren't covered by your consolidation loan. For example, if you have a car loan or private student loans, use some of the monthly savings from consolidation to pay down these loans. This will decrease your credit utilization ratio, which should lift your credit score.
Do not accumulate any more debt until you first repay your consolidation loan.
Keep your credit card accounts open even if you've paid off the balances and no longer plan to use them. Leaving them open preserves the average age of your credit history, which is a plus.
On the other hand, these actions can hurt your credit score:
Continuing to use your credit cards without repaying them in full each month. In this case, your credit used will balloon, as will your credit utilization ratio. This will undo the good effects of consolidating your debt and drive your scores lower.
Making late payments on your consolidation loan. If you are 30 or more days late, the lender will probably alert the three credit bureaus, giving you a black mark that will lower your score.
Applying for additional loans. Each time you apply, the lender will do a hard pull of your credit history. Hard pulls have a small, negative impact on your credit score, but multiple inquiries can add up.
So, the effect of a consolidation loan depends on how you use it. Used wisely, your credit score will be rewarded. Used poorly, your credit score will be punished. Choose wisely!
Take Control of Your Debt Today
Now is the time to take control of your debt. One solution is applying for online debt consolidation loans that can help you simplify your repayments and reduce the amount due each month. You can also consider looking for debt relief, although the damage to your credit will probably already have occurred.
Alternatively, you can arrange credit card balance transfers, although they may be more expensive than consolidation loans. Whichever method you choose, they all show that you are taking charge of your financial life. When you succeed, pre-existing debts won't shadow your fancy daydreams.
Advertiser Disclosure
BadCredit.org is a free online resource that offers valuable content and comparison services to users. To keep this resource 100% free for users, we receive advertising compensation from the financial products listed on this page. Along with key review factors, this compensation may impact how and where products appear on the page (including, for example, the order in which they appear). BadCredit.org does not include listings for all financial products.
Our Editorial Review Policy
Our site is committed to publishing independent, accurate content guided by strict editorial guidelines. Before articles and reviews are published on our site, they undergo a thorough review process performed by a team of independent editors and subject-matter experts to ensure the content's accuracy, timeliness, and impartiality. Our editorial team is separate and independent of our site's advertisers, and the opinions they express on our site are their own. To read more about our team members and their editorial backgrounds, please visit our site's About page.