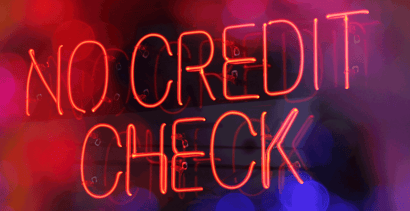 If you're treading the minefield of loans for bad credit borrowers, use extreme caution. Many of the lenders in this pock-marked landscape are there for only one reason — to take advantage of desperate folks who just need a loan with affordable terms. The dilemma is that it's often hard to tell the legitimate lending institutions from those that are simply repackaging predatory payday loans.
A true installment loan is one that comes with regular payments over a fixed period or term, and is usually paid back in months or even years. If you see a loan offer that requires you to pay it back in a week or two or comes with interest charges that exceed the actual loan amount, that's a sign to run, not walk, from that offer.
Now it's true that no-credit-check installment loans for bad credit will have a higher interest rate and fees than a conventional loan, but they shouldn't be exorbitant or have three-digit APRs. We've researched installment lenders, also known as consumer finance companies, and here are some that are worth your consideration. Our list includes both long-term and short-term lenders, and we'll answer some frequently asked questions about how to approach this situation if you have bad credit or are hoping to avoid a credit check.
Long-Term Loans | Short-Term Loans | FAQs
Long-Term Installment Loans with No Credit Check
Borrowers who are unwilling or unable to undergo a credit check are understandably viewed by lenders as riskier than traditional borrowers. As such, lenders who are willing to work with these folks have designed safeguards into the underwriting process.
Some of these safeguards include verifying the income of the borrower, and sometimes even performing a soft credit check as verification prior to making the loan. Many also require borrowers to have a checking account and a valid phone number and email address. Here are some lenders offering long-term installment loans.
Loans from $500 to $10,000
Receive a loan decision in minutes
Get funds directly to your bank account
Use the loan for any purpose
| Loan Amount | Interest Rate | Loan Term | Loan Example |
| --- | --- | --- | --- |
| $500 to $10,000 | 5.99% - 35.99% | 3 to 72 Months | See representative example |
CashUSA.com is an online lender network that matches loan applicants with lenders that specialize in installment loans for all credit situations. Personal installment loan amounts range from $500 to $10,000 based on meeting certain lender criteria. Some of these criteria include meeting a minimum income level, having a checking account in your name, being at least 18 years old and a citizen or legal resident, and providing a valid phone number and email address.
Anyone who meets these criteria will be considered for a loan. The online loan request process is fast and easy, and approval can take just minutes. Funds are made available in as little as one business day. Loan rates can range from 5.99% to 35.99%, with loan durations from 90 days to 72 months.
BadCreditLoans.com has been helping people with bad credit get the loan they need for more than 20 years. As the name implies, this network of lenders works with people who have less-than-stellar credit and prefer not to undergo a credit check. There's no cost to apply for a loan, and loan offers can be received in minutes.
To qualify for a loan, applicants must be at least 18 years of age and a U.S. citizen, have a bank account where the money can be transferred to, and have a valid email address and phone number. If approved, loan amounts can be from $500 to $5,000, with terms from three months to three years. These installment loan rates typically range from 5.99% to 35.99%, based on the lender.
PersonalLoans.com specializes in matching borrowers of all types with lenders that offer flexible installment loan requirements. Using proprietary technology to evaluate loan requests and a large lender network, even borrowers with bad credit can receive the loan offer they need.
Applicants will need to provide a valid email address and some personal, banking, and income data that will be used to determine the type of loan you may be eligible for. Loan amounts range from $500 to $35,000 depending on qualification criteria, and interest rates can vary between 5.99% and 35.99%. Upon receiving a loan offer, borrowers can accept the terms or reject it with no penalties or fees imposed.
Short-Term Installment Loans with No Credit Check
For borrowers who need quick cash to hold them over temporarily, a short-term installment loan could be just the thing. Of course, finding a short-term loan with terms that aren't predatory can be a challenge.
Short-term installment loans, unlike payday or title loans, are meant to be paid back in increments over time. Granted, a short-term installment loan may require the borrower to pay back the loan in just one to three months, but it shouldn't require the entire amount be paid back in just a week or two. Terms for these loans will vary based upon the individual lender, so be sure to review the offer carefully before accepting.
MoneyMutual.com works with a variety of lenders to find a match between loan applicants and the right short-term loan offer. Loans of up to $2,500 are available, and funds are often deposited within as little as 24 hours. Repayment terms will be clearly defined in any loan offer, with the exact amount of the installment payments, duration, and APR listed.
The MoneyMutual online loan application is free to use, and lenders will review it to see if you meet their criteria for a short-term loan. If so, you could receive loan offers within minutes. The APR for short-term loans can vary widely, so review each offer you receive carefully before agreeing to it.
CreditLoan.com has been helping customers with poor credit find loans for more than two decades. Loan amounts range from $250 all the way up to $40,000, but applicants must have at least fair credit to be approved for an amount above $2,500.
Therefore, if you're looking or a no-credit-check loan due to poor credit, you'll likely be approved for a lesser amount with a shorter repayment period. Applicants must have a bank account where the funds can be deposited.
CashAdvance.com is a free online service that pairs borrowers with lenders that specialize in short-term lending. Loan amounts are typically in the range of $100 to $1,000 and are designed to meet the needs of borrowers in emergency situations.
The terms for a loan made by lenders in this network will vary based on the loan amount and repayment schedule. Length of time to repay can range from seven days to 12 months, and the APR can be rather high. However, loan offers will clearly identify the amount to be paid back, the interest rate you will pay, and the terms of repayment.
How Can I Get an Installment Loan with Bad Credit?
An installment loan differs from a payday loan in that it is paid back in regular intervals of equal amounts over a period. Payday loans, by contrast, are generally paid back all at once in a very short amount of time.
Also, the amount you can borrow with an installment loan is usually higher than what is allowed with a payday loan. Finally, the terms of an installment loan are almost always more favorable and manageable than those of a payday loan.
Installment loans for bad credit borrowers tend to be in the range of $500 to around $2,500 or so. The loan amount a lender will agree to is often dependent on factors other than credit score, which is why people with bad credit can qualify. Many of these lenders recognize credit scores and credit history are only a part of someone's personal financial story.
One scenario where a borrower with bad credit may qualify for an installment loan is if he earns a salary that would allow him to repay a loan over 12 months without causing an undue burden on his resources. A lender may look at the length of employment, salary earned, and the overall expenses of the borrower. In this case, having bad credit may not be the disqualifier you expect.
Most lenders willing to offer installment loans to subprime borrowers will do so only with certain conditions and requirements. For example, proof of income and a minimum time of employment is almost universal.
Other requirements include having a bank account, and in some cases, agreeing to automatic payments on the due date. These requirements help protect the lender and are also what helps bad credit borrowers obtain the installment loan they need.
How Can I Get a Loan without a Credit Check?
Getting a loan without the almost ubiquitous credit check can be a challenge, but some lenders are willing to consider alternative underwriting methods. Of course, the loans available without a credit check tend to be expensive, and sometimes risky. These loans should really be thought of as a last resort and used only for financial emergencies.
Let's look at an example of the type of loan you may be offered without a credit check. If you need to borrow $1,000 and agree to repay it over a six-month period, you may be offered a loan with payments of $307 a month with no upfront fees.
That sounds reasonable, and for many people in a financial emergency, it would feel like a lifeline. But consider that the APR of this loan works out to be 250%.

The hypothetical above is actually approaching a best-case scenario for loans with no credit check. Plenty of loans with APRs much higher than the 250% rate in the example exist, unfortunately.
No-credit-check loan advantages
Quick access to emergency cash
No inquiry on your credit report
Approval with nominal requirements
Simple application process
No-credit-check loan disadvantages
Often exorbitant interest rates and fees
Typically low loan amounts
Repayment required within a short time
Must give access to your checking account
May require a post-dated check, debit withdrawal guarantee, or paycheck info
Most loans without a credit check are easy to apply for, and the lenders make them seem very attractive to a borrower. Online applications make the process even easier with loan approval in just minutes. However, this simple and easy process hides a potential nightmare scenario of debt and fees that keep extending into the future if you're not extremely careful.
Are No Credit Check Loans Safe?
Make no mistake — the landscape for no-credit-check loans is treacherous. It's best to stick to reputable lender networks, such as the ones we've suggested. Many of the products from other sources are very short-term loans, and if they aren't paid off in the time agreed, they can incur large penalties and fees — not to mention further damage to your credit.
Oftentimes, borrowers looking for a loan without a credit inquiry are afraid their credit history will prevent them from qualifying. Unless your credit score is really abysmal, consider an installment loan for bad credit borrowers from one of the lenders we've reviewed. The loan terms will tend to be much better, and the repayment period can be extended out further — meaning overall payments and the interest you're charged will both be lower.
To ensure the no-credit-check loan you're looking at is safe, ask yourself these questions when considering it.
Is there a fee to apply or to access the lender network? Legitimate loans, even those not requiring a credit check, should not include a fee to apply or prior to being considered.
Is a lender asking for your Social Security number? Loans that don't require a credit check should not need your SSN to underwrite. That's the point of no credit check.
Has the lender disclosed all fees and charges, along with the exact terms of the loan? A legitimate loan, even one with no credit check, will come with all the conditions clearly laid out for you to consider.
Other alternatives to loans without a credit check include payday alternative loans (PAL) and small-dollar loans issued by credit unions. If you aren't a member yet, you can find a credit union near you to join.
Only Agree to Repayment Terms You Can Stick To
It's probably clear by now that no-credit-check installment loans can be dangerous. They can also be a lifesaver to anyone in desperate need of quick access to cash. The difference is simply using a lender network you can trust.
Of course, you also need to ensure you're not taking on a financial burden you won't be able to manage. A reputable lender will provide you with all the terms and conditions in a loan offer that's easy to understand. It's your responsibility to carefully review these repayment terms and make sure you're able to stick to them.
One of the most important things to do when you have bad credit is to constantly be working on improving it. If taking out an installment loan helps you meet a short-term obligation, be sure to stick to the loan agreement and make all payments on time. This will help improve your credit and ensure any future loans you need are of the more conventional type.
Advertiser Disclosure
BadCredit.org is a free online resource that offers valuable content and comparison services to users. To keep this resource 100% free for users, we receive advertising compensation from the financial products listed on this page. Along with key review factors, this compensation may impact how and where products appear on the page (including, for example, the order in which they appear). BadCredit.org does not include listings for all financial products.
Our Editorial Review Policy
Our site is committed to publishing independent, accurate content guided by strict editorial guidelines. Before articles and reviews are published on our site, they undergo a thorough review process performed by a team of independent editors and subject-matter experts to ensure the content's accuracy, timeliness, and impartiality. Our editorial team is separate and independent of our site's advertisers, and the opinions they express on our site are their own. To read more about our team members and their editorial backgrounds, please visit our site's About page.