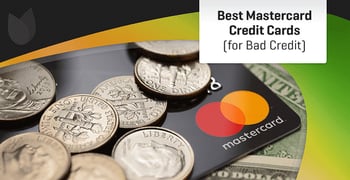 People who are rebuilding bad credit tend to be limited in the number of cards they can obtain. That's why choosing a card that will be accepted everywhere you shop can be important.
Nearly universally known, Mastercard is the second-largest credit card network, processing over 67 billion yearly transactions and accepted in more than 200 countries around the world.
Given its reach, it's safe to say a Mastercard credit card in your wallet will give you the ability to make purchases just about anywhere. Now the question comes down to, which Mastercard to choose? If you have had some financial missteps in the past, your options will be a bit more limited but there are still a number of choices when it comes to finding Mastercard cards for bad credit.
Best Unsecured Mastercard Credit Cards for Bad Credit
An unsecured credit card is one that typically doesn't require a deposit to open. Because unsecured credit lines are extended without any form of collateral, they represent the largest risk to the credit card issuer.
The high risk associated with unsecured financing means it's harder to get with bad credit, making subprime options your best bet in many cases.
Rates and fees for unsecured subprime cards will often be higher than those for other card types, so compare your options carefully before applying.
Each individual issuer will have its own specific rates, terms, and fees, as well as variations in credit limits and score requirements. If one issuer doesn't meet your needs, another may have the right card.
Best Secured Mastercard Credit Cards for Bad Credit
So long as you can provide the required deposit, secured credit cards are often one of the easiest credit products to obtain. The collateral provided for a secured credit card means less credit risk to the issuer, and many secured cards have low — or no — credit score requirements.
In most cases, the size of your deposit will determine your credit line, allowing you to potentially obtain a much higher limit than possible with an unsecured subprime card. With responsible use, some secured cards can even be upgraded to an unsecured credit card automatically.
Best Secured Cards with No Credit Score Requirements
To obtain a First Progress Mastercard, you'll need to deposit at least $200, but you can provide up to $2,000 for a higher credit limit. There are no specific credit history or score requirements to qualify.
Secured cards from First Progress give you the option to choose between a lower APR and higher annual fee, or a lower fee and higher APR. Those prone to carrying a balance may get more value out of a lower APR, though you should avoid carrying a balance in either case.
Best Secured Cards that Can Be Upgraded
By nature, secured credit cards aren't really cards that you intend to keep for very long. In most cases, they're simply a tool to build your credit enough to qualify for a better-quality unsecured card.
With some secured cards, this would mean canceling the card when your credit improves. With the cards below, you can skip that step by automatically graduating from a secured card to an unsecured one.
The issuers of these cards will review your credit progress and payment history every few months. When the issuer feels that you're ready to responsibly handle unsecured credit, your secured card will be automatically upgraded to an unsecured card and your deposit returned.
While the SunTrust Secured Credit Card with Cash Rewards has a modest annual fee, it offers purchase rewards, a competitive APR for purchases and balance transfers, and no penalty APR for late payments.

Earn 2% cash back on up to $6,000 in combined gas and grocery purchases each year
Earn unlimited 1% cash back on all other purchases
Pay a $32 annual fee
You'll need at least a $300 deposit to open a SunTrust Secured Credit Card but may be able to deposit up to $5,000, depending on your credit profile. Your initial deposit amount will determine your credit limit.
6. Capital One Secured Mastercard
The Capital One Secured Mastercard doesn't offer rewards or fancy promotions, but it also doesn't charge an annual fee or balance transfer fee, and it won't charge a penalty APR if you miss a payment.

Get an initial $200 credit line after making a security deposit of $49, $99, or $200, determined based on your creditworthiness
24.99% APR (variable)
Pay no annual fee
Depending on your credit profile, the Capital One Secured Mastercard may actually be semi-secured, offering a larger credit line than your deposit. The minimum credit line will be $200, with a minimum required deposit of $49, $99, or $200 based on your creditworthiness.
Find a Network that Works for You
Many people have had the unfortunate experience of finally making it to the head of the checkout line, only to be told that merchant does not accept the credit card they wish to use.
When rebuilding poor credit, it's unlikely you can qualify for a wide variety of credit cards, meaning your everyday card needs to be versatile.
With a widely accepted Mastercard in your wallet, you limit the odds of hearing the dreadful words that you'll need another payment method.