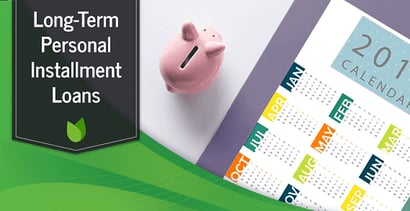 Although it takes hours to cook a proper Thanksgiving meal, it often feels as though it takes at least twice as long to clean up the Thanksgiving meal than it did to get it to the table (which is roughly 10 times longer than it took to eat it).
Unfortunately, paying down debt is very similar to that after-meal cleanup. It often seems to take way longer to pay down debt than it usually takes to get into the debt in the first place — especially when you're dealing with bad credit in addition to a pile of debt.
Long-term personal installment loans are used by many consumers to consolidate debt that's spread across a number of high-interest credit cards or short-term loans. Long-term loans allow for smaller payments, often making them a more affordable choice. Keep reading for our picks for some of the best options for long-term personal loans for bad credit. We'll also dive into how the process works, the pros and cons of long-term loans, and what to consider when choosing a term length.
Top Providers | How It Works | Pros & Cons | Choosing a Term Length
Best Personal Installment Loan Providers for Bad Credit
When you have bad credit, nearly every step of the loan process can be a challenge, starting with what may be the biggest challenge of all: finding a lender. For the typical lender, a bad credit score is the equivalent of the skull and cross-bones found on poison bottles — in other words, your credit score could be a sign telling lenders to avoid you at all costs.
But, just because finding a lender is a challenge doesn't mean it's an impossible task. Most mainstream lenders may not be eager for your business, but a number of lenders now specialize in helping poor-credit applicants get the loan they need.
Loans from $500 to $10,000
Receive a loan decision in minutes
Get funds directly to your bank account
Use the loan for any purpose
| Loan Amount | Interest Rate | Loan Term | Loan Example |
| --- | --- | --- | --- |
| $500 to $10,000 | 5.99% - 35.99% | 3 to 72 Months | See representative example |
CashUSA.com is an online lending network that connects borrowers with lenders from across the country, improving the chances of finding a flexible lender that will work with poor credit. Qualified applicants can find loans of up to $10,000, with loan terms of up to 72 months available.
Loans from

$500

to

$10,000

Get connected with a lender
Simple form & quick funding
Get your money as soon as next the business day, if approved
| Loan Amount | Interest Rate | Loan Term | Loan Example |
| --- | --- | --- | --- |
| $500 to $10,000 | 5.99% - 35.99% | 3 to 60 Months | See representative example |
As its name suggests, BadCreditLoans.com specializes in helping consumers with poor credit find a loan. An online lending network, BadCreditLoans.com uses its broad partner pool to match applicants with the lenders that best suit the applicants' needs and qualifications. BadCreditLoans.com lenders offer loans of up to $5,000, with terms as long as 60 months.
Loans from

$1,000

to

$35,000

Large lender network
Fast loan decision
Use the loan for any purpose
Funding as soon as one business day, if approved
| Loan Amount | Interest Rate | Loan Term | Loan Example |
| --- | --- | --- | --- |
| $500 to $35,000 | 5.99% - 35.99% | 3 to 72 Months | See representative example |
PersonalLoans.com is an online lending network with partners in all 50 states, offering loans of up to $35,000 to qualified applicants. PersonalLoans.com has no minimum credit requirements, though individual lender requirements will vary. Loans can be obtained with terms as long as 72 months, or six years, though shorter loans are also available.
OneMain Financial has been helping consumers find loans for decades and the bank operates more than 1,600 retail locations across the country. Long-term loans with repayment terms as long as 60 months are available, with loan sizes ranging from $1,500 up to $30,000.


Loans have terms of up to 60 months
No minimum credit score requirements to qualify
APRs from 16.05% up to 35.99%
OneMain offers both unsecured and collateral-secured personal loans. While you can apply for a OneMain Financial personal installment loan online, you'll need to head into a OneMain location to complete the loan process if you are approved.
Peerform is a peer-to-peer loan network, which means that the loans are funded by regular consumers who act as investors. Since loans typically have multiple investors, no individual lender is stuck carrying the burden alone, which reduces the risk investors face and often leads to lower rates and fees than with traditional loans.


Loans have terms of up to 60 months
Minimum credit score of 600 to qualify
APRs from 5.99% up to 29.99%
Peerform requires that borrowers have a minimum credit score of 600 to qualify. You'll also need at least a year of credit history, $10,000 or more in annual gross income, and a debt-to-income (DTI) ratio of 40% or below.
How Long-Term Personal Installment Loans Work
Personal installment loans are often used to finance a large purchase or to consolidate a number of smaller debts. Depending on your needs, personal installment loans can be obtained with term lengths that vary from six months up to six years, though larger loans may come with longer term lengths by default.
These loans are typically called installment loans because the loan is repaid via monthly installments. Essentially, the cost of the loan is divided by the number of months in your term length to determine a monthly payment that will allow you to repay your loan in the agreed-upon amount of time.
The real cost of a given personal loan will typically depend on four variables: the principal amount, the interest rate, the term length, and the origination fee. Origination fees typically run from 3% to 5% of the loan, and they are usually deducted from your loan at disbursal, so the origination fee should only marginally affect the monthly payment.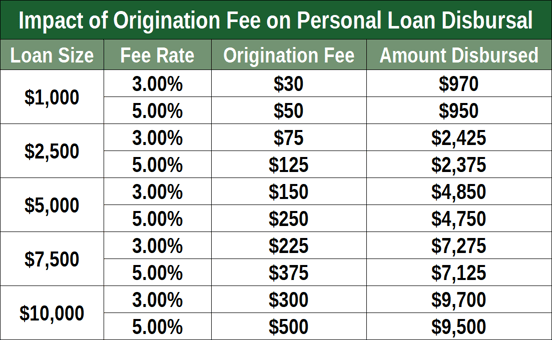 More important to determining the total cost of a loan is the interest rate, as well as the method of interest calculation. The interest fees are then added to the principal to get the total repayment amount. The resulting total cost is divided by the loan term to find the monthly payment.
Most personal installment loans will have a consistent monthly payment (excluding the final month, which may be less) that is due on the same day each month. Since you always know the size of your bill and when it is due, it's easy to keep track of your loan payments.
Lenders use a variety of methods to calculate loan interest, but the most common for personal loans is a simple amortization that recalculates your interest each month based on the new balance.
Basically, your monthly payment stays the same, but, since you're continually paying down your balance, the percentage of your payment that goes toward interest decreases over time.
For example, consider a $5,000 loan repaid over five years with an annual interest rate of 10% and a monthly payment of $106. The amount of interest paid the first month would be around $42, with the remaining $64 going toward the principal. However, in month 12, only $35 of the payment goes toward interest while the remaining $71 goes toward the principal.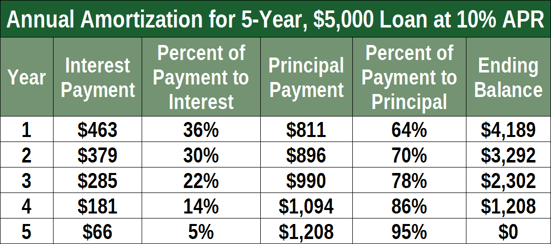 Once you've made your final payment, your loan is finished and the contract is complete, unlike credit cards, which are revolving (continuous) credit lines. If you want to consolidate more debt or take out another loan, you'll need an entirely separate loan and contract.
The Pros & Cons of Using Long-Term Personal Loans
Although consumers have several other options for financing their debt, long-term personal installment loans are the go-to standard for large debts. That's because, unlike short-term cash advance loans or credit cards, installment loans can be obtained with repayment terms as long as six years in some cases.
Personal installment loans also have a few other upsides over other financing types. For instance, while short-term cash advance loans are repaid in a single lump sum that includes the principal and the financing fees, installment loans are repaid via small monthly payments, making them much easier to repay.
Long-term installment loans are also better than short-term cash advance loans on several other fronts, including the available loan amounts and term lengths. Plus, short-term cash advance loans have notoriously high APRs — 300% or more is not uncommon — making them extremely expensive compared to even the worst subprime installment loan or credit card.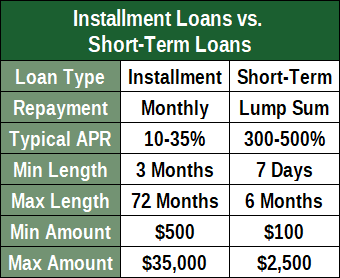 Installment loans also have a pretty big leg up on credit cards when it comes to long-term debt repayment. While you could theoretically take years to pay down your credit cards — so long as you make at least the minimum payment each month — those minimum payments are highly variable and change depending on your balance.
Of course, you can't just rely on the minimum payments for credit cards, either. Those minimum payments aren't designed to help you pay off your debt in a timely manner; they're designed to help you pay profitable interest fees to the issuer for years to come.
All in all, long-term personal installment loans have a lot of positives, especially when compared to the usual alternatives. But that doesn't mean long-term loans are without their downsides.
For one thing, long-term installment loans, by nature, mean you're going to be carrying that debt for, well, a long time; personal installment loans can be obtained with repayment terms as long as six years, meaning you'll be paying that debt until it's the age of a first-grader.
Furthermore, that six-year repayment term also means six years of interest fees — which can add up fast. And while you can mitigate some of the cost with a shorter loan term, the result is a higher monthly payment, which doesn't always fit in the budget.
How to Choose the Length of Your Installment Loan Term
Given that the terms of your loan determine its cost, it's important to consider the terms you'd like to obtain well before you look for a lender. For many people, this will mean doing the math to determine what size monthly payment you can fit into your budget.
As we mentioned above, your monthly payment will depend on a combination of the length of the loan term, the interest rate, and the principal amount. The amount you borrow will likely be set by your needs, e.g. the amount of debt you need to consolidate or the cost of the expense you need to cover.
Similarly, the APR you can qualify for will be determined almost entirely based on your credit profile, meaning you have limited options for improving your APR without taking the time to improve your credit (but you may have several options for improving your credit score quickly).
In the end, the length of your loan term is the factor over which you have the most control, and the one that will most impact your monthly payment. As such, you'll need to carefully consider exactly how long you'll really need to pay down your debt (hint: shorter is better).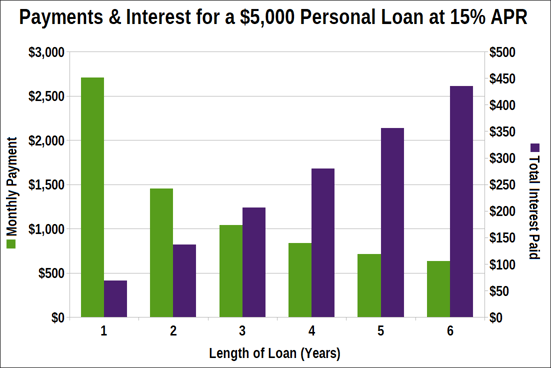 Essentially, the longer you take to repay your loan, the more interest you'll end up paying (provided your APR stays the same). At the same time, shorter-term loans will have higher monthly payments than longer-term loans, so you'll need to find the right balance.
What's with the difference? For the typical personal loan on an amortization schedule, your annual interest rate is divided into a daily rate, which is what's used to calculate how much interest you need to pay each month.
The interest owed for a given month is based on the balance at the start of that month, so, as you pay down your principal, you pay less interest each month. Since your monthly payment is always the same amount, this means that the percentage of your payment going toward your interest and principal will vary as the interest fees decrease.
What's that mean in practical terms? Basically, shorter-term loans with higher monthly payments mean more money goes toward your principal each month, so the principal is lower the following month than it would be if you had a longer-term loan with a lower monthly payment.
Of course, it's easy to advise a shorter-term loan, but the higher monthly payments aren't feasible for everyone. Since the most important thing is to ensure you can afford to make your monthly payments each month — on time — focus on monthly affordability first, then see if you can (comfortably) shorten your term.
The fact is, paying a bit of extra interest to extend your loan for an extra year may sting on the spreadsheet, but it can be well worth it to avoid missing payments. Not only will missing a payment mean an extra month of debt and interest, but it also likely means you'll pay late fees.
Plus, don't discount the potential for serious credit damage from a delinquent payment. Even a single late payment can easily counter all the good history you have built by paying on time up to that point (and then some), dropping your credit scores by dozens of points.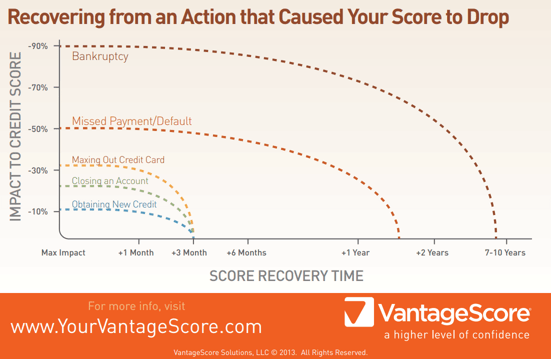 While, on the bright side, a single missed payment should start to lose impact over time — especially if it's an isolated incident — you're still likely looking at years of recovery. In most situations, protecting your credit can be a fair trade for a long-term loan.
A Long-Term Loan Can Make a Lasting Difference
Order and chaos are often inversely time intensive; it always seems to take significantly longer to bring chaos to order than the other way 'round. For example, you can spend hours painstakingly washing, waxing, and buffing your vehicle — but it only takes three birds with decent aim 10 minutes to ruin all that time and effort.
Paying down debt is often a long, tedious process, one that will likely take much longer than actually getting into debt in the first place. But it is possible to pay down debt, and the feeling of being free of debt is usually more than worth the time and effort it took to get there.
For consumers struggling with large or high-interest debt, long-term personal installment loans can be a key companion along the journey to debt freedom. Reducing your interest rate and organizing your debts into a single loan can make the process much easier, perhaps even reducing the time it takes to become debt-free.
Advertiser Disclosure
BadCredit.org is a free online resource that offers valuable content and comparison services to users. To keep this resource 100% free for users, we receive advertising compensation from the financial products listed on this page. Along with key review factors, this compensation may impact how and where products appear on the page (including, for example, the order in which they appear). BadCredit.org does not include listings for all financial products.
Our Editorial Review Policy
Our site is committed to publishing independent, accurate content guided by strict editorial guidelines. Before articles and reviews are published on our site, they undergo a thorough review process performed by a team of independent editors and subject-matter experts to ensure the content's accuracy, timeliness, and impartiality. Our editorial team is separate and independent of our site's advertisers, and the opinions they express on our site are their own. To read more about our team members and their editorial backgrounds, please visit our site's About page.