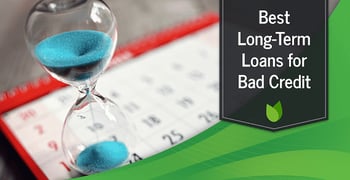 If you're concerned about not being able to find decent options for long term loans for bad credit, don't fret. There are lenders out there willing to work with consumers who have had a few missteps on their credit journey. When you only have a modest amount of money to set aside each week, it can take years to reach a large savings goal — years you're not spending enjoying whatever it is you want to purchase.
Installment loans make it possible to pay for important purchases when you need them, rather than having to wait until you have the available funds. The loan is then repaid over a period of years through regular monthly payments.
The type of installment loan you need will depend on the specific purchase you intend to make. Home and auto loans can only be used for those purposes, while personal installment loans can be used for nearly anything.
Best Long-Term "Personal" Installment Loans
Personal installment loans are usually unsecured loans, meaning you won't need to put up any type of collateral. While this can be good for those without collateral to use, it does mean that the amount you can borrow will depend more heavily on your credit and income.
Overall, personal loans are available in amounts ranging from $500 up to $35,000, with terms of three months up to 72 months, depending on the lender. A simple way to compare loan terms is to use an online lending network, like our picks below, that can provide multiple quotes at once.
+See More Personal Loans for Bad Credit
While it's always important to compare loan options to ensure you find the best fit, it can be extra important with unsecured credit. That's because unsecured debt almost always has a higher APR than secured debt, particularly for those with poor credit.
That's why personal loans will usually have much higher interest rates than other types of installment loans. But the APR isn't the only important factor.
You should be sure to investigate all aspects of the loan, rather than solely focusing on the APR or monthly payment. The size of the loan, the APR, and the length of the loan all contribute to the monthly payment you'll need to make, as well as dictate the overall cost of the loan.
For example, extending the length of your loan may reduce the size of your monthly payments, but it will increase the total amount of interest you pay over the life of the loan. Similarly, simply choosing the loan with the lowest interest rate may prove more expensive overall if that loan has a much longer term length than a different loan with a higher APR but shorter term.
Best Long-Term "Auto" Installment Loans
Although auto loans are often similar to personal loans in size and term length, that's where the similarities generally end. At the heart of the differences is that auto loans are secured loans, and the vehicle you purchase acts as the collateral for the loan.
One of the results of auto loans being secured loans is that the interest rates are usually lower than those for personal loans, which can be a boon for bad credit. You'll still want to shop around, however, perhaps with an online lending network like our expert-rated options below.
+See More Auto Loans for Bad Credit
Another aspect of secured loans is that being denied an auto loan won't always be a matter of a poor credit score. Because the vehicle acts as collateral for the loan, the lender will want to ensure that the vehicle's value is up to snuff.
That's why you'll be often be required to include specific information about the exact vehicle you intend to purchase when you fill out an auto loan application. You'll typically need the make, model, year, and body style, and you may even need the VIN number.
All that being said, your credit profile will still be a big factor in qualifying — and one that will likely dictate the size of your loan. On the plus side, you may have options if you are having trouble qualifying for a loan large enough to cover the vehicle you intend to purchase.
The most common solution is to make a down payment, either in the form of cash or by trading in another vehicle for a credit from the dealer. Reducing the size of the loan you ask for will often improve your chances of being approved.
Best Long-Term "Home" Installment Loans
Mortgages make home buying a realistic goal for many people by allowing them to live in their homes while they pay for them, typically over a period of 15 to 30 years.
Although mortgage loans have fairly low interest rates, even low rates can add up over a few decades, especially if poor credit means a higher-than-average rate. Comparison shopping can be a good way to help ensure you don't overpay for your loan. Online lending networks, like the ones below, can help you compare offers with a single application.
+See More Home Loans for Bad Credit
As with auto loans, home loans will generally require you to have a specific property picked out before you can formally apply. If you're just starting out your home-buying journey, online mortgage calculators and other tools can help you gauge how much mortgage you can afford.
If you're worried about your credit's impact on qualifying, you can try to pre-qualify for a loan. The pre-qualification process uses a soft credit pull — which won't adversely impact your score — to estimate your credit risk and allows lenders to give a better idea of your real chances.
Unfortunately, pre-qualification isn't a guarantee. Many factors go into determining whether you'll get a home loan — and, if so, for how much — including your individual credit profile, income, current debts, and employment history.
And, of course, the actual property you intend to purchase will also play a starring role, one that extends even beyond the property's price. Depending on the type of loan you wish to obtain, the house will not only need to appraise at a certain value but may also need to pass certain health and safety standards.
Pay Attention to All the Factors of Your Installment Loan
Some of life's most important purchases are also some of the most expensive ones, making it necessary for many people to use long-term installment loans to make their dreams come true. And, in the scheme of things, long-term loans are often some of the most affordable ways to borrow — particularly if you do your homework ahead of time.
Knowing exactly how much you can afford to repay can go a long way toward ensuring you're not getting in over your head. So, too, will knowing exactly what you're expected to repay. Always look at every factor of your new loan before signing the agreement to verify that you are getting the best loan for your situation.