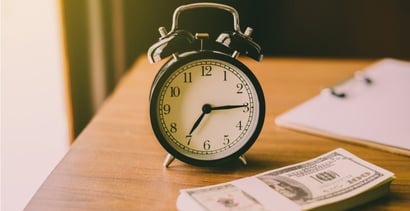 Emergency expenses can require needing loans with fast payouts. You don't want to wait for days to get a loan when you need money immediately.
An installment loan that can be paid off over years or a short-term loan that's due in months are both a type of personal loan that can be funded within two days, and often as soon as the next business day. Fill out a loan application online in a few minutes, and you can find out in about 10 minutes whether your loan funding has been approved.
Personal Loans With Fast Payouts
A personal loan is just that. You don't have to tell any of the lenders or lending networks we recommend below what you want the loan for. An emergency is probably the best use for a personal loan since most of these loans have high interest rates that can be an incentive to only take out these loans when necessary.
Loan amounts range from $100 to $35,000, which should be a large enough range to find the short term loan you need. Loan terms also vary, with some loans due in as long as six years. Other loans are due as quickly as two weeks.
Short-term loans up to $5,000
Online marketplace of lenders
Funds available in as few as 24 hours
Simple online form takes less than 5 minutes
Trusted by more than 2 million customers
| Loan Amount | Interest Rate | Loan Term | Loan Example |
| --- | --- | --- | --- |
| Up to $5,000 | Varies | Varies | See representative example |
MoneyMutual is an online marketplace where you can fill out a loan application online in about five minutes and receive a lending decision in minutes from a variety of lenders. Money can be directly deposited into your bank account in as little as 24 hours.
Like other online marketplaces, MoneyMutual isn't a lender. Through its website, MoneyMutual takes information from potential borrowers and sends it to lenders to decide whether they can offer applicants a short-term loan. MoneyMutual warns applicants that the loans should only be used to solve immediate cash needs and shouldn't be used as a long-term solution.
CashUSA.com offers installment loans with a payback range from 90 days to six years. It can help people find loans that can be funded as soon as the next business day.
Loan terms vary by lender, depending on your qualifications. CashUSA's basic loan eligibility requirements are fairly easy to meet, including for people with bad credit. It requires income of at least $1,000 per month, after taxes, and a valid email address and phone number.
BillsHappen is another online lending network where applicants can choose an unsecured loan from a variety of lenders. Borrowers can get cash by the next business day.
Applications are reviewed instantaneously by lenders that determine whether they want to work with you. If a lender does, you'll be redirected to its website to complete forms, review the loan terms, and accept the loan if you agree to the terms.
CreditLoan.com specializes in helping people with bad credit find a direct lender that will loan them $250 to $5,000 in cash that can be deposited in their checking account in a day.
Borrowers with bad credit are viewed as a higher risk, making it more likely a lender will deny an application or offer a loan with unfavorable terms. Lenders working with CreditLoan.com set the annual percentage rate and other loan terms, but the site gives a representative loan example of a $4,000 loan at 15% APR costing $4,654 total to repay at a monthly payment of around $194 for 24 months.
BadCreditLoans.com works with lenders that provide installment loans from $500 to $5,000, and the cash can be deposited as soon as the next business day.
No collateral is required, such as for a secured personal loan, and applicants may not be denied a loan because they have a poor credit history. A steady income and a checking account are required.
PersonalLoans.com is an online marketplace that helps people find some of the largest loans around, with personal loans of up to $35,000. With loan approval, you can receive the cash from a loan as soon as the next business day.
Its loans require a credit score of 580 or higher, a minimum income of $2,000 per month, and an income from a job or benefits.
At the other end of loan amounts is CashAdvance.com, which helps borrowers find loans as low as $100. Once the borrower and the lender agree on the loan terms, funds can be delivered to the borrower by the next business day.
CashAdvance.com advises potential customers that short term loans should only be used as a last resort option and repaid on or before the borrower's next paycheck. It's a type of payday loan, which we'll get into later.
What Are Loans With Fast Payouts?
Getting cash quickly is often needed in emergencies, and personal loans can help. When you need a small amount of money, a short term loan for a few months or even just weeks may cover the emergency expense. An installment loan where the same payment amounts are made every month may be best for a bigger expense and payments can be spread over years to make them affordable.
Once approved, the loan money can be in your hands as fast as one business day.
But getting a fast loan can sometimes be difficult if you have a low credit score. The online loan marketplaces we recommend each work with a large network of lenders that specialize in working with people who have bad credit. This type of cash loan is also called a bad credit loan.
Using the lending networks we've recommended is free. They usually require filling out a short online loan application to prequalify you. The network then sends that information to its lenders, who will contact you — often within minutes — and offer you an unsecured personal loan.
You review the loan terms and interest rate, including how much your payment will be each month or week, and decide which loan you want to accept, if any. You may receive more than one loan option from multiple lenders.
How Do I Get a Loan With a Fast Payout?
The lending networks we've reviewed all work with subprime borrowers, so the lenders they work with expect applicants to have a poor credit history. Many make the application process easy. Applicants can fill out an online loan application in minutes to see whether they prequalify for a loan, and then are connected with a direct lender.
The prequalification requirements generally are that you must be:
18 or older
A U.S. citizen
Earn at least $1,000 per month in after-tax income
Have a job or receive benefits
Have a checking account
Have a home and work telephone number and an email address
Meeting those requirements doesn't mean you'll be connected with a lender. If you are, the lender will ask you for more information to complete the application process. It may ask to access your credit report, which means the lender will place a hard inquiry on your credit report and can affect your credit score.
The lender should be able to give you a loan decision in seconds. If approved, it will give you a loan agreement form with the rates and terms for the loan. You're under no obligation to accept the offer.
Are All Loans With Fast Payouts Payday Loans?
No. A quick loan for a small amount of money isn't necessarily an online payday loan. All but one of the lending networks we recommend helps consumers find short and long term loans — from $250 to $35,000 — that can be paid back over months or years.
The interest rates can be high, though not as high as those for payday loans. Interest rates vary among the lending networks we recommend, but most of the companies that list rates say they're from 5.99% to 35.99%.
The average payday loan borrower is in debt for five months of the year, spending an average of $520 in fees to repeatedly borrow $375, according to a report by The Pew Charitable Trusts. The average fee at a storefront loan business is $55 per two weeks.
Here are some other facts about payday loans:
Loans range from $100 to $1,000.
The average loan term is about two weeks.
Typically cost 400% annual percentage rate (APR) or more.
The finance charge ranges from $15 to $30 to borrow $100. For a two-week loan, that equates to interest rates from 390% to 780% APR.
Payday loans are usually due in two weeks and are tied to the borrower's pay cycle. Payday lenders have direct access to a borrower's checking account on payday, electronically, or with a postdated check. This allows the lender to collect from the income of the borrower before other lenders or bills are paid.
Some of the personal loans we've recommended accept direct deposit and automatic payments. A payday lender may ask for your bank account information and your permission to allow them to withdraw payments electronically when due.
If you don't have enough money in your bank account to make the loan payment, you should contact your lender before the bill is due to ask about an extension. If you don't and the payment isn't made, it could hurt your credit score. Additional fees may be charged for a payment extension. Defaulting on a payday loan could lead to a warrant for your arrest.
The one lending network we recommend that's closest to a payday loan is CashAdvance.com. It connects customers with lenders that can offer an online payday loan for two weeks in amounts from $100 to $1,000.
Short-term loan of

$100

to

$1,000

Large network of lenders
Loan decision as fast as a few minutes
Funding as soon as the next business day, if approved
| Loan Amount | Interest Rate | Loan Term | Loan Example |
| --- | --- | --- | --- |
| $100 to $1,000 | 200% - 2,290% | Varies | See representative example |
As the site says on its FAQs page, the loans "are meant to be used only as a last resort option and paid back on or before a borrower's next paycheck." It also alerts customers that "lenders may automatically withdraw from a consumer's checking account any loans and loan fees on the due date."
How Much Can I Borrow?
A cash loan from an online lender that works with the lending networks we recommend can be from $100 to $35,000. That's a wide range, even for an emergency.
Two important factors in deciding how much money you should borrow are the interest rate and how long it takes to repay the loan.
Paying the loan on time or early shouldn't require paying a prepayment penalty or other finance charge, so it's in your best interest to pay it off as soon as you can. As with a secured loan for your car or any other loan, a personal loan will have a lower monthly payment if it's extended over a longer period. This can make the monthly amount due easier to pay, but means you're paying more in interest with a long loan.
Loan terms can run from two weeks to 72 months or six years. That's a long time to repay an emergency loan.

Each of the lending networks listed above has a "Loan Example" box to click on for a representative example of what a loan can cost. Each company's website also has examples, and any loan offer you receive will tell you specifically what these costs are.
A representative example from CashUSA.com, for example, shows that for a $5,000 loan for three years at 18.9% APR, the monthly payment is $179.35. The $5,000 installment loan costs $1,456.68 in interest, for a total payment of $6,456.68 after 36 months of payments.
Borrow less money over a shorter period of time, and you'll pay less in interest. Though the CashUSA.com website doesn't indicate whether the interest rate in the above example applies to the same customer who gets a shorter and smaller loan, it gives another representative example on its website that shows what the difference could be.
Borrowing $1,500 over two years at 7.9% APR puts the monthly payments at $64.77, for a total repayment of $1,626.54 after two years. That's only $126.54 in interest to borrow $1,500 over two years. The lower interest rate and three fewer years of payments, along with much less money borrowed, can make a loan much more affordable.
How Soon Will I Get Cash From the Loan?
All of the companies we've reviewed say that customers can get money deposited into their bank account in one to two business days. Some promise as fast as one business day.
It can take longer, depending on whether the lender wants more information or it takes you more than a day to gather additional documentation, such as proof of employment, a pay stub, or your banking information.
Having direct deposit is the easiest way to get your money from a loan. Most lenders require customers to have a bank account.
In addition to depositing your loan proceeds into your bank account, the lender will likely want electronic access to your bank account so it can withdraw payments on the due dates. This ensures payments are made on time, and it saves you time and late fees.
Check that enough money will be in your checking account or whatever account is being used to withdraw from so the automatic payments are covered. If not, then you'll be hit with late fees and other fees, including from your bank. If you don't think there will be enough money in your account to cover a transfer, then alert your lender as soon as possible to see if you can get an extension.
What Credit Score Do I Need to Get a Personal Loan?
The good news with these types of personal loans is that a good credit score isn't needed to qualify. A steady income of $1,000 or so per month is often the minimum requirement.
The bad news is that, with a bad credit score of 579 or lower, you'll likely be charged the high end of what lenders charge. You can still get a loan, but it will cost more than it would for someone with at least a fair credit score.

FICO credit scores, which are most often used by lenders, range from 300 to 850. A score of 300-579 is considered very poor and can disqualify you for consideration by traditional lenders.
A bad credit loan, however, can still be made to such customers. The lending networks we recommend all work with lenders specializing in poor credit.
Will I Pay an Origination Fee?
Some lenders charge an origination fee as a way to make money on a loan that they see as riskier than loans to clients with good credit.
The lending network PersonalLoans.com stipulates that its lenders typically charge an origination fee or other fees. Federal law requires that all fees and other important loan information be disclosed before a borrower accepts a loan offer.
An origination fee is meant to cover a lender's costs for processing a loan. The fee is usually a percentage of the loan amount. If an origination fee is charged, it will come from the lender and not the lending network. Ask your lender if you'll be charged this fee.
Because a small personal loan is an unsecured loan, meaning you don't need collateral to get the loan, an origination fee may be one way for a legitimate lender to charge you more as a way to have you put some skin in the game. Paying such upfront fees requires a commitment in accepting the loan.
So Are These Secured Loans?
No, personal loans aren't secured loans. They don't require collateral, such as your car for an auto loan or car title loan.
It's an unsecured personal loan that is only guaranteed by your signature and promise to repay the loan.
Another example of an unsecured loan is a credit card. A credit card doesn't require collateral, only your signature. That's your promise to repay your credit card balance.
If you miss credit card payments for a few months or don't make any payments at all, then your credit score will fall. Eventually, your account could be sent to collections and your account could be closed.
Though a personal loan isn't secured, not paying it or missing payments could lower your credit score. It could also lead to collections.
Your Best Options for Personal Loans With Fast Payouts
Loans with fast payouts can help make the costs of an emergency manageable. Money can be in your hands in as soon as one day, so you can then rest easy knowing that whatever you need money for is settled.
Personal loans don't end when the emergency does, however. It's an online installment loan, which requires making set payments each month until the loan is paid off. The length of the loan, which can be as long as 72 months, will be set before you sign the loan documents, so you'll know exactly how much you owe each month and how much you'll pay in overall interest.
Loan amounts can be as high as $35,000, depending on the lender, so you should be able to find a loan that covers the costs of your emergency.
Advertiser Disclosure
BadCredit.org is a free online resource that offers valuable content and comparison services to users. To keep this resource 100% free for users, we receive advertising compensation from the financial products listed on this page. Along with key review factors, this compensation may impact how and where products appear on the page (including, for example, the order in which they appear). BadCredit.org does not include listings for all financial products.
Our Editorial Review Policy
Our site is committed to publishing independent, accurate content guided by strict editorial guidelines. Before articles and reviews are published on our site, they undergo a thorough review process performed by a team of independent editors and subject-matter experts to ensure the content's accuracy, timeliness, and impartiality. Our editorial team is separate and independent of our site's advertisers, and the opinions they express on our site are their own. To read more about our team members and their editorial backgrounds, please visit our site's About page.