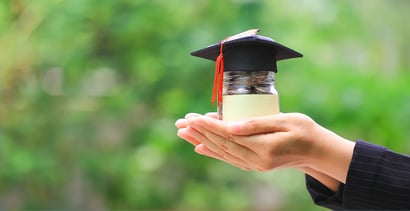 When you give it some thought, it makes perfect sense for many graduates to have trouble getting a loan. The culprit isn't necessarily irresponsible use of credit, but rather huge student loan debt that will take years or decades to repay.
Under those circumstances, it may seem logical that loans for graduates with bad credit would be rarer than a 4.0 GPA. Well, we're here to educate you otherwise.
Check out the following 12 loan sources for graduates with poor credit. We think they are intelligent choices you'd be smart to consider.
Personal | Home | Auto | Credit | FAQs
Personal Loans for Graduates with Bad Credit
These three loan services focus on finding lenders for folks with bad credit. None make direct loans. Rather, they use networks of lenders that have vast experience lending to consumers with bad or thin credit.
The recommended lenders look beyond an applicant's credit score and consider factors such as your income, lack of derogatory items in your financial past, and your current sources of income — whether you've entered the workforce or are attending graduate school.
Short-term loans up to $5,000
Online marketplace of lenders
Funds available in as few as 24 hours
Simple online form takes less than 5 minutes
Trusted by more than 2 million customers
| Loan Amount | Interest Rate | Loan Term | Loan Example |
| --- | --- | --- | --- |
| Up to $5,000 | Varies | Varies | See representative example |
MoneyMutual is a loan-matching service that issues personal loans of up to $2,500. Simply fill out the online loan request form and MoneyMutual will shop your request to its lender network.
The recommended lender will have you complete its application form and usually provide you a quick decision. Once approved, you'll receive your loan proceeds as soon as the next business day.
Loans from $500 to $10,000
Receive a loan decision in minutes
Get funds directly to your bank account
Use the loan for any purpose
| Loan Amount | Interest Rate | Loan Term | Loan Example |
| --- | --- | --- | --- |
| $500 to $10,000 | 5.99% - 35.99% | 3 to 72 Months | See representative example |
CashUSA.com can process your loan request form and find you a source for loans of between $500 and $10,000. Normally, loans will have a repayment term of three to 72 months.
You must be a U.S. citizen, at least 18 years old, and have a checking account and an income of at least $1,000 per month. The matched lender will finish qualifying you for a loan, and, if approved, deposit the money into your checking account as soon as the next business day.
Loans from $250 to $5,000
Cash deposited directly into your account
Get money as soon as tomorrow
Bad credit OK
More than 750,000 customers since 1998
| Loan Amount | Interest Rate | Loan Term | Loan Example |
| --- | --- | --- | --- |
| $250 to $5,000 | Varies | Varies | See representative example |
CreditLoan has assisted more than 750,000 borrowers since its founding in 1998. It can arrange personal loans from $250 to $5,000 for consumers with poor or thin credit.
To qualify, you must have a bank account and a recommended credit utilization ratio below 40%. The actual lender will set the loan interest rate and term. The CreditLoan website helps you estimate monthly payments by using its personal loan calculator.
We want to give an honorable mention to Upstart, a personal loan provider that uses proprietary algorithms to underwrite applicants. Those algorithms consider an applicant's potential as reflected by their education, employment, and other factors. Personal loans are available in amounts from $1,000 to $50,000.
Home Loans for Graduates with Bad Credit
Home lenders want to qualify as many applicants as prudence permits. Beyond credit scores, lenders consider factors such as debt-to-income ratio, and, for refinancing loans, the borrower's amount of home equity.
Home loans should, in theory, be easier to obtain than personal loans because home loans are secured. These three lenders work with bad credit consumers to provide mortgages and home equity loans.
4. LendingTree
This offer is currently not available.
| Interest Rate | In Business Since | Application Length | Reputation Score |
| --- | --- | --- | --- |
| N/A | N/A | N/A | N/A |
LendingTree helped pioneer peer-to-peer lending for home equity loans and mortgages. As a mortgage broker, it brings borrowers and lenders together through its online marketplace.
The credit requirements, terms, and interest rates of loans are determined entirely by lenders on the marketplace. To apply, you fill out LendingTree's online loan request form and follow up with additional information requested directly by each potential lender.
Easy to OwnSM programs give options for those with lower income, limited credit history, and low down payment needs.
Provides the potential for minimal out-of-pocket expenses with seller contributions.
Offers loans that don't require monthly mortgage insurance.
Requires less cash upfront for your down payment and closing costs.
| Interest Rate | In Business Since | Application Length | Reputation Score |
| --- | --- | --- | --- |
| Varies | 1852 | 6 Minutes | 8.0/10 |
Wells Fargo Home Mortgage directly provides mortgages and home equity loans. You can apply online for a home loan, but if you prefer, you can fill out a short request form and speak to a representative to see whether you prequalify for a loan. Wells Fargo offers loans guaranteed by the Veterans Administration and the Federal Housing Administration.
It also offers its Easy to OwnSM Guaranteed Rural Housing program to reduce the costs of home loans. You pay no closing, application, annual, or prepayment fees when you apply for a Wells Fargo home equity loan.
Loan programs include down payment and closing cost assistance.
Variable and Fixed-Rate loans available with flexible qualification guidelines.
No maximum income/earning limitations.
| Interest Rate | In Business Since | Application Length | Reputation Score |
| --- | --- | --- | --- |
| Varies | 2008 | 5 Minutes | 7.0/10 |
Bank of America is a direct provider of mortgages and home equity lines of credit (HELOCs). Its variable-rate HELOC has a term of 30 years consisting of a 10-year draw period and a 20-year repayment period, with a minimum credit line of $25,000.
There are no closing, annual, or application fees, and you can earn discounts when your initial draw is at least $60,000 or you sign up for autopay. If you want to refinance an existing mortgage, fixed- or variable rate loans of up to $2 million are available.
Auto Loans for Graduates with Bad Credit
Here are our reviews of three auto loan services for graduates with bad credit. Each is a loan matching service that can connect you with a local dealer offering purchase or refinance loans.
It takes only a few minutes to fill out a loan request form to get the ball rolling. Auto loans are secured by your vehicle, which can be repossessed if you default on your loan.
Network of dealer partners has closed $1 billion in bad credit auto loans
Specializes in bad credit, no credit, bankruptcy and repossession
In business since 1999
Easy, 30-second pre-qualification form
Bad credit applicants must have $1500/month income to qualify
| Interest Rate | In Business Since | Application Length | Reputation Score |
| --- | --- | --- | --- |
| 3.99% - 29.99% | 1999 | 3 minutes | 9.5/10 |
It only takes three minutes to fill out the Auto Credit Express online loan request form. Initially, you enter limited information, such as your address and income sources. Once you're matched to a local dealer, you'll fill out a complete loan application.
The dealers in the Auto Credit Express network are very experienced in working with bad credit consumers, including recent graduates.
Free, no-obligation application
Specializes in auto loans for bankruptcy, bad credit, first-time buyer, and subprime
Affordable payments and no application fees
Connects thousands of car buyers with auto financing daily
| Interest Rate | In Business Since | Application Length | Reputation Score |
| --- | --- | --- | --- |
| Varies | 1994 | 3 minutes | 9.0/10 |
Car.Loan.Com boasts one of the biggest dealership networks in North America and has been facilitating car loans since 1994. You start the process by filling out a short online request form with information like address, income, and Social Security number.
The dealer recommended to you will layout your options and allow you to complete your application. Expect a fast decision once you finish the application process.
Loans for new, used, and refinancing
Queries a national network of lenders
Bad credit OK
Get up to 4 offers in minutes
Receive online loan certificate or check within 24 hours
| Interest Rate | In Business Since | Application Length | Reputation Score |
| --- | --- | --- | --- |
| Varies | 2003 | 2 minutes | 7.5/10 |
MyAutoloan.com can match you with up to four dealers in just a few minutes. To qualify, you must earn a monthly income of at least $1,800 per month and apply for a loan of at least $8,000. The dealers in the MyAutoLoan.com network frequently work with bad credit consumers and can provide loans with or without a credit check.
The whole process is very fast. If you want to refinance your vehicle, it must be under 10 years old and have an odometer reading below 125,000 miles.
Credit Cards for Graduates with Bad Credit
Issuers in this category offer cards with high APRs and low credit limits. Nonetheless, they can offer credit cards to consumers that other issuers typically reject.
When you'd like the convenience of a credit card, but your bad credit score keeps getting in the way, consider one of these three credit cards.
| Application Length | Interest Rate | Reports Monthly | Reputation Score |
| --- | --- | --- | --- |
| 9 minutes | 35.99%* | Yes | 8.5/10 |
The Total Visa® Unsecured Credit Card is for those who desire a genuine Visa card despite having a bad or thin credit history. Your initial credit limit will be $300 after approval and paying the one-time program fee.
Other charges include an annual fee, a second-card fee, and a monthly processing charge that is waived for the first year. You must have a checking account to qualify, and you get to choose among six different card designs.
| Application Length | Interest Rate | Reports Monthly | Reputation Score |
| --- | --- | --- | --- |
| 10 minutes | 35.99%* | Yes | 8.0/10 |
Bad credit need not keep you from obtaining the First Access Visa Card. To qualify, you must reside in the United States and be at least 18 years old. This is a genuine Visa card available in a variety of designs.
If approved, you will pay an annual fee and a one-time set-up charge. However, fees for monthly maintenance and cash advances are waived for the first year.
Up to $1,000 credit limit doubles up to $2,000! (Simply make your first 6 monthly minimum payments on time)
All credit types welcome to apply!
Monthly Credit Score – Sign up for electronic statements, and get your Vantage 3.0 Score Credit Score From Experian
Initial Credit Limit of $300 – $1,000 (subject to available credit)
Monthly reporting to the three major credit bureaus
See if you're Pre-Qualified without impacting your credit score
Fast and easy application process; results in seconds
Online account access 24/7
Checking Account Required
| Application Length | Interest Rate | Reports Monthly | Reputation Score |
| --- | --- | --- | --- |
| 9 minutes | 29.99% APR (Variable) | Yes | 8.5/10 |
Bad credit is not a problem with the Surge Mastercard®. It offers an initial credit limit of $300 to $1000, and because it's an unsecured card, you will not have to make a security deposit to access your credit limit.
To qualify, you must be a U.S. resident, at least 18 years old, and have a checking account. The card reports your payment activity to the major credit bureaus, which gives you the opportunity to build your credit through timely payments.
How Do You Get a Loan When You've Just Started a Job?
If you've just landed your first job after graduating from college, you haven't yet established an employment record that can help you obtain a loan. However, you do have several options that can increase your chances of getting a loan, including:
Clean up your credit reports: Incorrect or incomplete information in your credit reports can depress your credit score. By disputing and correcting bad information, you should immediately observe a credit score boost. You can get free copies of your credit reports at annualcreditreport.com.
Offer collateral: If you have equity in a car or home, you can arrange a secured loan using the equity as collateral. Lenders view secured loans as much less risky, thereby increasing your chances of loan approval. Typically, you can borrow up to 90% of your equity's value for home equity or automobile loans. Alternatively, you can usually borrow up to 100% of cash collateral. Banks, credit unions, and online loan providers frequently offer cash-secured loans.
Use alternative lenders: Earlier we mentioned Upstart, a direct lender that uses alternative underwriting algorithms to approve loans. Your first job is a positive for Upstart, as it indicates you have potential that deserves consideration. The personal loan matching services reviewed earlier all deal with networks of lenders who are no strangers to applicants with scant job histories. They can find you lenders based on several criteria beyond your credit score and job tenure.
Moderate your loan amount: The smaller the loan, the easier it will be for you to qualify. It also means you'll pay less interest and have smaller monthly payments. That can come in handy if your first post-graduation job pays a modest salary. It also may make sense to delay your loan request until you've been on the job for at least a few months, thereby demonstrating that you have a steady source of income.
Recruit a cosigner: Many lenders welcome cosigners, especially ones with credit scores superior to the score of the applicant. A cosigner with a good credit score can make it much easier to obtain a loan.
If your credit card permits it, you may satisfy the need for a small loan through a cash advance. You are charged interest every day there is a balance remaining on your cash advance, so these are best used as a short-term source of emergency cash.
Does Income Affect Your Credit Score?
You may be surprised to learn that your credit score does not reflect your income. This may seem counterintuitive — doesn't it make sense that if you have a higher income, you have more money to repay your loan? There's a two-fold answer:
High income doesn't necessarily reflect your creditworthiness. After all, you may have a high income but even higher debt balances. If your credit report indicates a high credit utilization ratio or missed payments, your credit score will suffer no matter what your income.
Lenders do look at income when considering loan applications. But income is a separate piece of information — another factor in addition to credit score.
Therefore, while credit scores do not include income information, lenders nonetheless collect income data when underwriting loans.
In fact, lenders routinely use a statistic known as the debt-to-income (DTI) ratio when evaluating loans. This is especially true in the mortgage industry.
The DTI ratio measures your monthly income to your monthly debt payments. Generally, you'd like your DTI ratio to remain below 43%. Truly, the lower the DTI, the better your chances of getting your loan.
The five types of information that determine your FICO score are:
Payment history (35% of total)
Amounts owed (30%)
Length of credit history (15%)
New credit (10%)
Credit mix (10%)
The latest scoring system, FICO 10, uses the same percentages to calculate scores, but it also introduces some new wrinkles:
Delinquencies will have a larger negative impact on your score.
A high credit utilization ratio will now hurt your score more.
Personal loans may reduce your score more than other types of debt will.
In general, good scores will get better and bad scores will get worse.
Note that FICO 10, like all FICO scores, ignores income as a factor.
Can You Get a Personal Loan with Student Loan Debt?
The providers of personal loans reviewed above all specialize in loans to consumers with bad credit and debt. Student loans are installment loans, not revolving loans.
Only revolving loans, such as credit card advances and home equity lines of credit, affect your credit utilization ratio, which helps explain 30% of the FICO score. Therefore, student loans do not hurt your credit score.
However, personal loans hinge on more than credit scores. Debt-to-income (DTI) ratio is a primary factor lenders use when considering applications for personal loans. The importance of a DTI ratio is that it indicates whether a consumer can afford to take on more debt.
If the DTI indicates that there is little money left over after paying all the monthly bills, lenders will rightly question how they will be repaid. On the other hand, a lower DTI may be sufficient to overcome an applicant's bad credit score.
A reasonable course of action for folks with heavy student debt who would like to get a personal loan is to explore ways to refinance the student loan(s). If you have only federal student loans, you may be able to consolidate them over a longer period with a federal consolidation loan. While this will cost you more interest in the long term, it will lower your monthly payments and reduce your DTI.
Federal student loans also offer income-driven repayment plans. These can also reduce your monthly payments and your DTI. There are several plans from which to choose, and one may be perfect for you. The situation is more complex if you have private student loans.
Private student loan providers vary greatly in the terms they offer. You may be able to consolidate multiple loans (including a mix of federal and private ones) through a private lender, but there is no assurance you'll be able to reduce your monthly payments. Alternatively, you may be able to refinance your private student loans to reduce your monthly payments.
Increase Your Loan Approval Odds, Despite Bad Credit
Recent graduates should consider the 12 loan sources we have reviewed in this article when they need a loan. The easiest loans to get require equity. The top auto loan service is Auto Credit Express, while the best-rated home loan provider is LendingTree.
If you'd prefer a personal loan, our highest recommendation goes to MoneyMutual. If you must rely on a credit card for a small loan, the Total Visa Card gets the nod.
Student loan debt can have a huge impact on your financial life. As we point out, you may want to consider consolidating or refinancing your student debt. By lowering your monthly payments, you increase your chances of obtaining a loan despite having a bad credit score.
Advertiser Disclosure
BadCredit.org is a free online resource that offers valuable content and comparison services to users. To keep this resource 100% free for users, we receive advertising compensation from the financial products listed on this page. Along with key review factors, this compensation may impact how and where products appear on the page (including, for example, the order in which they appear). BadCredit.org does not include listings for all financial products.
Our Editorial Review Policy
Our site is committed to publishing independent, accurate content guided by strict editorial guidelines. Before articles and reviews are published on our site, they undergo a thorough review process performed by a team of independent editors and subject-matter experts to ensure the content's accuracy, timeliness, and impartiality. Our editorial team is separate and independent of our site's advertisers, and the opinions they express on our site are their own. To read more about our team members and their editorial backgrounds, please visit our site's About page.