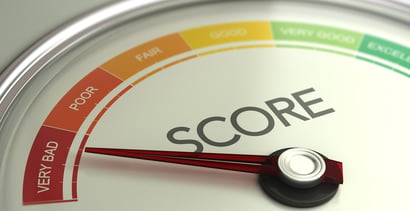 It's tough getting approved for a loan or credit card when you have bad credit, but not impossible to find an offer you can qualify for. But what if you have very bad credit? Finding loans and credit cards for very bad credit will only be that much harder, but in this article we'll look at what your potential options are, including ways to build your credit.
Before we go too far, let's define what we're talking about here when we say very bad credit. A credit score in the range of 580 to 650 or so is considered to be bad or at least poor credit. That means a score below 580 could legitimately be called very bad credit.
According to Experian, one of the three major credit reporting agencies, approximately 17% of U.S. consumers have a score that falls into the range of 300 – 579.
The good news? Okay, there isn't really any good news here, but there are some things to be a little hopeful about. First, it is possible to improve a credit score that's this bad. Second, a few lenders and credit card issuers out there are willing to help you. And third, you are in control of your credit destiny, so make the most of any credit that's extended to you by using it to strengthen and improve your credit standing.
Personal Loans | Credit Cards | FAQs
Personal Loans for Very Bad Credit
Just as shoes come in all sizes, loans are designed for people who fall into all credit score categories. Just be aware that loans for people with really bad credit will come with higher interest rates, more onerous terms, and potentially higher fees than for someone with better credit.
That said, here are some of the lenders we've identified that may be willing to offer a personal loan to folks with very bad credit scores.
Short-term loans up to $5,000
Online marketplace of lenders
Funds available in as few as 24 hours
Simple online form takes less than 5 minutes
Trusted by more than 2 million customers
| Loan Amount | Interest Rate | Loan Term | Loan Example |
| --- | --- | --- | --- |
| Up to $5,000 | Varies | Varies | See representative example |
One of the largest and most trusted online lenders is MoneyMutual. There's no fee to apply using its quick and simple form, and prospective borrowers can get loan offers from a range of lenders in the company's online marketplace. Loan decisions are made in minutes, and funds can be available within as little as 24 hours. Terms and interest rates will vary based on the individual borrower, with loan amounts up to as much as $2,500. MoneyMutual has been trusted by more than 2 million customers for fast short-term loans — even for those with very bad credit.
Loans from $500 to $10,000
Receive a loan decision in minutes
Get funds directly to your bank account
Use the loan for any purpose
| Loan Amount | Interest Rate | Loan Term | Loan Example |
| --- | --- | --- | --- |
| $500 to $10,000 | 5.99% - 35.99% | 3 to 72 Months | See representative example |
For personal loans of between $500 and $10,000 with loan terms from three months to six years, CashUSA.com is worth checking out. All credit types are accepted, even very bad credit. Most loan requests can be approved within minutes, with proceeds deposited into your bank as soon as the next day. Lenders in the CashUSA network offer varying loan rates based on the applicant's creditworthiness and the loan amount requested. Payments are reported to the three major credit bureaus, so rebuilding your credit can start right away.
Loans from

$500

to

$10,000

Get connected with a lender
Simple form & quick funding
Get your money as soon as next the business day, if approved
| Loan Amount | Interest Rate | Loan Term | Loan Example |
| --- | --- | --- | --- |
| $500 to $10,000 | 5.99% - 35.99% | 3 to 60 Months | See representative example |
As the name clearly states, BadCreditLoans specializes in extending personal loans to people with bad credit and even very bad credit. With a quick online loan request process, a large network of lender partners, and loan terms that can accommodate almost any financial need, this online lender is ready to help. Loan amounts range from $500 to $5,000 and terms can be as short as three months to as long as five years.
Loans from

$1,000

to

$35,000

Large lender network
Fast loan decision
Use the loan for any purpose
Funding as soon as one business day, if approved
| Loan Amount | Interest Rate | Loan Term | Loan Example |
| --- | --- | --- | --- |
| $500 to $35,000 | 5.99% - 35.99% | 3 to 72 Months | See representative example |
Another lender network that welcomes all credit types is PersonalLoans.com. This online marketplace offers loans of between $500 and $35,000 through its lending partners and affiliates. By filling out a single application, you can receive loan offers from a variety of lenders, providing you meet a few requirements. If you are offered a loan, terms and conditions will be included in the loan agreement. Be sure to review the information in the agreement carefully before you agree to any loan.
Short-term loan of

$100

to

$1,000

Large network of lenders
Loan decision as fast as a few minutes
Funding as soon as the next business day, if approved
| Loan Amount | Interest Rate | Loan Term | Loan Example |
| --- | --- | --- | --- |
| $100 to $1,000 | 200% - 2,290% | Varies | See representative example |
For a short-term loan that can help you meet your emergency cash needs, CashAdvance.com may be a good place to turn. This company refers borrowers to lenders in its network that may be able to help with financing. Filling out a simple form will get the process started, and you could receive loan offers from one or more lenders. If a lender is willing to give you a loan, you'll be presented with the next steps to complete the request. The APR will vary depending on the length and amount of the loan. Amounts as low as $100 and up to $1,000 are available, and lenders welcome all credit types.
Credit Cards for Very Bad Credit
Most of the credit cards available in this category come with high APRs, relatively low credit limits, and often carry high fees on top of that. However, if your reason for wanting a credit card is to begin rebuilding your credit, these can do the trick. Just be sure to pay on time each month, and it's preferable to not carry a balance.
Easy application! Get a credit decision in seconds.
Build your credit history – Fingerhut reports to all 3 major credit bureaus
Use your line of credit to shop thousands of items from great brands like Samsung, KitchenAid, and DeWalt
Not an access card
| Interest Rate | In Business Since | Form Length | Loan Example |
| --- | --- | --- | --- |
| See issuer website | | 5 Minutes | See representative example |
While not technically a credit card, the Fingerhut Credit Account offers two distinct advantages for people with very bad credit scores. First, it has fairly low qualification requirements, meaning even the lowest scores are considered. Second, it reports the payments you make to the three major credit bureaus, helping you build a better credit score by making on-time payments. The Fingerhut Credit Account can only be used for purchases made at Fingerhut and its merchant partners, and it does come with some initial restrictions, but when used wisely it can be an effective way to rebuild credit.
| Application Length | Interest Rate | Reports Monthly | Reputation Score |
| --- | --- | --- | --- |
| 9 minutes | 35.99%* | Yes | 8.5/10 |
If a full-service unsecured credit card on the Visa network sounds appealing to you, then take a look at the Total Visa® Unsecured Credit Card. This card can be used just about anywhere and for almost any type of purchase. However, a closer look reveals some of the drawbacks to this card. For example, a program fee is required to apply, and then there's the first-year annual fee that comes out of your credit line. But since payments are reported monthly to all three credit bureaus, it's still an option to consider for rebuilding your credit.
| Application Length | Interest Rate | Reports Monthly | Reputation Score |
| --- | --- | --- | --- |
| 10 minutes | 35.99%* | Yes | 8.0/10 |
Sure, the First Access Visa Card looks impressive when you're pulling it out of your wallet, but it too requires further inspection. As with the previous card, this one also requires a one-time program fee to get started and an annual fee that gets deducted from your credit line. The APR is also high, so we recommend not carrying a balance from month to month. Still, if you have a checking account (required), you're likely to be approved. Make timely payments and your credit score may improve to the point that you'll qualify for a more conventional credit card.
Up to $1,000 credit limit doubles up to $2,000! (Simply make your first 6 monthly minimum payments on time)
All credit types welcome to apply!
Monthly Credit Score – Sign up for electronic statements, and get your Vantage 3.0 Score Credit Score From Experian
Initial Credit Limit of $300 – $1,000 (subject to available credit)
Monthly reporting to the three major credit bureaus
See if you're Pre-Qualified without impacting your credit score
Fast and easy application process; results in seconds
Online account access 24/7
Checking Account Required
| Application Length | Interest Rate | Reports Monthly | Reputation Score |
| --- | --- | --- | --- |
| 9 minutes | 29.99% APR (Variable) | Yes | 8.5/10 |
Very few credit cards out there claim to approve just about anyone who applies, but the Surge Mastercard® does just that. As a card designed for people with bad or even very bad credit, the advertised $300-$1000 credit line is attractive, but upon inspection, this is not guaranteed. Also, although there is no initial program fee, there is an annual membership fee, and a personal checking account is required to be approved for this card.
Greater access to credit than before - $700 credit limit
Get a Mastercard accepted online, in store and in app
Account history is reported to the three major credit bureaus in the U.S.
$0 liability* for unauthorized use
Access your account online or from your mobile device 24/7
*Fraud protection provided by Mastercard Zero Liability Protection. If approved, you'll receive the Mastercard Guide to Benefits that details the complete terms with your card.
| Application Length | Interest Rate | Reports Monthly | Reputation Score |
| --- | --- | --- | --- |
| 8 minutes | See terms | Yes | 9.0/10 |
With no security deposit or program fee, the Milestone® Mastercard® could be right for some folks with very bad credit. Of course, the card does charge an annual fee, depending on how creditworthy you are. And, with a credit limit of just $300 to start, the annual fee will take a big chunk of that. Still, the card accepts all credit types, and the online application is quick and easy. The APR for this card is one of the lowest around for credit-rebuilding cards, and payment history is reported to all three credit bureaus.
11. Indigo® Mastercard® Credit Card
This offer is currently not available.
| Application Length | Interest Rate | Reports Monthly | Reputation Score |
| --- | --- | --- | --- |
| N/A | N/A | N/A | N/A |
As a credit card designed for people with bad credit, the Indigo® Mastercard® is worth your consideration. It's an unsecured card, meaning there's no security deposit required, and, depending on your credit profile, you could qualify for a $0 annual fee. The card doesn't charge monthly service fees and the APR is also decent, but the initial credit limit is low. This is a basic card for rebuilding credit and helping you establish a good payment history, while not overcharging you in terms of fees.
1% Cash Back Rewards on payments
Choose your own credit line - $200 to $2000 – based on your security deposit
Build your credit score.¹ Reports to all 3 credit bureaus
No minimum credit score required for approval!
¹ Cardholders who keep their balance low and pay their credit card bill on time every month typically do see an increase in their credit score.
| Application Length | Interest Rate | Reports Monthly | Reputation Score |
| --- | --- | --- | --- |
| 8 minutes | 15.24% (V) | Yes | 7.5/10 |
The final card on our list is a secured credit card, meaning you must open a personal savings deposit account to get approved and secure your credit line. The First Progress Platinum Prestige Mastercard® Secured Credit Card has no processing or application fees, no minimum credit score requirements, and a low variable interest rate on purchases. It reports monthly to all three credit bureaus, meaning it can help you rebuild or establish a good credit score.
How Can You Borrow Money if You Have Bad Credit?
It's one of the great ironies that the people who most need a loan are the ones least likely to be considered for one. When you have bad credit – not to mention really bad credit – it can seem like no bank or lender is willing to take a chance on you. But rather than stress about your lack of opportunity, we suggest trying a more creative approach.
Here are a few ways to borrow money that you may not have considered.
We recommend avoiding most payday and short-term signature loans, as they can charge exorbitant interest rates and trap you into a debt cycle that's hard to escape. Make sure you carefully research any loan offer you see that promises guaranteed approval or comes with a very short repayment period.
What is the Easiest Credit Card to Get with Bad Credit?
Getting approved for a credit card is easy. Getting approved for the right credit card when you have bad credit isn't. Most card issuers are reluctant to approve anyone who it thinks may not pay off their debts and generally believe people with bad credit are more likely to fall into this category.
Of course, this doesn't mean there aren't any credit cards you can get when you have bad credit. It just means your selection is limited, and that you're going to pay more for any credit card you're offered. Here are a few things to consider.
The easiest credit cards to get approved for when you have bad credit are secured cards. Because these cards require a security deposit to obtain, issuers of secured credit cards don't care as much about your credit score. These cards can also help rebuild credit if used wisely.
Credit cards for rebuilding credit, like the ones we've listed above, are also easy to get approved for with bad credit, but you'll often pay a lot for the privilege. Many of these cards come with high annual fees, high interest rates, and meager credit lines.
Department store credit cards are often easier to get than a standard credit card for people who have bad credit. Although they can only be used at the issuing store in most cases, a store card can still help you when you're trying to improve your credit score and rewrite your credit history.
Some of the key things to remember when getting and using a credit card for rebuilding credit is to use it wisely, pay off the balance each month, and upgrade to a less expensive card as soon as your credit score allows it.
What is the Easiest Loan to Get with Bad Credit?
As with credit card issuers, lenders love to see loan applicants with high credit scores. The good news, though, is that the number of lenders offering loans to people with marginal credit scores has grown tremendously in the past few years. Some lenders have chosen to use alternative data in evaluating loan applications, opening up a new set of options for folks with bad credit.
Specialty or alternative lending companies have turned to financial technology or fintech to help them make better and more effective lending decisions. The result is a decision-making process that relies on data rather than simply an applicant's credit score. Of course, a credit score is still important; it's just no longer the sole factor in many lending decisions.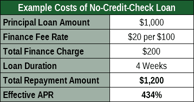 Taking all of this into consideration, lenders still need to perform their financial due diligence and ensure their capital is protected. For borrowers with bad credit, that can mean paying higher interest rates for lower loan amounts over shorter terms.
It can also mean being more selective in the type of loans you consider. Here are some of the loan products out there, and the things to keep in mind about them.
Online personal loans from reputable lenders like those we've recommended can be a good choice — just pay close attention to the terms and APR. Also, there's a wide variety in the maximum loan amounts many of them will allow, so shop around for the loan that best suits your financial needs.
Secured loans can work in some instances, but should be used as a last resort in most cases. The idea of risking your car title or something else of value for a short-term loan should make anyone uneasy. Unless you are absolutely certain of repayment under the terms of a secured loan, choose another option.
Payday and short-term signature loans should be avoided if possible. These loans are designed to keep people in a cycle of debt by allowing them to pay a fee to roll over the principal amount while interest keeps accruing. Many of these loans can end up charging an APR of 2,000% or greater.
Some of the easiest loans people with bad credit can get aren't necessarily the ones you want. Do your research and read the full loan terms before agreeing to any loan.
Why Am I Not Getting Approved for Credit Cards?
If you've applied and have been turned down for multiple credit cards, stop doing what you're doing! Chances are you have been applying for cards that you are not qualified to get in the first place. And each application you fill out is likely causing some amount of additional damage to your credit score.
Many credit card applications can result in a hard inquiry of your credit, which can impact your score. That's because multiple attempts to get credit are viewed by the credit rating agencies as negative behavior and a potential red flag for lenders. So, the algorithms used to determine your score will punish you for it.
There are a few things you can do if you've been turned down more than once for a card. First, review the notice that was sent to you by the card issuer. The Fair Credit Reporting Act says a card issuer must tell you the reasons for being denied, as well as the credit score and rating agency it used to make the decision.
Next, get a copy of your credit report from all three rating agencies. You're allowed to request a free copy from each agency once a year at the government-mandated AnnualCreditReport.com website. Review the reports carefully and dispute any entries that are erroneous or don't belong to you.
The removal of erroneous negative entries may be enough to raise your credit score and allow you to qualify for the card you had your eye on. Just be sure to wait a reasonable period of time before you apply again.
If your score doesn't improve after reviewing and disputing erroneous items, then you need to work on rebuilding your credit. Try applying for one of the cards we've recommended above, even if it means paying a higher rate and/or fees. Only time and the responsible use of credit will help you increase your score.
Even the Worst Credit Will Qualify with the Right Lender
If you've ever heard the saying, 'there's someone for everyone,' it's true. And it's also true that there's a lender out there for every credit score. Sure, the lower your score, the more you'll pay to get a loan or credit card. But it is possible to find a lender.
Just keep in mind that, as much as you may need a loan right now, you really should be looking down the road as well. No matter how you arrived at your bad credit score, if you're determined to improve it, you can. The loans and credit cards you qualify for now can be used as stepping stones to rebuild your credit.
As your score improves, so do your opportunities for more conventional offers with better terms in the future. Remember, it can only get better from here.
Advertiser Disclosure
BadCredit.org is a free online resource that offers valuable content and comparison services to users. To keep this resource 100% free for users, we receive advertising compensation from the financial products listed on this page. Along with key review factors, this compensation may impact how and where products appear on the page (including, for example, the order in which they appear). BadCredit.org does not include listings for all financial products.
Our Editorial Review Policy
Our site is committed to publishing independent, accurate content guided by strict editorial guidelines. Before articles and reviews are published on our site, they undergo a thorough review process performed by a team of independent editors and subject-matter experts to ensure the content's accuracy, timeliness, and impartiality. Our editorial team is separate and independent of our site's advertisers, and the opinions they express on our site are their own. To read more about our team members and their editorial backgrounds, please visit our site's About page.