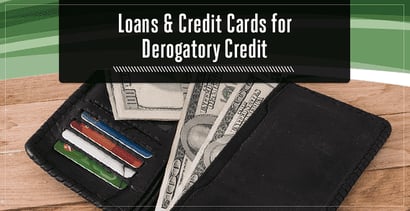 Finding loans and credit cards for derogatory credit can be a challenge, but just because you've had some financial missteps in the past doesn't mean you can't turn things around. Read on for some valuable information on how to deal with derogatory credit.
Sometimes, you can get an idea about some words simply by how they sound. For example, even if you don't know exactly what derogatory credit is, you can guess it's probably not a good thing just from the way it sounds.
And you'd be right. Derogatory credit typically describes a credit profile that contains at least one derogatory mark. It can refer to any number of negative items reported to the credit bureaus, including delinquent payments, defaults, and even bankruptcy discharges.
Regardless of its source, derogatory credit is a red flag to potential lenders, making it more difficult to get new credit. But there are options out there for a variety of loans and credit cards, even with derogatory credit items.
Personal Loans | Auto Loans | Home Loans | Credit Cards | Fixing Derogatory Credit
Best Personal Loans for Low Credit Scores
Personal loans are one of the most common types of loans sought by those with low credit scores. That's because personal loans can be used for the broadest range of financial needs, including debt consolidation, auto repairs, and medical bills.
However, personal loans are unsecured loans, which can make them harder to obtain with derogatory items pulling down your credit score. One way to improve your chances of finding a personal loan is to use an online lending network, such as those below, to connect with multiple lenders at once.
With dozens of lending partners, online lending networks can often help borrowers with a broad range of credit types. You can connect with lenders from all around the country, and qualified borrowers can receive multiple loan offers from a single application.
One important thing to note about personal loans is that they do tend to have higher APRs than other loan types, particularly if you have poor credit. You should calculate your expected monthly payment to ensure it fits into your budget before signing the loan agreement.
Best Auto Loans for Low Credit Scores
In some ways, obtaining an auto loan with a low credit score is easier than obtaining other types of loans, as auto loans are generally secured by the vehicle they finance, reducing the risk to the lender. That said, the larger the auto loan you wish to obtain, the better the credit score you'll need.
While local banks and credit unions will sometimes have flexible credit requirements for auto loans, the most common source of bad-credit auto funding is from the dealer. Finding a local dealer that will work with a low credit score is often easiest through an online dealer network like our expert-rated options below.
Online dealer networks are not direct lenders; they are merely a way to connect with local dealers that have flexible credit requirements. After selecting a dealer through the network, you'll work directly with the dealer to find a vehicle and complete the loan process.
If you are having trouble finding a lender, your best option — besides working to improve your credit score — will likely be to make a down payment or trade in a vehicle. You can often improve your chances of being approved by reducing the amount you need to borrow.
Best Home Loans for Low Credit Scores
Home loans are by far the most difficult type of loan to obtain with a low credit score, mostly due to the sheer size and duration of the typical mortgage loan. That being said, there are several government-insured loans that can sometimes be obtained by those with low credit scores, the most common of which is an FHA-insured mortgage.
But while the FHA doesn't have set minimum credit requirements, each lender is allowed to set its own credit score and income requirements. This means you'll likely need to shop around to find a flexible lender, a task often made easier by using an online lending network like those below.
Although finding a flexible lender is a big part of buying a house with derogatory marks on your credit reports, the actual property you intend to buy will also be a major factor. To start, you'll need to make sure the housing costs will fall under the debt-to-income (DTI) ratio for the type of loan you wish to obtain.
In general, the FHA requires that the front-end DTI, or housing ratio — the PITI divided by gross monthly income — should be less than 31%, while the back-end ratio, or total debt ratio — the PITI plus any other monthly debts divided by gross monthly income — should be less than 43%.
If the property you hope to obtain is outside of your DTI limits, you may need to look for a less expensive property. Alternatively, you can try to save up a larger deposit to reduce the size of the mortgage and, thus, the size of the PITI. However, those with a low credit score due to derogatory marks from unpaid debt should consider paying their outstanding debt before making a down payment on a house.
Best Credit Cards for Low Credit Scores
In most cases, credit cards are the easiest type of new credit to obtain with a low credit score caused by derogatory credit report items. That said, credit cards aimed at subprime or bad-credit consumers will typically be more expensive than cards for consumers with better credit.
There are three types of credit cards frequently available to bad-credit applicants: closed-loop store credit cards, unsecured subprime credit cards, and secured credit cards. Each type of credit card will have its ups and downs, so selecting the right card will come down to your personal situation.
Overall, if you can afford to make the required initial deposit, a secured credit card will likely offer the lowest rates and fees with the fewest limitations. They'll operate anywhere the network (Visa, Mastercard, etc.) is accepted, and your deposit is fully refundable so long as you close your account in good standing.
Store credit cards can be a good option for building credit without annual fees, but they tend to have very high APRs, so never carry a balance on a store credit card. Additionally, closed-loop store credit cards — ones without network logos on them — can only be used to make purchases with the store that issues them, limiting their utility quite severely.
If you don't want to make a deposit and want spending flexibility, unsecured subprime credit cards are open-loop and don't require an initial deposit. However, most subprime cards will have high annual fees that will be charged shortly after opening your account, and some may also charge processing or program fees to activate.
How to Fix Bad Credit from Derogatory Marks
Given the difficulty — and expense — of obtaining credit with derogatory marks on your credit reports, the best course of action for most consumers will be to improve their credit scores before applying for new credit.
Depending on the nature of the derogatory marks on your credit, you may be able to have them removed through credit repair, which is the process of disputing erroneous or unsubstantiated credit report items. While you can do this yourself, many people have found success using experienced credit repair companies like those below.
Keep in mind that credit repair only works for specific items that are incorrectly reported to the credit bureaus. If a derogatory mark is legitimate and accurate, it cannot be removed through credit repair.
If credit repair isn't an option, you may need to simply wait out the derogatory marks on your credit reports. All negative items have a limit on how long they can stay on your credit reports, with most items only allowed to remain for up to seven years (excluding certain types of bankruptcies, which can stay for up to 10 years).
While waiting for items to age off of your credit report can take time, you can improve the process by building up a recent positive payment history and ensuring you keep your debt levels low. You should also avoid adding any more derogatory marks.
Not only will a recent positive history help to show that your derogatory past is behind you, but credit scoring models place more emphasis on recent data. As the derogatory marks age, they'll have less impact on your credit score, so having more recent data can help boost your score faster.
Derogatory Credit Isn't the End
Judging solely on the way it sounds, derogatory credit is bad — and it just gets worse the more you learn about it. Having derogatory marks on your credit reports can drag down your credit score, making finding new credit harder and more expensive.
But it isn't the end of the world — or even the end of your finances.
With time and diligence, you can repair derogatory credit and rebuild your credit score. And, in the meantime, credit options are out there if you know where to look. Just remember to use any new credit responsibly to avoid making derogatory credit worse.
Advertiser Disclosure
BadCredit.org is a free online resource that offers valuable content and comparison services to users. To keep this resource 100% free for users, we receive advertising compensation from the financial products listed on this page. Along with key review factors, this compensation may impact how and where products appear on the page (including, for example, the order in which they appear). BadCredit.org does not include listings for all financial products.
Our Editorial Review Policy
Our site is committed to publishing independent, accurate content guided by strict editorial guidelines. Before articles and reviews are published on our site, they undergo a thorough review process performed by a team of independent editors and subject-matter experts to ensure the content's accuracy, timeliness, and impartiality. Our editorial team is separate and independent of our site's advertisers, and the opinions they express on our site are their own. To read more about our team members and their editorial backgrounds, please visit our site's About page.