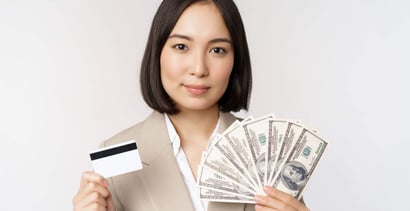 Fortunately, people with 650 to 700 credit scores can qualify for plenty of loans and credit cards with favorable rates and terms. Classified as "Fair Credit," this scoring range falls slightly below the US consumer average of 716.
With a 650 to 700 credit score, cardholders and borrowers can still enjoy decent APRs, cash back rewards, high credit limits, no annual fee, and short, convenient loan applications through one of our recommended lending partners. In most cases, a response can come in as little as 60 seconds, so now may be an excellent time to shop around and compare loan and credit card offers.
Continue reading to learn more about our preferred lending partners and credit cards for borrowers with 650 to 700 credit scores, plus a word on how credit scores are calculated, ways to boost your credit score, and other helpful information on building credit. 
Personal Loans: 650-700 Credit Score
Also called installment loans, personal loans for borrowers with 650 to 700 credit scores may carry higher-than-average interest rates (21%+ APRs), smaller loan amounts, and shorter loan terms that may result in a higher monthly payment. 
Lending networks such as MoneyMutual, 24/7 Lending Group, and Cash USA connect near-prime borrowers with legitimate loans. You can receive multiple competitive loan offers in as little as five minutes, each with varying fees, interest rates, and finance charges (e.g., origination or prepayment penalties).
Here are our preferred personal loan options for borrowers with 650 — 700 credit scores:
Founded in 2010, MoneyMutual is one of the most popular lending networks in the country. Its nationwide network of hundreds of direct lenders offers short-term and installment loans of up to $ 5,000 with no origination or payment penalties (some exceptions apply). 
Since MoneyMutual is not a direct lender, but an intermediary, a simple five-minute online application allows you to compare multiple loan offers on one screen, shortening the time it takes to research lenders.
24/7 Lending Group is an online marketplace in business for over 15 years that specializes in personal loans for fair credit borrowers. Funds can be used for everything from debt consolidation to large purchases, and borrowers will see instant approval and disbursement of loan proceeds to a valid checking account as early as the next business day.
Participating direct lenders on 24/7 Lending Group offer sub-35.99% APRs, borrowing terms as long as 72 months, and $0 origination or prepayment penalties (some exceptions apply). 
Plus, we appreciate 24/7 Lending Group's transparency. As of this writing, you will find a homepage Trustpilot badge with an average 4.5 "TrustScore" from more than 2,200 reviews. Thanks to its quick loan approvals, diverse lending options, and a customer-focused support team willing to help, 24/7 Lending Group is one of our preferred lending networks for folks with 650 to 700 credit scores. 
Las Vegas-based CashUSA.com is an online marketplace that matches folks with direct lenders offering 5.99% to 35.99% APR loans. Loan amounts and terms will vary, with loans of up to $10,000 with 90-day to 72-month repayment terms. Complete a quick online application, compare multiple loan offers, sign on with a lender, and have funds disbursed to your checking account as early as the next business day. 
Another benefit to using CashUSA is its rigorous security protocols. Its website uses industry-standard encryption to keep all of your personal information safe. 
To qualify for a CashUSA loan, you must be 18 or older with legal residency (US citizen or permanent resident) and a minimum monthly income of $1,000. You'll also need an email address, phone number, home address, and an active checking account to disburse and withdraw loan payments.  
Auto Loans: 650-700 Credit Score
Finding auto loans with competitive rates and terms is not impossible for fair credit borrowers. Secured auto loans use the vehicle as collateral, so lenders assume less risk in offering money to you because they can take possession of the vehicle if you fail to pay back the loan.
Depending on the auto loan, you'll generally see higher interest rates, larger requested down payments, and shorter loan terms than those with excellent to very good credit, typically 760+.
Here are our preferred auto loan options for fair credit borrowers:
Auto Credit Express has closed more than $1 billion in loans to date. It's done this by tapping into an expansive network of more than 1,300 dealerships and private lenders specializing in new and used car loans. Auto loans are offered to first-time buyers and borrowers with 650 to 700 credit scores looking for competitive rates and terms. 
To qualify for a loan from Auto Credit Express,  you must also earn at least $1,500 monthly. 
Auto Credit Express is operated by the same company that manages CarsDirect, Motor Authority, The Car Connection, and other highly reputable automotive publications, which provides borrowers with a sense of trust. 
Short for Pentagon Federal Credit Union, PenFed Credit Union is one of the country's more popular auto lending credit unions. In business since 1935, PenFed offers fair credit borrowers loans of up to $150,000 with up to 125% financing, including refinancing loans that may reduce an average of $191 from your monthly bill. 
PenFed's Auto Loan program is powered by TrueVCar, its in-house car buying service that offers discounted pricing on select vehicles. Plus, it offers preapproval in minutes through the website with no obligation to apply. 
Like PenFed, RefiJet is a direct lender specializing in auto refinancing, allowing you to replace your existing higher APR loan with a newer, lower APR loan. Doing so helps you lower monthly payments and interest charges. 
Qualified borrowers can save an average of $150 a month when they refinance with RefiJet. And it accepts no payments for the first three months and offers a quick and easy online application that will not hurt your credit score. 
Another way RefiJet caters to fair credit borrowers is with extra loan options such as Guaranteed Asset Protection (GAP) and Extended Service Contracts to better preserve the value of your new or used vehicle. 
Home Loans: 650-700 Credit Score
If you have a less-than-perfect credit history, do not fret. Mortgages and home equity loans are there for the taking, including federally sourced and guaranteed mortgages known for accepting lower credit scores than private lenders. 
The two most common types of mortgages are fixed-rate and adjustable-rate mortgages. Fixed-rate mortgages work on a 15-, 20-, or 30-year term, whereas adjustable-rate mortgages typically go for three, five, seven, or 10 years. 
Here are our preferred home loan options for fair credit borrowers:
America's largest mortgage lender, Rocket Mortgage, offers a variety of loan options, including but not limited to fixed rate, adjustable rate, FHA, and VA loans. FHA loans are available for folks with 580+ FICO scores willing to contribute a 3.5% down payment. There is also the option to refinance existing mortgages. 
On top of its home loan offerings, Rocket Mortgage has a solid reputation, with more than 90% of clients recommending it. We highly recommend Rocket Mortgage for its ongoing financial education resources, responsive customer support, and competitive rates. 
Although Rocket Mortgage and Quicken Loans are the same company, Quicken Loans' focus is more on refinancing for borrowers with 650 to 700 credit scores. Quicken Loan refinancing customers can lock in a lower interest rate, drop their private mortgage insurance (PMI), and qualify for longer loan terms.
Another Quicken Loans offering is home equity loans. If you have built up enough equity in your home, refinancing will allow you to pay off your old higher APR loan with a new lower APR loan. Cash-out refinancing is an excellent opportunity to pay off debt or cover larger expenses such as home renovations.
Unlike Rocket Mortgage and Quicken Loans, eMortgage is an advertising-supported publisher that allows you to compare and receive up to five competing mortgage quotes from lenders that match your credit profile.
Other types of home loans eMortgage specializes in include home refinance, home purchase, home equity, and reverse mortgages. 
To receive quotes through eMortgage,  you only need to complete a five-minute online form that asks for your desired loan type and property details. Once submitted, you can review competing quotes with no obligation to apply. 
Credit Cards: 650-700 Credit Score
Although the best rewards and cash back opportunities go to cardholders with an excellent to very good credit score, there are plenty of good options for folks with 650 to 700 credit scores. 
Among them are cards that offer a range of features from 3% cash back rewards to free FICO and VantageScore access. Here are three cards worth considering:
The Aspire® Cash Back Reward Card is an excellent everyday rewards credit card, offering tiered 3% cash back rewards on gas, groceries, and utility bill payments. All other eligible purchases receive a lower cash back percentage.
On top of cash back rewards, Aspire also allows free access to your VantageScore 4.0 score from TransUnion. We recommend periodically checking your credit score, as a simple 50-point bump could qualify you for a higher-tier credit card with higher-value rewards. 
With all of the above, one drawback to this card is that it only offers a credit limit of up to $1,000,  subject to credit approval. For this reason, we consider this a solid starter cash rewards credit card.
The Revvi Card pays cash back rewards on every payment you make. Opening an account also automatically enrolls you in the Revvi Rewards program, with cash-out opportunities available once you have held and used the card for at least six months. 
Through the Revvi Rewards program, every point equals $1, so 500 points will allow you to redeem a $5 statement credit, which automatically applies to your balance. We appreciate that Revvi Rewards never expire with no obligation to cash out until you are ready. 
Although its starting credit limit is low, cardholders can request a credit limit increase after 12 months for a small fee. Consider this a solid all-around card for users with 650 to 700 credit scores who don't spend a lot on their cards.
The Fortiva® Mastercard® Credit Card offers cash back rewards on select purchases with credit limits of up to $1,000, making this a solid first-timer card. 
Like the Aspire® Cash Back Reward Card, this cash rewards credit card provides free access to your VantageScore credit score. Cardholders also enjoy transaction alerts and zero fraud liability, so you do not have to pay for unauthorized purchases. 
The interest rate can be a bit high, though, so be sure to shop around for the best terms for your credit score.
What Credit Score Range Does 650-700 Fall Into?
According to FICO's criteria, a 650 to 700 score borders the Fair to Good range. Although it's not the ideal credit score, you can still apply for loans and credit cards with decent APRs and rewards programs. Just don't expect the most competitive interest rates and terms. 
For reference, here are FICO's credit score ranges:

We recommend working on your credit score if you have time before your next loan or credit card application. Even a 50-point increase can easily drop the APRs you qualify for by 5% or more, saving you hundreds of dollars in interest charges in the mid to long term. 
Remember, the lowest interest rates go to folks with 740+ credit scores. 
What Loan Amount Can I Borrow With a 650 Credit Score?
How large a personal loan you can borrow with a 650 credit score depends on the lender, its policies, the purpose of the loan, your debt-to-income (DTI) ratio, and your income.
Generally, those with 650 credit scores qualify for personal loans of up to $15,000 or more. But exact loan amounts offered by direct lenders may be higher or lower, depending on the criteria above. Not all direct lenders will offer your desired loan amount.
Additionally, consider the source. Traditional banks are known for having more rigid lending criteria than credit unions and online lenders. We recommend submitting loan applications through online lending networks to help you easily compare loan rates and terms from multiple lenders.
Which Credit Cards Can You Get With a 650 Credit Score?
The Aspire® Cash Back Reward Card, Revvi Card, and Fortiva® Mastercard® Credit Card are three cash reward credit card options worth considering for borrowers with a 650 credit score. They offer easy approval for someone with a fair credit score.
Additionally, explore credit cards from bigger banks, such as Chase, Citi, and Capital One, with more generous rewards programs. For example, the Chase Slate Edge card has a strong 0% introductory APR offer for purchases and balance transfers, and extra perks such as secondary auto rental coverage, automatic credit line increases, and roadside dispatch services. 
In short, a 650 credit score will not disqualify you from legit credit cards offering substantial rewards and cash back programs. 
Is it Easy to Get a Loan With a 650 Credit Score?
It is relatively easy to get a loan with a 650 credit score. But finding loans with comparable terms to those offered to borrowers with good credit takes more work. 
Our preferred option is to go through lending networks such as MoneyMutual, 24/7 Lending Group, and CashUSA, which offer access to a network of direct lenders working with borrowers with 650 to 700 credit scores. They have much looser credit requirements, albeit at the expense of higher interest rates and shorter repayment terms.
Remember, lenders consider other factors outside of your credit score, such as your income and debt-to-income ratio. The higher your income and the lower your DTI, the better your loan terms.
How Can I Get My Credit Score from 650 to 700?
To get your credit score from 650 to 700, we recommend the following:
– Continue Paying Bills On Time. With 35% of your FICO (Fair Isaac Corporation) score calculated using your payment history, we highly recommend paying your bills on time, every time. One way to stay on top of monthly payments is by setting up reminders or enrolling in automatic payments.
– Disputing Credit Report Errors. According to the Consumer Financial Protection Bureau (CFPB), 1 in 5 Americans see an error on their credit report. Those errors may include everything from closed accounts reported as open to incorrect last payment dates. Start by visiting AnnualCreditReport.com, where you can get a free copy of your Experian, Equifax, and TransUnion reports once a year. 
If you see an error on your credit report, follow the instructions provided by the creditor or credit bureau in question to dispute the error. We list each credit bureau's dispute page below:
Equifax: www.equifax.com/personal/credit-report-services/credit-dispute/
Experian: www.experian.com/disputes/main.html
TransUnion: https://dispute.transunion.com
– Lower Your Credit Utilization Ratio. Another way to improve your credit score is by lowering your credit utilization ratio. Your credit utilization ratio is the ratio of outstanding balances across all your cards compared to your total available credit limit. Aim for a credit utilization ratio of 30% or less, as a higher credit utilization ratio signals to lenders that you have a higher level of risk as a borrower. 
One trick to quickly lower your credit utilization ratio is to call your credit card issuer and request a credit line increase. As long as total spending remains the same, this will help boost your credit score. Try to avoid too many new credit applications within a short period. 
– Consider Balance Transfer Cards. Balance transfer cards allow you to transfer balances from one or more high APR cards to a single card with 0% APR on transferred balances for as long as 21 months. This allows you extra time to pay off the principal. It's an excellent way to consolidate debt, simplify monthly payments, and reduce the chances of late payments. 
Should I Pay off My Credit Card in Full or Leave a Small Balance?
We recommend you pay off your credit card in full every month instead of leaving a small balance. Here's an example of how credit card interest accrues over a one-year period on a credit card with a 26% APR and a $5,000 balance:

Paying your credit card in full has numerous benefits. For starters, you avoid interest charges. Secondly, on-time payments will have a positive impact on your credit score. The longer your on-time payment history, the higher your credit score.
You may often hear that carrying small balances on your credit cards month-to-month is preferable. But paying the full statement balance on time every month has a greater impact on your score. Remember to stay within your budget to minimize credit card use.
How Many Americans Have a 700 Credit Score?
According to Experian, 21% of Americans have credit scores in the Good range, 25% in the Very Good range, and 21% in the Exceptional (800 — 850) range. 
With a 700 credit score, you can easily qualify for all types of loans and credit cards. But you'll see slightly higher interest rates and shorter repayment terms than the loans someone with an Excellent to Very Good credit score enjoy.
We strongly recommend you work toward building a higher credit score before applying for any new loan or credit card (assuming you have the time!)
Find Your Best Options with One of Our Recommended Lenders
Nowadays, folks with credit scores in the 650 to 700 range have solid options. As with all financial obligations, thoroughly review all terms, interest rates, and fees associated with loans and credit cards so you do not get caught in a debt cycle. 
Advertiser Disclosure
BadCredit.org is a free online resource that offers valuable content and comparison services to users. To keep this resource 100% free for users, we receive advertising compensation from the financial products listed on this page. Along with key review factors, this compensation may impact how and where products appear on the page (including, for example, the order in which they appear). BadCredit.org does not include listings for all financial products.
Our Editorial Review Policy
Our site is committed to publishing independent, accurate content guided by strict editorial guidelines. Before articles and reviews are published on our site, they undergo a thorough review process performed by a team of independent editors and subject-matter experts to ensure the content's accuracy, timeliness, and impartiality. Our editorial team is separate and independent of our site's advertisers, and the opinions they express on our site are their own. To read more about our team members and their editorial backgrounds, please visit our site's About page.