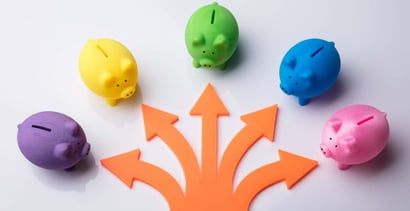 If you have ever tried to get a loan from a bank, you know how limiting bad credit can be. Fortunately, several loan options for bad credit borrowers are available from online lenders that will welcome your credit application. 
Besides providing you with cash when you need it, the best bad credit loans enable you to rebuild your credit. You can raise your credit score through on-time payments, which require good financial habits such as maintaining a budget and keeping your debt levels in check.
Improving your credit pays off by providing access to better credit cards, cheaper loans, and a nicer lifestyle. This article reviews the best bad credit loans, most of which can help you rebuild credit over time.
1. Personal Loan Options For Bad Credit
It's never been easier to obtain a bad credit personal loan, thanks to the growth of the online lender marketplace. The following companies work with networks of direct lenders specializing in subprime loans. You may get multiple offers by filling out a single loan request form. 
Loans from $500 to $10,000
Receive a loan decision in minutes
Get funds directly to your bank account
Use the loan for any purpose
| Loan Amount | Interest Rate | Loan Term | Loan Example |
| --- | --- | --- | --- |
| $500 to $10,000 | 5.99% – 35.99% | 3 to 72 Months | See representative example |
Loans from

$500

to

$10,000

Get connected with a lender
Simple form & quick funding
Get your money as soon as next the business day, if approved
| Loan Amount | Interest Rate | Loan Term | Loan Example |
| --- | --- | --- | --- |
| $500 to $10,000 | 5.99% – 35.99% | 3 to 60 Months | See representative example |
Loans from

$1,000

to

$35,000

Large lender network
Fast loan decision
Use the loan for any purpose
Funding as soon as one business day, if approved
| Loan Amount | Interest Rate | Loan Term | Loan Example |
| --- | --- | --- | --- |
| $500 to $35,000 | 5.99% – 35.99% | 3 to 72 Months | See representative example |
Personal loans from $500 to $35,000
All credit types are considered and welcome
Simple, no credit impact form
Helping consumers since 2001
4.7 out of 5 Trustpilot rating with 2,000+ reviews!
| Loan Amount | Interest Rate | Loan Term | Loan Example |
| --- | --- | --- | --- |
| $500 to $35,000 | 5.99% – 35.99% | 60 Days to 72 Months | See representative example |
Personal loans are convenient and easy to budget. You repay the loan amount in equal monthly installments that fall on the same day each month. This arrangement lets you schedule your payments well in advance. 
You can even set up automatic payments so you never miss a due date. By selecting the loan term – from three to 60 months – you can keep the size of your monthly payments affordable. 
Even the best personal loan for bad credit may charge up to a 36% APR, but many loans may be available well below this interest rate. Competition among network lenders helps you access the best terms. You can reduce a loan's costs by repaying it ahead of schedule. You'll soon start to see your credit score improve as you pay each installment on time. 
If you are a small business owner or self-employed, you can use a personal loan as if it were a business loan. That's a good idea since getting a business loan is often harder than getting a personal loan.
2. Cash Advance Loan Options For Bad Credit
Sometimes, you need quick cash and don't want to set up an elaborate repayment schedule. Cash advances are small loans tied to your pay schedule – a single lump sum repayment is due when you next get paid, typically in one to four weeks. 
The following networks can find you a payday loan without any credit checks. If approved, you can access the loan proceeds in your bank account as soon as the next business day.
Short-term loans up to $5,000
Online marketplace of lenders
Funds available in as few as 24 hours
Simple online form takes less than 5 minutes
Trusted by more than 2 million customers
| Loan Amount | Interest Rate | Loan Term | Loan Example |
| --- | --- | --- | --- |
| Up to $5,000 | Varies | Varies | See representative example |
Quick loans up to $5,000
Submit one form, get multiple options
All credit ratings welcome
Requires bank account and SSN
As seen on CNN, FoxNews, and others
| Loan Amount | Interest Rate | Loan Term | Loan Example |
| --- | --- | --- | --- |
| $500 to $5,000 | Varies | Varies | See representative example |
Loans from $250 to $5,000
Cash deposited directly into your account
Get money as soon as tomorrow
Bad credit OK
More than 750,000 customers since 1998
| Loan Amount | Interest Rate | Loan Term | Loan Example |
| --- | --- | --- | --- |
| $250 to $5,000 | Varies | Varies | See representative example |
Personal loans from $100 to $20,000
Receive an approval decision in as little as 2 minutes
Funds can be deposited into your account in one business day and used for any purpose
No hidden fees
| Loan Amount | Interest Rate | Loan Term | Loan Example |
| --- | --- | --- | --- |
| $100 to $20,000 | Varies | Varies | See representative example |
Online cash advances can pack a walloping APR of 200% to 700% (or more). The saving grace is that the loan is short-term, making the total cost more affordable. 
Trouble can occur if you miss the payment date, as the lender will add the interest due to the loan principal and issue a new loan. If you miss a payment date a few times, you can find yourself in a debt spiral that may lead to collections and further credit report damage.
3. Auto Equity Loan Options For Bad Credit
Other than residents of big cities with public transportation, most folks need a car to get around. Yet few consumers can pay the total cost in cash. You may worry that bad credit will prevent you from buying a car, but the following loan networks can find you a local dealership eager to work with you. 
Many dealers finance car purchases without external lenders, allowing them the freedom to make deals as they see fit. If there is a way to get you a loan, these lenders will find it.
Getting a vehicle loan is generally easier than obtaining a personal loan because your car collateralizes the debt. The downside is that a repo agent will eventually drive off with your vehicle if you fail to keep up with the payments.
On the other hand, you can keep the car and improve your credit by making your monthly payments on time. That's a positive for your next car purchase, as an excellent credit score will get you a less expensive loan. 
The money you save may allow you to move up to a fancier model. Or you can pocket the savings for use elsewhere, such as at the gas pump.
4. Home Equity Loan Options For Bad Credit
Realizing the American dream of home ownership has many benefits. One is the ability to access the home equity you've accumulated over time, whatever your credit score. Equity is the home's potential sale price minus its mortgage balance. 
The following companies offer various options, including first and second mortgages and cash-out refinancing. They are a mix of direct and indirect (i.e., network) lenders that will let you extract up to 100% of your home's equity or cash out the equity through a new loan. 
These companies can get you a conventional or FHA loan. A conventional mortgage costs less, but an FHA loan is easier to get.
Like car loans, home equity loans are relatively easy to obtain because property collateralizes them. And as with car loans, you face the loss of your property if you can't make the loan payments. 
Typically, home lenders would rather reach some accommodation with delinquent borrowers than pursue foreclosure. This gives you leverage to force a favorable modification to your loan, including lowering the interest rate, lengthening the loan term, and/or forgiving part of the debt. 
On the other hand, foreclosure means the loss of your property and the equity you've accumulated. It also will devastate your credit and remain on your credit report for seven years. Therefore, the lender also has leverage to pressure you into reaching a deal you both can live with.
One alternative to foreclosure is a short sale, in which the lender agrees to your home's sale for less than the mortgage balance. You receive some loan forgiveness and avoid the damage of a foreclosure. Short sales also remain in your credit history, but most creditors judge them less severely than foreclosures. 
Although difficult to achieve, a short sale may actually put some money in your pocket rather than result in a total loss from a foreclosure. But you must find a willing buyer, and the lender must agree to the sale terms.
5. Cash Advance Apps For Bad Credit
Cash advance apps provide workers with an inexpensive alternative to payday cash advances. These mobile apps can give you a small loan (up to $500) based on work you've already booked. They charge low fixed fees or interest rates, and some are entirely cost-free. 
The most popular include:
Dave: This app offers payday advances of up to $250 without a fee. Dave doesn't check credit and charges no interest. An optional service lets you report bill and rent payments to each major credit bureau.
Earnin: You can get a small loan by linking your electronic timesheet and checking account to the Earnin app. Fees are optional. At first, you can borrow up to $100, but the limit may eventually rise to $500.
Possible: This is a mobile app that advances up to $500. You repay the loan on your next payday. Possible offers no-credit-check loans, instead relying on your pay schedule and work history to approve your loan.
Many mobile cash apps do not require a credit check, but they must have access to your bank account. Repayment is due in full when you receive your next paycheck.
6. Credit Union Payday Alternative Loans For Bad Credit
Payday Alternative Loans (PALS) charge no more than 28% for small loans of up to $2,000. To access this type of loan, you must belong to a National Credit Union Administration (NCUA) credit union. They are among the best loan options when you need fast cash. 

You can repay a PAL over periods ranging from one to 12 months. Many credit unions, such as Navy Federal Credit Union, have limited enrollment, while others are open to everyone. 
7. Secured Loan Options For Bad Credit
On the one hand, secured loans are easier to get and may have better terms since they require collateral. On the other hand, you will lose your collateral if you default on your loan. 
In short, secured loans are easy and risky. You don't run the same risk when you get an unsecured loan. But qualifying for an unsecured loan is harder. Some of the more popular secured loans are:
Pawnshop loans: The interest rate on pawnshop loans can range from 25% per month in Florida to 2.5% in California. The highest APRs exceed 300%, but pawnshop loans are short term and require no credit check. You can lose the property you hock (i.e., cameras, jewelry, collectibles, etc.) if you don't redeem your pawn ticket before it expires.
Title loans: You can pledge your car's free-and-clear title to obtain a short-term loan with an average APR of about 300%. Typically, title loan providers tack on extra fees. You can lose your vehicle if you miss a payment, as happens to 1 in 5 title loan borrowers.
Credit-builder loan: Credit unions offer credit-builder loans to consumers looking to establish or repair credit. You accept a small loan, typically around $1,500, that the lender deposits into an escrow account. You make monthly payments that the lender reports to the major credit bureaus. The lender refunds the loan proceeds after you repay the entire amount. In other words, you pay the loan before you get the money. A credit-builder loan can help you achieve a better credit score through timely payments.
Only apply for secured loans if you are confident you can repay them or don't care about forfeiting your collateral.
8. Credit Card Cash Advances For Bad Credit
Most credit cards let you tap your credit line for fast cash. You can withdraw some or all of your cash advance credit limit at an ATM or bank by providing a secret PIN. 

Although convenient, credit cards can charge up to a 36% APR, often imposing a higher rate than that for purchases. The interest accrues from the day you withdraw the cash (there is no grace period) and compounds daily until you repay the advance. 
Credit card issuers typically charge a 3% to 5% fee each time you take a cash advance. Credit card cash advances are best suited for emergency loans considering their expense.
The Schumer Box found in the card's agreement discloses what a cash advance costs.

Credit card advances are certainly convenient, and they don't require a credit check — you already endured one when you obtained the card. The monthly minimum payments are low, typically between 1% to 3% of the balance.
Folks with bad credit face challenges in getting a credit card cash advance:
You must first obtain a credit card despite your bad credit. The cards available to you may require a high setup fee or a security deposit.
These credit cards usually have high fees and APRs.
Some subprime cards do not offer cash advances or make you wait several months before allowing them.
You may have a credit line as low as $200, which limits how much you can borrow. 
Some credit cards set a separate cash advance limit much lower than the one for purchases.
Credit cards do not pay rewards for cash advances.
A cash advance increases your credit card debt and your credit utilization ratio (credit used / credit available), hurting your credit score when your credit card debt exceeds 30% of your total credit line.
Despite the drawbacks of credit card cash advances, it's good to know you can access fast cash when needed. If you frequently take cash advances, you may want to consider a bad credit personal loan instead, as it usually costs less and doesn't require immediate payback.
9. 401k Loan Options
Unlike an IRA, you can borrow money from your 401k if your plan allows it — not all do. You can borrow a maximum of $50,000 or half the balance, whichever is less. But you can borrow up to $10,000 even if that is more than half your balance. 
You must repay your loan, with interest, within five years, but you can take up to 15 years to repay a loan to buy or build your first home. The interest you pay, minus fees, is to yourself and goes back into your account. 
Borrowing from a 401k may not be the answer to your need for a loan for reasons that include:
You may not have a 401k account
Your 401k may not permit loans
It can take weeks to arrange a 401k loan
Most plans charge a fee for 401k loans
The money you borrow misses out on interest-free growth until you repay it
If you don't repay by the deadline, the IRS will treat the loan as a taxable withdrawal
If you can overcome these obstacles, a 401k loan may be helpful when you need a large loan but can wait a week or two to get it.
What Is a Loan For Bad Credit?
When you borrow money, the interest charges you pay generate revenue for the lender. The loan money comes from several sources. For example, banks accept, pay interest on, and lend out savings deposits. The difference between the interest a lender receives and pays out, along with fees, are usually its most significant profit sources.
When a borrower fails to repay a loan, the lender not only fails to earn anticipated interest but also must make up for the lost money. For this reason, the typical financial institution dislikes lending to consumers with bad credit (i.e., FICO scores of 350 to 600), creating a void filled by the bad credit loan industry. 
Bad credit loans are for consumers who pose risks too large for traditional lenders. Instead, these loans often come from smaller, independent lenders who have worked out ways to make money despite the risk that some borrowers will default on their loans.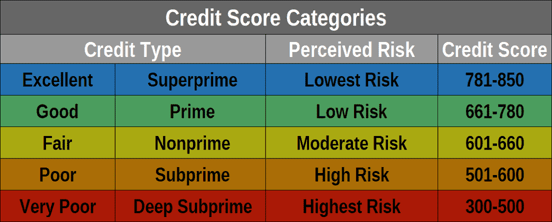 Poor credit loans charge higher interest rates to offset the risk involved with potential defaults or late payments. Low-interest loans for bad credit are hard to find, but they are available if you know the places to look (such as BadCredit.org). 
Bad credit loans look and act similar to standard bank loans, except they cost more. Some are payday loans with a short repayment term — payable in full when you receive your next paycheck. Others are revolving cash advances that you repay on your own schedule. And others are installment loans with a set number of monthly payments.
In all cases, you accrue interest charges until you repay the loan.
How Do Bad Credit Loans Work?
A bad credit loan works like a traditional loan — you apply to a lender, receive the funds, and make one or more payments according to the requirements of the loan agreement. But it can be challenging to locate legitimate sources for subprime loans. 
Bad credit lending networks help solve this problem by finding loans on the borrower's behalf. The networks partner with dozens of independent lenders who compete for your business, streamlining your access to bad credit loans.
You submit only one loan request form to the lending network you select. The network then circulates your request to its direct lending partners, and you may receive one or more loan offers within minutes.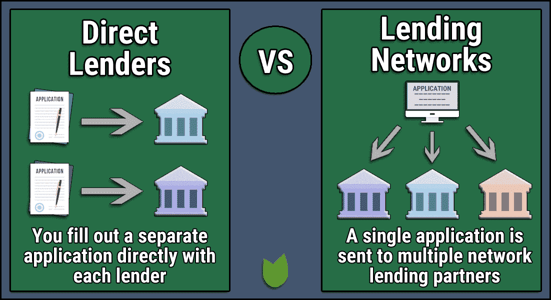 The key benefit to these networks is the multitude of lenders competing for your business. This can result in lower interest rates and more favorable loan terms.
Remember that every loan option you receive will have varying terms and conditions. Before accepting a loan, you should understand all the costs you'll incur. Sometimes, a relatively low monthly payment can make a loan look misleadingly attractive.
But low payments are likely due to longer repayment periods. So instead of paying your loan off in one year, a poor credit loan may charge lower monthly payments and extend over multiple years. The upshot is that you'll pay more interest as the loan repayment term increases.
How Do You Apply For a Bad Credit Loan?
Applying to a lender network for a bad credit loan generally requires these steps:
Select the type of loan you want. This article discusses nine options available to you.
Submit a loan request form to one or more networks, providing information about your income, debts, and housing costs. 
Prequalify for a loan. You must satisfy specific requirements, starting with age (at least 18). You also must be a US citizen or permanent resident with a steady income, a bank account, and a Social Security number. For secured loans, you also need acceptable collateral.
The network will connect you to one or more direct lenders if you successfully prequalify. You can then provide any additional information required. Most network lenders will check your credit, although that's not the case for payday loans. A hard credit check may reduce your credit score by a few points and remains on your credit report for two years.
You may receive a loan offer. The lender specifies all the details, including interest rate, loan term, and repayment requirements, in an online lender agreement. 
Read the agreement carefully. E-sign the contract if you want the loan. In some cases (i.e., for personal loans and payday cash advances), the money should appear in your bank account on the next business day.
As discussed earlier, secured loans require additional steps. Most notably, the lender must inspect the underlying collateral to verify its value. Home equity loans may require several weeks to complete home appraisals and title searches.
What Kind of Interest Rate Should I Expect?
Interest rates depend on the loan type but fall into two groups. The first group includes loans with APRs up to 36%: 
401k loans
App cash advances
Car equity loans
Credit card cash advances
Home equity loans 
Payday alternative loans
Personal loans
The second group of loans charges interest rates above 36%. We should say well above 36%, up to 700% or higher. They include:
Pawnshop loans
Payday loans
Title loans
This chart illustrates the differences between a personal installment loan and a payday loan.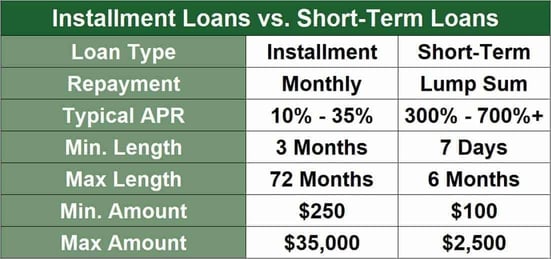 The interest rates of short-term loans may be high, but the larger loan amounts and longer repayment terms can still make installment loans more expensive in the long run.
Can I Get Approved For a Loan With a 500 Credit Score?
Most of the reviewed lenders will consider loans to borrowers with a 500 credit score. Some lenders don't check credit, and some care more about your collateral than your credit history. 
Government-guaranteed loans are somewhat stricter. But you can get an FHA mortgage loan with a 500 credit score by making a down payment of at least 10%.
What Is the Easiest Type of Loan to Get With Bad Credit?
Pawnshop loans are the easiest to get, no matter what your credit. Pawn brokers don't check credit, and the paperwork only takes a minute to complete.
Payday and title loans also don't check credit, making them relatively easy to obtain if you have a steady income or a car, respectively.
Cash advances are reasonably easy to get. You can get an advance from your nearest ATM or bank branch if you have a suitable credit card. Advances from apps require you to sign up with your employer.
A loan from your 401k may be easy to get if your plan custodian permits them. Even so, they may take a week or two to complete.
How Can I Increase My Loan Approval Odds?
For loans that check credit, your best bet for loan approval is to improve your credit score. Unfortunately, it can take a year or longer of on-time payments to repair a bad credit score. FICO assigns 35% of your score to your payment history, making it the single most significant factor. 
Another 30% of your FICO score stems from the loan amount you owe. As described earlier, you can help your score by lowering your credit utilization ratio below 30%. A sizable debt payment can boost your score in as little as one month or the next time your scores are calculated.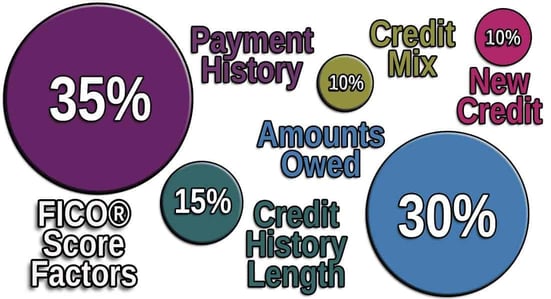 Mistakes in your credit reports may be hurting your credit score. You can eliminate them yourself by ordering copies of your reports from all three credit bureaus. You can file online disputes with the bureaus if errors are hurting your score.
Alternatively, you can hire a credit repair company to save time and effort. In either case, bureaus have 30 days to resolve disputes, and if they do so in your favor, you should see an immediate improvement in your credit score.
Some lenders welcome cosigners as a way to facilitate the approval process. Cosigners must have good credit because they share responsibility for loan repayment. Be careful when enlisting a cosigner, as your relationship may sour if you fail to live up to your commitments.
Pledging collateral is a time-honored way to get a loan. Providers of secured loans primarily focus on the collateral's value, not the borrower's credit rating. Of course, if your credit history includes incidents of fraud or multiple bankruptcies, collateral may not be enough to overcome lender resistance. 
What Should I Do If I Can't Repay My Loan?
There's nothing shameful about financial difficulties, as they may afflict anyone without notice. What is a shame is to let those difficulties do more harm than necessary. If you can't repay your loan, you absolutely must speak with your lender and try to find accommodation. 
In many cases, lenders would rather modify the terms of a loan than go to court or hire a bill collector. Helpful loan modifications include:
Reducing the interest rate
Increasing the loan term
Lowering the monthly payment amount
Forgiving some of the debt
Providing a payment holiday to let you catch up on your bills
If you have multiple loans, consider a debt consolidation loan. To do this, you take out a new loan big enough to repay all the other debt. You then make only one monthly payment, hopefully at a lower interest rate. By narrowing your focus, you may be better able to repay, or even prepay, your debt consolidation loan.
Free credit counseling is available throughout the country. Enlisting a counselor can help you prepare and follow a budget. You may also learn good credit habits, such as scheduling your payments well in advance. Some credit counselors can also help you obtain a consolidation loan.
If you really need to reduce your debt, you can play hardball by hiring a debt relief organization. This scenario requires you to divert your debt payments to an escrow account while negotiating loan forgiveness with your creditors. 
Sometimes debt relief works, and you save money. Other times, it can blow up and cause more harm than good. In either case, your credit score will suffer, so approach this option cautiously.
You may need to file for bankruptcy if your bills overwhelm your ability to pay. Depending on the bankruptcy chapter you pursue, you will have to reorganize your payments or have the court discharge your unsecured debts (and seize some of your assets in the process). Bankruptcy can severely damage your credit and remains on your credit reports for up to 10 years.
In the long run, financial responsibility dictates that you live within your means. You may have to cut your spending and/or increase your income to achieve this goal. Don't hesitate to contact a credit counselor or financial advisor for help.
How Can I Avoid Predatory Lenders?
It's vital to identify predatory lenders. Look for the following alerts:
Complicated or vague repayment terms
Harsh penalties
High interest rates
High-pressure sales pitches
Illegal collection tactics
Unsolicited loan offers
Scam artists and other predators try to steal your money, and sometimes they don't even bother to pose as legitimate lenders. A fraudster may employ tactics such as phone scams, email phishing, and high pressure. Watch out for approval guarantees, unsecured websites, unregistered lenders with no physical address, and demands for upfront payments. 
Also, be on the lookout for student loan scams. A popular one is asking for repayment of a nonexistent student loan.
If you suspect a lender of peddling predatory loans, report it to the FBI's Internet Crime Complaint Center.
You Have Many Options When You Need a Bad Credit Loan
Our review of loan options for bad credit shows that a low credit score need not prevent you from borrowing money. Whether you need an emergency loan or require cash for an expensive bill, one or more loan options may offer the perfect solution. 
If your lender reports your payments to the credit bureaus, your credit score should rise if you continue to pay your bills on time. Keep it up, and you'll no longer have bad credit.
Advertiser Disclosure
BadCredit.org is a free online resource that offers valuable content and comparison services to users. To keep this resource 100% free for users, we receive advertising compensation from the financial products listed on this page. Along with key review factors, this compensation may impact how and where products appear on the page (including, for example, the order in which they appear). BadCredit.org does not include listings for all financial products.
Our Editorial Review Policy
Our site is committed to publishing independent, accurate content guided by strict editorial guidelines. Before articles and reviews are published on our site, they undergo a thorough review process performed by a team of independent editors and subject-matter experts to ensure the content's accuracy, timeliness, and impartiality. Our editorial team is separate and independent of our site's advertisers, and the opinions they express on our site are their own. To read more about our team members and their editorial backgrounds, please visit our site's About page.