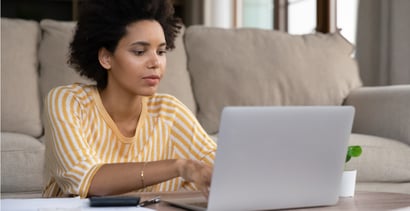 You can find loan companies for bad credit online that offer just about any kind of financing you need. Whether you need a small cash loan or a long-term home loan, we've found the lenders for you.
We regularly hear from readers who have a bad credit history and think their credit score automatically disqualifies them for the loan they need to pay bills, cover an unexpected expense, purchase a vehicle, or upgrade their living situation.
Our favorite online lender networks, all listed below, can connect you to lenders that specialize in curating emergency loan offers for applicants who have poor credit. Loan amounts vary by the type of loan you're applying for, among other factors, but you may receive loan approval in a matter of minutes.
Cash Loans For Bad Credit Borrowers
Cash loans are when an online lender extends a short-term loan offer for a small amount of money. This online loan can range from as little as $100 or as much as $5,000. Approvals are mostly based on your income and ability to repay the loan within a short time frame.
The lending networks below not only offer same-day loan approval for these loans, but you can still qualify despite your bad credit score.
MoneyMutual partners with a large online lender network that approves bad credit personal loan applications every day. The network has no minimum credit score requirement for applicants. 
Because it's a bad credit loan network, you don't have to worry about your credit history disqualifying you for the loan you need. MoneyMutual is a member of the Online Lenders Alliance. 
BillsHappen® offers small loans with short repayment terms. This network can approve both secured loan and unsecured personal loan packages for consumers with no minimum credit score requirement.
Whichever loan option you choose, your lender will report your balance and payment history to at least one credit bureau for your entire repayment term. Responsible behavior, i.e. making your payments on time, allows your bad credit personal loan to help you begin building your poor credit into good credit.
You may qualify for more than one loan option through CreditLoan.com. Whether you connect with a payday lender or if you receive offers for an unsecured loan or a secured personal loan, you can choose which options best suit your needs.
Just be sure to read the terms of your loan offer carefully to make sure you understand the interest rate and total cost of credit.
CashAdvance.com offers ultra-short-term payday loans that don't rely on your credit rating for approval. These loans often have the highest interest rates on the market and require full repayment in one lump sum, usually within 30 days or less, depending on your state's laws.
Payday loans aren't the best option for every borrower and can end up creating far more debt if you can't repay the loan on time. We always recommend readers explore other loan options before jumping into payday loans.
Personal Loans For Bad Credit Borrowers
The biggest differences between the cash loans listed above and the personal loans listed below are the amount of money you can borrow and the length of your repayment term. 
If you need a small loan with a shorter repayment window, you can consider the options above. The networks below are better for borrowers who need larger loan amounts that require more time to repay.
CashUSA.com offers a large direct lender network that can yield you more than one loan offer to choose from. This is one of the best personal loan networks if you need a larger loan that won't come with a massive interest rate.
And unlike your local bank or credit union, your direct lender with CashUSA.com can offer same-day loan approval and won't turn you down solely because of your credit rating.
BadCreditLoans.com lives up to its name by connecting consumers with personal loan options that won't cost them as much as a payday loan or cash advance.
With a bad credit score loan from this network, you can begin to rebuild your credit history with each credit bureau and eventually qualify for a loan that's typically reserved for a borrower who has good credit.
PersonalLoans.com maintains two unique lending networks. One works specifically with consumers who have good or excellent credit and one specializes in bad credit loan offers.
While the information on your credit report may dictate which network you work with, you can rest assured that the lenders that receive your application are ready to work with you and won't turn you away because of your credit score.
Auto Loans For Bad Credit Borrowers
A bad credit auto loan is the perfect way to hit the road without breaking your budget. The lending networks listed below can connect you with a direct lender or an auto dealership in your area that can provide fast loan approval to put you in a new or used vehicle the same day you apply. 
Auto Credit Express partners with CarsDirect, Motor Authority, Green Car Reports, and The Car Connection, among others, to connect each borrower with a lender that provides secured loan financing to purchase a vehicle.
The results of your credit check will help determine your loan amount, interest rate, and loan term — but consumers can often qualify for auto loans even with bad credit.
With Car.Loan.com Auto Loan, you may be able to overcome your poor credit score and connect with the auto lender you need to get the vehicle you want.
This network works with independent lenders and dealerships around the US to help find loan options for every borrower. If you qualify, the network will connect you with a lender or dealer in your area that's ready to get to work with you. 
If you qualify through myAutoloan.com, you could receive up to four unique loan offers — each with its own loan amount, interest rate, and repayment term.
Auto loans are a form of secured loan. This means you'll use your newly purchased vehicle as collateral to back your loan. That typically makes it easier to find an auto loan with bad credit.
Home Loans For Bad Credit Borrowers
Home loans are typically the most difficult loans to find with bad credit — but they aren't impossible to qualify for. With so many government-backed mortgage programs available, including FHA and HUD loans, the networks and direct lenders below will do their best to find an option that works for you. 
Even better, these loans often require a smaller down payment and have flexible monthly payment options.
You can leverage the vast database of lenders with eMortgage to compare loan offers and find the most affordable options for your home-buying needs. And since this network connects to so many lenders, you'll improve your chances of finding one that accepts applications from consumers who have a bad credit score.
Just keep in mind that the home loan process takes much longer to complete than it does with personal loans or auto loans. In many cases, it could take 30 days or longer to close your mortgage loan.
FHA Rate Guide isn't a lender, but it can still help you find a loan. This network connects borrowers with the best lenders in the marketplace. These lenders specialize in government-backed mortgages, conventional loans, and many other types of popular options.
You don't pay to use this service. Instead, the network will receive a referral fee from whichever lender you close your loan with.
Wells Fargo Home Mortgage is one of America's largest home lenders and even considers loan applications for prefabricated and mobile homes.
You can apply online for a mortgage and complete the entire process without ever visiting a Wells Fargo Bank branch. That's a great convenience if you don't live close to a bank or you prefer contact-free online banking.
What is an Online Loan?
An online loan is similar to a loan you'd get from a bank or credit union — only it comes from a lender that conducts its business online instead of at a branch location.
There are thousands of online lenders, each with different specialties. Some offer personal loans and others specialize in auto loans or mortgage loans. Some lenders may have a broad-ranging business that offers many different loan types.
These lenders often partner with lending networks to help expand their businesses. A lending network is an organization that doesn't actually lend money. Instead, it partners with many different lenders that receive every loan request that's submitted to the network.
Thanks to automated underwriting, each lender can make a credit decision within seconds at any time of the day or night. This means that your brief loan request to any of the lending networks listed above can yield one or more loan offers within minutes.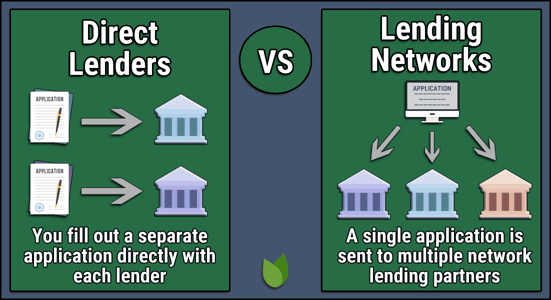 And since each lender that partners with the networks must compete for your business, you can rest assured knowing that you're getting the best loan offer possible. The lenders we recommend specifically work with borrowers who have bad credit scores, so you may qualify for a loan even when other lenders won't accept your application.
Another positive related to online lenders is that they are located across the US and still work with you — as long as they're licensed in your home state. Instead of relying on banks in your area, you can use lending networks to apply to multiple lenders around the country.
Whichever lender you work with will accept online payments from a linked checking or savings account — making it easier to repay your debt without having to mail in checks or visit a branch location.
Can I Get An Online Loan If I Have Bad Credit?
Many lenders specialize in bad credit loans — making it easier than ever before to find a loan online if you have poor credit.
Just keep in mind that you may receive offers for different types of loans, some of which will cost more and be riskier than others: 
A secured loan requires collateral for approval. Think of this as you would a pawnshop loan. To get this loan, you must risk an item of value that the pawnbroker will keep if you fail to repay the debt. Other common secured loans include auto title loans, home loans, and auto loans.

An unsecured loan doesn't require collateral for approval. Also commonly referred to as a signature loan, these close with only your signature on a legally binding contract that guarantees repayment of your loan. A credit check is required for approval.

A payday loan is an expensive loan that requires full repayment with your next paycheck. These small loans are meant to bridge the gap between paydays and could charge interest rates of up to 700%. A credit check is not usually required. 
You can find all of these loan types — as well as others that we didn't cover — through the online lending networks listed above. 
What Is The Best Online Loan Company For Bad Credit?
MoneyMutual remains our top-rated online lending network for bad credit — but that doesn't mean that it's the best option for you.
We like MoneyMutual because it maintains one of the largest networks of lenders online, which increases your odds of finding a lender that wants to work with you. All of the direct lenders that partner with the network also accept applications from any consumer and don't have a minimum credit score requirement for approval.
The lone potential drawback to this network is that it only offers smaller loans with short repayment windows. At the time of publishing, the maximum loan amount allowable through MoneyMutual is $5,000.
But the network maintains very flexible acceptance standards and only requires basic information from you to submit your initial loan request. To qualify, you must:
Be a US citizen or resident
Be 18 or older
Have an income of at least $800/month
Have an active checking account in your name
Have a working phone number
Have a valid email address
Your initial loan request takes less than five minutes to complete. You'll receive an email shortly after you submit your information that details your credit decision. If you qualify, you could find more than one loan offer to choose from.
If you accept an offer, you can complete the loan paperwork in less than an hour and close your loan shortly after if it's during normal business hours. Once the lender signs off on your loan, it will wire your money to a linked checking or savings account, which will arrive by the next business day.
If you need a larger loan, PersonalLoans.com may consider your request for up to $35,000 in personal loan funds.
What's The Difference Between a Cash Loan and a Personal Loan?
A cash loan and a personal loan are very similar. The main differences between the two are the amount you can borrow and the amount of time you have to repay your loan.
A cash loan, also referred to as a payday loan or a cash advance, is usually a smaller dollar amount with a shorter repayment window. A personal loan usually offers a larger sum of money and gives you more time to repay the debt.

We separated cash loans and personal loans in the listing above based on the amount of money each lending network offers. With cash loans, you can max out at $5,000 or less, whereas some personal loan networks partner with companies that lend as much as $35,000. 
As you may expect, smaller loans usually have shorter repayment terms and larger loans may give you seven years or more of monthly payments to settle your debt.
Personal loans, regardless of the amount, allow you to use your borrowed money in any way you choose. Not every loan type comes with such freedom. You can't use an auto loan, for example, to pay for college classes. A student loan won't work as a mortgage either.
Most installment loans will report your payment history and balance to at least one credit bureau, which can help you build – or rebuild – your credit with responsible use.
Can I Get An Auto Loan Online?
Auto lenders are approving loans at an all-time high. This means that, even with bad credit, you stand a good chance of securing an online auto loan. 
You can do this by applying to more than one lender at once. This improves your chances of approval and forces the lenders to compete for your business. 
But instead of submitting multiple loan applications and adding several inquiries to your credit history (which can hurt your credit score), you can use a lending network, such as Auto Credit Express, to quickly compare multiple loan offers.
Just as with personal loans, auto lending networks accept your single loan request and send it out to multiple independent lenders and car dealers in your area. If you connect with a car dealership, you'll work with its financing department to find the best direct lenders for you.
In many cases, consumers who submit a loan request through an online auto lending network early in the day can complete the purchase of a new or used vehicle before the end of business on that same day.
How Do I Make Payments For An Online Loan?
Every online lender accepts electronic payments from a linked checking or savings account. This is similar to writing a check, but it all happens online. 
From your online loan portal, you'll connect your checking account and schedule a payment for a specific date. On that date, the lender will initiate the withdrawal of the stated amount of money to cover your payment.
Some lenders may require automated payments that remove the money on the same day each month. For example, you may have your payment automatically withdrawn on the 15th of each month. That date may shift at times if the 15th falls on a weekend or holiday.
Some larger loans, like auto loans and mortgages, may even offer a small interest rate reduction if you set up automatic payments. 
Are Online Loans the Same as Cash Advance Loans?
While you can apply for cash advance loans online, not every online loan is a cash advance loan.
A cash advance, also known as a payday loan, is a very specific type of loan that's designed to act as a bridge between paydays. Most payday loans offer $1,000 or less in borrowed funds and require repayment in full, including interest, within seven to 30 days or so.
Cash advance loans are also quite expensive and can include interest rates of up to 700%. The maximum allowable loan amount, as well as the finance charges attached to the loan, will vary based on which state you live in. 

Online lenders offer many other loan types beyond cash advance loans. For example, you can find far more affordable personal loans online that can provide more than $1,000 with several months or years to repay your debt through fixed monthly payments.
What Credit Score Do I Need To Get a Loan?
Lenders rarely post their minimum credit score requirements to qualify for a loan. This is because a lender will often look at more than just your credit score when determining your loan eligibility.
Besides your credit rating, a lender will also consider:
Your current employment status
Your current income
Your recent and past payment history
How much debt you currently have
All of these factors are as important as your credit score when applying for a loan. After all, an excellent credit score won't help you repay your debt if you're unemployed. But someone who has poor credit, a good income, and little debt isn't necessarily a bad risk for lenders.
Can I Get a Loan Without a Credit Check?
Lenders often want to see your credit profile to assess how much risk you pose as a borrower. Without knowing about your financial history, a lender would blindly hand out money without knowing how likely you are to repay the loan.
But that doesn't mean you can't find no credit check loan offers — just expect them to cost way more than a traditional loan will. Some options include:
A payday loan will regularly accept applications without a credit check as long as you have proof of enough income to repay the loan within seven to 30 days. These loans are substantially more expensive than other personal loans. 
A pawnshop loan won't ask for a credit check. Instead, the pawnbroker will lend you an amount of money that's based on the resale value of an item you pawn. If you don't repay the debt, you'll lose the pawned item.

A title loan may skip the credit check process and instead require you to hand over the title of your vehicle as collateral. If you can't repay the debt, the lender will repossess your vehicle.
As you see from the examples above, no credit check loan offers are available, but will place a lot of risk on your lap and charge you dearly for the convenience.
Instead of skipping the credit check, consider submitting a loan request to one of the lending networks above. The initial request doesn't leave an inquiry on your credit history and won't damage your credit score. In the end, you just may be surprised with what you'll qualify for.
Can I Get a Home Loan Online?
The growth of the internet makes it possible to find loans that once required many in-person trips. This is obvious when you look at the number of mortgage lenders that go through the entire loan process digitally.
The mortgage process typically takes 30 days or more to complete, but you can complete it without ever stepping foot into a loan office. Even better, many lenders now work specifically with borrowers who have bad credit to help them purchase their first home, including our top-rated home loan network, eMortgage:
These lenders are well trained in special government-backed loans, including HUD loans and FHA loans, that have forgiving acceptance standards and may require a much smaller down payment than what's required with a conventional home loan.
You can work with your lender over the phone or via email throughout the loan process. You can digitally submit the necessary paperwork and even close your loan online. This comes in handy if you live in a rural area or have limited access to transportation.
Online loans are not only convenient, but they're often more affordable. Instead of depending on a bank that has many locations and greater overhead to account for, an online lender has fewer expenses and can often pass those savings onto you in the form of lower interest rates or reduced application fees.
Find the Best Loan Companies For Bad Credit Online
Loans are a vital financial tool for most Americans. Not only can you build and improve your credit score with responsible loan usage, but you can also get access to quick funds when you're in a pinch.
That's especially important if you're making a large purchase, such as a home or an automobile. But even if you just need a few hundred dollars to get you to payday, several loan companies for bad credit are available online and are ready and willing to work with you.
Advertiser Disclosure
BadCredit.org is a free online resource that offers valuable content and comparison services to users. To keep this resource 100% free for users, we receive advertising compensation from the financial products listed on this page. Along with key review factors, this compensation may impact how and where products appear on the page (including, for example, the order in which they appear). BadCredit.org does not include listings for all financial products.
Our Editorial Review Policy
Our site is committed to publishing independent, accurate content guided by strict editorial guidelines. Before articles and reviews are published on our site, they undergo a thorough review process performed by a team of independent editors and subject-matter experts to ensure the content's accuracy, timeliness, and impartiality. Our editorial team is separate and independent of our site's advertisers, and the opinions they express on our site are their own. To read more about our team members and their editorial backgrounds, please visit our site's About page.