Credit repair companies can legitimately help you fix your credit reports and possibly improve your credit scores. A study conducted by the Federal Trade Commission found that 5% of consumers had errors on their credit reports that could result in less favorable loan terms, such as higher interest rates and fees.
But under the Fair Credit Reporting Act, consumers have a right to fair and accurate credit reports. And although consumers can dispute credit report discrepancies themselves, credit repair companies provide expertise through what may be a tiresome process.
We've identified 11 companies that third-party reviewers and our staff at BadCredit.org have judged to be legitimate. All provide services and tools to remove errors and unverifiable information from your credit reports.
Our Top-Rated Credit Repair Companies
We give these four credit repair companies top ratings for their ability to aggressively fix mistakes on your credit reports. We've provided links to the companies' websites where you can find a detailed description of each service. 
Lexington Law remains our top recommendation among credit repair companies. Since 2004, its staff of accredited lawyers and other legal experts has delivered a wide array of services to remove incorrect or unverifiable data from your credit reports.
The company offers several packages that allow you to purchase just the services you need. Whichever level you choose, you'll receive direct, aggressive engagement to challenge questionable items on your credit reports at the three major credit bureaus.
Sky Blue Credit Repair is a pioneer in the credit repair industry, with a heritage going back to 1989. Its longevity is partly due to its industry-leading 90-day unconditional guarantee and the simplicity of its offering. The company provides one full-featured service level at a competitive price that includes a couple's discount. 
When you subscribe to Sky Blue Credit Repair, you receive a set number of challenges every 35 days, plus services that include debt validation, cease and desist letters, score analysis, and debt settlement consultations. You may see your credit score improve in as little as one month, and you can cancel your subscription whenever you like.
CreditRepair.com is a completely online service known for its intuitive mobile app that allows you to monitor the status of your credit report disputes.
Your subscription provides active engagement with the credit bureaus plus activity alerts, an online dashboard, score analysis, and credit counseling. On average, customers experience a 40-point rise in credit scores within four months of subscribing.
The Credit Pros offers an extensive range of services, including credit repair, identity theft resolution, security clearance assistance, one-on-one credit coaching, and settlement offer assistance. You'll work with an expert credit consultant who will review your credit reports and identify questionable items. 
Your credit consultant will draft each dispute letter separately rather than rely on form letters.
Since 1997, Credit Firm has provided reasonably priced credit repair service with a staff that includes licensed attorneys. It has served more than 60,000 customers nationwide. For a cost under $50 per month, Credit Firm is more affordable than most of the competition.
When you sign up, you'll forward your credit reports to the company and receive a personal consultation where you will review your reports, identify questionable items, and map out a plan. Services include credit report challenges, goodwill interventions, debt validation, and cease and desist requests. 
Other Credit Repair Services to Consider
Our review includes another nine credit repair agencies that provide fair value for service and receive positive reviews from third-party sites. As with our top four picks, these companies work hard to fix your credit and help you earn a higher credit score.
6. Credit Versio


Credit Versio sells a software package to help DIY consumers on a tight budget. For less than $20 per month, the package will import your credit reports and let you craft dispute letters to the three credit bureaus. Higher-priced packages increase the number of disputes you can register each month and provide identity theft insurance and credit monitoring alerts.
The software uses artificial intelligence (AI) techniques to identify questionable items and helps you generate professional dispute letters to remove problematic entries. Credit Versio markets its software to consumers with the time and ability to fix their credit reports themselves, and the price is unbeatable.
7. Pyramid Credit Repair


Pyramid Credit Repair has helped customers fix their credit and educate themselves about consumer credit for more than 10 years. The individual plan costs $99 a month, or double that for the couple's plan. You receive a customized game plan and 24/7 phone support at no additional cost.
Your dedicated credit counselor helps you identify questionable credit report items. There is no quota that restricts how many disputes you can lodge, and you may see results in as little as 45 days. You can cancel your subscription without notice.
8. Credit Glory


Credit Glory earns an A+ rating from the Better Business Bureau, thanks in part to its 24/7 customer service, free 15-minute consultations, and its 90-day money-back guarantee. The initial setup fee is high ($199), but the monthly fee is only $99. The company supports all types of credit report challenges, including unverifiable hard inquiries. 
Customers first sign off on each challenge, so the company doesn't waste time on negative items that happen to be accurate. Additionally, you can purchase identity theft services for $79 per incident or $799 for unlimited coverage.
9. Pinnacle Credit Repair


Pinnacle Credit Repair takes an aggressive approach to credit repair and charges accordingly, with an initial setup fee of $199. You can choose between two service levels that dispute credit report errors and provide credit education and credit coaching. The standard package charges a $99 monthly fee, but if you prefer, you can purchase the premium service for a one-time fee of $1,500 to $2,500.
The premium service uses artificial intelligence to identify credit report errors and includes the support of a personal credit mentor. You can expect results in as little as 15 days, and the service provides a 120-day satisfaction guarantee.
10. AMB Credit Consultants


AMB Credit Consultants was founded in 2008 and has an A rating from the Better Business Bureau. The initial setup fee is $149, and an ongoing subscription — that you can cancel at any time — costs $99 a month. The service includes unlimited disputes of the questionable items that you identify. 
Unfortunately, the company does not offer free credit consultations and charges an extra $25 per month for credit monitoring. Nonetheless, AMB Credit Consultants earns positive feedback from its customers.
11. The Credit People


During more than 15 years in operation, The Credit People has removed almost 1.5 million credit items for its customers and claims to have boosted poor credit scores by up to 187 points per person. The standard package, which disputes any type of negative information on your credit reports, charges an initial fee of $19 and then a $79 monthly fee. The credit repair firm claims you'll see results within 60 days. 
If you prefer a flat-rate six-month membership, one is available for $419. You get unlimited challenges, free credit reports and scores, credit counseling, debt and hard-inquiry validation, creditor communication, and a money-back satisfaction guarantee.
What Is Credit Repair?
The credit repair process is designed to increase your poor credit scores by removing innacurate or unverifiable negative information from your credit reports. These items include unverifiable hard credit inquiries and false reports of late payments, collections, defaults, and bankruptcies, among other things.
The impact of negative credit information can also hurt your prospects to rent an apartment, get a mortgage, or land a new job, among other things. By removing erroneous information, your bad credit score can improve quickly, much faster than if you were to raise your score through creditworthy behavior alone.
Credit Scoring
Your credit score can have a major impact on your lifestyle, whether you want to borrow money, qualify for a credit card, rent an apartment, or interview for a job. That's reason enough to pay attention to a bad credit score and the underlying credit reports.
In fact, most consumers have three separate credit reports and scores, compiled by the major credit bureaus (Experian, TransUnion, and Equifax). The information for these reports comes from lenders and banks that detail your credit card transactions and other loan activity, including late or missed payments. 
The credit bureaus use this information to compile various credit scores, including scores on the FICO scoring system. FICO Scores range from 300 (worst) to 850 (best). Your score helps determine how much you'll pay for credit and whether you can access credit at all.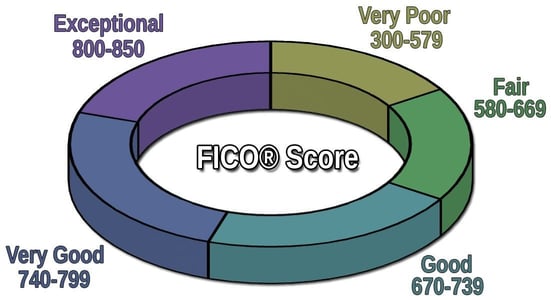 The trick to earning a good credit score is to pay your bills on time, every time. Failure to do so can saddle you with a bad credit score and often presages a more significant credit problem. But the FICO calculation entails more complex information than just timely payments and is based on five sets of factors:
Payment History (35% of Total Score)
Nothing is as important as paying your bills on time. If your payment is more than 30 days late, the credit bureaus will add a late payment record to your credit reports that will remain for up to seven years. Even a single late payment in your recent credit history can cause your score to drop dramatically, often 100 points or more — the better your credit when the incident occurred, the worse the effect on your scores.

Beyond late payments, your credit reports will include defaults, write-offs, collections, repossessions, garnishments, foreclosures, and bankruptcies, items that can remain on your credit reports from seven to 10 years. These negative events immediately send your credit score plummeting, but their impact begins to fade after two to three years. 
You benefit by having negative items removed from your credit report. That is what credit repair is all about, but it only works on erroneous, unverifiable, or expired items. 


Another strategy to remove late payments is through a goodwill letter or a pay-for-delete letter, which are repayment arrangements that may result in creditors and collection agencies removing negative items from your credit reports. A creditor may agree to a goodwill letter if the late payment was one of a kind, but multiple late payments will probably sink any chances of having the items removed.
Amounts Owed (30%)
It's quite understandable that creditors worry about getting repaid — otherwise, they wouldn't stay in business very long. One thing that scares creditors away is when you owe a significant amount of money.
The FICO system puts a number on this fear, the credit utilization ratio (CUR), which measures the amount of your credit card balances versus your total amount of available credit.

Your credit score will suffer if your CUR exceeds 30%. To get a good credit score, you'll want to make sure you pay down your credit card balances below the 30% threshold. Failure to do so will leave creditors with the impression that you may be experiencing financial distress and cause them to limit further access to credit and charge more for it. It will also lower your credit score.

Beyond paying down your credit card balances, you can improve your credit profile by avoiding new debt and paying installment debt early. Pay attention to another ratio, known as debt-to-income (DTI), which measures how much money you can spend on repaying your debts. The critical DTI ratio depends partly on who is measuring it – some lenders will accept a DTI as high as 50%, whereas a mortgage lender may impose a 36% maximum before approving a loan.

The amount you owe may suddenly balloon through no fault of your own, thanks to identity thieves. These miscreants steal credit card numbers and then run up bills before the card owner can freeze the account. Credit repair services can help undo the damage caused by identity theft, but it is usually a long and expensive process.
New Credit (10%)
This FICO factor deals with hard credit inquiries that accompany your applications for credit cards and loans. Only you can authorize a hard credit inquiry — otherwise, the inquiry is soft and won't affect your credit score. Inquiries made by non-creditors such as landlords, utility companies, and employers are also soft.
Hard inquiries remain on your credit report for two years but only impact your score for one year, and only to the tune of five or 10 points.

A portion of credit repair deals with the removal of unverifiable hard inquiries from your credit reports. A hard inquiry can't be verified if the inquirer fails to prove you authorized it, and many creditors don't keep the necessary evidence on file. Without the evidence, the credit reporting agency must remove the inquiry or recharacterize it as soft.

Another source of hard inquiry mistakes is rate shopping, which occurs when you compare loans while looking for the best deal. The credit bureaus recognize rate shopping that occurs within a 30-to-45-day period and consider all the resulting hard inquiries as one. 
A credit repair firm should be able to detect and correct surplus hard inquiries when credit bureaus fail to notice rate shopping.
The FICO scoring system includes two other factors — length of credit history (15%) and credit mix (10%). Credit repair usually doesn't deal with these. However, you should check your credit reports to see if any accounts were opened or closed without your authorization. 
It's good practice to review your credit reports at least once a year. You can get free copies from AnnualCreditReport.com, the only source authorized by the federal government.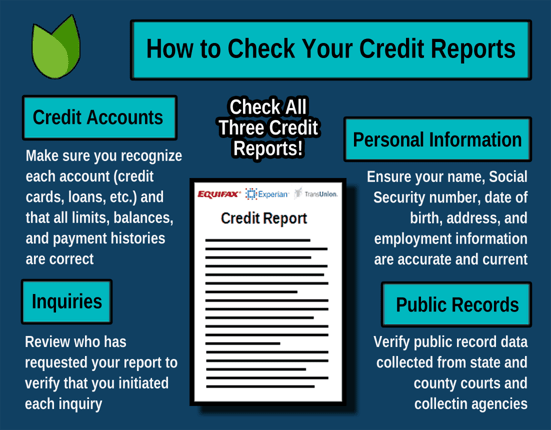 If you detect problems with your credit reports, it's in your best interest to correct them, either on your own or with the assistance of a credit repair organization.
How Credit Repair Companies Work
A legitimate credit repair company can address problems with your credit reports when you can't or don't want to. Most credit repair organizations offer a free consultation to determine whether and how they can help you.
If you decide to hire a credit repair company, you'll usually be asked to sign up for a monthly subscription. The average subscription runs for about four to six months, but you can cancel or extend it at any time. Prices vary widely, but most credit repair subscriptions range from $50 to $150 per month, depending on the level of service purchased.
You will want to compare what each repair service charges, including any one-time setup fee. Compare apples to apples by noting which activities are included at each service level and which cost extra. Standard activities include:
Pricing varies from company to company. Usually, the service will retrieve your credit reports directly (perhaps charging a fee), but others may require you to supply them. However, they obtain your credit reports, a credit repair agency will look for several types of issues, including:
The bulk of the information on your credit reports comes directly from creditors and public records. The three credit bureaus do not necessarily share information, so it is your task to comb through each credit report for questionable items.
As credit repair agencies compile items eligible for dispute, they develop an action plan that lays out which disputes they will file and when they will file them. A dispute usually takes the form of a letter from the credit repair agency that requests questionable items be removed from your reports.
Specialized communications can include:
When companies offer multiple service levels, you can choose the one that best meets your needs. Often, you won't need the extra services (or costs) accompanying the more expensive packages that include access to financial tools, score analysis and tracking, identity theft repair, and mobile apps.
Although the two are somewhat related, do not confuse credit repair with debt relief. The purpose of debt relief is to negotiate debt forgiveness, debt consolidation, or better terms with your creditors. Several of the reviewed companies offer both services.
What Is the Best Credit Repair Company?
With an overall rating of 4.9 out of 5, Lexington Law remains our favorite credit repair organization. We like the expertise they bring to the table and the straightforward pricing of the different service levels. 
In second place is Sky Blue Credit Repair, thanks to its 90-day money back guarantee.
Do Credit Repair Companies Really Work?
No credit repair company can guarantee results because each client is unique. The credit reports of some clients simply don't have enough errors to have any effect on your bad credit score. 
Unfortunately, some credit repair scam companies have brought disrepute to the whole industry. This is unfair to the many legitimate credit repair agencies that attempt to improve the lives of their clients. The companies in this review are, by our estimation, effective in what they do and honest in their dealings.
You should approach a credit repair company with realistic expectations about what it can and can't do. A company worth hiring should be able to remove questionable items, but none can force your poor credit score to rise. A company that makes this claim may be a credit repair scam. 
The removal of an erroneous item that has been dragging down your credit rating should result in an immediate rebound. Besides boosting your bad credit score, fixing your credit reports is useful because:
You can't always predict how errors on your credit reports will affect you, so it makes sense to clean them up as quickly as possible. That way, you are much less likely to be refused a new credit card or loan due to inaccurate information.
Can Credit Repair Help With Identity Theft?
The United States continues to suffer from the scourge of identity theft. In 2019, 3.2 million consumers filed identity theft complaints with the FTC, and 23% of these complainants reported losses that added up to $1.9 billion. 
In the face of this onslaught, credit repair can provide a few key credit restoration tools to consumers who've been victimized or who worry that they will be:
You must report identity theft immediately to the FTC, state authorities, and your local police. Ask the FTC to issue you a recovery plan and an Identity Theft Victim's Complaint and Affidavit.
You can also contact each credit bureau to place a fraud alert on your credit reports. This will stop any creditor or lender from opening a new account in your name until they contact you first.
Compare Legitimate Credit Repair Companies That Suit You
Almost all the credit repair companies we've reviewed in this article offer free consultations that will help you gauge whether credit repair is right for you. You may also discover that the credit problems on your reports are so minor that you can fix them yourself rather than pay for a credit repair agency.
Ultimately, you'll judge a credit repair company by the improvement in your credit score. While there is no guarantee, removing inaccurate negative information from your credit reports should result in a quick score boost. If you deal with a company that offers a free consultation, you can get a better understanding of your situation without cost or obligation.
Advertiser Disclosure
BadCredit.org is a free online resource that offers valuable content and comparison services to users. To keep this resource 100% free for users, we receive advertising compensation from the financial products listed on this page. Along with key review factors, this compensation may impact how and where products appear on the page (including, for example, the order in which they appear). BadCredit.org does not include listings for all financial products.
Our Editorial Review Policy
Our site is committed to publishing independent, accurate content guided by strict editorial guidelines. Before articles and reviews are published on our site, they undergo a thorough review process performed by a team of independent editors and subject-matter experts to ensure the content's accuracy, timeliness, and impartiality. Our editorial team is separate and independent of our site's advertisers, and the opinions they express on our site are their own. To read more about our team members and their editorial backgrounds, please visit our site's About page.