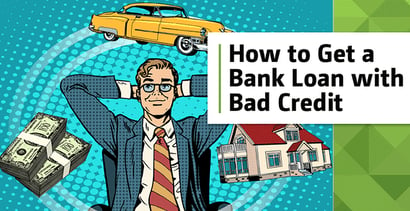 Although it would certainly be nice if we could all afford to get along without credit, paying cash isn't always a viable option. The reality of life is that most people are reliant on lines of credit to make certain purchases, including using loans to cover medical expenses, purchase a new car, or buy a home.
The first place many of us think about when considering a loan is the bank — and if you've never made a major purchase before, you may be wondering how to get a bank loan. Not long ago, applying for a bank loan would have been a production. Potential borrowers put on their best suits and blouses, got their documents in order, and headed down to the local bank branch to have a personal interview with the bank's representative, in whose hands the decision rested.
As traditional as going to the bank for a loan may be, your local bank can often be a good place to get a fair rate. Thankfully, getting a loan from the bank is no longer such an affair. While the exact process will vary depending on which type of loan you need, getting a loan from the bank, even with bad credit, may be easier than you think. Let's take a look at some ways in which consumers with less than ideal credit may be able to get a loan. For the purposes of this article, we'll focus on personal loans, auto loans, and mortgages.
Personal Loans | Car Loans | Home Loans
How to Get a Personal Loan
As its name implies, a personal loan is a line of credit extended to an individual consumer for personal use. Typically ranging from $500 to as much as $35,000, personal loans can be used for just about anything, including credit card consolidation, home repairs, or even family vacations.
A personal loan is a type of installment loan, which means the borrower will repay the loan over the course of an agreed-upon period of time in set amounts, generally through regular monthly payments. Personal loans are also unsecured loans, so borrowers are not required to supply a form of collateral to obtain a personal loan.
Choosing a Lender
When applying for a personal loan with poor credit, it can be easy to convince yourself you need to take any loan offered to you, regardless of the terms. Don't make this mistake. Even with poor credit, you could receive multiple lenders happy to have your business, so be sure to shop around when looking for a personal loan.
The best way to find and compare multiple banks and lenders may be to use an online lending network. Often containing hundreds or thousands of lending partners, online lending networks can improve the quantity — and quality — of your loan options.
Short-term loans up to $5,000
Online marketplace of lenders
Funds available in as few as 24 hours
Simple online form takes less than 5 minutes
Trusted by more than 2 million customers
| Loan Amount | Interest Rate | Loan Term | Loan Example |
| --- | --- | --- | --- |
| Up to $5,000 | Varies | Varies | See representative example |
Personal loans from $500 to $35,000
All credit types are considered and welcome
Simple, no credit impact form
Helping consumers since 2001
4.7 out of 5 Trustpilot rating with 2,000+ reviews!
| Loan Amount | Interest Rate | Loan Term | Loan Example |
| --- | --- | --- | --- |
| $500 to $35,000 | 5.99% - 35.99% | 60 Days to 72 Months | See representative example |
Loans from $500 to $10,000
Receive a loan decision in minutes
Get funds directly to your bank account
Use the loan for any purpose
| Loan Amount | Interest Rate | Loan Term | Loan Example |
| --- | --- | --- | --- |
| $500 to $10,000 | 5.99% - 35.99% | 3 to 72 Months | See representative example |
When comparing loan offers, be sure to look at all aspects of the loan, not just the monthly payment. Check the interest rate and loan terms to ensure you won't be stuck paying more interest than you should. Personal loan terms typically range from 12 months to five years, though the specific terms will vary based on the lender, the amount borrowed, and your personal situation. With so many options available these days, it's worth taking the time to do some extra research to figure out which loan may be best suited for your situation.
The Credit Requirements
One of the most confusing parts of the borrowing process tends to be a result of the personal and individual nature of lending. For example, although everyone knows having bad credit can keep you from getting a loan, most banks and lenders don't publish hard numbers on just what, exactly, a bad credit score is in their eyes — so we're stuck with generalities.
So, in general, the accepted standard is that those who are firmly in the "bad" credit category, which means a FICO score less than 580, will have the hardest time getting approved for a loan. Furthermore, those with scores between 580 and 700 may qualify for a loan, but should be ready to see a two-digit APR — probably at least 20% or more.


In fact, interest rates on personal loans can vary significantly depending on your credit, with APRs from around 10% going to those with excellent credit, all the way up to 30% APRs for those with the worst credit. If possible, you may want to improve your credit score — perhaps by paying down existing debt — before applying for a new loan.
If you do fail to qualify or are offered rates that are too high to be manageable, you may be able to obtain a loan by finding a friend or family member with good credit to co-sign the loan. By co-signing, he or she takes responsibility for the loan should the primary borrower default, reducing the risk for the bank.
The Loan Process
Most borrowers can apply for personal bank loans online through a simple form, either through a lending network or a specific bank's website. The form will require basic personal information, such as name and address, as well as financial information, including income and banking details. Most lenders, including banks, will require you to have at least a checking account to obtain a personal loan.
If applying directly to your preferred bank through an online form, you may receive the bank's decision within minutes of submitting your information. For some banks, however, you may need to go to a local branch in-person to complete the process and obtain your funds.
If using a lending network to broaden your options and apply to multiple banks at once, you'll be presented with all approved loan offers after your form is submitted. At this point, you can compare rates and terms to determine the best offer. Once you select an offer, you'll be taken to the lender's site to complete your agreement and set up delivery of your funds.
Potential borrowers can usually get a personal loan — one of the simpler lines of credit to obtain — from a bank or other lender relatively quickly; many loans can be dispersed within 48 hours. That said, the size of the loan you wish to obtain may influence the rate and complexity of the loan process.
How to Get an Auto Loan
In today's market, a new car buyer can expect to pay around $34,000 for the pleasure of a new car. Since the average American likely isn't sitting on that kind of cash, people often turn to auto loans to stay on the road.
Although many aspects of obtaining an auto loan are similar to those of personal loans, auto and personal loans vary in two key ways. Firstly, where personal loans can be used to purchase just about anything you need, auto loans can only be used to purchase consumer vehicles such as cars, trucks, and motorcycles.
Secondly, while personal loans are unsecured loans and require no collateral to obtain, auto loans are secured loans for which the purchased vehicle represents the collateral. In other words, your auto loan is secured by the auto itself, and your vehicle can be repossessed in the event that you default on the loan.
Choosing a Lender
Finding an auto loan may be even easier than finding a personal loan in some respects, not just because it is a secured loan and less risky to the lender, but also because there are so many different types of lenders offering auto loans. For instance, the dealership where you purchase your car will likely offer auto loans, as will your local credit unions and banks. Once again, however, your best option may be to shop online.
As with personal loans, you can shop for auto loans through an online lending network made up of many different lending partners. Often by filling out a single form, borrowers can find loan offers from several banks and other lenders, and to comparison shop for the best rates and loan terms.
Network of dealer partners has closed $1 billion in bad credit auto loans
Specializes in bad credit, no credit, bankruptcy and repossession
In business since 1999
Easy, 30-second pre-qualification form
Bad credit applicants must have $1500/month income to qualify
| Interest Rate | In Business Since | Application Length | Reputation Score |
| --- | --- | --- | --- |
| 3.99% - 29.99% | 1999 | 3 minutes | 9.5/10 |
Auto loan amounts of up to $150,000
Prequalify in minutes without impacting your credit score
Refinancing loans save an average of $191 per month
125% financing available for cash-out refis
PenFed Credit Union membership required but can be applied for at the same time as your loan
| Interest Rate | In Business Since | Application Length | Reputation Score |
| --- | --- | --- | --- |
| 5.19% and up | 1935 | 5 minutes | 9.5/10 |
RefiJet helps people lower their monthly auto payment by an average of $150 a month*
Pre-qualifying for a refinance auto loan does not impact your credit score
Nationwide network of lenders
We present you with options from lenders that fit your situation
| Interest Rate | In Business Since | Application Length | Reputation Score |
| --- | --- | --- | --- |
| Varies | 2016 | 5 minutes | 9.0/10 |
The actual rates and terms you are offered will vary not just by lender, but also based on the type of vehicle you are purchasing, including whether it is a new or used vehicle. The average auto loan will come with terms between 12 and 60 months, although rising vehicle prices have led to some lenders offering terms extending seven years or more for new vehicle purchases.
The Credit Requirements
As with most loan types, including personal loans, auto lenders don't often publish hard-and-fast rules regarding the minimum credit scores needed to obtain a loan. That said, those whose scores would make it a struggle to obtain a personal loan — namely, FICO scores below 580 — will also struggle to obtain an auto loan.
Unlike with unsecured personal loans, however, low credit applicants for auto loans may have more options for obtaining approval. Specifically, borrowers with bad credit who can meet certain income requirements, typically $1,200 to $1,500 a month, may be accepted by the lender despite their credit scores.
Auto loan applicants may also be able to improve their chances by making a larger down payment on their loan. This can be in the form of cash directly to the lender, but may also include trading in a previously owned vehicle to the dealer to reduce the purchase price of the new vehicle. Either method lowers the loan-to-value ratio of the loan, reducing the risk for the lender.
The Loan Process
The process for applying for an auto loan is much the same as that for a personal loan, especially if done through an online lending network. The main difference is that of the vehicle; in many cases, you'll be required to have a particular vehicle selected before you can get the loan and will need to provide vehicle information during the application.
If you don't have a specific car in mind, many lenders will offer a pre-approval process. Getting pre-approved for an auto loan will usually involve a hard credit check, which means it may have a small impact on your credit. You won't need to provide any vehicle information to get pre-approved and it can give you a good idea of your new car budget. Being pre-approved can also make things easier at the dealer because it shows that you are legitimately interested in purchasing a vehicle.
Once you've found a vehicle, you can apply for the car loan. When you apply — or, better yet, before you even shop for a vehicle — you'll need to determine the details of your repayment plan. Auto loans, like personal loans, are repaid through monthly installments, so you'll want to look at all of the factors.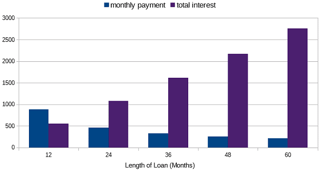 Instead of simply choosing the lowest monthly payment, be sure to crunch your numbers. A lower monthly payment made over a longer period of time can turn out to be a worse deal than a larger monthly payment over a shorter time period, so choose your loan terms carefully.
For example, consider a $10,000 car loan with an APR of 10%. While accepting a loan term of 60 months would ensure a monthly payment of only $212, the borrower would end up paying a total of $2,757 in interest on top of the principal amount. On the other hand, by choosing a shorter loan term, such as 36 months, the borrower would pay $323 a month but save $1,143 over the course of the loan.
How to Get a Home Loan
If the average American is hard-pressed to save up the $34,000 needed to purchase a new car with cash, then putting together the median $199,200 needed to buy a house would likely seem impossible. Fortunately, just as auto loans help us drive our vehicles while we pay for them, rather than after, millions of Americans are currently living in their own homes thanks to mortgage loans.
Home loans are similar to auto loans in that both are types of secured loans, backed by the collateral represented by the object being purchased. In this case, your mortgage is secured by the house itself, which can be repossessed — or foreclosed, as it's called in the housing industry — in the case that you default on your loan.
Choosing a Lender
Since owning a home is an integral part of the American spirit, many programs are in place to encourage and support those who wish to enter the realm of homeownership. Even those with poor credit may find a way to obtain a mortgage loan and purchase their own home. In fact, the first step to getting a home loan is actually to determine which type of home loan you need.
In most cases, the type of loan you'll need will depend on four factors, including your credit, income, and down payment amount. If you can put down 20% or more of the purchase price and/or have good to excellent credit, you may want to try for a conventional home loan.
Those who can't afford a large down payment or whose credit would disqualify them from a conventional loan should look into an FHA (Federal Housing Authority) loan. Backed by the government, FHA loans present a lower risk to lenders and thus are easier to get with poor credit. They also have lower down payment requirements, typically between 3.5% and 5% of the purchase price.
And, once again, the best place to find and compare loan offers from multiple banks and lenders is going to be an online lending network. At the same time, many major banks provide competitive mortgage rates, so shop around for the best deal.
America's largest mortgage lender
The entire process is completed online
Options for new mortgages and refinancing existing mortgages
Award-winning customer service and cutting-edge digital platforms
More than 90% of clients would recommend us
| Interest Rate | In Business Since | Application Length | Reputation Score |
| --- | --- | --- | --- |
| Varies | 1985 | 5 minutes | 9.5/10 |
Best for cash-out refinance
Utilize your home equity with America's #1 lender
eClosing allows customers to close electronically, greatly speeding the process
A+ rating with the BBB
Receive cash for home improvements, college tuition, or paying off debt
24/7 access to your loan through the Rocket Mortgage app
| Interest Rate | In Business Since | Application Length | Reputation Score |
| --- | --- | --- | --- |
| Varies | 1985 | 5 minutes | 9.5/10 |
Get today's mortgage rates from the top mortgage lenders and banks
Easily compare and choose mortgage lenders with no obligations or fees
Review current mortgage rates side by side
Pick mortgage lenders that meet your specific needs
Compare rates from pre-qualified and approved mortgage lenders — 100% online, 100% free
| Interest Rate | In Business Since | Application Length | Reputation Score |
| --- | --- | --- | --- |
| Varies | 1979 | 4 minutes | 8.5/10 |
Home loans come with several different types of interest rates, including a fixed rate or variable rate. As it sounds, fixed interest rates remain the same throughout the life of the loan, whereas variable interest rates fluctuate based on the market. And home loans typically have terms of either 15 years or 30 years.
The Credit Requirements
In contrast to both personal and auto loans, some home loans actually do have specific published credit score requirements. In particular, FHA loans require borrowers to have a minimum FICO score of 580 to qualify for the lowest down payment amount of 3.5%. Certain specialty loans, such as VA loans, will also have specific credit score requirements, some varying by state.
Additionally, the industry standard is that banks and other lenders require a FICO score of 620 or higher to qualify for a conventional mortgage, assuming a 20% down payment. Some lenders may offer loans with lower down payments to applicants with good to excellent credit.
The Loan Process
As with an auto loan, you can get pre-approved for a mortgage before you begin your search to confirm your house shopping budget (or, in the case of bad credit, if you can qualify at all). Keep in mind that mortgage pre-approval will involve a hard credit inquiry and might have a small impact on your credit score.
Also, as with auto loans, home loans require that you have a specific property selected before you can apply for the loan. Only after you've found a house that suits your needs — and your price range — can you officially apply for a mortgage. But here is where the mortgage process differs from other types of loans: you don't actually get the money if your loan is approved.
In fact, you likely won't even sign your final loan documents until you reach the closing table. Long before the bank or lender will agree to fund the purchase, it will require you to have an official appraisal performed to ensure the property is worth at least as much as you agreed to pay for it. You may also need a complete home inspection for some types of loans, including FHA loans. (A home inspection is always a good idea, even when not technically required.)
Your Credit Doesn't Have to Stand Between You & Your Loan
Thanks to the improvements brought by modern technology, applying for a bank loan is now easier than ever. It also isn't your only option anymore, so finding a loan doesn't have to be derailed by your poor credit.
As long as you know where you stand and what to expect from the process, getting a bank loan for your personal needs, new car purchase, or adventure into home buying, can be simple and (relatively) painless. Whether you head to your local branch or pop onto your trusted online lending network, almost anyone can find the right loan for their needs.
Advertiser Disclosure
BadCredit.org is a free online resource that offers valuable content and comparison services to users. To keep this resource 100% free for users, we receive advertising compensation from the financial products listed on this page. Along with key review factors, this compensation may impact how and where products appear on the page (including, for example, the order in which they appear). BadCredit.org does not include listings for all financial products.
Our Editorial Review Policy
Our site is committed to publishing independent, accurate content guided by strict editorial guidelines. Before articles and reviews are published on our site, they undergo a thorough review process performed by a team of independent editors and subject-matter experts to ensure the content's accuracy, timeliness, and impartiality. Our editorial team is separate and independent of our site's advertisers, and the opinions they express on our site are their own. To read more about our team members and their editorial backgrounds, please visit our site's About page.