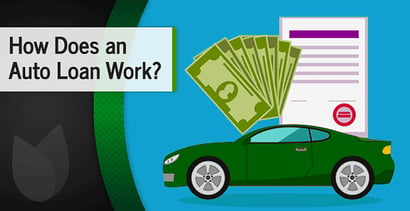 If you're preparing to make your first automobile purchase, you may be wondering, "How does an auto loan work?" Or perhaps you've been through the process before but would like to gain some more clarity on the purchasing procedure to make sure you're getting the most bang for your buck.
With over 260 million automobiles parked in the driveways and driving on the parkways throughout the US, it can be hard to imagine a life without them. But just a short 100 years ago, a measly 4.8 million vehicles were registered in the US — a tiny 1.8% of their current population.
In addition to the massive surge in the sheer number of vehicles, the average cost to purchase a new one has also dramatically increased. In 1917, a brand new Model T was $695, or about $14,480, when adjusted for inflation — less than half of the $33,560 a new car will cost you today.
The increase in the number of automobiles in America, despite their rising cost, is due, in part, to the advent of the auto loan. Similar to a mortgage loan used to purchase a house, the auto loan is a line of credit extended by a lender for the purpose of purchasing a vehicle. In this article, we'll dive into the world of auto loans and look at how they work, financing options, how credit impacts your loan possibilities, and refinancing.
1. Auto Loans Are Secured Loans
Most loans can be lumped into one of two categories: secured loans and unsecured loans. The main difference between the two loan types is that secured loans are secured against default, generally by means of some type of collateral.
For auto loans, the collateral securing your loan is in the form of the vehicle you purchase. This means that in the event you default on the loan, the creditor can repossess your vehicle and sell it to recoup its losses.
In contrast, unsecured loans are just that: unsecured. Because borrowers don't put down any collateral for an unsecured loan, the lender has to find a way to buffer itself from any losses in a potential default. It does this by charging much higher interest rates for unsecured loans.
For instance, the average auto loan has an APR around 4.4%, according to Bankrate. In contrast, a personal loan — a type of unsecured loan — can have an APR ranging from 10% all the way up to 25%. Over the course of a five-year loan, even doubling the interest rate can be expensive, let alone paying five (or more) times more.
| Interest Rate | Total Interest Paid |
| --- | --- |
| 4 | $3,465 |
| 8 | $7,147 |
| 12 | $11,044 |
| 16 | $15,150 |
| 20 | $19,458 |
The table above shows potential interest rates for a new car costing the average $33,000. As you can see, a two-digit interest rate can mean paying a five-digit interest rate. So, while you can technically use an unsecured personal loan to purchase a vehicle — don't. Furthermore, always shop around for the best rate on your auto loan, as shaving a little off your APR can have big results.
2. Your Credit Impacts Your Loan Terms
While secured loans will have much lower rates compared with rates for unsecured loans, your actual auto loan interest rate will depend on your personal creditworthiness. Even though the loan is secured by your vehicle, lenders don't actually want to go through the involved process of repossession — they'd much rather you simply pay them as agreed.
Of course, most creditors don't just assume you'll pay them back. Instead, when you apply for an auto loan, the lender will request copies of your credit reports and scores from one (or more) of the three major bureaus, TransUnion, Experian, and Equifax.
After analyzing your credit reports and scores, the lender will assess your overall credit risk. Lenders will give the best interest rates to those borrowers who present the lowest risk of defaulting on their loan before it is repaid, which is generally those with the highest credit scores.
The borrowers more likely to default — determined by their low credit scores — are charged higher interest rates to protect the lender against potential losses in the event the borrowers can't repay their loan. Poor financial behaviors, such as missed payments, maxed out credit cards, or bankruptcies, are all red flags to creditors.
3. The Bank isn't Always the Best Financing Deal
Your creditworthiness isn't the only thing impacting your auto loan interest rate. As with just about everything else you purchase, where you obtain your loan will have an impact on the interest rates you're offered.
And there are a lot of places to get an auto loan these days. Most dealerships, especially those proffering new vehicles, will have their own internal financing departments. However, while convenient, dealerships may not always offer the best rates.
The same can be said of many major banks; in particular, those with lower credit scores may find it difficult to even get approved for a loan from a picky financial institution. Checking with local credit unions can be a good way to score a deal, but some of the best rates may actually be online.
In fact, not only are there great auto loans online, but using an online auto loan network, such as our expert-rated picks below, can be the easiest way to compare rates from hundreds — or even thousands — of lenders, in just minutes.
Network of dealer partners has closed $1 billion in bad credit auto loans
Specializes in bad credit, no credit, bankruptcy and repossession
In business since 1999
Easy, 30-second pre-qualification form
Bad credit applicants must have $1500/month income to qualify
| Interest Rate | In Business Since | Application Length | Reputation Score |
| --- | --- | --- | --- |
| 3.99% - 29.99% | 1999 | 3 minutes | 9.5/10 |
Auto loan amounts of up to $150,000
Prequalify in minutes without impacting your credit score
Refinancing loans save an average of $191 per month
125% financing available for cash-out refis
PenFed Credit Union membership required but can be applied for at the same time as your loan
| Interest Rate | In Business Since | Application Length | Reputation Score |
| --- | --- | --- | --- |
| 5.19% and up | 1935 | 5 minutes | 9.5/10 |
RefiJet helps people lower their monthly auto payment by an average of $150 a month*
Pre-qualifying for a refinance auto loan does not impact your credit score
Nationwide network of lenders
We present you with options from lenders that fit your situation
| Interest Rate | In Business Since | Application Length | Reputation Score |
| --- | --- | --- | --- |
| Varies | 2016 | 5 minutes | 9.0/10 |
For those whose credit is less-than-stellar, an online marketplace can give you the best chance of getting approved at a decent rate by providing a range of lenders from which to choose. Before accepting any line of credit, however, be sure to research the specific lender for any red flags.
4. You Can Refinance Your Auto Loan
Whether you failed to comparison shop or were dealing with a low credit score at the time of purchase, sometimes you simply get stuck with a high interest rate on your auto loan. The good news is, you're not stuck with your high rate forever. As with most other types of loans, your car loan can be refinanced.
In refinancing, you take out a new loan — with better terms — to pay off your existing loan. For instance, if you currently have, say, a dealer loan with an interest rate on the high side, you may be able to refinance with an online lender for a lower rate. Lowering your interest rate not only decrease the total amount you pay for the vehicle, but can also lower your monthly payments and/or decrease the number monthly payments you make.
You can refinance your auto loan at any time, though if your car is worth less than you owe, it may be difficult to find a lender. As with a regular auto loan, the lender will check your credit reports and scores to check your creditworthiness.  And, exactly like a regular auto loan, the interest rate you receive when you refinance will be based on your overall credit risk.
Because your rate is dependent upon your credit score, refinancing can be highly beneficial to those who have recently improved their credit scores. Perhaps you've enlisted the help of a quality credit repair company, had some negative items drop off your report — or have simply been working diligently to maintain healthy financial habits. Whatever the case, higher scores mean lower rates, so it may pay to shop around.
5. Longer Loans May Cost You More
One thing to keep in mind, both when taking out a new loan and refinancing an old one, is the length of your repayment terms. As the base cost of automobiles has increased, so, too, has the time it takes to pay for them. The average auto loan terms are for more than 60 months — that's longer than five years just to pay off your new car.
If the sheer commitment of making car payments for half a decade isn't enough to make you pause, consider this: the longer you take to pay back your auto loan, the more that car is going to cost you. Although your monthly payment shrinks when you increase the "length of loan" feature of the auto loan calculator, the total interest you pay on that loan grows — a lot.
| Length of Loan | Monthly Payment | Total Interest Paid |
| --- | --- | --- |
| 36 Months | $960 | $1,548 |
| 48 Months | $730 | $2,061 |
| 60 Months | $593 | $2,578 |
| 72 Months | $501 | $3,100 |
For example, consider an average new car with a purchase price of $33,000, with the maximum loan terms, in this case, 72 months (six years). That would add more than $3,000 in interest to the cost of the car over the course of the loan.
If you can't afford the monthly payments for the vehicle you like, don't extend the loan terms. Instead, consider putting down a larger down payment, trading in your old vehicle — or purchasing a cheaper car.
6. You Can Get an Auto Loan with Bad Credit
A hundred years ago, cars were a growing novelty, owned by a mere 4.7% of the 103 million people in the US. Since then, the US population has tripled, with over 325 million people — and 80% of them now own a vehicle.
Yes, for many areas of the country, owning a car is no longer a luxury, but a necessity, enabling people to travel to jobs that would otherwise be out of reach. Thankfully, purchasing a vehicle is an attainable goal for most people, even those with bad credit.
While borrowers with low credit scores won't see the most favorable interest rates, many lenders are willing to take the chance on a riskier borrower. Using an online lending network can help you find a wider range of potential lenders from which to choose.
Advertiser Disclosure
BadCredit.org is a free online resource that offers valuable content and comparison services to users. To keep this resource 100% free for users, we receive advertising compensation from the financial products listed on this page. Along with key review factors, this compensation may impact how and where products appear on the page (including, for example, the order in which they appear). BadCredit.org does not include listings for all financial products.
Our Editorial Review Policy
Our site is committed to publishing independent, accurate content guided by strict editorial guidelines. Before articles and reviews are published on our site, they undergo a thorough review process performed by a team of independent editors and subject-matter experts to ensure the content's accuracy, timeliness, and impartiality. Our editorial team is separate and independent of our site's advertisers, and the opinions they express on our site are their own. To read more about our team members and their editorial backgrounds, please visit our site's About page.