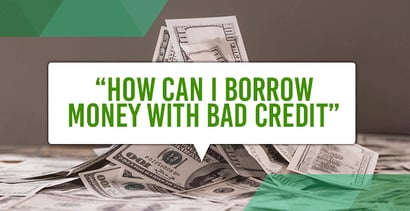 "Out of sight, out of mind" is a common phrase to describe the amazing ability most of us have to completely forget anything not right in front of us. (You know, like that burnt-out basement bulb you never remember until you head down the stairs in the pitch black.)
Sadly, for many of us, our credit profiles also fall into the realm of things we forget about until we need them. As a result, it's not uncommon to remember your credit is less-than-great only after you stumble into a financial emergency requiring a loan or credit line. At that point, it's easy to begin feeling discouraged, and you may find yourself scrambling for options and asking, "How can I borrow money with bad credit?"
It can be disheartening to find yourself in need of funds at the same time you realize your credit is a problem. But while qualifying for financing with a troubled credit history isn't as simple as changing out a broken light bulb, there are several ways to borrow money with bad credit.
Find a Lender with Flexible Credit Requirements
At the end of the day, the main thing standing between you and financing is the creditor, since, well, the creditor has the money. This makes the most important step in borrowing money with bad credit finding a lender with flexible credit requirements.
In general, the credit scores considered to be subpar will vary based on the type of loan you're after. Personal loans are typically the easiest to obtain with poor credit, though larger loans, such as those for auto and home purchases, may also be obtained with the right lender in some cases.
Personal Loan Providers
Personal installment loans are typically used to finance a wide range of personal expenses, from car repairs to medical bills or even debt consolidation. They're some of the most flexible loan types and generally have no restrictions on how they can be used.
One of the easiest ways to find a flexible personal loan provider is to go through an online lending network, which can help you connect with dozens of lenders from around the country. Lending networks, like those below, can help you compare terms, rates, and fees with the potential for multiple offers from a single application.
While our top personal loan lending networks have no minimum credit scores, individual lenders can set their own requirements. Additionally, qualifying will depend on more than just your credit score; lenders will evaluate your entire credit profile before making a decision.
Other factors, including your income level, will also weigh into the decision of whether to offer you a loan — and for how much. A larger income may help (partially) offset a low credit score. Similarly, if lenders don't feel you have the means to repay a loan, they'll be unlikely to lend to you, regardless of your credit profile.
Auto Loan Providers
Purchasing a vehicle, whether new or used, is a costly prospect these days, with even used cars pushing the $20,000 mark. Auto loans are nearly always the most affordable option for financing an auto purchase, but finding a car loan with bad credit can be a challenge.
While dealers aren't known to offer the most favorable car loan terms, they are often more flexible about the credit types to which they'll offer loans. Online dealer networks, like those below, can help you connect with local dealers willing to work with your credit to help you purchase a vehicle.
While traditional auto loans typically require that you have a vehicle picked out before you can apply for the loan, using an online dealer network to help find financing works a little differently.
In particular, rather than choosing a car before applying, you'll apply through the online dealer network to be matched up with a local dealer. Once you select a dealer, you'll set up a time to visit the dealership and browse the available vehicles before choosing a car and completing the process.
Home Loan Providers
When looking for housing, a low credit score can get you from any direction. Not only can bad credit make it more expensive to rent an apartment — security deposits are no joke — but it can also make it nearly impossible to find a home loan to purchase your own property.
While several types of home loans are available with no minimum credit scores, not every lender will offer all types of home loans. That's where an online lending network, like those below, can help. Online lending networks can connect you with potential lenders from across the country, increasing your chances of finding a flexible lender.
Given that conventional home loans are generally out of reach for consumers with credit scores below 680, government-insured home loans are likely the best — and, sometimes, only — way to get a mortgage with bad credit.
These loans are insured by a government agency and present minimal risk to lenders, which means they can afford to be more flexible in approving borrowers. However, while most government-insured home loans have no minimum credit score requirements, each lender can set its own requirements.
Additionally, most government-backed mortgages come with many other qualifications, including limits on the type of property you can buy — many require you to live in the home as your primary residence — as well as restrictions on where the property can be located.
Use a Cosigner with Good Credit
If you can't find a flexible lender — or even if you can — you may need to consider asking a friend or family for help borrowing money with bad credit. In particular, many auto lenders will allow applicants to apply with a qualified cosigner.
Basically, cosigners are people with good credit who agree to take responsibility for a loan or credit line in addition to the primary borrower. In some ways, cosigners are similar to co-applicants, but cosigners don't typically participate in using the funds.
And yes, good credit is required to become a cosigner. In fact, the better your cosigner's credit profile, the more help they'll likely be when it comes to getting a loan with favorable terms.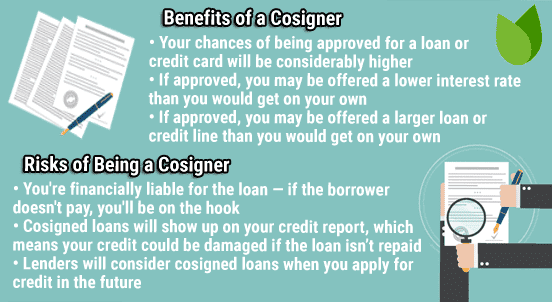 The upsides to applying with a cosigner are many — for the main borrower, at least — starting with a better chance of being approved. Applying with a well-qualified cosigner can also increase the size of the loan for which you're approved, as well as potentially reducing the interest rate charged for the credit line.
The downsides to using a cosigner are mostly for the cosigner, rather than the primary applicant. Specifically, cosigners are financially and legally responsible for the debt. So, if the primary borrower can't — or, worse, won't — repay the debt, the lender can (and most definitely will) go after the cosigner for repayment.
Furthermore, that financial responsibility also includes the loan being reported on the cosigners credit reports. This means that any late payments, missed payments, or other irresponsible actions with the loan will likely damage the credit scores of both the main borrower and the cosigner.
Make a Down Payment or Provide Collateral
The amount of money you're asking to borrow will be a huge factor in getting approved no matter what type of loan you're trying to obtain. And this is true no matter what your credit looks like — though it's extra important when you have poor credit.
If you have poor credit and a limited income, asking for a loan larger than the lender thinks you can repay will result in an automatic denial. Even with good credit, asking for a loan larger than your means can cause you to be rejected as a credit risk.
Other than asking for less money outright, the simplest way to get around this problem is to provide some type of down payment. This reduces the overall loan-to-value (LTV) ratio, which means less risk for the lender. It also helps to show the lender that you're serious about repaying your loan.
For auto loans, your down payment can usually be made as a cash down payment or, depending on the dealer, or with a trade-in vehicle.
Since you'll rarely get full market value out of a trade-in, however, it's often recommended to try and sell the vehicle on your own and use the cash for a down payment, rather than rely on a trade-in deal.
Mortgage loans are one of the few credit products that nearly always require a down payment of some sort — but more is better when you have poor credit. In general, providing a down payment of at least 20% is the best way to improve your chances of being approved.
In most cases, personal loan lenders won't be interested in a cash down payment. However, some lenders may allow you to obtain a secured personal loan by using the title to an owned vehicle or other valuable property as collateral for the loan.
Borrowing with Bad Credit Isn't Impossible
For a small contingent of the consumer base, credit scores are a game — one they intend to beat. These overachievers are among the 1.4% of consumers with perfect credit scores, a feat that likely required near-constant monitoring and round-the-clock awareness of their scores and profiles.
For the rest of us, our credit scores are usually both out of sight and out of mind; unless we're applying for a new credit card or moving into a new apartment, the majority of people simply don't think about their credit every day.
But while it's hardly necessary to keep daily tabs on your credit scores, completely ignoring them is a sure way to wind up in trouble — and out of luck when the next emergency hits and you need to borrow money.
Thankfully, borrowing money with bad credit isn't an impossible task, however hopeless it may seem at first thought. Options do exist to find financing, including flexible lenders that will work with your credit to help you get the funds you need.
CashUSA.com & Other Resources
We hope you've found our guide "How Can I Borrow Money with Bad Credit? (Sep. 2023)" to be helpful in meeting your financial needs. To learn more about CashUSA.com, our top recommendation in this guide, be sure to visit the CashUSA.com website for full details about the offer.
Our experts rate CashUSA.com as one of the best options in personal loans for those with bad credit, giving it a 4.7/5.0 rating overall. Among its features:
Loans from $500 to $10,000
Receive a loan decision in minutes
Get funds directly to your bank account
Use the loan for any purpose
For more resources similar to this "How Can I Borrow Money with Bad Credit? (Sep. 2023)" guide, see our other popular picks for those with bad credit:
Whether you choose CashUSA.com or any other option in our personal loans category, be sure to read and understand the terms before signing up. You'll find that taking the time to fully understand personal loans is one of the smartest financial decisions you can make.
Advertiser Disclosure
BadCredit.org is a free online resource that offers valuable content and comparison services to users. To keep this resource 100% free for users, we receive advertising compensation from the financial products listed on this page. Along with key review factors, this compensation may impact how and where products appear on the page (including, for example, the order in which they appear). BadCredit.org does not include listings for all financial products.
Our Editorial Review Policy
Our site is committed to publishing independent, accurate content guided by strict editorial guidelines. Before articles and reviews are published on our site, they undergo a thorough review process performed by a team of independent editors and subject-matter experts to ensure the content's accuracy, timeliness, and impartiality. Our editorial team is separate and independent of our site's advertisers, and the opinions they express on our site are their own. To read more about our team members and their editorial backgrounds, please visit our site's About page.