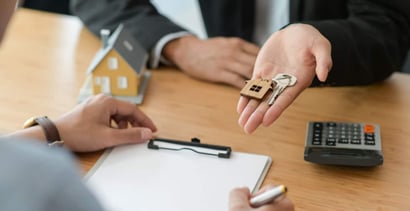 If you've experienced shabby treatment from a bank when you applied for a mortgage, expect a different attitude from these home lenders for bad credit. They welcome all homebuyers — not just those with good credit scores — and operate online to provide fast and convenient service. 
You can apply to these lenders for a subprime mortgage, home equity loan, cash-out refinancing, or even a reverse mortgage. Best of all, you can look to them for a loan offer despite your poor credit.
9 Subprime Mortgage Services
Each of these home lenders earns our Editor's Best designation for their services and offers. Some are direct lenders, while others can source you multiple bad credit loan offers. These lenders can swing it if there's a way to get you a home loan. 
eMortgage is our top selection for bad credit home loans. The company is an independent comparison service rather than a direct loan provider. It works with a network of mortgage lenders to find loans for subprime borrowers looking to buy a home or refinance their existing loan.
You only need an internet connection to receive competitive quotes on your digital device. You can request quotes for a mortgage loan or a refinancing home loan by providing the loan amount, property value, state, and your credit rating. 
Rocket Mortgage is America's largest mortgage lender. Whether you're an experienced homeowner or a first-time buyer, Rocket Mortgage can help you secure financing for the home you want, even if you don't have good credit.
You can lock in Rocket Mortgage's current loan rate for 90 days with RateShield®. The lender also offers financial assistance to help pay your down payment and closing costs, subject to a minimum credit score of 620 and other eligibility criteria.
The FHA Rate Guide is not a service of the Federal Housing Administration and isn't an FHA loan provider. It is an online source of editorial content and directory information about mortgages and loans. The company's FHA lender network can generate multiple loan offers for you in a minute or less. 
FHA Rate Guide works with SecureRights, a third-party platform that verifies consumer information, to help protect you from fraud and privacy violations when working with an FHA lender.
Quicken Loans is a corporate cousin to Rocket Mortgage that can help you buy or refinance your home, but it does not provide home equity loans. The lender has provided affordable mortgages and award-winning client service for more than 35 years.
The Quicken Loans website offers a monthly-payment calculator for home purchases using the home's price and down payment. You can also calculate a refinance loan by entering your current mortgage loan balance and the approximate current value of your home.
eMortgage can offer you a first or second mortgage to buy a home, cut your current interest rate, lower your monthly payments, or convert to a fixed mortgage rate. The bank provides home equity loans and home equity lines of credit (HELOCs) based on your home's current value and existing mortgage balance. 
The website can get you an estimated home price and monthly mortgage payment using your submitted data, including your income, monthly debt, down payment, and location. Wells Fargo works with all credit types, including bad credit borrowers with a lower credit score (i.e., below 620).
There's no cost to prequalify for a bad credit home loan from Bank Of America Mortgage. Its so-called Digital Mortgage Experience starts with an online dialogue that quickly walks you through the procedure. If you successfully prequalify, you'll provide additional information for a final review and approval.
The bank's online calculator uses the home's purchase price, down payment, and ZIP code to find your current interest rate. You can also use the calculator for refinancing loans and HELOCs.
CitiMortgage has suspended its home equity loans, but you can still apply for a mortgage or cash-out refinancing. Since mortgage interest is deductible, you may increase your tax deduction by using the cash-out proceeds to pay down non-deductible debts. 
The bank frequently offers promotions such as a credit toward your closing costs and special pricing for Citi customers. The online CitiMortgage Refinancing Calculator estimates what your new monthly payments will be.
The U.S. Department of Veterans Affairs honors your service to our country through its VA-Guaranteed Home Loan Program. You must apply for and receive a Certificate of Eligibility (COE) to qualify for a loan. You can then shop for mortgages from lenders participating in the VA loan program.
The lender will request a VA loan appraisal that estimates the house's market value at the time of inspection. If it accepts your application, the lender will work with you to select a title company and close on the loan.
If you prefer countryside living, USDA Rural Housing Loans can help in two ways. First, its Section 502 Guaranteed USDA Loan Program works with approved lenders to finance rural primary homes. 
Second, its Section 502 Direct USDA Loan Program offers monthly payment assistance to low-income families, thereby increasing their ability to repay the loan.
What Are the Different Types of Home Loans For Bad Credit?
Two types of home loans are available – one for homebuyers and another for homeowners. Poor credit need not prevent you from obtaining either type of loan.
First Mortgages
A first mortgage is the initial loan for purchasing a house. It is an amortizing installment loan, meaning the ratio of interest to principal in your monthly payments changes over time. 
At first, nearly all the money goes toward interest, as lenders lock in their earnings as soon as possible. After several years, the percentage going toward principal repayment increases significantly.
Home mortgages may be conventional or government-insured (i.e., through the FHA, VA, or USDA). A conventional mortgage is not part of a government program and is harder to qualify for. 
A conventional mortgage's maximum loan amount varies from $647,200 to $970,800, depending on where you live. Unconventional jumbo mortgages are larger. 
You may need to purchase private mortgage insurance (PMI) if you need to finance more than 80% of the home's current value. Mortgage insurance pays the lender if the homeowner doesn't pay the bill.
A conventional loan may or may not conform to the standards Freddie Mac and Fannie Mae set for conforming loans. Non-conforming conventional loans are less standardized, and each lender sets pricing, eligibility, and features.
A low credit score may influence the requirements and cost of your down payment: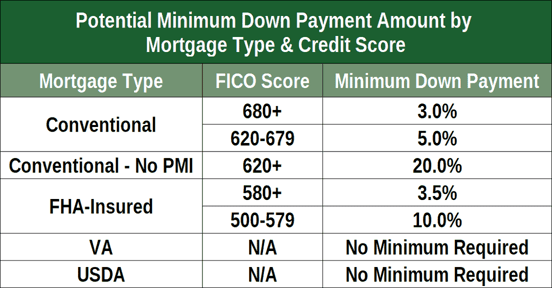 An FHA loan requires a FICO Score of 580 or higher to qualify for the lowest down payment amount (3.5%). But lenders set their own credit score standards, even for government-backed loans, so you may need a larger down payment if your score is below 620.
Often, first-time home buyers are eligible for special deals and promotions, such as down payment assistance grants. Some lenders allow you to borrow the down payment.
Home Equity Loans
Equity is the current value of your home minus your mortgage balance. You can get a loan for a portion of the equity you've built up over time. It's a lump-sum loan with a set repayment term composed of monthly installments, similar to a mortgage. 
Lenders usually limit the total size of home debt (i.e., first and second mortgages) to 90% of your equity (i.e., the loan-to-value ratio). Still, some lenders may approve up to 100% financing.
Home Equity Lines of Credit (HELOC)
A HELOC is similar to a home equity loan except for its disbursement. It is a revolving credit line that charges interest only when you draw funds from it, similar to how credit cards work. You can transfer funds online to and from the HELOC, and the lender may also provide you with checks and/or a debit card to access your funds.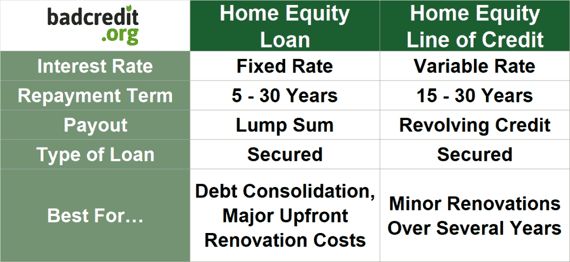 You must pay the minimum balance due each month but otherwise control how much you borrow and repay. The HELOC withdrawal period usually expires after 10 years but may allow a repayment period of up to 30 years.
Cash Out Refinancing
You can trade equity in your home for cash through this loan type, in which you repay your current loan with a larger one and pocket the remainder (after fees). You can get conventional or non-conventional refinancing, including a VA Cash Out Refinance Loan for up to 100% of your home's value.
When you refinance, you can negotiate a different loan amount, interest rate, and loan term, which combine to determine your monthly payments. Ideally, you'd like to score a lower interest rate, but that's unlikely during inflationary periods. 
Reverse Mortgages
A reverse mortgage is a loan against the equity of your house that you repay when you no longer own the property. It is available to seniors 62 and older. You may take the loan as a lump sum, credit line, or equal monthly payments (called tenure).
Reverse mortgages are ever more popular, but be wary of high fees and interest rates. Remember, you are still responsible for the home's upkeep, including insurance and taxes.
Rent to Own
When looking for a place to live, you must decide whether to rent or buy. There are many factors, including your bad credit score, to consider when choosing which way to go.
A rent-to-own property is a hybrid arrangement in which part of your monthly rent payments goes toward the down payment for the home's purchase. You can buy the house for a specific price after a set period. The FTC warns about rent-to-own scams, such as:
The seller is an imposter that doesn't own the property
The owner owes property taxes
The house is in bad condition or is unsafe
The owner doesn't honor repair promises
The property is in foreclosure
These deals can be devilishly complex, even when legitimate, so go into a buy-to-own arrangement with eyes open (and perhaps the help of a lawyer).
How Do I Apply For a Home Loan?
For a conventional loan, you can apply directly to the lender, including the ones reviewed above. To apply for a government-guaranteed home loan, first contact the federal agency (FHA, VA, or USDA) and complete its paperwork. Then apply to one of the approved lenders from the agency's list. 
The application process requires a good amount of information about yourself, your finances, income, and debt. Your credit reports and scores will be pulled from all three credit bureaus. 
The middle of your three FICO scores is the one used to determine your loan terms. For example, if you have a 640 Experian FICO Score, a 622 TransUnion FICO Score, and a 660 Equifax FICO Score, the lender would record the 640 FICO Score. If you apply with a partner, the lower of the two middle scores will be used.
As part of the application process, you may have to make a down payment and schedule visits from a home appraiser and termite inspector. 
How Much Mortgage Can I Afford?
Several factors help determine the maximum mortgage you can afford. These include:
Income: Consider your total income before and after taxes. Include your spouse's or coborrower's income if appropriate.
Current obligations: Include your current vehicle loans, housing costs, credit card debt, student loans, alimony, child support, garnishments, and other commitments. Your debt-to-income ratio (DTI) usually must be no higher than 43%, and some lenders require a lower DTI, as low as 28% or less.
Credit history: A bad credit history may limit the size of available mortgages and saddle you with significantly higher interest rates. 
Down payment: A larger down payment reduces the size of your monthly payments, making the home more affordable. Don't forget to include taxes and insurance when estimating your monthly obligations.
Property value: As mentioned above, the property's loan-to-value (LTV) ratio caps the home loan size. Typical acceptable LTVs run from 85% to 100%. The higher the LTV, the less affordable the monthly payments.
What's the Lowest Credit Score You Can Have to Buy a House?
Mortgage lenders usually require a FICO Score of 620 or higher. The minimum for government-guaranteed mortgages is 580. But if you can put down at least 10%, you can get an FHA home loan with a credit score as low as 500.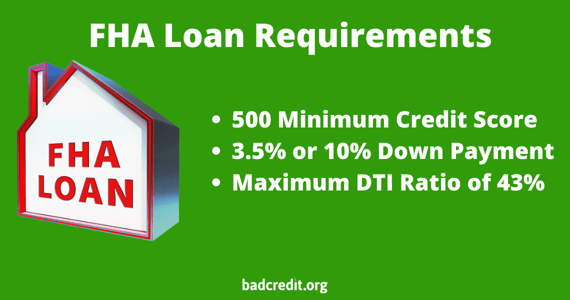 Some reviewed lenders may consider other ways to qualify you for a mortgage despite a really low credit score (i.e., below 500), but it's a steep climb: You'll have to make a sizable down payment and demonstrate a low DTI ratio.
What Happens If I Can't Repay My Home Loan?
Sometimes life gets in the way of your best-laid plans. Missing home loan payments indicates serious credit problems that can have dire consequences if left unaddressed, including collections and foreclosure. Besides losing your house, you'll receive a lower credit score, and the black mark will remain on your credit report for seven years.
To prevent things from escalating out of control, consider the following steps:
Ask for a loan modification: Negotiate changes to your loan, including a longer term (hence lower monthly payments), lower interest rates, a payment holiday, and even partial debt forgiveness. Many lenders may be willing to modify a loan rather than go through the expense of foreclosure.
Consolidate your debts: If you have several other debts (e.g., a personal loan, payday loan, student loans, credit card balances, etc.) in addition to your home loan, you may be able to consolidate them through a cash-out refinance loan on your home. You can use the proceeds to repay your personal loan or other debts while arranging a longer term on the home loan. This arrangement may reduce your monthly bills significantly.
In any event, the worst thing you can do is ignore your credit problems. Instead, contact your lender, explain the situation, and try to work out an accommodation. 
Choose the Home Lender Best Suited to Your Needs
Our review of home lenders for bad credit covers a lot of ground, from first mortgages to home equity loans to cash-out refinancing. Whatever your needs, some subprime lenders are willing to consider your loan application. 
Your home is probably your most significant asset. You can best protect it by using credit responsibly and paying your bills on time. 
Advertiser Disclosure
BadCredit.org is a free online resource that offers valuable content and comparison services to users. To keep this resource 100% free for users, we receive advertising compensation from the financial products listed on this page. Along with key review factors, this compensation may impact how and where products appear on the page (including, for example, the order in which they appear). BadCredit.org does not include listings for all financial products.
Our Editorial Review Policy
Our site is committed to publishing independent, accurate content guided by strict editorial guidelines. Before articles and reviews are published on our site, they undergo a thorough review process performed by a team of independent editors and subject-matter experts to ensure the content's accuracy, timeliness, and impartiality. Our editorial team is separate and independent of our site's advertisers, and the opinions they express on our site are their own. To read more about our team members and their editorial backgrounds, please visit our site's About page.