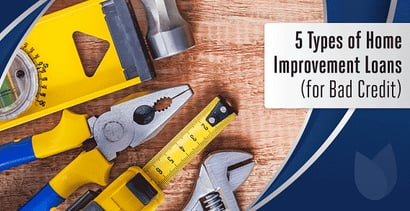 When it's time to make major repairs or improvements to your home, finding home improvement loans for bad credit may present an unwelcome challenge. But there are several avenues that you may be able to use to secure the funds you need to get your house back into shape.
The common adage, "They just don't build 'em like they used to," is often used to bemoan the lower quality of newer buildings versus the seemingly time-resistant structures of earlier generations.
Of course, anyone who happens to own one of those older buildings can likely tell you that no amount of quality construction can make a house last forever. Whether new or old, chances are good that your home will likely need some work done to it at some point.
While you can find a variety of options for home improvement financing, your options become a little less various when you have bad credit. That said, you may still have a handful of ways to find the funds you need to get your house back into shape.
Home Equity | Government-Backed Loans
Personal Loans | Credit Cards | Store Financing
1. Home Equity Loans
For many consumers with less-than-perfect credit, the best source of home improvement financing will likely be the home itself. That's because you can use the equity in your home as collateral for a loan, known as a home equity loan (or home equity line of credit, for reusable funds).
Using your home's equity as collateral can help reduce the risk to the lender from a low credit score, potentially helping you qualify for a loan despite poor credit. Many lenders that provide home loans will also provide home equity loans, but an online lending network, like those below, can help you find the best fit.
Although using your home's equity can help you qualify for a loan with a low credit score, your credit profile will still be a big factor in getting approved. Lenders ideally prefer scores above 700, so the higher you can boost your score before applying — and the more equity you have in your home — the better.
It's particularly important to pay down any credit cards with high utilization and to avoid opening any new credit accounts before applying for a home equity loan. Also, if you have negative accounts close to aging off your reports, consider waiting before applying.
When it comes to the loan itself, be sure to factor in the potential costs when exploring loan options. Many home equity loans will charge closing costs or origination fees, which can range between 2% and 5% of the total loan amount.
Of course, the biggest downside to home equity loans is that your home is on the line as collateral, meaning it could be at risk if you fall behind on your loan payments. Carefully consider the potential risks of a home equity loan before taking on a debt you may not be able to repay.
2. Government-Backed Rehabilitation Loans
Depending on the nature of the improvements needed by your home, you may be able to find financing through a government-backed rehabilitation loan. Since these loans are typically insured by a government department, they present low risk to lenders and can have flexible credit requirements.
The type of rehab loan you can qualify for can vary based on your credit, renovation needs, employment history, and location. FHA loans are available to most people, while other types of government rehab loans will have more specific requirements.


The FHA, or Federal Housing Administration, insures several types of mortgage loans, but its rehab loans are a part of the Section 203(k) program. Eligible borrowers can obtain a loan that can both purchase (or refinance) and rehab or repair a home. Covered work includes (but is not limited to) modernization, elimination of hazards, and energy conservation improvements.


The USDA (US Department of Agriculture) insures two types of rehab and repair loans for applicants in eligible areas without alternative options. Section 504 Home Repair program allows very-low-income homeowners to repair, improve, or modernize their home. The Section 502 Direct Loan Program assists low-income applicants and can be used to build, repair, or renovate.


The VA (Department of Veterans Affairs) offers two type of home improvement financing through the Specially Adapted Housing SAH) Grant or the Special Housing Adaptation (SHA) Grant. These grants provide funds to disabled veterans to construct, purchase, or remodel a home to accommodate certain service-connected disabilities.
When considering a government-insured rehab loan, be sure to do your homework. Not every property will qualify for a rehabilitation loan, and some loans will limit the type of renovations or repairs that can be made. Additionally, only certain banks will handle government-backed rehab loans.
3. Personal Installment Loans
In some cases, the best way to handle small repairs or improvements may be with a personal installment loan. For one thing, personal loans can typically be used to finance nearly anything, which means you can use them for whatever improvements you like.
Additionally, personal loans can be obtained fairly quickly in most cases, making them ideal for immediate repairs or improvements. Since credit requirements and dispersal time can vary by lender, you can use an online lending network, like those below, to connect with multiple lenders and compare offers.
Of course, using a personal installment loan for home improvements does have a few downsides, the first of which is that personal loans often have higher APRs than other loan types, especially if you have poor credit.
The longer your loan terms, the more the APR will have an impact through extra interest fees and a higher overall cost. Loans with shorter terms will be less expensive overall than loans with longer terms.
Personal loans also tend to come with origination fees, which can be as much as 8% of the total loan amount. These fees will typically come out of the loan before it is dispersed, so include them in your calculations.
4. Credit Cards
Credit cards can be ideal ways to finance small repairs or home improvement purchases, especially when you can pay them off within a few weeks. That's because most credit cards offer a grace period — the period between when the transaction posts and the bill is due — during which time purchases aren't charged interest.
And that grace period can be vital considering that the typical subprime credit card charges an interest rate over 25%. That said, each credit card will have its own terms and conditions, so be sure to compare your options before applying. Some of our top-rated picks are below.
As handy as the grace period can be, there are a few things to watch out for, the most important being that not every credit card will offer a grace period. Check the card's terms and conditions to be sure if it qualifies for a grace period.
Additionally, the grace period only applies to new purchases. Other transaction types, including balance transfers and cash advances, won't be eligible for the grace period and will start accruing interest as soon as the transaction posts to your account.
You should also keep in mind that most subprime credit cards will not have large credit limits, especially not when you first apply. If you need to make a large home improvement purchase that you can't pay off right away, consider taking on a personal loan rather than maxing out a credit card, as this can seriously damage your credit score.
5. Home Improvement Store Financing
These days, most home improvement stores offer financing, typically through a store-branded credit card. While store cards often have more flexible credit requirements than other types, obtaining financing through your local home improvement store is more of an option for consumers whose credit is closer to fair than bad.
Home improvement store financing programs will generally have a minimum spending requirement. The specific requirement, the duration of the financing offer, and the APR will all vary by store and program.
That said, one thing all store financing programs tend to have in common is deferred interest. Essentially, special financing offers provide you the low promotional rate with the expectation that you won't take longer to repay the full amount than the financing period provided by the offer. If you fail to pay off the full balance before the promotion ends, you'll be charged interest from the initial purchase date.
In other words, if you use special financing and any amount of the financed balance remains unpaid after the financing terms expire, you'll be on the hook for interest on the entire amount. And these store cards charge interest rates as high — if not higher — than those charged by subprime cards, so deferred interest can be an expensive prospect.
The Home Depot Consumer Credit Card offers special financing on eligible purchases. Purchases of at least $299 can receive 12-month special financing, purchases between $999 and up to $1,998 can qualify for 18-month financing, and purchases of $1,999 or more can get 24-month financing.


Special financing on eligible purchases of $299 or more
Receive exclusive discounts and offers
Pay no annual fee
Purchases not eligible for special financing will be charged interest at the regular rate of 17.99%, 21.99%, 25.99%, or 26.99%, based on your creditworthiness.
The benefits of the Lowes Advantage Card depend on your purchase amount. For purchases below $299, you'll receive 5% off at the register. For larger purchases, you can choose the 5% or special financing.


Receive choice of 5% off every purchase, six-month financing on purchases of $299 or more, or project financing on projects of $2,000 or more
Pay no annual fee
Cardholders can receive special six-month financing offers on purchases of $299 or more and special project financing on projects of $2,000 or more. Purchases not eligible for special financing will be charged interest at the regular rate of 26.99%.
The True Value Credit Card offers both rewards and special financing, no choice required. Cardholders receive 3% in rewards points on True Value purchases, as well as receiving special six-month financing on purchases of $299 or more.


Special 0% financing for six months on purchases of $299+
Earn 3% back on True Value purchases
Pay no annual fee
Rewards are earned as True Value vouchers and can be redeemed toward branded merchandise. Purchases not eligible for special financing will be charged interest at the regular rate of 27.74%.
No matter which card option you use, be careful to avoid charging more than you need simply to qualify for special financing. You should create a home improvement budget — and stick to it.
The Best Loan Will Depend on Your Situation
Despite all of our technological advances, it often feels that houses built today don't have quite the quality of their elder brethren. Between stucco siding, laminate counters, and $1-a-foot floors, newer homes often seem to simply wear out quicker than the brick-filled houses of yore.
But even the most well-built home isn't immune to time. Indeed, no matter how young, old, or well-crafted the home, chances are it'll need some repairs and improvements at some point. If you have poor credit, your options for financing those improvements are limited — but not extinct.
The best type of home improvement loan for you will depend entirely on your individual situation. Research all of your options before selecting a loan to ensure you don't wind up in worse financial shape than you started.
Advertiser Disclosure
BadCredit.org is a free online resource that offers valuable content and comparison services to users. To keep this resource 100% free for users, we receive advertising compensation from the financial products listed on this page. Along with key review factors, this compensation may impact how and where products appear on the page (including, for example, the order in which they appear). BadCredit.org does not include listings for all financial products.
Our Editorial Review Policy
Our site is committed to publishing independent, accurate content guided by strict editorial guidelines. Before articles and reviews are published on our site, they undergo a thorough review process performed by a team of independent editors and subject-matter experts to ensure the content's accuracy, timeliness, and impartiality. Our editorial team is separate and independent of our site's advertisers, and the opinions they express on our site are their own. To read more about our team members and their editorial backgrounds, please visit our site's About page.