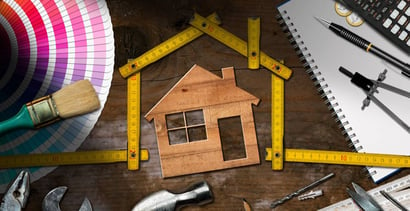 Perhaps it's time for a home renovation, but your credit score is on the lower end. Although getting a home improvement loan with bad credit is possible, you may have limited options and a higher interest rate than borrowers with good credit. 
Your options range from personal loans to home equity loans and government-backed loans. Even with bad credit, you can still shop around to compare rates and terms to get the best loan option for your situation. Here are some home renovation loan options for bad credit borrowers. 
Personal Loans For Home Improvements
A personal loan may be a solid option for your home improvement needs since a wide range of lenders exist. Some lenders cater to borrowers with bad credit and have more lenient approval requirements.
Other loan companies work with a network of partners to help you find loans you will qualify for, saving time and effort. With a personal loan for home improvement, you can make fixed monthly payments for a maximum loan term that's typically 60 to 72 months. 
These personal loan options allow you to access up to $35,000 for your home project. They also all work similarly by allowing you to prequalify online and receive offers from lenders that have preapproved you for a personal loan. 
Even though these lender networks don't charge any fees, be mindful that the lender you choose through these networks may have a loan origination fee or other charges. It's important to carefully review your loan agreement to make sure you agree with all the terms and can afford to repay the loan on time. 
Equity Loans For Home Improvements
Home equity loans allow you to borrow against the equity in your home either as a lump sum loan amount or a revolving line of credit. Your home secures home equity loans and serves as collateral. These lenders offer some of the best home equity improvement loans for bad credit. 
Home equity loans tend to have lower fees and longer terms than personal loans. Rocket Mortgage offers home equity loans with 10- and 20-year fixed terms. 
To qualify for this loan option, you'll need to get your home appraised and have at least 10% to 15% equity. Home equity loans can also come with several closing costs ranging from 2% to 6% of the loan amount.
Also, aim to keep your debt-to-income ratio (DTI) lower, below 45%, to ensure you're not taking on more debt than you can handle. You must ensure you can afford to repay a home equity loan before borrowing the funds because the lender can seize your home for nonpayment. 
Government-Guaranteed Loans For Home Improvements
Some government-guaranteed loans exist to help you cover home improvement costs. You can typically qualify for these loan options with a lower credit score, but they have other requirements as well. Here are three of the best government-backed home renovation loans to consider.
7. FHA Refinance Loans
FHA Refinance Loans are a popular option among homeowners looking to lower their interest rate. With a cash-out refinance, you take out another mortgage for more than you currently owe and receive the difference in cash. You need at least 20% equity in your home based on a new appraisal to qualify, and you can use the additional funds for home improvements.
Typical Requirements:
Minimum credit score of 580 required
Must have made on-time mortgage payments consistently for at least the past year
Minimum loan-to-value ratio of at least 80% of the home's value
Another option is the FHA Simple Refinance, which allows you to switch to another FHA mortgage, whether it's a fixed-rate or an adjustable-rate mortgage. While there is no cash-out option, you can lower your monthly mortgage payment and use the savings to go toward a renovation project. 
Finally, if you are considering purchasing a home that needs a serious renovation, there is the FHA 203(k) Rehab Mortgage. This loan helps you buy an older home with an FHA loan and borrow funds to rehabilitate the property. 
8. Fannie Mae
Fannie Mae is a government-sponsored source for mortgage financing. Fannie Mae offers a HomeStyle Renovation Loan to borrowers, which helps homeowners finance major home improvements. 
Typical Requirements:
Minimum credit score of 620 required
DTI ratio of less than 50% required
Down payment of 3% to 5% required
This loan covers a range of home upgrades and repairs, including kitchen and bathroom renovations, landscaping, a new addition, and energy-efficient upgrades. Interest rates are lower than that of a personal loan or HELOC, and you can borrow up to 75% of the purchase price plus renovation costs or the as-completed appraised value, whichever is lower. You must fill out a special lender form with Fannie Mae to get started. 
9. Freddie Mac
Freddie Mac is another government-sponsored enterprise that buys and sells mortgages. Freddie Mac offers a CHOICERenovation Loan similar to Fannie Mae's HomeStyle Renovation Loan. This option allows you to buy a property that needs repairs and pay for the renovations with one loan.
Typical Requirements:
No minimum credit score requirement
No specific DTI requirements
Down payment of 3% to 20% required
With the Home CHOICERenovation Loan, you can borrow up to 95% of the appraised value of your home after renovations are complete. You can use this type of loan for a wide range of renovations, including structural repairs and energy-efficient upgrades, among other things. CHOICERenovation loans can have fixed or variable APRs and can be purchase or cash-out refinance transactions. 
How Do Home Improvement Loans For Bad Credit Work?
Home improvement loans for bad credit work like other types of loans. But the process and your loan terms will vary depending on the lender and the type of loan option you choose. Some of your best choices are personal loans, conventional loans, and government-guaranteed loans for home renovations. 
Personal Loans
Personal loans are available for a variety of purposes, including home renovations. Personal loans are unsecured loans offered by banks, credit unions, and online lenders. If you have bad credit, it's better to consider online lenders that have more lenient requirements that allow you to shop around for quotes.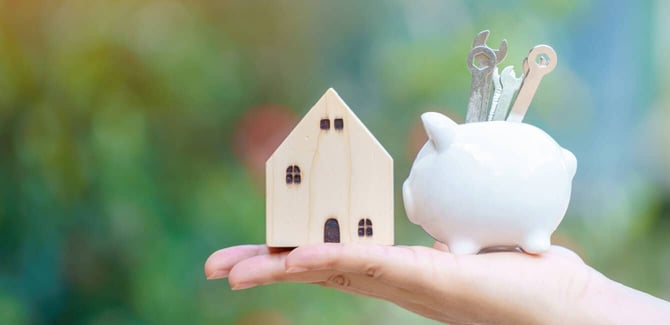 Lenders like to see applicants with a steady income and a low debt-to-income ratio. While lenders will consider your credit score, some will accept lower scores but charge a higher interest rate on the loan as a tradeoff. Once approved, you can receive your loan funds within a few days, depending on the lender. 
Most lenders will directly deposit the money into your bank account, and you must make fixed monthly payments on the loan amount. You may be charged an origination fee with a personal loan; interest charges are factored into the monthly payment. Most unsecured personal loans offer a repayment term ranging from five to seven years. 
Conventional Loans
A conventional rehab loan allows you to finance your home's purchase and the cost of repairs with a single mortgage loan. These funds are provided by banks or private lenders and used to pay for both structural repairs and cosmetic upgrades.
The FannieMae HomeStyle Renovation Loan and Freddie Mac's CHOICERenovation Loan are examples of conventional rehab loans. Each loan will have its own requirements and terms. You will need to find a lender that offers this loan option and meet the down payment, credit, and DTI requirements to qualify. 
Government-Guaranteed Loans
Government-Guaranteed loans, like FHA Refinance loans, are another option to consider if you need to pay for home improvements and have bad credit. The government backs these loans, so it requires lower down payments and has more lenient credit score and DTI requirements.
How Do I Apply For a Loan to Improve My House?
First, it's best to narrow down your loan options to see which option may be best for you. In general, you'll want to check your credit, income, and debt-to-income ratio before getting prequalified for a loan.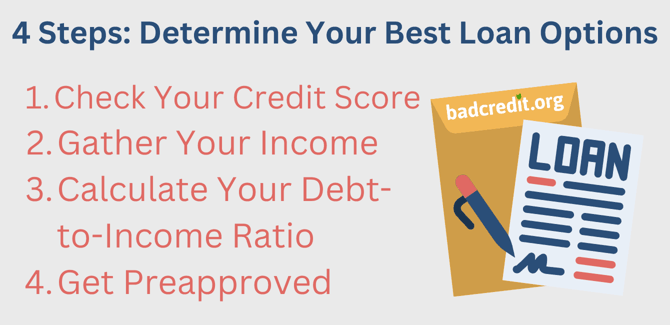 If you have poor credit, you may need to try a personal loan if you only need to make a few repairs.
If you need to borrow more than $30,000, the fees and rates for a personal loan can get expensive. In that case, consider options like a home equity loan so long as you have enough equity to qualify.
Finally, government-backed loans and conventional rehab lending may be an option if you are considering purchasing a home that needs a lot of repairs and upgrades. 
Discuss your options with a lender. Then, gather your financial and personal documents to submit a loan application. You can do this online or in person if you choose a bank. 
Be sure to gather any supporting documents the lender may ask for to speed up processing time, and you can also gather quotes from licensed contractors if you know which repairs you're looking to make.
What Credit Score Is Needed For Home Improvement Loans?
The credit score you need depends on the type of home improvement loan you want. Home equity loans, for example, require a minimum credit score of at least 620. Personal loans for poor credit may require a credit score of at least 580 or 600. 
Typical Credit Score Requirements:
| Personal Loans | Home Equity Loans | Government Programs |
| --- | --- | --- |
| 580 | 620 | 580 |
Consider getting preapproved with a lender or through an online lending marketplace to see what you can qualify for with your current credit score. With poor credit or a limited credit history, you may still qualify for a loan, but you will pay a higher annual percentage rate. 
Start paying down credit card balances and other loans to improve your credit. Use a credit builder loan or secured credit card to start building your credit and keep your utilization rate below 30%. 
Credit cards aren't the only way to build credit. You can also try to get your rent payments and utility bills added to your credit report through Experian Boost and limit hard inquiries since they take two years to fall off your credit reports (though their influence on your credit score is limited to one year). 
How Much Can I Borrow With a Low Credit Score? 
The maximum loan amount you can borrow will vary depending on the lender and the type of loan. You can borrow up to $35,000 through a personal loan from 24/7 Lending Group, though you will likely need at least fair credit and a high income to secure that loan amount.
Home equity loans typically allow you to borrow up to 80% to 85% of your home's appraised value. For government-guaranteed loans and conventional rehab loans, your maximum borrowing amount for the loan approval will depend on factors that include your credit score, income, and DTI.
If you have good or excellent credit and a steady income, you will likely qualify for higher borrowing amounts. 
Compare Subprime Loans to Improve Your Home 
Each homeowner should start by checking their credit score and comparing loan options online or contacting a bank or credit union. If you don't believe a personal loan is right for you, consider a home equity loan or conventional rehab loan if you're buying a home that needs renovation.
Prequalifying through an online loan network can help borrowers know which loan options they qualify for in just a few minutes. From there, you can compare loan offers and apply for the best option that meets your needs. 
Home improvement loans can be a great investment for homeowners who want to enhance their living space, increase property value, or even save money on utility bills. Even with a lower credit score, these loan options can help you bring your home improvement project to fruition. 
24/7 Lending Group & Other Resources
We hope you've found our guide "9 Home Improvement Loans For Bad Credit (Sep. 2023)" to be helpful in meeting your financial needs. To learn more about 24/7 Lending Group, our top recommendation in this guide, be sure to visit the 24/7 Lending Group website for full details about the offer.
Our experts rate 24/7 Lending Group as one of the best options in personal loans for those with bad credit, giving it a 4.7/5.0 rating overall. Among its features:
Personal loans from $500 to $35,000
All credit types are considered and welcome
Simple, no credit impact form
Helping consumers since 2001
4.7 out of 5 Trustpilot rating with 2,000+ reviews!
For more resources similar to this "9 Home Improvement Loans For Bad Credit (Sep. 2023)" guide, see our other popular picks for those with bad credit:
Whether you choose 24/7 Lending Group or any other option in our personal loans category, be sure to read and understand the terms before signing up. You'll find that taking the time to fully understand personal loans is one of the smartest financial decisions you can make.
Advertiser Disclosure
BadCredit.org is a free online resource that offers valuable content and comparison services to users. To keep this resource 100% free for users, we receive advertising compensation from the financial products listed on this page. Along with key review factors, this compensation may impact how and where products appear on the page (including, for example, the order in which they appear). BadCredit.org does not include listings for all financial products.
Our Editorial Review Policy
Our site is committed to publishing independent, accurate content guided by strict editorial guidelines. Before articles and reviews are published on our site, they undergo a thorough review process performed by a team of independent editors and subject-matter experts to ensure the content's accuracy, timeliness, and impartiality. Our editorial team is separate and independent of our site's advertisers, and the opinions they express on our site are their own. To read more about our team members and their editorial backgrounds, please visit our site's About page.