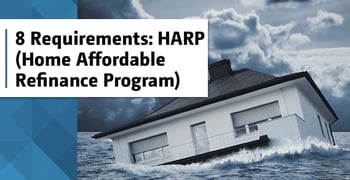 The Home Affordable Refinance Program — or HARP — was created to help homeowners avoid foreclosure. Keep reading for more information on this valuable program and to see how you may qualify.
While it is generally a good thing that housing prices tend to go up over time, the real estate market can occasionally suffer from a case of "too much of a good thing." For example, during the early 2000s, the United States experienced a housing bubble that caused home prices to skyrocket. Being inherently unsustainable, however, that bubble (inevitably) burst in 2005.
In the wake of the housing crisis, millions were left struggling to pay mortgages now worth more than their homes. In an effort to help buffer the impact and limit the number of homes going into foreclosure, the Home Affordable Refinance Program (HARP) was created in 2009. Through HARP, homeowners who are underwater on their home loans may be able to refinance their mortgage at a lower interest rate, thus making their mortgage more affordable by lowering their monthly payments.
1. You Must Be Current on Your Mortgage
While HARP was created to help homeowners struggling with high mortgages, it was not designed for those already behind on their mortgages, or those who have filed, or are in the process of filing, for foreclosure. As such, if you have missed one or more mortgage payments, you will not be able to qualify for a HARP loan. To be eligible for a HARP loan, you must be completely up-to-date on all of your mortgage payments and in good standing with your lender.
2. You Cannot Have Any Late Payments in the Last 6 Months
In addition to being current on your mortgage, you must also have a demonstrated ability to make your payments on time. You will not be eligible for a HARP loan if you have made a payment delinquent by 30 days or more in the past six months. You also can't have more than one delinquent payment in the last 12 months.
If you are unsure about your payment history, you can check your credit report. Any delinquent payments will have likely been reported to at least one of the three major credit bureaus (Experian, Equifax, and Trans-Union), so be sure to check all three reports to ensure your payment history will meet HARP requirements.
3. You Must Qualify with a HARP-Approved Lender
When you refinance an existing mortgage, you are, essentially, taking out a new mortgage (at a lower interest rate) and paying off the older, more expensive loan. As with any loan, a refinance loan will require the borrower to meet certain eligibility requirements such as credit score or income.
Because not all lenders will participate in HARP, homeowners are encouraged to check with Fannie Mae or Freddie Mac to see if their current lender offers HARP. You can also check directly with your lender by contacting the company's refinance department. Bear in mind that you may not meet the qualifications of an individual lender even if you generally qualify for HARP; each lender may have its own specific, more stringent requirements beyond those set by HARP.
Don't worry if your current lender doesn't participate in HARP — you can find a different lender with which to refinance. Check out our top-rated companies to start your search.
Options for: home purchase, refinance, home equity, and reverse mortgage
Lenders compete for your business
Receive up to 5 offers in minutes, and pick the best offer for you
Founded in 1996, LendingTree has facilitated 55 million+ loan requests and $250 billion+ in closed loan transactions
| Interest Rate | In Business Since | Application Length | Reputation Score |
| --- | --- | --- | --- |
| Varies by Applicant | 1996 | 7 Minutes | 9.0/10 |
Options for: refinance only
Get 4 free refinance quotes in 30 seconds
Network of lenders compete for your loan
Trusted by 2 million+ home loan borrowers to date
Interest rates are near all-time lows
| Interest Rate | In Business Since | Application Length | Reputation Score |
| --- | --- | --- | --- |
| Varies | 2004 | 4 minutes | 8.5/10 |
Easy to OwnSM programs give options for those with lower income, limited credit history, and low down payment needs.
Provides the potential for minimal out-of-pocket expenses with seller contributions.
Offers loans that don't require monthly mortgage insurance.
Requires less cash upfront for your down payment and closing costs.
| Interest Rate | In Business Since | Application Length | Reputation Score |
| --- | --- | --- | --- |
| Varies | 1852 | 6 Minutes | 8.0/10 |
If you are already several years into your mortgage, you needn't fear that you will be required to reset the clock; you can refinance into a new fixed-rate mortgage with terms from 10 years to 30 years. Make sure to check that your lender supports shorter-term mortgages before applying.
4. Your Loan Must Be Owned By Fannie Mae or Freddie Mac
One of the most important requirements for HARP is that your loan must be owned or guaranteed by either Fannie Mae or Freddie Mac. This is true regardless of the specific lender you pay each month.
You can use the simple online forms to determine if your loan is owned by Fannie Mae or owned by Freddie Mac. Each form requires a name, address, and the last four digits of your social security number. If your mortgage is not listed on either website, it is not owned by either organization and does not qualify for HARP.
Alternatively, the ownership of your loan can be checked over the phone by calling: 800-7FANNIE (8 a.m. to 8 p.m.) for Fannie Mae, and 800-FREDDIE (8 a.m. to 8 p.m.) for Freddie Mac.
5. Your Loan Must Have Originated By May 31, 2009
When confirming ownership of your mortgage loan, be sure to check the date of origination. The date should also be available on the closing paperwork for your loan. To qualify for HARP, your current home mortgage must have originated on or before May 31, 2009. You also cannot participate in HARP more than once; if you have already refinanced through HARP at any time, you may not do so again.
6. Your Loan-to-Value Ratio Must Be Greater than 80%
Due to the nature of HARP, only those without significant home equity can qualify to refinance through the program. In fact, in order to be eligible for HARP, the loan-to-value (LTV) ratio of your mortgage and home must be at least 80%. To calculate your loan-to-value ratio, divide the current balance of your loan by the current appraised value of your home. For example, if you currently owe $150,000 on your mortgage and your home is valued at $175,000, the LTV is approximately 86%.
If you are currently underwater on your mortgage, that is, if your LTV is 100% or greater, you may still qualify for a HARP loan. According to the official HARP.gov FAQ: "HARP allows you to refinance even if you owe more than your house is worth. If you refinance under HARP and your new loan is a fixed-rate mortgage, there is no maximum loan-to-value ratio. If you refinance under HARP and your new loan is an adjustable rate mortgage, your LTV may not be above 105%."
7. Your Property Must Be Residential
As its name implies, HARP loans are only available for refinancing residential (home) mortgages. You cannot refinance commercial property through HARP. Furthermore, large-scale residential units will not be eligible, either. To qualify for HARP, your real estate must be one of the following:
Your Primary Residence
A Single-Unit Second Home
An Investment Property with One to Four Units
Your property does not specifically need to be zoned as a single-family home to qualify. Condominiums and townhouses may also be eligible for a HARP loan, so long as they meet the other requirements.
8. You Must Apply
When underwater on your mortgage, it can sometimes feel as though you are underwater, as well. For millions of struggling homeowners, HARP has been the life preserver that kept them — and their mortgages — afloat. Of course, when it comes to HARP eligibility, the most important requirement is that you apply.
Even those who have been turned down for a HARP loan before are encouraged to reapply for the program, as it has undergone multiple changes since its initial launch in 2009. Most notably, the roll-out of HARP Phase II in late 2011 brought a wealth of new changes, such as an increased maximum LTV, which effectively doubled the number of eligible homeowners.
The last thing to be aware of is that the deadline for HARP eligibility is looming. Unless it's extended again, HARP is set to expire on December 31, 2018. Therefore, if you meet the eligibility requirements for a HARP loan, apply well before the deadline to ensure you qualify.