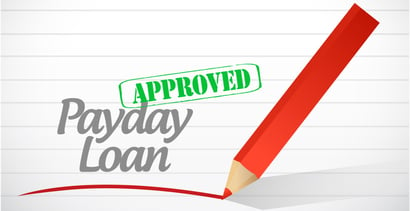 While there's no such thing as a guaranteed approval loan, you may find online lenders offering guaranteed payday loans. But any such lender should raise a red flag for you.
Nothing is guaranteed in the financial world until there are signatures on a legally binding contract. Until that happens, no lender or financial institution can promise you a thing.
With that said, several online lending networks partner with lenders that specialize in bad credit loan products. Whether you qualify for a personal loan or a bad credit payday loan, these are as close to guaranteed as you'll find. 
Payday Loans From Reputable Online Lending Networks
The lending networks below offer installment loan or cash advance options for borrowers who have poor credit. While these aren't guaranteed loans, these networks provide a way to get a loan with flexible approval criteria from a reputable lender.
MoneyMutual provides a short loan request form that takes less than five minutes to complete and only uses a soft credit check to send to its lending partners. Within minutes of submitting your request, you could receive more than one short-term loan offer to choose from.
The lender you choose to work with may require a hard credit check before giving final loan approval, but a preapproval is typically a strong sign that your credit history will qualify for the cash advance loan you need.
CashUSA.com offers emergency loan options for borrowers who have a poor credit history. Loan approval may take only minutes, and you can have money in your bank account by the next business day.
Not every borrower will qualify for a high-dollar loan through the network's participating lenders. Every loan offer you receive may have a different loan amount, interest rate, loan term, and monthly payment obligation.
You may qualify for an online payday loan or an unsecured loan option from BillsHappen® that provides you access to cash without collateral. Installment loans allow you to repay your debt through a series of monthly payments, but bad credit payday loan options may require full repayment in one lump sum.
Your loan amount, monthly payments, and interest rate will depend on your credit score and the approval criteria of the direct lender you choose to work with. If you accept a loan, you can receive your cash in a linked bank account by the next business day.
You may find more affordable online payday loans with CreditLoan.com since this network caps the interest rates that each direct lender can charge. So instead of the three-digit rates you may be charged by a payday lender, installment lenders provide a more affordable way to borrow money.
The network's loan application takes only minutes to complete, and you can get a credit decision without seconds no matter where you are in the world. That's far more convenient than applying through your local bank or credit union.
BadCreditLoans.com is a reputable lender network that specializes in matching poor credit borrowers with financing options. This means the results of your credit check with a credit bureau won't disqualify you from receiving a bad credit loan. 
While not technically guaranteed approval loans, your odds of approval are decent if you can prove sufficient income to repay the loan. 
PersonalLoans.com offers installment loan products that allow you to repay your loan over a series of monthly payments. That's important to note because many traditional online payday loans require full repayment within 15 to 30 business days.
The personal loan lenders that partner with this network may provide more than one loan option to choose from, so be sure to study every offer you receive to make sure you understand the terms.
CashAdvance.com only partners with payday loan lenders and does not provide personal loan options. A payday loan, also known as a cash advance, is a very expensive loan that charges a triple-digit interest rate with a loan term that won't extend past 30 days.
These loans offer the closest thing you may find to guaranteed loan approval — though they're risky and expensive. You may not even need to submit to a hard credit check to get a payday loan. Instead, your lender will want to see proof of sufficient income to afford full repayment on your next payday.
What Is a Payday Loan?
A payday loan is an ultra-short-term loan with a very high interest rate and often requires repayment in full within 15 to 30 days. Because these loan terms are so short, the loan amounts are often limited to $500 or less.
While these loans often conveniently skip the credit check process as long as you show proof of sufficient income, they're very expensive and leave borrowers holding a substantial amount of risk.
That's why we often recommend our readers consider applying for personal loans through an online lending network. While these loans will consider your credit history and credit score in the qualification process, they have very forgiving approval standards and often approve those who can't get loans through a bank.
Personal loans have a more affordable interest rate and offer larger loan amounts. Since these are installment loans, you can enjoy the ability to pay your lender back over time through a fixed monthly payment.

You can submit a loan request to any of the networks listed above by clicking on the Apply Now links. The loan application takes only minutes to complete and will only use a soft credit check to prequalify your loan request.
If you're approved, you could have money in your bank account by the next business day. Some loan providers can expedite payment for an additional fee. 
Can I Find a Guaranteed Payday Loan If I Have Bad Credit? 
There's no such thing as a guaranteed loan. Lenders that promise loan approval often have something up their sleeves — and it almost always ends up costing you more money in the end.
Lenders want to avoid risk. That sometimes means rejecting loan applications from borrowers who have a bad credit history. But a lender can't assess your risk level without first getting a peek at your credit history.
That can only happen if you approve the lender to check your credit. Otherwise, a lender is blindly lending out money without knowing whether they will receive repayment. That's why you won't find reputable guaranteed loans.
But you can still find the loan you need, even if you have poor credit. Instead of turning to your local bank or credit union, consider an online lending network that partners with independent lenders that specialize in bad credit loan products.
There are thousands of consumers who receive online loans every day. Many of these borrowers have less-than-perfect credit. With an online network, you can submit a loan request in minutes and almost instantly receive a credit decision.
This is a convenient loan option for consumers who don't want to travel around and submit multiple applications in search of an emergency loan.
Which Lenders Offer Payday Loans?
Many lenders offer payday loans because they include higher interest rates and fees, place less risk with the lender, and are quite profitable for the issuing institution.
You can find check cashing and payday loan centers in just about any town and city in America. There are large franchises, such as ACE Credit Express, and local lenders that offer short-term loans to those in need.
You can also find a host of cash advance lenders through an online network such as CashAdvance.com. The other networks listed above also offer a variety of cash advance and personal loan options. 
Just note that payday loans are not legal in every state, and these networks can't bypass those laws. Personal loans, however, are legal in all 50 states. 
How Much Money Can You Borrow With a Payday Loan?
Each state has laws that govern payday loans. This includes setting minimum and maximum amounts for such loans. 
Most states set their maximums between $300 and $500 per loan, but there are a few exceptions:
Delaware: Maximum loan of $1,000
Florida: Maximum loan of $1,000
Hawaii: Maximum loan of $600
Idaho: Maximum loan of $1,000
Illinois: Maximum loan of $1,000
Indiana: Maximum loan of $550
Maine: No maximum or minimum amount
Michigan: Maximum loan of $600
Ohio: Maximum loan of $1,000
Oregon: Maximum loan of $50,000
South Carolina: Maximum loan of $550
Virginia: Maximum loan of $2,500
Washington: Maximum loan of $700
Please note that payday loans are not legal in Arizona, Arkansas, Connecticut, Georgia, Maryland, Massachusetts, New Jersey, New York, North Carolina, Pennsylvania, Vermont, West Virginia, and Washington D.C.
Can I Get a Loan With No Credit Check?
Many payday lenders will consider and accept your payday loan request without a credit check. Though not technically a secured loan, a payday loan is "secured" by your next paycheck. 
When you accept a payday loan, you're giving the lender the right to take some or all of your next paycheck to settle the debt. That security is often enough for the lender to waive a credit check.
But the lender will rarely take your check to claim its money. Instead, your loan is rolled into a new loan — with a higher interest rate and more fees. This will continue until you pay the loan in full or reach your state's limitations on rollovers. 

Some borrowers have found that this practice of rolling over a payday loan can result in a small $500 loan turning into thousands in fees that takes years to repay.
So while payday loans provide quick access to money, they're extremely dangerous if you're not 100% sure you can repay them on time. That's why we recommend bad credit personal loans over a traditional cash advance loan. Personal loans are easier on your budget and don't require quick repayment and rollover penalties.
How Long Does It Take To Get a Payday Loan?
Payday loans often require only hours to complete and some may provide instant cash payouts.
The fastest payouts come from local lenders that accept in-person applications and can hand over cash on the spot. Online lenders must transfer money digitally into your bank account, which typically takes at least one business day to complete.
The application process takes only minutes to complete, whether online or in person. Since many lenders don't require a credit check for approval, you can often complete your application simply by adding a copy of a recent paycheck stub that shows your regular and year-to-date earnings.
The lender will use this information, as well as your pay frequency, to decide how much of a loan — if any — you'll qualify for. This will also determine how soon you'll have to repay the loan.
Most payday loans call for repayment in full on your next payday. That could mean a loan with a term of 15 to 30 days. 
Which Payday Lenders Charge the Lowest Fees?
Every state has unique laws that dictate how much you can borrow through a payday loan and how much your payday lender can charge you for the service.
That's why there isn't a specific lender you can turn to for the lowest rates. You'll have to research your state's laws and find out which lenders work with residents of your state.
Since payday loans are typically expensive, you can expect that most lenders will charge the maximum amount allowed in your state. That may be acceptable if you live in a state with strict laws. But those states that give lenders more freedom may end up costing their residents more over the long run.

One lesser-known option is a Payday Alternative Loan from your local credit union. These loans were created as an alternative to predatory payday lending and come with very reasonable interest rates. 
But some credit unions require you to be a member for one month or longer before you qualify. You can use the National Credit Union Administration's locator tool to find a branch near you. 
Beware of "Guaranteed" Payday Loans
Ben Franklin once said "In this world, nothing is certain except death and taxes." So while we can all but guarantee that you'll one day face those two things,  anything else in life that comes with such definite assurance should raise a red flag.
While some lenders may promise you loan approval, you can't be certain of anything until the ink dries on your contact. Instead of following false promises, consider using a lending network that won't deny you because of a poor credit score and wants to offer you a second chance at financial success.
Advertiser Disclosure
BadCredit.org is a free online resource that offers valuable content and comparison services to users. To keep this resource 100% free for users, we receive advertising compensation from the financial products listed on this page. Along with key review factors, this compensation may impact how and where products appear on the page (including, for example, the order in which they appear). BadCredit.org does not include listings for all financial products.
Our Editorial Review Policy
Our site is committed to publishing independent, accurate content guided by strict editorial guidelines. Before articles and reviews are published on our site, they undergo a thorough review process performed by a team of independent editors and subject-matter experts to ensure the content's accuracy, timeliness, and impartiality. Our editorial team is separate and independent of our site's advertisers, and the opinions they express on our site are their own. To read more about our team members and their editorial backgrounds, please visit our site's About page.