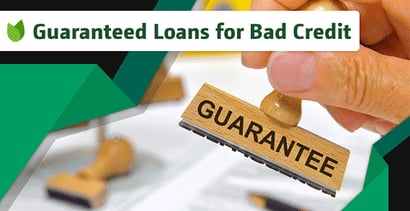 After one, two, or even a series of rejections, it can leave you wondering, "Are any lenders guaranteed to approve me?"
While it's not easy to find any hard-and-fast guarantees in the consumer credit world, what you can often find with relative abundance are lenders with flexible credit requirements that will take a chance on your poor or limited credit history.
Below are our top-rated bad credit loans, including guaranteed installment loans for bad credit, guaranteed short-term loans for bad credit, as well as a number of credit card options that may be worth considering.
Installment Loans | Short-Term Loans | Credit Cards | FAQs
The Best Guaranteed "Installment" Loans For Bad Credit
Named for the method of repayment, installment loans are repaid through a series of regular, set installments — typically monthly payments. Personal installment loans are often a good way to finance purchases you need to repay over a period of months or years, as they can usually be obtained with lengths extending up to seven years.
A guaranteed installment loan can help you finance a large purchase. In fact, our top-rated bad credit installment loan networks include lenders that offer loan amounts of up to $35,000 for qualified applicants.
Personal loans from $500 to $35,000
All credit types are considered and welcome
Simple, no credit impact form
Helping consumers since 2001
4.7 out of 5 Trustpilot rating with 2,000+ reviews!
| Loan Amount | Interest Rate | Loan Term | Loan Example |
| --- | --- | --- | --- |
| $500 to $35,000 | 5.99% - 35.99% | 60 Days to 72 Months | See representative example |
Loans from $500 to $10,000
Receive a loan decision in minutes
Get funds directly to your bank account
Use the loan for any purpose
| Loan Amount | Interest Rate | Loan Term | Loan Example |
| --- | --- | --- | --- |
| $500 to $10,000 | 5.99% - 35.99% | 3 to 72 Months | See representative example |
Loans from

$500

to

$10,000

Get connected with a lender
Simple form & quick funding
Get your money as soon as next the business day, if approved
| Loan Amount | Interest Rate | Loan Term | Loan Example |
| --- | --- | --- | --- |
| $500 to $10,000 | 5.99% - 35.99% | 3 to 60 Months | See representative example |
Loans from

$1,000

to

$35,000

Large lender network
Fast loan decision
Use the loan for any purpose
Funding as soon as one business day, if approved
| Loan Amount | Interest Rate | Loan Term | Loan Example |
| --- | --- | --- | --- |
| $500 to $35,000 | 5.99% - 35.99% | 3 to 72 Months | See representative example |
+See More Installment Loans for Bad Credit
While individual requirements vary by lender, most lenders will have a few basic requirements consumers must meet to qualify for an installment loan, including having an active checking account. You'll also typically need to meet minimum income requirements, which will vary based on your credit score and the size of your loan.
Additionally, when comparing bad credit installment loans, be sure to examine each factor of the loan, rather than solely focusing on the size of your monthly payment. That's because the total cost of your loan will be determined by all the factors, including the APR, monthly payment, and the length of your loan.
For instance, it can be tempting to choose the longest loan possible so your monthly payment is the lowest. However, the longer you take to repay your loan, the more interest payments you'll need to make, and the more your loan will end up costing you overall.
The Best Guaranteed "Short-Term" Loans For Bad Credit
Where personal installment loans are designed to finance larger and longer-term purchases, short-term loans are just that: short-term financing. Typically extending between a week and six months, short-term loans, sometimes called cash advance loans, are repaid in a single lump sum that includes both the principal loan amount and any applicable interest or finance charges.
Short-term loans are generally offered in smaller amounts than other loan products, with our expert-reviewed options providing short-term loans of up to $5,000. Our providers include online lending networks that connect hundreds of lenders from around the country, meaning you can obtain multiple quotes with a single application.
Short-term loans up to $5,000
Online marketplace of lenders
Funds available in as few as 24 hours
Simple online form takes less than 5 minutes
Trusted by more than 2 million customers
| Loan Amount | Interest Rate | Loan Term | Loan Example |
| --- | --- | --- | --- |
| Up to $5,000 | Varies | Varies | See representative example |
Quick loans up to $5,000
Submit one form, get multiple options
All credit ratings welcome
Requires bank account and SSN
As seen on CNN, FoxNews, and others
| Loan Amount | Interest Rate | Loan Term | Loan Example |
| --- | --- | --- | --- |
| $500 to $5,000 | Varies | Varies | See representative example |
Loans from $250 to $5,000
Cash deposited directly into your account
Get money as soon as tomorrow
Bad credit OK
More than 750,000 customers since 1998
| Loan Amount | Interest Rate | Loan Term | Loan Example |
| --- | --- | --- | --- |
| $250 to $5,000 | Varies | Varies | See representative example |
Short-term loan of

$100

to

$1,000

Large network of lenders
Loan decision as fast as a few minutes
Funding as soon as the next business day, if approved
| Loan Amount | Interest Rate | Loan Term | Loan Example |
| --- | --- | --- | --- |
| $100 to $1,000 | 200% - 2,290% | Varies | See representative example |
+See More Short-Term Loans for Bad Credit
While many short-term loan lenders offer flexible credit requirements — so flexible it's practically guaranteed — that flexibility comes with a price. Namely, most short-term loans have particularly high interest rates. In fact, some short-term cash advance loans can have cash advance loans, with a 400% APR not unheard of (or even uncommon).
Another concern when it comes to short-term loans is ensuring you can repay the entire amount at the end of your loan since you'll be required to hand over the full loan amount plus all fees. If you can't repay the full amount, you may be stuck paying substantial late fees on top of what you already owe.
In some cases, you may choose to extend your loan for another few weeks or months to avoid paying late fees, but it'll cost you another round of finance charges to do so. If you know you will need a longer repayment term, you may want to consider an online installment loan instead of a short-term loan, as installment loans can be repaid in smaller monthly payments over six months or more.
The Best Guaranteed "Credit Cards" For Bad Credit
Although not often considered a personal loan alternative, credit cards can be a handy form of financing for certain types of purchases. In particular, on most occasions where you would consider a short-term loan, you can likely use a credit card instead. And using a credit card instead of a higher-APR short-term loan may actually be the more frugal choice.
The options for credit cards will include unsecured cards and secured cards. Due to the initial deposit requirement, a secured credit card is one of the few "guaranteed" forms of financing in the consumer credit world, as some may not even require a credit check at all.
Start exploring your options with our list of top cards for bad credit.
+See More Credit Cards for Bad Credit
One of the best things about using a credit card instead of a short-term loan is that you can potentially avoid paying interest entirely if you pay off your credit card before the end of your grace period. For most cards, the grace period is the time between when the charge is made, and when the bill for that charge is due. So long as you pay off your full balance before your billing date, you won't be charged interest for that balance.
The thing to remember about credit cards is that they may come with a variety of fees that loans won't include. For instance, most credit cards, particularly those for poor credit, will charge an annual fee, typically right when you open your account and then each year on your account anniversary.
Other common credit card fees include processing or program fees, which are generally one-time fees charged when you open your account. You may also be charged fees for using any extra card services, such as making a balance transfer or cash advance, but these can be avoided simply by not using these services.
Can I Get an Installment Loan With Bad Credit?
An installment loan — or personal loan — is a great way to improve your credit score while maintaining some financial flexibility. And, thankfully, many online lenders are willing to forgive past mistakes and approve installment loan applications from consumers who have bad credit.
With a personal loan from an online lending network, you can submit one loan request to several lenders that partner with the lending network. This free online service lets you apply to several lenders without incurring multiple inquiries that can negatively impact your credit score.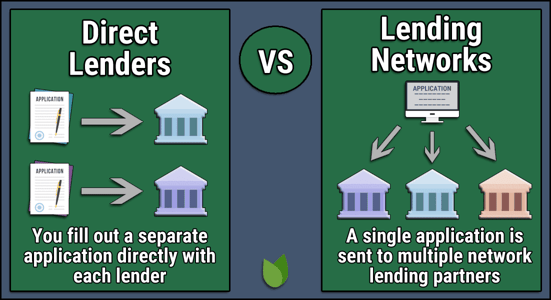 These lenders all specialize in working with bad credit borrowers and, depending on your credit score, you could receive multiple loan offers to choose from.
Just keep in mind that every installment loan offer will have a unique interest rate, loan term, monthly payment, and credit check requirement. Still, these bad credit loans have forgiving approval standards.
And since most lenders report your monthly payment and balance history to each credit bureau (except for payday lenders) you can improve your poor credit score over time with responsible behavior.
How Does a Bad Credit Loan Work?
Whether you need a bad credit auto loan, bad credit personal loan, or a bad credit business loan, your best bet is to work with an online lending network that specializes in bad credit financing.
Most traditional banks try to avoid risk when approving loans. This makes it difficult to get a loan through these financial institutions if your credit score isn't good.
Alternative lenders help fill the financial gaps that banks created with their lending standards. That means you may qualify for an online loan even if you have a bad credit score.
Start by choosing a lending network from the list above. Once you're on the network's website, you can submit a short loan request form that often takes less than five minutes to complete. The network will then forward your request to each direct lender it partners with.
You can submit a loan request at any time — day or night — and, thanks to automated underwriting software, you can receive a loan decision in your email within minutes. Depending on your needs and creditworthiness, you could receive multiple loan offers to choose from.
Once you choose the best offer, the network will forward you to the lender's website where you will complete a formal loan application and begin your loan paperwork. Once you finalize your loan, the lender will electronically transfer your funds to a linked checking account or savings account, and you should have your money within one business day.
The lending network then receives a referral fee from your lender. You will never pay to use an online lending network's service.
Which Loan Company is Best For Bad Credit?
This depends on the type of loan you need, your required loan amount, and your personal credit score. Although a traditional lender may shy away from your low credit score, many alternative lenders are eager to earn your business.
Bad Credit Personal Loan: We have placed MoneyMutual at the top of our personal loan rankings for quite some time. MoneyMutual maintains one of the largest networks of online lenders and offers an array of short-term financing options with no minimum credit score, origination fee, or down payment requirements. This unsecured loan option does not require collateral for loan approval.
Bad Credit Auto Loan: We rank Auto Credit Express as our top auto loan network based on its history of connecting consumers with a low credit score to dealers and financiers who provide quick car loan approvals. This network accepts applications from consumers with any type of credit history and can help you find bad credit car loans in your area.
Bad Credit Business Loan: Each lender that is listed in our personal loan rankings above will also consider small business loan requests from individuals who have bad credit. If you have no business credit history, the lenders will use your personal credit to qualify you for a loan.
An online lender usually offers loan options that no local financial institution can match. While your local bank may be a popular place to look for a loan, they rarely approve applicants with bad credit.
Online lenders compete for your business. That competition makes online loans more affordable and easier for you to qualify for without the need for a cosigner.
How Can I Get a Loan With Terrible Credit?
While you may think your credit score is horribly low, some lenders may see it as workable. Lenders understand that sometimes you need an emergency loan, and a bad credit score shouldn't prevent you from obtaining the money you need.
Your FICO credit score can range between 300 and 850. A score of 579 or lower is considered very poor — or bad credit. Still, this doesn't disqualify you for a loan.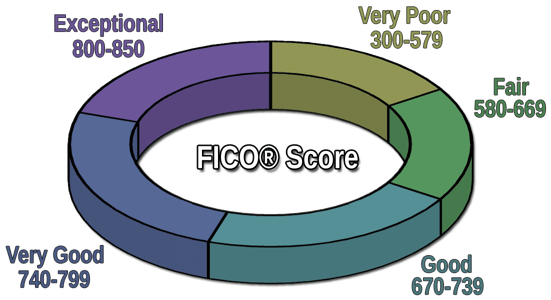 Many online lenders specialize in working with consumers who have credit scores below 579 and offer loans to many applicants in this range. But if your credit score is very bad — such as a score of below 500 — consider a secured loan, such as a title loan or pawnshop loan, or a credit card cash advance.
A secured loan requires collateral for approval. This means you offer something of value to the lender to secure the loan. If you default on the loan, the lender keeps the item and can sell it to recoup some of his or her losses.
Traditional types of secured loans include title loans, pawnshop loans, mortgage loans, or auto loans. Some private student loans may also require collateral for approval.
A payday loan — or cash advance — is a small loan with a repayment term of 15 to 30 days. These loans are intended to act as a bridge to your next payday. As a result, a payday lender will charge a very high interest rate, origination fee, and other charges that make these loans quite expensive and risky.
What is the Easiest Loan to Get Approved For?
A secured loan is typically the easiest loan to get approved for because this loan option removes much of the risk lenders take on when working with a bad credit borrower.
With a secured loan, you use a valuable item as security in case you default on the loan. If you stop making payments, the lender keeps the item and sells it. This happens with an auto loan, where the lender can repossess the car if you stop making payments.
Small secured loans can be obtained at local pawnshops, where you bring in something of value and receive a loan based on the item's worth.
Another type of loan that's easy to get is a payday loan, which generally relies on your income for approval rather than your credit score.
Is There a Minimum Credit Score Needed to Get an Unsecured Personal Loan?
Every lender has its own standards for application approval, including its minimum credit score requirements. Some lenders post exactly what credit score is needed, whereas others do not because your credit score is only one factor considered when you apply for a loan.
For example, you may have a low credit score but a recent record of on-time payments and a high enough income for the lender to accept your application. Your approval odds will also depend on your requested loan amount.
Despite a bad credit score, you'll have an easier time qualifying for small loan amounts than a $50,000 car loan.
So while there is no universal minimum credit score required to get an unsecured personal loan, you can improve your approval odds by checking your free annual credit report and understanding what items may be holding your score down.
How Can a Loan Help My Credit?
A personal loan is like a key that can unlock financial flexibility while helping you improve your credit score with responsible use. That means making your loan payment on time, every time.
Payment history is the largest factor that determines your credit score, followed by the amount of debt you owe. When you pay your bills on time, you create a positive payment history while also lessening your debt balances, which is a double positive for your credit score.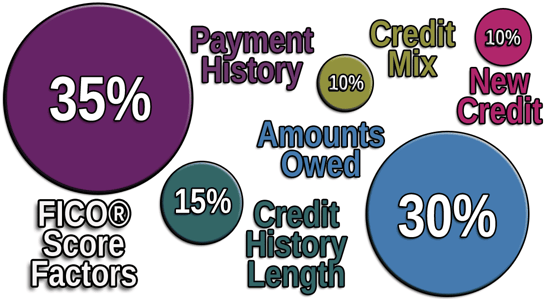 You should begin to see an improvement in your credit score after several months of on-time payments. You may even see an improvement in your score right away by adding a personal loan to your credit profile.
This is because 10% of your FICO credit score is made up of your credit mix, or rather, the types of installment loans you've been approved for in the past.
Diversifying your types of debt is another small way to build your credit, though it's never recommended to take out a loan or credit card for the sake of your credit mix because it's only a small portion of your credit score.
Use Your Loan Wisely to Build Credit
While it can be difficult to find financing with poor or limited credit, options are out there if you know where to look. And though few of those options are truly guaranteed, many lenders offer flexible requirements that are the next best thing.
Of course, the best way to guarantee your choice of financing in the future is to work hard to build your credit now. No matter which type of financing you choose, be it an installment loan, short-term loan, or credit card, you can use that financing to improve your credit — and, thus, improve your credit options.
In some ways, think of your new loan as that entry-level job right out of college. If you work hard and build the right kind of experience, you can expect to advance in your career. And if you use your new loan responsibly, making payments on-time and building your credit history in a positive way, you can expect your credit score to advance, too.
Advertiser Disclosure
BadCredit.org is a free online resource that offers valuable content and comparison services to users. To keep this resource 100% free for users, we receive advertising compensation from the financial products listed on this page. Along with key review factors, this compensation may impact how and where products appear on the page (including, for example, the order in which they appear). BadCredit.org does not include listings for all financial products.
Our Editorial Review Policy
Our site is committed to publishing independent, accurate content guided by strict editorial guidelines. Before articles and reviews are published on our site, they undergo a thorough review process performed by a team of independent editors and subject-matter experts to ensure the content's accuracy, timeliness, and impartiality. Our editorial team is separate and independent of our site's advertisers, and the opinions they express on our site are their own. To read more about our team members and their editorial backgrounds, please visit our site's About page.